Architecture Australia's tribute to the 2019 Gold Medallists traces the career trajectory of Hank Koning and Julie Eizenberg, from progressive students in 1970s Melbourne to influential Southern California-based proponents of socially minded architecture.
Here, their peers, and some of the curators and editors who know their output best, reflect on Koning Eizenberg Architecture's pragmatic yet ambitious housing projects.
Philip Goad, Redmond Barry Distinguished Professor and Chair of Architecture, University of Melbourne
I first met Hank and Julie in Los Angeles in 1985. They were smart, generous and empathetic – like their architectur e. I made some models of low-income housing for them and shamelessly borrowed their truck (many times) to look at buildings. Rare in the US, the work of Koning Eizenberg has always been committed to the social and the primacy of community while at the same time it is always formally and urbanistically clever, conveying that special Australian sense of leanness. This Gold Medal is a tribute to a pair of Australians who, against all odds, have made good in the world.
Brian Lane, Principal, Koning Eizenberg Architecture
One of the most asked questions around the Koning Eizenberg office is "why?" Why can't we get more? Why don't we try it differently? Why not search for ways to instigate a dialogue and find fresh opportunities to advance architecture, the profession and our communities? Whenever Julie and Hank see an approach or idea worth testing, it is always developed in a collaborative atmosphere. The results have been innovative projects, consistently realized through dedication, teamwork and hanging on to what makes something worth doing.
Cathleen McGuigan, Editor-in-chief, Architectural Record
Julie and Hank's personalities and values are clearly reflected in everything they touch. They do far more than most architects to bring delight to projects on a tight budget, in ways that are playful and witty, yet with a deep regard for those who will use their buildings, and with an exquisite sensitivity to the surrounding cityscape. Yes, they are wonderful architects, but first and foremost, they are humanists.
Raymund Ryan, Curator of architecture, Heinz Architectural Center at the Carnegie Museum of Art, Pittsburgh
I got to know Koning Eizenberg's work when living in LA several decades ago. I wrote about the Simone – a Single-Room Occupancy "hotel" in Skid Row – for The Architectural Review in 1993. I remember Julie explaining to me the many bureaucratic obstacles to realizing a project of consequence for so many fellow citizens. She seemed understandably rather stern about this. And then one of their kids stopped in, perhaps home from school, and her entire demeanour changed. As with later work here in Pittsburgh, Koning Eizenberg have the rare ability to be simultaneously serious and fun.
Anne Rieselbach, Program director, The Architectural League of New York
From the beginning of Hank and Julie's career, their work has been characterized by an unusual combination of freewheeling inventiveness and a disciplined approach to program and place. In 1984, during my short-lived career in journalism, Hank and Julie sent me photographs of their first completed house. I was impressed, and brought the project to a pair of seasoned – and critical – editors who, equally impressed, commended a restraint not usually found in work by young architects. That combination of inventiveness and control, coupled with adhering closely to program yet injecting unexpected elements of surprise, continues to characterize and (delightfully!) distinguish their work today.
Karen Stein, Architectural adviser, executive director of the George Nelson Foundation, and former editorial director of Phaidon Press
There's an unmistakable joyfulness to Julie and Hank's work – a seemingly effortless hospitality that characterizes not only what they do but also who they are. They seem to relish the constant toggle between the awesome and the mundane that is architecture and, in fact, life. Add another thorny problem to the list of things to figure out in order to get a building done and I can imagine Julie's already bright smile widen as she begins to strategize a way through it.
Source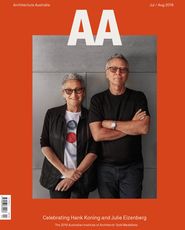 Issue
Architecture Australia, July 2019
Related topics