There were a couple of false starts in Hannah Tribe's career before she found her rhythm and set up her own practice at the remarkably young age of twenty-six. Her father, Anthony Tribe, was a founding partner of Giles Tribe Architects. She recalls visits to his office while still a school student. "There were old, green drawing boards, men hunched over them in brown cardigans, fags hanging out of their mouths and opera playing in the background. To a teenage girl it didn't seem cool at all."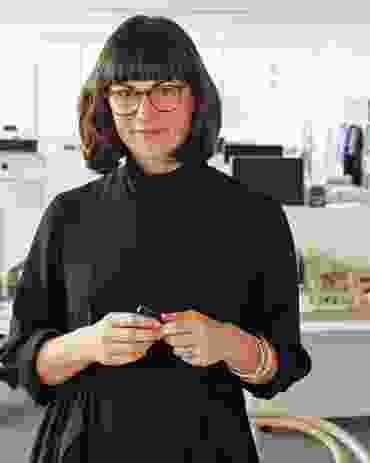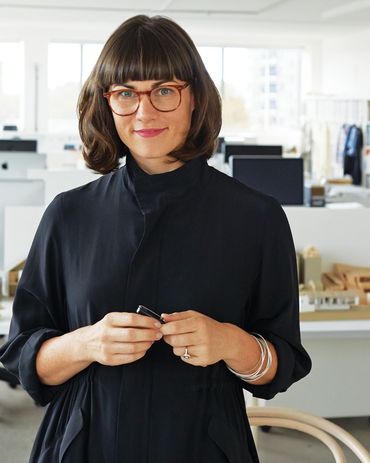 Hannah's mother was an artisan weaver. Both parents were makers and dedicated to aesthetics in their own way, and that creative spirit must have filtered into Hannah. Initially though, architecture wasn't her path.
Travelling after school, interested in art, adept at mathematics but thinking of a future in law or politics, Hannah studied Italian language in Italy, "where everybody is an architect." She witnessed the universality of design in that culture and eventually felt a pull back to a creative career.
After studying at the University of Sydney (with a period at Cornell University in the USA) she graduated with First Class Honours and the University Medal. She spent a year and a half at Durbach Block Architects (now Durbach Block Jaggers) and in her father's office, but found the pressure of practice too much. "I chucked it in, thinking I would never do it again," she says.
Hannah started painting while teaching design at the University of Technology, Sydney. Soon enough, friends asked her to do a small renovation here, a simple addition there, and slowly the work increased. "Once I started having to take full responsibility for getting things built, I found the learning associated with the process such an amazing buzz that architecture suddenly made sense to me," she says. Hannah was finally practising on her own terms, perhaps.
Now, Tribe Studio employs seven architects, including Hannah's semi-retired father, who spends a couple of days a week in the office. Hannah is the directing principal but encourages collaboration in the studio. All architects are selected for their different perspectives, skills and levels of experience, and no one person sits on a project from beginning to end. As a scheme "changes mode," as she describes it – from sketch drawing and modelling to drafted drawing to 3D drawing – Hannah is looking for each of her designers to add something to the process, "which means that things always stay fresh."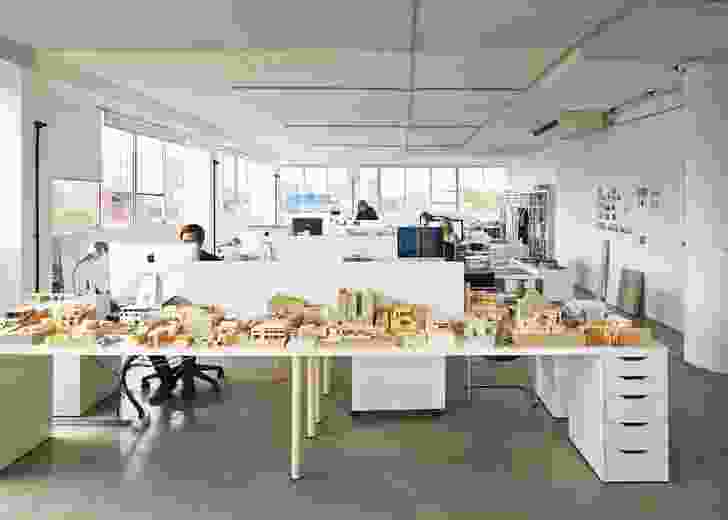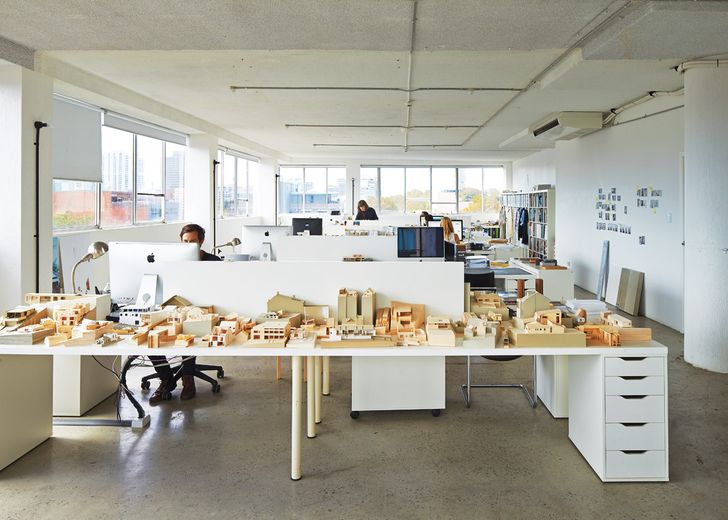 Nevertheless, Hannah's signature in the practice is clear. Hers is a kind of clean, blunt modernism. She calls it "suburban uncanny," slightly odd but familiar at the same time. Her facades can look like simple geometries that have been extruded and sliced off. Often there are no overhangs or eaves. At first glance her work appears un-Australian.
It's contrary to what she was taught at school. No feathered edges for Hannah, no complex layering of interstitial spaces between inside and out. As much as she admired the work of Glenn Murcutt, Peter Stutchbury and Richard Leplastrier, it wasn't for her. She's an urban girl at heart and the conceptual houses of Japanese domestic architects inspired her more.
House Boone Murray in Randwick is a good place to start. The project was an extension to a 1920s bungalow with a decorative facade of corbels, splayed columns and arches. The sides of the house were completely unadorned walls of face brick. Taking the cue from the plainness of the building beyond the street front, Tribe Studio designed a brick box on the rear, completely and brutally flat, punched with openings – an "exaggeration of the condition of the house on the sides."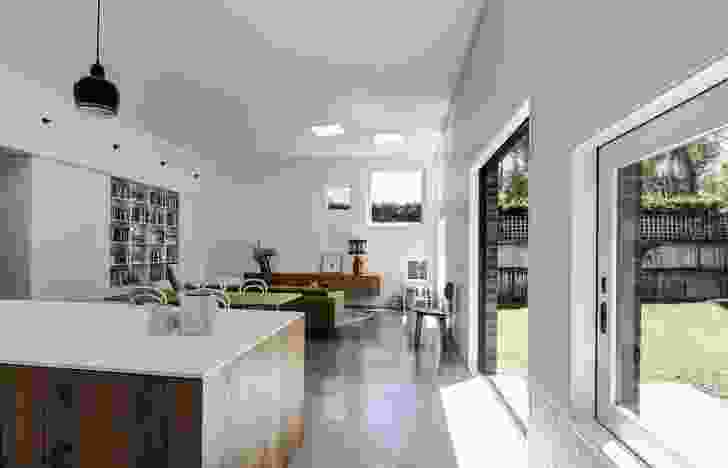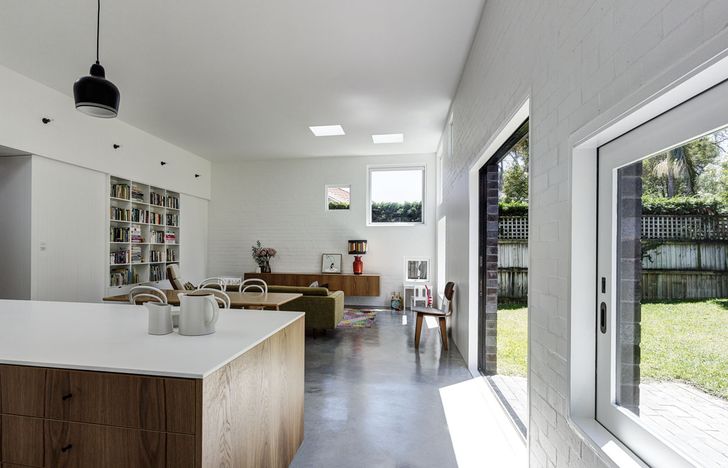 There is no covered verandah or unfolding threshold – just in or out. The room itself is conceived as a connector to the garden. "It is experimenting with the great Australian cliché of the indoor/outdoor, but in a different way," Hannah says.
The extension is perforated with holes in three walls and the roof to connect the interior to the outdoors. Openings are carefully positioned to glimpse certain views – a large jacaranda tree on a neighbouring property, the sky, nearby foliage – and obscure others, like a block of flats nearby.
House Chapple in Mosman can be seen in context with House Boone Murray. Also a renovation and extension, it's rear facade is also blunt and without protrusions. But this one is deeper, folding in around a verandah and window seating. Nevertheless, it reads as a diagram of a suburban house – a white brick wall with an asymmetric apex, like an extrusion that has been sliced off to end it. Where House Boone Murray pulled light in through holes in a box, this one reaches for the light with more dramatic volumes, vaulting the section up into the roof above the kitchen, for instance.
House Bruce Alexander is a renovation and extension to a small terrace in Surry Hills. On a very compact site, a small box is added to the rear of the building with a living space downstairs and a bedroom upstairs. The lower level opens to a private courtyard, but upstairs the box-like nature of the new work is reinforced with a largely blind facade. A steel mesh layer covering the building will over time be covered with plants.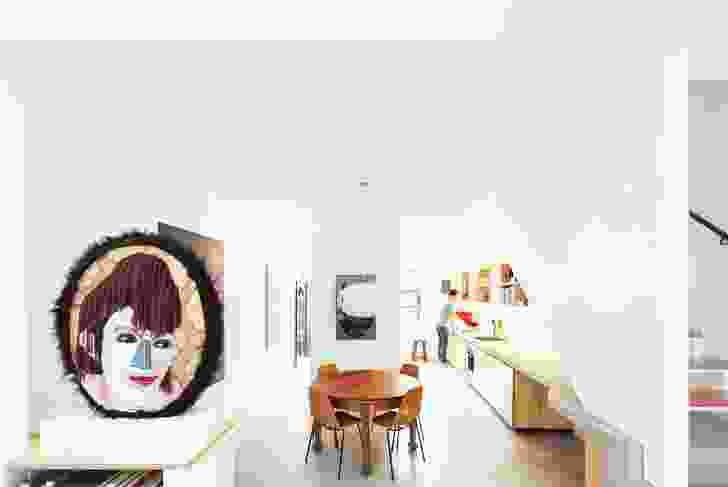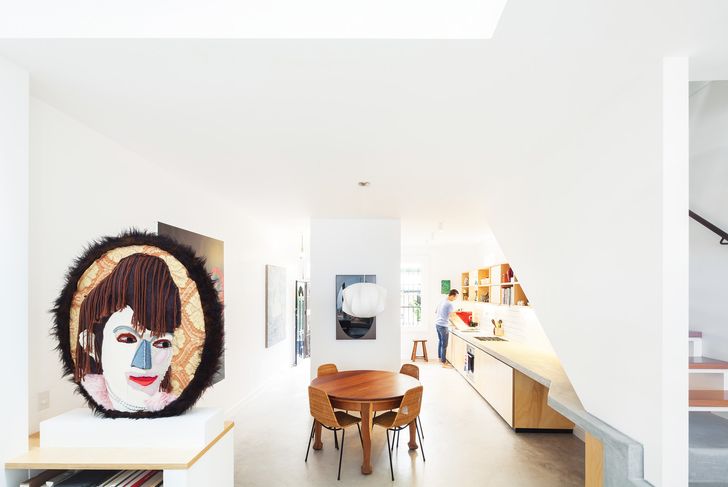 Tribe Studio's projects often pull light in through the roof. Here, a void between the old building and the new provides light, ventilation and thermal control. It is also used like a garage, as a place to hoist and store bicycles increasing the storage amenity on the small inner-city block.
Most of the projects completed by the firm are renovations. "I love them," says Hannah. "You're uncovering something underneath, understanding what you're unpicking. The existing house becomes the site and you respond to that. You might do something architecturally that you might not have done otherwise."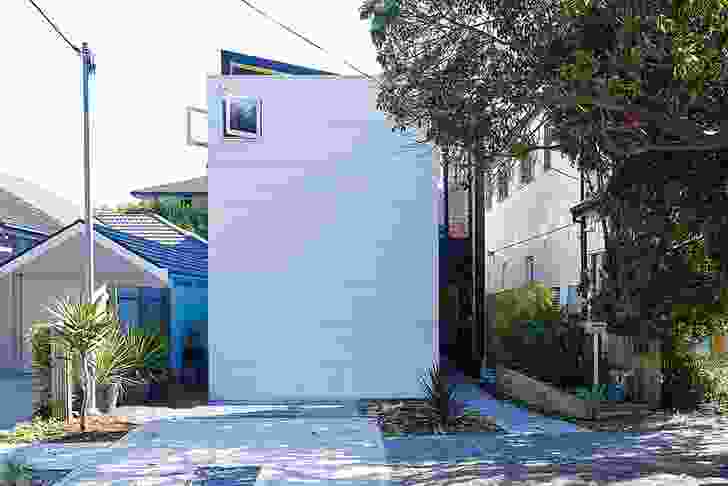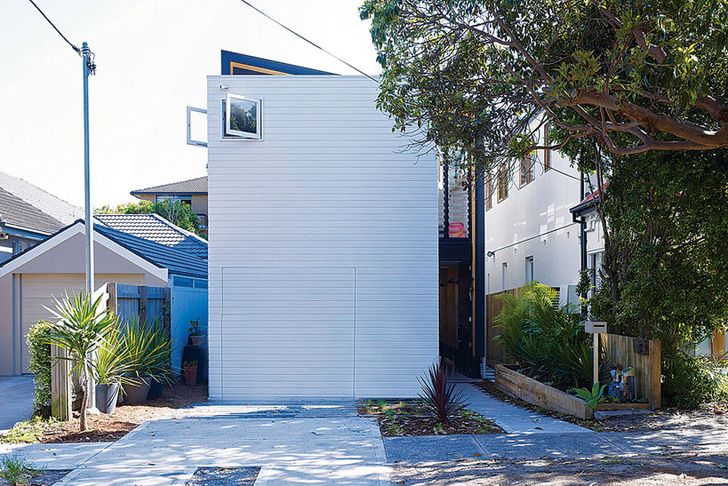 But even in the studio's new houses there is consistency of thinking. House Shmukler in Rose Bay also presents an unencumbered facade to the street. A couple of small, high corner windows and a glimpse of a sloping roof line with a clerestory under it are the only visible openings. It looks like a simple double-storey extruded box but inside it is a second layer of geometry – boxes that sit up under the roof and contain the upper level's bedrooms and bathrooms. Between these boxes are slivers of space that connect to the lower level. This volumetric thinking creates a spatial complexity inside that is not apparent from the exterior form.
This volume-within-volume idea is developed even further in House Maher, perhaps the firm's most sophisticated and complex project to date. But the elevations are still uncomplicated. Take a cartoon model of a house and there it is – a box with a pitched gable roof. A facade of face bricks creates its own kind of beauty. It's familiar and archetypal but arresting in its apparent simplicity – Hannah's "suburban uncanny."
The cleverness of this house is in taking the same "house" shape and repeating it inside, scaled up and down to create rooms and vaulted spaces within spaces. Openings in ceilings punch through roof layers to pull light in from the sky, a recurring feature in Tribe Studio's work. Hannah has created an interior with complexity, spaces within spaces, houses within houses – a world inside.
Products and materials
Roofing

Lysaght Custom-orb, Colorbond 'Surfmist'.
External walls

Lysaght Custom-orb, Colorbond 'Surfmist'; Austral Plywoods ply cladding, matt, 2-pac polyurethane clear finish; Radiata pine weatherboards, painted white.
Internal walls

Austral Plywoods 6 mm hoop pine plywood, matt, 2-pac polyurethane clear finish; CSR plasterboard, painted in Dulux 'Vivid White'.
Windows

Aluminium frame with black powdercoat and timber frame painted Dulux Lexicon, both from Window Solutions.
Flooring

Concrete, steel trowel finish; Killarney ash tongue-and-groove, satin polyurethane finish; oiled blackbutt decking.
Lighting

Tom Dixon beat pendants; Ango hanging wall pendant; Sunny Lighting wall lights; Cosmoluce wall lights.
Kitchen

Electrolux fully integrated fridge/freezer; Smeg stainless steel oven and cooktop; Miele fully integrated dishwasher; Qasair rangehood; Abey mixer; Oliveri sink; Hafele joinery pulls; Furniture Ply hoop pine plywood joinery, matt, 2-pac polyurethane clear finish; MDF joinery, painted Dulux 'Vivid White'; concrete benchtop.
Bathroom

Caroma Cube basin; Kaldewei Saniform bath; Dura bath; Tonic WC suite; Mizu showerhead; Brodware Dial tapware; Parisi joinery pulls.
Heating/cooling

Hunter Pacific Concept 2 ceiling fans; in-slab heating.
External

Real-Crete Outdoor Products concrete sleepers; recycled hardwood oiled timber and black powdercoated aluminium pool fence.
Products and materials
Roofing

Colorbond Custom Orb in 'Woodland Grey'.
External walls

Austral dry-pressed common bricks (seconds), painted.
Internal walls

CSR plasterboard, painted; Easycraft custom V-joint skirt detail, painted.
Windows and doors

Wilkins Windows timber-framed windows and doors, painted; Madinoz flush pulls and Brio flush bolts, both in satin stainless steel.
Flooring

Timber with Feast Watson Espresso Walnut stain.
Lighting

Anibou Artek 330S pendants; Mondoluce Moby external lights; Inlite Delta Light Vice Versa wall lights.
Kitchen

Smeg gas cooktop, oven and fully integrated dishwasher; Qasair concealed rangehood; Leibherr fridge; Oliveri undermount sinks; Franke kitchen mixer; Carrara and Corian benchtops; white polyurethane and Tasmanian oak veneer joinery; Madinoz stainless steel joinery pulls.
Bathroom

Duravit Scola basin; Astra Walker Icon tapware; Contap Industries tapware; Starck 3 wall-hung toilet suite; Kaldewei Saniform Plus bath; Bisanna Tiles charcoal hexagonal floor tiles.
Heating/cooling

Markilux electronic striped blinds from Simple Studio; Velux skylight; Toshiba airconditioning.
External elements

Re-used existing sandstone paving; Bisanna Tiles pool coping, sawn and sealed finish; oiled blackbutt timber decking.
Other

Eames chairs and Nonn Soul dining table from Living Edge; Jardan Deep Nook sofa, Seb chair and Olba low table; Armadillo and Co Herringbone rug in charcoal/limestone and Meadow rug in chartreuse/lichen.
Credits
Architect

Tribe Studio
Sydney, NSW, Australia
Project Team

Hannah Tribe, Miriam Green, Ricci Bloch
Consultants

Builder JLS Construction
Engineer Cantilever Consulting Engineers

Site Details

Location Sydney, NSW, Australia
Site type Suburban
Site area 767 m2
Building area 228 m2

Project Details

Status Built
Design, documentation 12 months
Construction 12 months
Category Interiors, Residential
Type Alts and adds, New houses

Source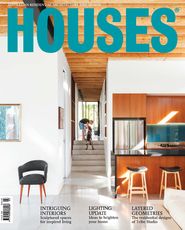 Related topics