Approaching the house-cum-sales-centre called Harmony 9 along one of Waverley Park's sweeping crescents, the first thing that presents itself is what Mirvac architect John Eckert describes as a "billboard."
"We wanted the sales centre to stand out and to have a billboard for some signage," explains John. The signage has since been removed, so we are left with a large square frame, hoisted above ground level. But far from being forbiddingly blank, the wall is made from strips of recycled timber – many different species, of varying thickness. It is unexpectedly beautiful. And here is a clue to the unusual strategy Mirvac employed in their 9.2 AccuRate star experiment – because how can a volume builder ever offer recycled odds-and-ends as a commercially viable cladding system? The answer is that Mirvac treated Harmony 9 like a concept car – they crammed it with innovative and left-field ideas, with a view to incorporating the successful ones into production models.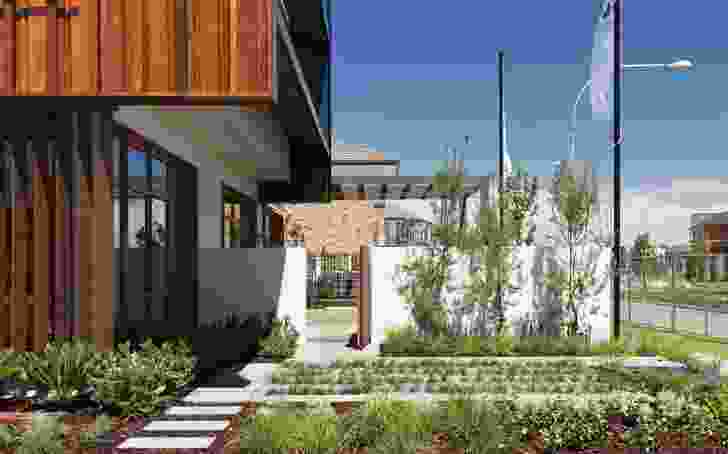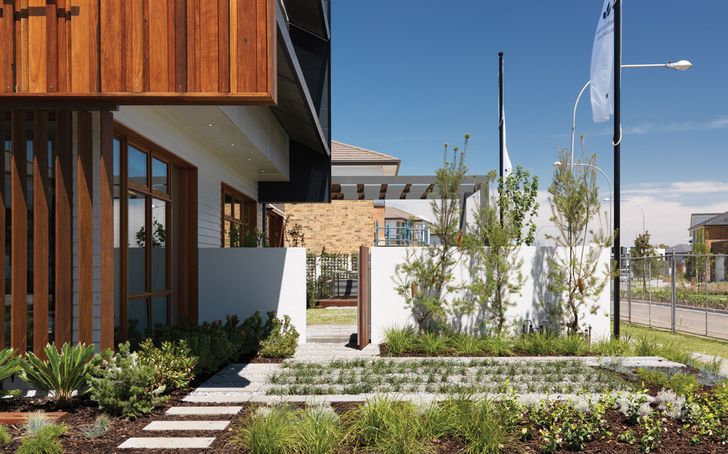 Mirvac began developing the Waverley Park site in 2003. It's a housing development with a heritage-protected footy oval in the middle, complete with remnant brutalist concrete grandstand and a heritage-mandated radial masterplan of ring roads. Two years into Mirvac's construction program, the Victorian state government legislated a minimum five-star energy-efficiency standard for new houses. Before the development is finished, the minimum will be six stars. So, it made sense for the design team at Mirvac to investigate the impact increasing energy-efficiency requirements might have on their core business.
"Ben Bolton, an associate at Mirvac, came to me and said, 'Look we can do six stars; potentially we could do seven. But potentially we could do a lot more.' So we sat down and looked at how far we could go theoretically, just as an exercise, and we were pushing up around the nine-star mark." And, serendipitously, Mirvac had to build a new sales centre at Waverley Park.
In the end the project cost perhaps three times a standard Mirvac house of six stars and took three times as long to design. But the investment was a sound one. To make the research and development as effective as possible, Mirvac first looked to its current business partners, companies like Boral, James Hardie and Stegbar. "We didn't want to turn this into a world's best practice building – we didn't want to import the latest technology from Denmark." And the locals came to the party. For example, Boral could offer its Envirocrete concrete product, which substitutes recycled aggregate and fly ash for up to 60 percent of the energy-intensive cement, and a version of plasterboard with recycled content. The project also helped push local authorities toward greater acceptance of recycled water: initially the regulations demanded that the "class A" drinking-quality water coming out of the Nubian greywater recycling system go into the sewer rather than the water tank buried under the driveway.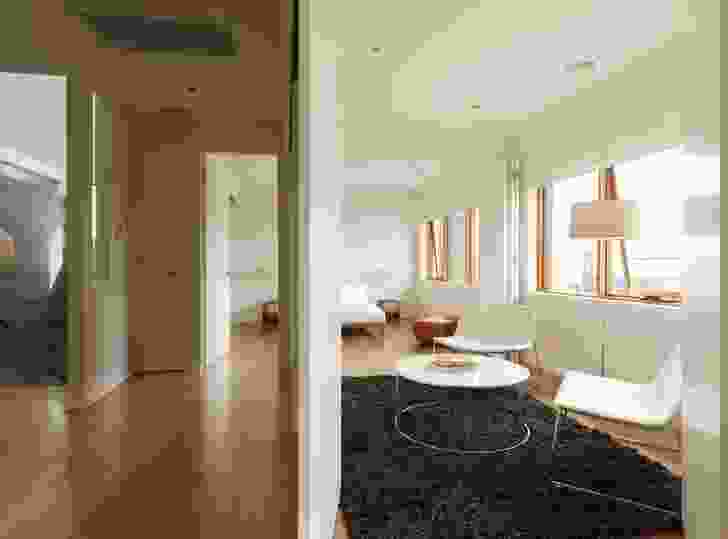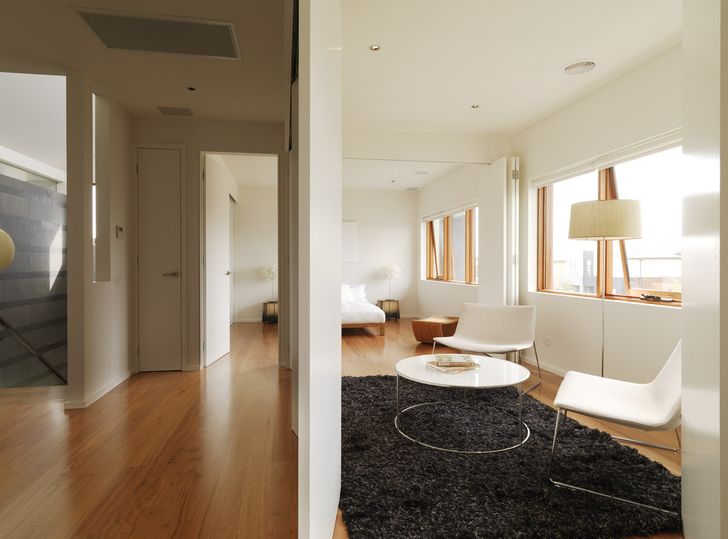 Some initiatives that seemed simple at the outset were much harder to implement than they perhaps should have been. The smart meter that Eckert describes as a "behavioural change tool" is a screen that shows the occupants real-time information about their water, gas and electricity use. But implementing it wasn't simple: to measure water use, the system relies on electrical impulses, yet the water company's standard flow metering system doesn't and, according to John, "they have no incentive to assist this smart meter process." In the end, the team installed two separate water meters – one for the water company and one for the smart meter.
Electricity was a much simpler matter. There is forty thousand dollars' worth of photovoltaic panels in the project, which flowed almost naturally from the 9.2 star envelope – only a tiny percentage of the year would need any additional heating or cooling, so it could be easily powered by solar. And if you are installing solar, why not add enough to create a net-carbon-neutral result, covering all the estimated energy needs of a contemporary household? The positioning of the panels is another aesthetic triumph. They are made to function as sunshading for the north-facing windows rather than simply an attachment to the roof.
There are more moments of aesthetic joy in the interior – recycled bricks are artfully arranged to demonstrate the reverse-brick-veneer construction. On the ground floor, an exposed panel of brickwork is composed into horizontal stripes of odd cleaned up and reused bricks. Another exposed panel of brick appears in the upstairs bedroom. This time, a geometric pattern of unusual new bricks, from a leftover parcel that brick manufacturer Daniel Robertson could not otherwise sell. (I think I recognized them from John Wardle Architects' Nigel Peck Centre for Learning and Leadership at Melbourne Grammar School.) Undoubtedly the texture and character of these bricks makes them attractive to buyers, but they will never be repeated. "Having spent last Easter there setting out the bricks on the floor, literally picking between the pallets myself and setting out the pattern, I don't think I'd like to do that for the next five hundred houses," jokes John.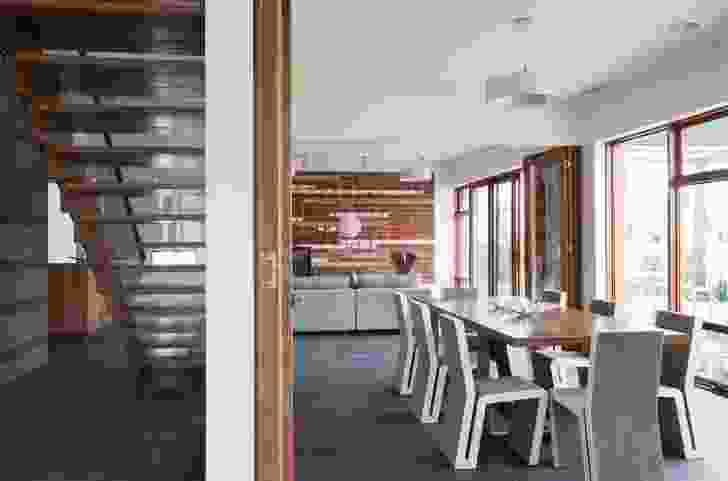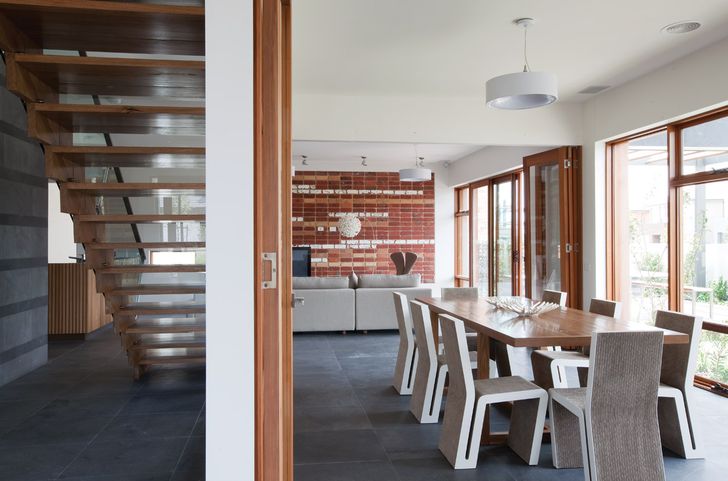 "It's normal to build a bespoke sales centre that looks a little bit like a spaceship and attracts people to it," explains John, but they are usually temporary. This time a sales centre has been built permanently, and at great cost, to function later as a house, which alone makes it more sustainable than usual – there is no need for demolition or relocation. And perhaps its unusual hybrid purpose is also what propelled it into the realm of architecture.
Quite simply, it looks good – a moment of refreshing novelty amid a sea of identikit project homes. And aspects of it have already flowed on to commercial reality. A simple electricity monitoring system is being rolled out into mass production, along with a "green switch" – literally a green-coloured electrical switch that turns off standby power as you leave – is installed inside the front door of every new house. Who knows what else might filter down eventually? We might see recycled timbers and exposed brick in a standard Mirvac house yet.
Products and materials
Roofing

Metal deck Zincalume finish; R 8.0 glass wool insulation.
External walls

Reverse brick veneer with fibrecement external skin.
Internal walls

Recycled plasterboard; face recycled brick.
Windows

Argon-gas-filled void timber frame, natural oil finish; high-performance glazing.
Flooring

Local bluestone tile; engineered timber.
Lighting

LEDs; compact fluorescent.
Kitchen

Ecoply; recycled glass; Smeg appliances; low EO board.
Bathroom

6-star WELS-rated tapware; 3-star WELS-rated shower heads; 4-star WELS-rated toilets; Class A recycled water system treating greywater; prefinished wall panels.
Climate control

Natural ventilation; solar panels.
External elements

20,000 L water tank.
Source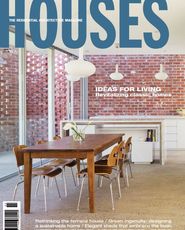 Related topics