EUREKA TOWER
FENDER KATSALIDIS (AUST)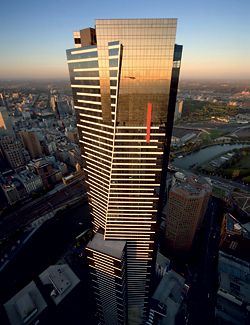 JURY CITATION
The Eureka Tower clearly demonstrates that commercial architecture can be about more than the "bottom line" – it can contribute a broader value to the life and character of the city.
A mixed development of apartments, tourism facilities, function spaces, showrooms and hotel, Eureka proposes a valid model for the tall tower within the contemporary city – a vertical city with a high-density programme for an era in which density and sustainability have become intrinsically linked.
The design demonstrates recognition that a form of public responsibility goes with developing such a tall tower (this one is over eighty levels). Its strangely thin proportions (particularly from the north and south aspects) and its chiselled form have a powerful and dramatic presence in Melbourne's city skyline. Seen from each of the main approaches into the central city, it has an almost uncanny presence, acting as a sort of navigation beacon to our car culture. Its chamfered form and complex gold top shift and change with both distance and alignment, giving the tower an elusive and theatrical quality.
The value of the design is clearly evident in the way the tower has already embedded itself into the mental map of the city of Melbourne, and it provides a vivid reminder of the powerful character of the metropolis and the metropolitan space in which Australians are increasingly choosing to live.
Eureka Tower
Architect
Fender Katsalidis (Aust)—design architects Nonda Katsalidis, Karl Fender; project architect Michael Fazzino; interior design Kathie Hall; project team Glenn Purcell, Wayne King, James Mills, Falk Peuser, Jessica Lee.
Structural consultant
Connell Mott MacDonald.
Services
Norman Disney Young.
Facade consultants
Meinhardt Facade Technology.
Acoustics
Marshall Day Acoustics.
Landscape
Tract Consultants.
Wind studies
MEL Consultants.
Traffic
GTA.
Building surveyor
Philip Chun and Associates.
Quantity surveyor
Rider Hunt.
Land surveyor
Reeds Consulting.
Superintendent Gallagher Jeffs.
Design and construction manager
Grocon Constructors.
Civil engineer
Irwinconsult.
Client
Eureka Tower.
Photographer
John Gollings.