Hume City Council Offices
Lyons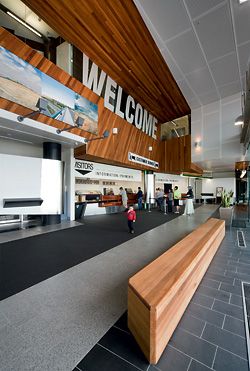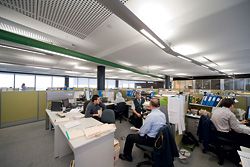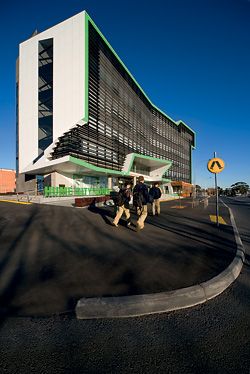 Jury Citation
The outer suburban site for this six-storey office building – set in a large, open, shopping mall car park adjacent to a freeway and near a railway station – has not deterred the architects from creating a bold and inspired design. The need to work with a modest budget has also been embraced. These apparent constraints have stimulated invention and set in motion a straightforward, direct approach to the functional, practical and economic parameters that are routine in this type of commission.
The architect's commitment to sustainability is thoroughly and confidently integrated into the architecture without compromising the client's accommodation program. In addition to providing environmental benefits, the sustainability initiatives contribute to the comfort of the building's occupants and its distinctive and memorable aesthetic character.
The visually striking form of the building is easily identified from a distant approach – architecture confidently marking the civic heart of the regional centre. The visitor's middle distance view and arrival are marked by the urban forecourt and entry podium that merge into a welcoming and spacious public foyer. The interior accommodation is efficiently planned and presents a contemporarily styled working environment for the occupants. The completed ensemble provides a new standard and a fitting image for a progressive local council office.

Architect Lyons—design director Neil Appleton; directors Carey Lyon, Corbett Lyon, Cameron Lyon, Adrian Stanic; architects Clare Connan, James Whetter, Chris Millen; graduate architects Chris Georgiou, Edward Berry.
Services and environmental consultant Umow Lai and Associates.
Hydraulic consultant CLG Plumbing.
Landscape consultant Rush Wright Associates.
Building surveyor Davis Langdon.
Quantity surveyor Turner Townsend Rawlinson.
Civil and structural consultant and site engineer Bonacci Group.
Project manager Hyder Consulting.
Builder Hooker Cockram.
Photographer John Gollings.