Updated designs for stations along Melbourne's under-construction Metro Tunnel have been released as part of the Victorian government's announcement of winning consortium for the tunnel's construction.
ArchitectureAU understands that the Cross Yarra Partnership (CYP) consortium includes Hassell and Weston Williamson and Partners, a London-based practice, with Hassell also acting as landscape architect.
Each of the five stations, at Parkville, Arden, Domain and two CBD stations, will have its own "identity." "Sweeping arches" and natural light are defining features of the designs, with large feature skylights exposing underground platforms to the outside at Arden station and the concourses at Domain and Parkville stations.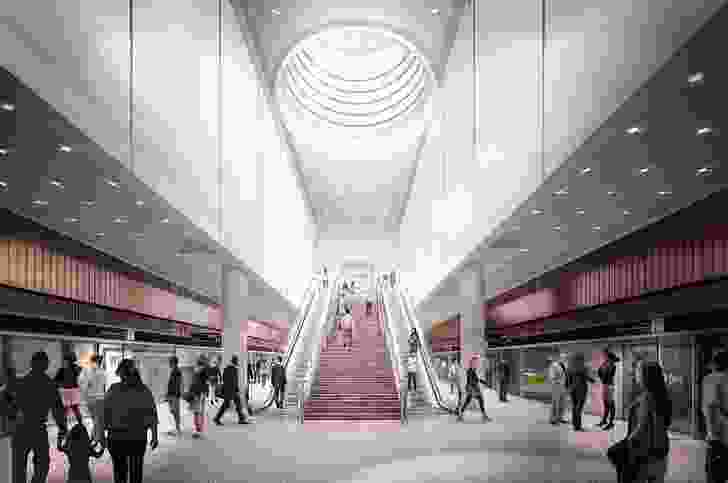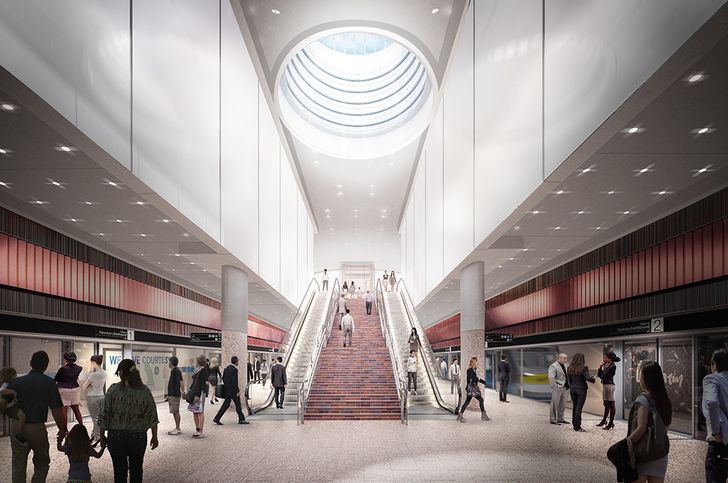 Reflecting the area's defining relationship with the University of Melbourne, bluestone will feature heavily in the materials used to construct Parkville station. Arden's industrial past will be referenced through the use of clay brick.
The provisionally-named CBD North and South stations will be connected via underground walkways to stations on the existing City Loop, while the Parkville station will be connected to the Royal Melbourne Hospital and the Victorian Comprehensive Cancer Centre via an concourse underneath Royal Parade.
An emphasis has also been placed on revitalizing and increasing the public space above and surrounding the stations. At Arden, more than 6,000 square metres of new public space will be created. A flood-resistant "urban sponge" landscape strategy will be used to absorb stormwater. This will include rain gardens, tree planters and permeable paving. 3,500 square metres of public space will be created at Parkville and 4,500 square metres at Domain.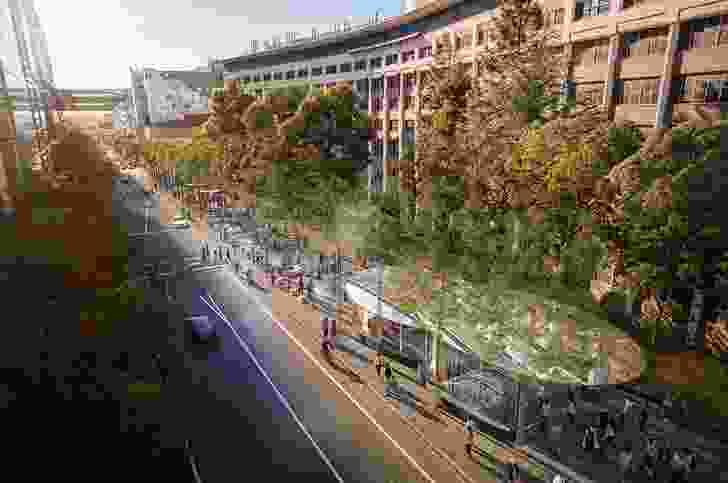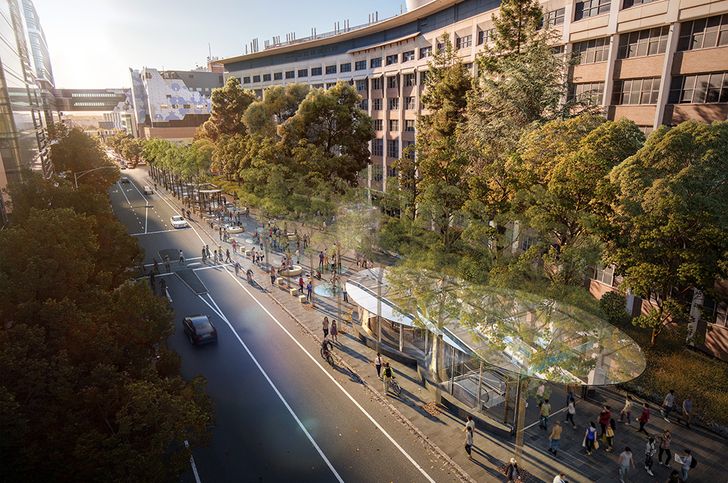 Early reference designs for the stations produced by Grimshaw Architecture were released in May 2016. Grimshaw designed both Southern Cross and Nunawading stations and was shortlisted, with John Wardle Architects, in the 2012 Flinders Street Station Design Competition.
Weston Williamson and Partners specializes in transportation projects and has been particularly involved in the development of London's rail system. Most recently this has included designs for four stations on London's new, currently under-construction underground Crossrail railway. The firm was also involved in designing several stations for an extension to London's Docklands Light Railway (DLR).
Hassell was unanimously selected as the winner of the 2012 Flinders Street Station International Design competition with a design produced in collaboration with Herzog and de Meuron. In Melbourne, it designed the suburban West Footscray station, which opened in 2013. In Sydney, it is responsible for the architecture, urban design and landscape architecture of the eight stations and upgrades to five existing stations on the Sydney Metro Northwest project.
Victorian transport minister Jacinta Allan said, "The Metro Tunnel will change Melbourne forever with a world class design that will see new open space, terraced seating and sweeping arches."
In addition to the architects, the CYP consortium comprises Lend Lease Engineering, John Holland, Bouygues Construction and Capella Capital.
Early construction started in 2017, with major works on the tunnels and stations planned to begin in early 2018. The Metro Tunnel is expected to be operational by 2026.
Correction (13/10/17): This article has been amended to reflect the correct attribution for the architecture practices involved, and Hassell's role as landscape architect.
Related topics