The modified proposal for the redevelopment of the IMAX theatre site in Sydney's Darling Harbour, designed by Hassell, has been recommended for approval by the NSW Department of Planning and Environment, despite drawing "serious concerns" about the building's bulk and impact on public space.
The proposal building, dubbed "the Ribbon," will now be assessed by the state's independent Planning Assessment Commission for a final decision.
The scheme is a modification on an earlier proposal for the site that received planning approval in 2014.
Originally proposed as an office tower, the new scheme will instead house a 25-storey hotel, serviced apartments and a retail and entertainment complex with an upgrade to the Imax theatre.
The modified scheme replaces the continuous diagrid glazed panels that wrapped the building with a combination of louvres and panels in a metallic finish. A void has also been carved into the eastern elevation, breaking up what was previously a continuous surface in the earlier design.
The new submission also proposes a "city screen" for the lower levels of the western façade, to be used for tenants of the building and for the public screening of special events, such as sporting finals.
The department released designs of the modified scheme in January 2016 for public comment.
"The [Planning Assessment] Commission will now consider the department's report and recommended conditions as well as community submissions to make a final decision," said a spokesperson for the department.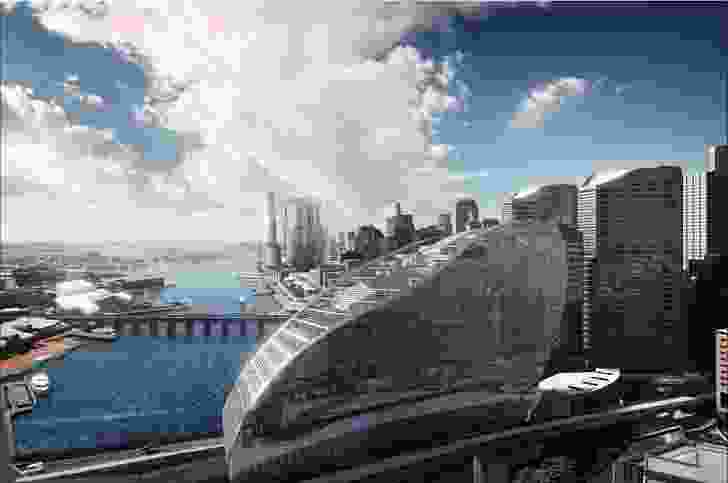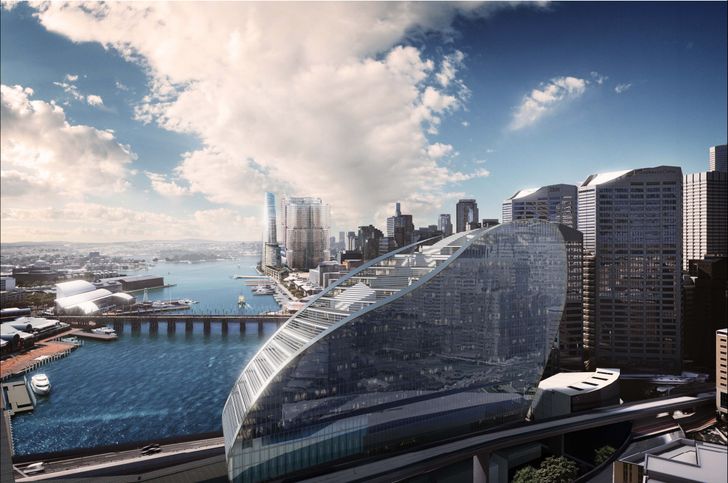 The submissions, which include those from the City of Sydney and local independent MP Alex Greenwich, raised concerns regarding the building's scale and encroachment into the public domain.
"The Department needs to seriously consider whether another approval of a building of this size, [which is] contrary to the longstanding design intent of the site planning, is the best outcome for Darling Harbour," said Graham Jahn, director of city planning, development and transport at the City of Sydney. "The building will cast significant shadows to the south particular in the morning in winter over the new public domain."
"The proposal will result in a significant encroachment of the building into the public domain," Jahn continued. "The public domain 'take' of the proposal is excessive and will reduce pedestrian circulation and remove visual connectivity between east Darling Harbour."
However, Hassell and developer Grocon maintain that "the footprint of the building and its impact on the public domain is very similar to that of the approved commercial scheme proposal."
Greenwich, in his objection, expressed "serious concerns" about the proposal. The development will have a gross floor area of 63,500 square metres, which is more than twice the height and eight times the size of the existing 11-storey building.
"The proposed redevelopment will result in gross overdevelopment of Darling Harbour," Greenwich said.
"Darling Harbour will suffer from the cumulative impacts and lose any human scale with too much high-rise development. The proposed substantial tower is of particular concern given its location adjacent to public recreational space where amenity will be lost as a result of this proposal."
Related topics