Surrounded by Edwardian and Victorian brick edifices off a bustling road in Melbourne's inner-east, you could be forgiven for thinking you'd stepped back in time, were it not for the rows of luxury cars parked in the street. Tucked behind one of these edifices is an elegant, contemporary addition by Andrew Mellios of emerging practice AM Architecture.
Early investigations by Andrew uncovered a long history of alterations starting in the mid 1900s when the home was doubled in size and converted into four contorted units around a central light well. It was then neatly consolidated back into a single home by Norman Day and Associates, and later again, the courtyard was consumed and an additional floor was added to the rear. This process had left the house in a highly dysfunctional state that largely ignored the flow of the original Victorian plan and the potential offered by the north-facing rear garden.
Andrew, armed with an open brief from trusting clients, decided that the double-brick bones of the existing extension were too good to discard. Instead, the brick shell to the rear was gutted and a new house was skilfully inserted. It reads like a checklist for any contemporary architectural extension: re-do the kitchen and double it in size, upgrade the bathrooms, open the house up to let in more natural light and improve the connection to the garden. This seems simple enough, but the trick is to create something that is more than the sum of its parts.
The architects have achieved this most dramatically through the creation of what Andrew terms "platforms for the daily rituals of living," using devices such as the imposingly scaled Calacatta marble slabs in the bathrooms and kitchen, and the timber platform hovering over the pool, to elevate the everyday activities of daily life to an almost ritualistic status. This is also true of the ground-floor ceiling, which is lined in warm-toned blackbutt timber that wraps up between the old and new buildings, creating another platform and an experience akin to walking underneath a finely crafted timber vessel in dry dock.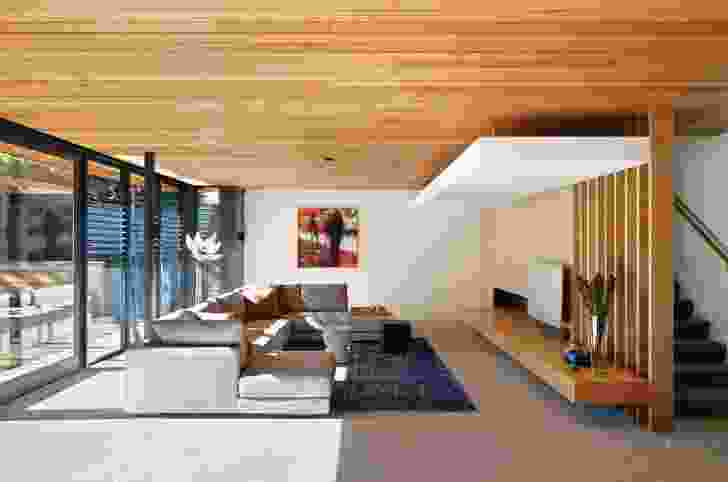 The zone of transition between an original home and its new addition is always an important space in this idiom: does one attempt to seamlessly tie new to old or create an easily recognizable schism? With this project, AM Architecture has had its cake and eaten it, too. The front rooms of the original home have been repurposed and re-dressed with a sensitivity that retains the original period character, while a new, sharply detailed suite of elements has been inserted using a palette of honest materials such as blackbutt timber in the custom-designed bookshelves, natural tan leather upholstery, black steel fittings, Calacatta stone and white porcelain tiles, to recall the rustic materiality of early Victorian homes.
A third section of the original Victorian hallway was reinstated, a deliberate move to lengthen the experience of the original house and hold back the full experience of the garden connection until one has arrived at the addition. At this point, the rear of the house clearly gives way to the new in a few cleverly orchestrated manoeuvres that stitch the old to the new without diminishing either. A monolithic bluestone slab acts as a freestanding tread between floor levels, suggesting a stepping stone between old and new. Vertical screens of large blackbutt sections flank this zone, a feature that is used again as a screen to the stairs from the living area.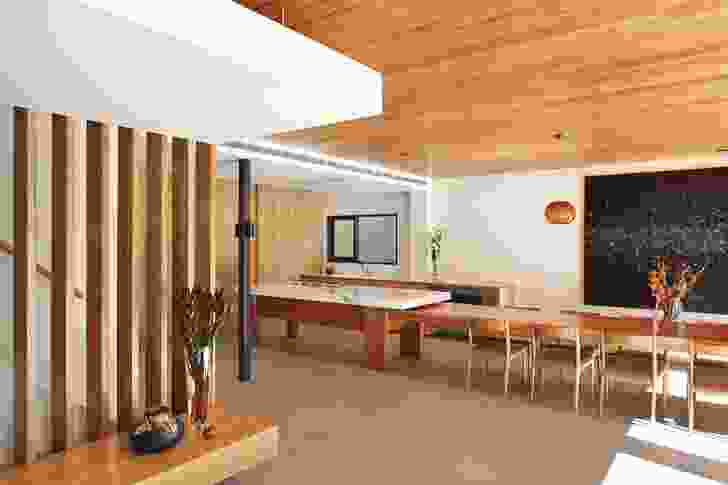 When stepping down into the new kitchen, visitors are immediately drawn to an impressively scaled island bench, which is a natural staging ground for before guests are seated at the integrated dining table. A long banquette seat extends from the kitchen bench and furthers the amalgamation of the living spaces into the kitchen. Andrew notes the influence of time spent in kitchens of Mediterranean homes while visiting family, where the space serves as a dining room, a family room and even a bedroom to capture warmth from the oven on cold nights.
The architectural language is continued on the first floor with a new balcony that allows the bedrooms to open and directly experience the garden. Here, the diagonals used earlier in the study bookshelves find their natural home in the finely detailed timber and steel trusses of the balcony and in the pool's pergola; which will eventually be overrun with a grape vine.
The balcony truss is also put to other uses: structurally it transfers load to minimize the depth of the supporting steel, acting as a balustrade and screening framework for future vegetation and also serving as a refined and contemporary interpretation of the ubiquitous Victorian fretwork adorning many of the homes in the street. This gesture is a fitting bookend to a project that has responded so thoughtfully to the building's history, while preparing for its clients' future.
Products and materials
Roofing

Lysaght Klip-lok.
External walls

Brick, painted Dulux 'Domino' and 'Stepney'; Silvertop ash timber screens in Lanotec finish.
Internal walls

Hard plaster and plasterboard, painted Dulux 'Natural White'; blackbutt timber veneer with satin finish.
Windows

Saxon Windows and Joinery timber windows painted Dulux 'Domino'; Breezway louvres.
Doors

Solid-core internal door; Designer Doorware hardware; Dorma pivots.
Flooring

Recycled Baltic pine with clear polyurethane finish; Eco Outdoor Lagano granite finished with blind impregnating sealer.
Lighting

Marset Mercer S lights; Rodolfo Dordon New Buds lamp; Inlite Deep Starr and Platform lights, Deltalight Ultra W and Minigrid lights, all available from Inlite; Rosy Angelis by Philippe Starck from Euroluce; Beacon Lighting external lighting.
Kitchen

Calacatta Statuario marble benchtops from CDK Stone; Reece Teknobili Oz t7 mixer; blackbutt timber veneer with satin finish; Coulson Tiles white mosaic tiles.
Bathroom

CDK Stone honed Statuario marble benchtops; 2-pac joinery painted in Dulux 'Natural White'; Rogerseller tapware; Parisi ceramic twinset handbasin; Coulson Tiles white mosaic tiles.
External elements

Blackbutt decking; Eco Outdoor Lagano granite paving.
Heating and cooling

Lennox ducted split system; Design Live automated roller blinds.
Other

Custom-designed hardwood tables by AM Architecture, manufactured by Woolstore Furniture; Tide Design desk; Loom Rugs rugs; other furniture from Jardan, Mark Tuckey and Interstudio.
Credits
Architect

AM Architecture
Prahran, Melbourne, Vic, 3181, Australia
Project Team

Andrew Mellios, Elspeth Simms, Simon Goddard, Antry Lau
Consultants

Art consultant Melissa Amore
Builder Habitat Construction and Developments
Building surveyor Nicholson Wright Building Surveyors and Inspectors
Engineer Stress Consulting Engineers
Landscaping John Patrick, Colin Pratt Garden Design and Tim Hamilton

Site Details

Location Hawthorn, Melbourne, Vic, Australia
Site type Suburban
Site area 840 m2
Building area 340 m2

Project Details

Status Built
Design, documentation 12 months
Construction 12 months
Category Residential
Type Alts and adds, New houses

Source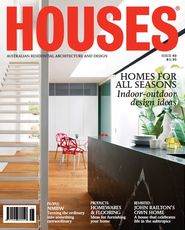 Issue
Houses, December 2012
Related topics