Once you get past the charm of yesteryear, homes from the nineteenth century can be a challenge. Look past that lovely lacework and period detail and what you might find are dark rooms, enclosed volumes and inefficient space planning. Don't get me wrong – there's much to love in those architectural gems. But ideas about amenity have changed a little over time. And many properties of that era have endured a hundred-odd years of "improvements" at the hands of well-meaning occupants.
Fortunately for architect George Fortey of Nixon Tulloch Fortey Architecture, the "improvements" to this property were nothing serious. The previous residents had last renovated the 1890s Victorian weatherboard cottage forty-seven years ago and, George notes, the property was in pretty good condition structurally.
The brief was quite simple: three bedrooms, an independent study, a central bathroom and an ensuite, preferably all on one level. Though the brief might not be exceptional, the team's solution certainly is.
The vision was to extend at the rear of the property, but before this, the first stage of the project was to restore the front portion of the existing house. "We felt it was important to strike a strong distinction between the heritage and the new and, as such, the 1960s detailing had to go," George says. With its Victorian verandah back in place and a lick of white paint, the house now nestles comfortably between like neighbours in its row. The real success of the project, though, is what's happening inside.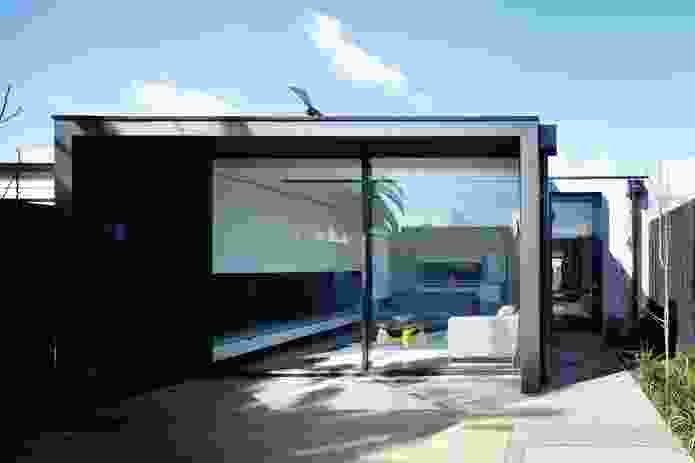 Within roughly the envelope of the original cottage, the architects have cleverly pushed, pulled, realigned and reimagined the layout to create a thoroughly livable family home.
The generous setbacks at the north and south boundaries (1,100 and 700 millimetres respectively) have been put to good use, with two neat boxes pushing beyond the walls of the original house. The northern box houses a compact ensuite to the main bedroom, while the southern accommodates a laundry pod. "They demonstrate what you can achieve in a narrow space," George explains. These cement-rendered boxes perform another role too – they define two service yards with room for a washing line and a pocket of greenery.
It's here that another gesture – the transverse "collar" that separates the original house from the extension – comes into play. With a door at either end, it alleviates that lack of internal ventilation that often afflicts Victorian housing, capturing both cross-breezes and a glimpse of bamboo to open up the centre of this house. It's paved in the same soothing bluestone as the front path, which appears again in the backyard.
While the hallway doglegs at the collar, a neat linear study extends the line of the original corridor through to the rear courtyard via the dining zone. It's a clever manoeuvre: equipped with doors at each end, the study can act as a thoroughfare when moving large objects in and out of the house but, with its doors closed, it becomes a perfectly functional study. It also permits uninterrupted sight lines (and breezes) from the front of the property to the back.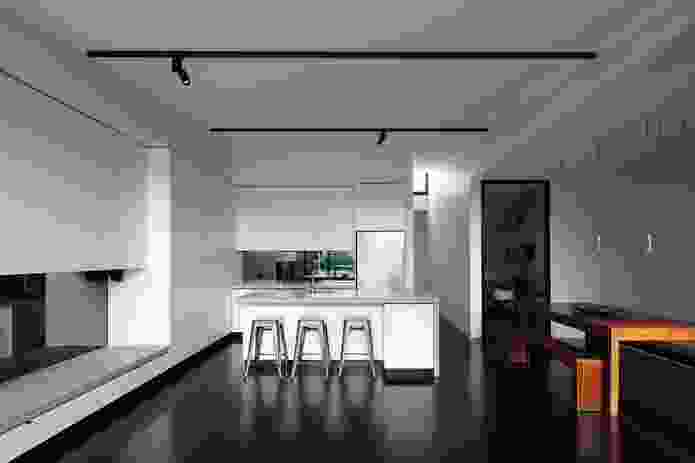 "People are amazed at how much we've managed to fit into a small space," George says of the new rear volume. And it is surprising – a high ceiling slopes downwards toward the west, over the kitchen and lounge area to large sliding doors that frame views of the timber-decked rear garden. A dining zone, defined by a lowered ceiling level, is tucked into the southern perimeter, with its own door opening to the outside.
George was also keen to tackle one of the other hallmarks of Victorian homes – storage, or a lack of it. The new volume welcomes a bank of unobtrusive cabinets that hug the eastern and northern perimeters, while each of the bedrooms has been fitted out with new joinery that is finished in a sleek black.
Materials and finishes throughout the project are crisp and legible. "They're simple materials used honestly – we like materials that look like what they are," George says. The kitchen makes use of basic laminate components, but it has been carefully detailed to create razor-sharp lines. The result is a kitchen that looks far more expensive than it is. Its key feature is the hefty concrete island bench, which was poured on site and adds structure to the open-plan space. The same concrete finish appears on a plinth that runs the length of the lounge, housing entertainment and a fireplace.
Beyond the living room, the garden has been updated with new decking in silvertop ash, new paving and one unexpected touch – a lovely circle of turf. "It's just a small disc of lawn," George explains, "enough for the dog to roll around, or to have a wrestle with the kids, or to throw down a towel and lie in the sun." And that's the kind of amenity one could definitely get used to.
Products and materials
Roofing

Bluescope corrugated iron with Zincalume finish and Klip-Lok roof decking in Colorbond 'Night Sky'.
External walls

Weatherboards in Dulux Weathershield 'Natural White'; cement render.
Internal walls

Plasterboard, painted Dulux low sheen 'Whisper White'; recessed MDF skirtings, painted Dulux semi-gloss 'Whisper White'.
Windows

Warragul Glass and Glazing windows with aluminium frames in black powdercoated finish; DesignLive Riga hardware in polished chrome.
Doors

Semi-solid flush-panel doors in Dulux semi-gloss 'Whisper White'; DesignLive Riga hardware in polished chrome.
Flooring

Boral New England oak floorboards, finished with Wattyl 'Black Satin'; Edwardstown Carpets Studio Carpet, 'Moss Green'; Harkaway bluestone, honed.
Lighting

Inlite Tuba track lighting; Gentech Lighting mini slot downlights; Mance Design T. A. Eddison pendants.
Kitchen

Electrolux E: Line appliances; Qasair rangehood; Fisher and Paykel fridge; Ottone Meloda Proteus tapware; Asko dishwasher; Rutso in situ concrete benchtops and hearth, honed, with joinery by Exclusive Cabinets; Laminex joinery in parchment flint finish; Viridian mirrored splashback.
Bathroom

Ottone Meloda Proteus tapware; Porcher Cygnet toilet; Rogerseller Verso 70 basin; Artedomus Elba Dolomite marble tiles, honed; National Tiles wall tiles.
Heating/cooling

Braemer ducted underfloor heating and cooling system; Jetmaster fireplace.
External elements

Harkaway bluestone paving, sawn; silvertop ash timber decking.
Source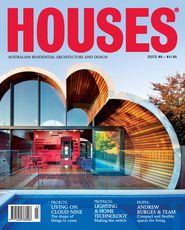 Related topics