Johannes Hartfuss, director of Layan Design Group, says their first Australian project wasn't intended in any way as a marketing exercise. He sees the house as sitting outside the current Australian architectural trend of denying the right angle. He thinks the design is too simple, too restrained for popular taste. "And people don't like exposed brick." Instead, this "private, comfortable, light-filled house," according to Johannes, was designed very much for himself and his architect partner. Did I say architect? I should say "designer," because Johannes and his partner studied in their home town of Munich, Germany, at a polytechnic and would need to study two more years at university to be registered in this country.
Layan Design Group does nearly all of its work in the Middle East and Asia (both Johannes and his partner lived and worked in Malaysia for six years before moving to Melbourne in 2002) with some private commissions in Australia. Coming from another country does have its advantages, however. When they took their proposal to council, it was in the form of a physical model: the front two rooms of the little row house were shown intact, with the rear replaced by a two-storey, fifteen-metre-long rectangular slab. As expected, the planners "freaked." "Ah well, where we come from this is all good," said Johannes to the planners, feigning innocence. "So how can you help us make this building work?" he asked, and they began cutting away at the model, removing visual bulk, until the planners were satisfied. What was left was still larger than the planning scheme stipulates.
The little Hawthorn site is narrow and the existing corridor only eighty-five centimetres wide. The addition contains only rooms of full site width. "We tried to break up the Victorian axis as much as possible," says Johannes. This was their first encounter with Victorian architecture. "You have these little spaces but everything is so high and tall you get quite an airy feeling." There is an incongruous grandeur to the tiny guest wing comprising the front two rooms of the house. This area is intended to accommodate overseas friends and family, in relative privacy and isolation from the house proper. The front room was made even smaller – and so proportionally taller – with the addition of an ensuite. A replica architrave makes the alteration seamless at ceiling level. With floor-to-ceiling timber panelling and symmetrical planning, the room feels almost palatial, and the proportions suit Johannes, who stands well over six feet tall.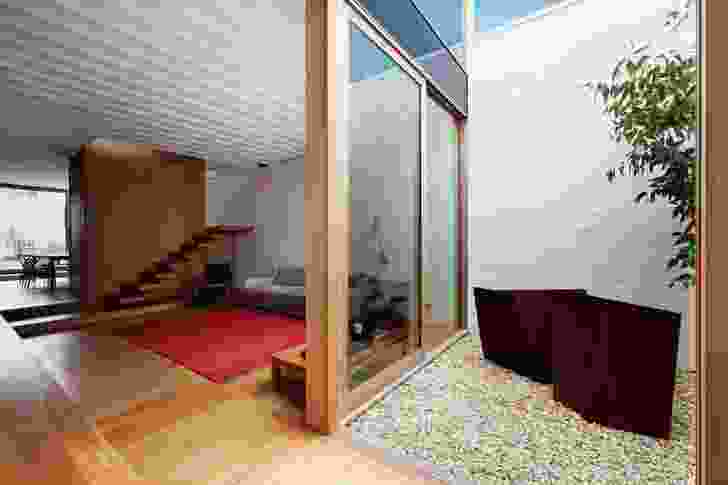 A courtyard separates the guest wing from the house and allows some northern light into the guest lounge. Frameless floor-to-ceiling glass, with a backdrop of white-painted bricks, brings the gum tree and rusty steel sculpture to the fore. The floors are American oak and the same timber has been used as a veneer on all the joinery. There are few materials on display, and no plasterboard. Hidden construction details include lightweight Hebel concrete panels in the upper floor and walls, both for structure and for acoustic baffling.
Minimalism extends to the absence of a balustrade on the stair. The budget was tight: the internal carcasses to all the joinery are from Ikea. The money ran out before they could install a greywater recycling system, but the piping is there – at the moment the gravity-fed water tank under the floor of the guest bedroom only waters the garden.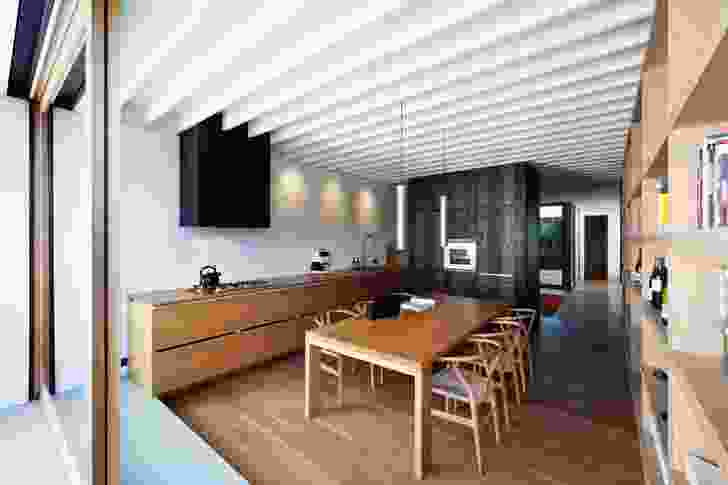 Planning upstairs is ordered and rational. One continuous wall of joinery encloses robes, laundry and bathroom in its ninety-centimetre width. There is even a doorway from the upstairs bedroom to the roof – again with no balustrade – the access is for maintenance only, of course! It just happens to be a perfect place to sit in the morning with a cup of coffee, with a private view of treetops. An aesthetic preference for simplicity and understatement extends to the outside.
Having observed the existing streetscape from the back lane and found everything too cluttered, too small, with too much detail, "we wanted to create something that simplified it a bit," says Johannes. The upstairs bathroom has floor-to-ceiling glass and to prevent overlooking has a white fabric blind permanently drawn over it.
At first glance, perhaps, this project looks like any other contemporary extension to the backyard of a nineteenth-century Melbourne house. A closer look reveals a design of unusual subtlety and restraint, with more than a nod to rationalist modernism in its material choices and plan. As Johannes acknowledges, it doesn't sit within the avant-garde of Melbourne's architectural scene. Instead, it's more like a throwback to the "unfinished experiment" of modernism in Melbourne, which was partly fuelled by postwar immigration in the 1950s. Is it any wonder, then, that this little gem comes from the hand of another European émigré?
Products and materials
Roofing

Galvanized metal sheeting; 350 mm Pink Batts insulation.
External walls

Double brick wall, painted; Scyon Axon cladding; Hebel lightweight wall panels.
Internal walls

Exposed brickwork, painted; burnt compressed cement sheets.
Windows

Saxon windows and joinery; Western red cedar frames; Marbletex double glazing; Henderson RMD hardware.
Doors

Floor-to-ceiling pivot doors; Amercian oak on particleboard, clear oil finish; Lockwood ss handles.
Flooring

Solid American oak, oil finish; honed, cream-coloured limestone.
Lighting

Inlite downlights.
Kitchen

Gaggenau oven; Miele dishwasher; Franke sink; Hansgrohe Axor Citterio sink mixer; Highland cooktop; Qasair rangehood; Liebherr fully integrated fridge; custom-designed joinery; Ikea joinery; American oak surfaces, oil finish.
Bathroom

Hansgrohe Axor Citterio basin mixer; Villeroy & Boch basin and WC; Grohe shower and in-wall cistern.
Heating/cooling

Mitsubishi a/c; Rinnai energy saver space heaters; Cheminées Philippe cast-iron, slow combustion fireplace; Shadesystems shading.
External elements

Bluestone pavers; indigenous Australian garden.
Source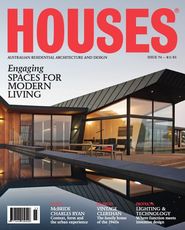 Related topics