Hayball designs first vertical government high school in Victoria
The Victorian government has announced construction has begun on a new $43-million high school in Richmond designed by Hayball.
The new Richmond High School will comprise a four-storey academic precinct on Highett Street and a sports precinct on Gleadell Street, which will be built initially as a multipurpose campus.
Hayball director David Tweedie said a key requirement of the design brief was to foster values of community, diversity, wellbeing, sustainability, safety and technology.
As a response, Hayball created a design based around "learning communities" with equitable access to areas for science, technology, the arts and general learning areas.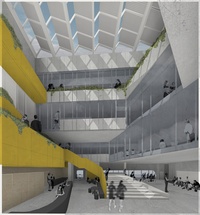 "A challenge when creating a school that sits across a number of levels is always, how do we ensure it feels welcoming, and what defines it as a 'school'?" Tweedie said. "Our strategy was firstly to focus on locating all the functions that invite school community participation on the ground floor – the library, the performing arts spaces and spaces for sharing food – and secondly to make visible from the outside the activities of the school – including science spaces and outdoor learning."
The school will also include outdoor cooking facilities and an edible productive garden in its landscape design. The landscape spaces will also allow for exhibitions and functions.
The Highett Street campus building will feature a central atrium that will provide light and air to the interior.
The Gleadell Street precinct is set to open in 2018 and the Highett Street campus will open in 2019.
The Victorian government says Richmond High School will be the first vertical government school to be built in Victoria.
In January 2017, private school Haileybury opened Victoria's first vertical school, a 10-storey campus in Melbourne's CBD, housed in a former office building.
Hayball is also the architecture practice designing Victoria's first vertical primary school, South Melbourne Primary, which will be five storeys. The project was named Future Building of the Year at the 2016 World Architecture Festival Awards.
Other vertical school proposals around Australia include the new building for the Arthur Phillip High School and Parramatta Public School by Grimshaw and BVN (rising to 14 storeys) and a new Adelaide city high school designed by Cox Architecture, DesignInc and TCL (rising to six storeys).