Hayball has designed a sports and science building for a catholic girls' school in Sydney that stacks science labs, indoor and outdoor learning spaces and multi-purpose courts over four levels.
The proposed Scientia Project at Monte Sant'Angelo Mercy College in North Sydney would replace two existing tennis and netball courts and is estimated to cost $48.9 million.
Its design references the historic character of the college, founded in 1875, and in particular the Chapel Building and Mercy Hall, "both fine buildings from the turn of the century."
The architects note in the state significant development application,"The typical composition of existing built form on Monte campus has two clear components: a strong base, typically built from masonry with thick proportions and grounded volumes [and] a sculptural skyline element which sits on top of the base.
"The proposed Scientia building adapts these heritage concepts in a modern composition of base and raised volume."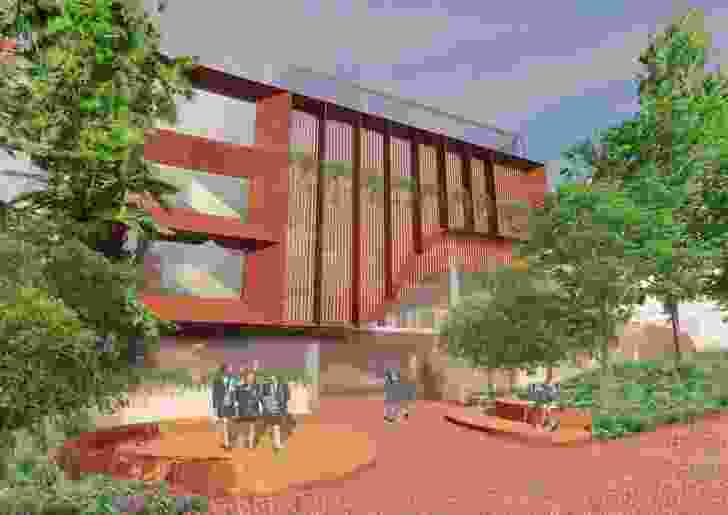 Materials specified in the design have also been chosen to complement the heritage fabric, with sandstone and masonry at the base giving way to rust-coloured fins and aluminium screening in the raised form.
Within the building there will be new specialized science labs and adjacent science theory learning spaces, as well as zones for collaboration and team teaching. There will also be a large indoor sports gymnasium with two multi-purpose courts and an exercise gym.
The project involves the creation of new landscaped and open play areas, including a circular wildflower garden and a rooftop terrace that will provide areas for active recreation, education and learning, and seated study areas. Spackman Mossop Michaels is the landscape architect for the project.
According to the school, the aim of the project is to "enhance the campus experience for the students by providing an innovative learning environment which blends into the surrounding landscape."
Early consultation by the proponents with council, the Government Architect of NSW and the community has elicited largely positive responses, with only a few concerns raised about the noise coming from the rooftop terrace and the height of the building.
The development proposal is on public exhibit until 20 May.
Related topics