International
Glenn Murcutt has been awarded the American Institute of Architects' 2009 Gold Medal // Hayball Architects won the Project of Distinction Award for Ormiston College, Camberwell Grammar School, in the Exhibition of School Planning and Architecture at the Council of Educational Facility Planners International conference in San Diego // UNSW engineering students and two Cundall engineers installed roof water tanks and a stand-alone solar panel at the Loun Village school on Tanna Island in Vanuatu, with sponsorship from Hassell and WT Partnership // At the Design Institute of New Zealand's Best Awards, HBO+EMTB won first prize for public and institutional spaces for the new Arts of Asia Gallery at the Auckland Museum // In Singapore, Woodhead has won the 2008 AustCham-Austrade Business of the Year Award – Qantas Gateway category // Woods Bagot has opened a studio in San Francisco and will open another in New York // McGregor and Partners won a Merit Award in the international design competition for the Magok Waterfront in Seoul, Korea // Woods Bagot has won a Most Admired Knowledge Enterprise (MAKE) Asia 2008 award // Gevork Hartoonian is a juror for the NZIA Student Design Award // Manchester Civil Justice Centre by Denton Corker Marshall has won the RIBA English Partnerships Sustainability Award // Waterman AHW has won the Environmental Impact Award at the British Expertise International Awards 2008/9 for Workplace6 (designed by Nettleton Tribe Architects) // The Qatar Science and Technology Park, Doha, by Woods Bagot has won Project of the Year at The Middle East Architect Awards in Dubai // Langdon Reis Architects received an honourable mention in the competition for the Architectural Renovation of Tabakalera // HBO+EMTB has appointed Chi-tin Montatupalin as design principal, Asia // Professor Mark Burry has been made an honorary member of the design research network Ocean // Woodhead won the 2008 Italian Chamber of Commerce Business Excellence Award for Business Consultancy and Services // Iredale Pedersen Hook received an honourable mention in The Architectural Review Awards for Emerging Architects for their New Orang-utan Enclosure at Perth Zoological Gardens.
National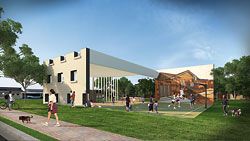 Gunyah, Goondie & Wurley: the Aboriginal Architecture of Australia by Professor Paul Memmott won the 2008 Stanner Award for its "unique contribution to understanding Australia's rich and diverse Indigenous cultural heritage" // The Architects radio show on 3RRR has announced its top ten buildings for 2008. They are, in order, Children's Activity Centre at Skinners Playground, by PHOOEY; Water Cube, Beijing, by PTW Architects, CSCEC, CCDI and Arup; MTN building, Orestad, Denmark, by BIG; Albury Cultural Centre, by ARM; Oslo Opera House, by Snohetta; Nigel Peck Centre at Melbourne Grammar, by John Wardle Architects; Elwood House, by NMBW; Monaco House, Melbourne, by McBride Charles Ryan; Seaford Surf Life Saving Club, by Robert Simeoni Architects; Bird's Nest Stadium, Beijing, by Herzog and De Meuron // Bates Smart has appointed Sheree Proposch as director and has made the following other appointments. As associate director: Debra Low Choy, Claudia Fleuter, Nic Hughan, Tim Leslie, Kevin Masci, Esther Mavrokokki, Mirjana Sazunic and Dana Tomic. As associate: Julian Anderson, Candice Bradley, Susie Callil, Kevin Carrucan, Basil Richardson, Raymond Butt, Enzo Caroscio, Eugene Cheah, Daniel Chieng, Marko Damic, Cameron Donald, Michael Edmonds, James Christophidis, Helen Darroch, Bradley Dorn, Luciano Furfaro, Kathryn Lombard, Damien Madell, Véronique Terreaux, Yvonne Lim, Nikki Morley and Alex Zudich // The Australian Steel Institute has appointed Tristram Carfrae, Arup, and Alison Mirams, Brookfield Multiplex, to its board of directors // Arup received the Sir William Hudson Award for the Water Cube at the Australian Engineering Excellence Awards // Massimo Morozzi, architect and creative director for Italian manufacturer Edra, and Brazilian designers Fernando and Humberto Campana gave a series of design talks in October in Sydney, Brisbane and Melbourne // Winners of the SB08 Student Competition, coordinated at UMelbourne and supported by Hassell, have been announced. All four finalists were from the UNSW. The first prize and the Hassell Award for Design and Sustainability were awarded jointly to Jiang Sing Sang and Tsui Kwok Leong for The Land of Harmony; and Cheok Quen Loke, Anas Yusof and Javier Ayora for The Problem is Not Energy. Third prize went to Paul Chan, Wei Ji, Joan One Jung Lin and Fei Peng for Symbiosis Unbound. An honourable mention went to Barbara Baloghova, Ryan Kong, Fui Kiat Chung and Angelica Wu for Overlapping Communities // Joint winners of the 2008 Think Brick About Face Awards were m3architecture and Pendal and Neille, who also won the Peer Award // The Australian Government has launched a $90M Green Building Fund // During National Architecture Week, the Institute initiated the inaugural "Architects' Lunch" where practices were asked to go to lunch together and make a donation to a particular cause // The Australian Government's newly established Built Environment Industry Innovation Council includes: Sue Holliday (chair), Greg Barlow, Professor Catherin Bull, Tristram Carfrae, Rod Fehring, Peter Gow, Mal Grierson, Associate Professor Ralph Horne, Dr Matthew Inman, Professor Martin Loosemore, Ken Maher, John McCarthy, Keith Mitchelhill, Professor Peter Newman, Dave Noonan, Paul O'Keefe, Roger Olds, Pru Sanderson, Kerstin Thompson, Ken Maher, Siobhan Toohill and Commonwealth Representatives, Dr Michael Green and Mark Davis // Winners of Boral Roofing A Different Pitch are: Frank Minnaërt for Operative Roof ($500K–$1M build cost) and Universal Design Studio for Ternary Residence (under $350K build cost), and a high commendation went to Jean-Paul Rollo Architects for Origami House. The winners of the student category were Joseph Lombardo and Lucy Carse of the University of Canberra for Conveyor Belt House // Lara Mikocki, second-year industrial design student at RMIT, has won the 2008 Design for Lockwood Competition.
Tasmania
Celine Lim is no longer the manager of the Institute's Tasmanian Chapter.
Victoria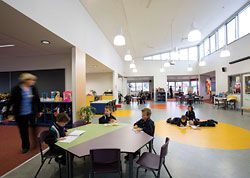 MGS Architects has appointed Lynette Julian and Bernard Toogood as associates (architecture) and Sue Buchanan and Leon Lopata as associates (interior design) // Suters Architects has appointed Rob Polglase as urban design manager, Melbourne // Denton Corker Marshall has appointed Wojciech Pluta as director and Anne Clisby as associate // Federation Square, by Lab Architecture Studio and Bates Smart, has been inducted into Tourism Victoria's Hall of Fame // UMelbourne will host a conservation symposium in early February, Keeping the Past Public: the conservation and documentation of public places, convened by Hannah Lewi // Woodhead has appointed Gary Beer as regional principal for its Melbourne office // Moull Murray Architects won the Best New Commercial Building category of the 2008 Bayside Council Built Environment Awards for a mixed-used building in Bay Street, Brighton // MAB and Plus Architecture were the architects for Industry Business Hub, a commercial development in South Melbourne // The Victorian State Government's School Design Awards have been announced. Best Overall Design and Best School Project – Above $3M went to Suters Prior Cheney for Yuille Park P–8 Community College, Best Primary School went to ClarkeHopkinsClarke Architects for Pakenham Springs Primary School, Best Secondary School went to H2o architects for Point Cook Senior Secondary College and Best School Project – Below $3M went to Gray Puksand for Urquhart Park Primary School // Neometro Architects has relaunched as McAllister Alcock Architects (MAA) // Shelley Roberts is running for the office of Lord Mayor of Melbourne // Rembrandt's: 9 Installations was held in November and included installations by Antarctica, Jillian Allan, Greg Creek, Herbert + Mason, Sean Loughery, Sally Mannall, Sanne Mestrom, Vin Ryan and Workshop Architecture // Toby Horrocks designed Freehold boxes for Sustainability Victoria, on display at the Save Water Save Energy Expo // Peter Doyle is now associate for SJB Planning.
New South Wales
John de Manincor of DRAW has won a Byera Hadley Travelling Scholarship from the NSW Architects Registration Board // Alec Tzannes is the new Dean of the Faculty of the Built Environment at UNSW // Suters Architects has appointed Michael McPherson as senior associate in its Newcastle office and Vanessa Benitez as associate in its Sydney office // HBO+EMTB has merged with FORM Architects. FORM director Ron Edgar has been appointed a director of HBO+EMTB and associate Ellen Chang as an associate director // A team of cyclists from Bligh Voller Nield has again participated in the Sydney-to-Wollongong Gong Ride, which raises money for the Multiple Sclerosis Society // Brian Meyerson Architects has appointed Juliane Roennau and Brian Welch as associates // Tanner Architects has restructured, with all present directors securing equity in the practice. There are now five practice directors, including Robert Denton, Jocelyn Jackson, Megan Jones and John Rose. Alex Kibble joins as principal and practice director, while Howard Tanner is chairman. Emma Lee has been appointed as an associate // PDT Architects NSW is now Graphite Architects. Mike Strazds is director of architecture and Fiona McAnna is director of interiors // Caroma Dorf has launched the Ian Moore Designer Bathroom Series // The Institute NSW Country Division Awards 2008 have been announced. The Blacket Prize went to Recreation Hall, Berry Sports and Recreation Centre by Allen Jack + Cottier Architects; the James Barnet Award went to Zero Emission Office Building by Reiner Schimminger Architects; Residential – Houses, New went to Amileka by Sharon Fraser and commendations went to House for Natasha by Michael Marshman and Associates, and Blackcomb by Scott Carpenter Architect 6; Residential – Alts and Ads went to Healy Residence by Colin Irwin and BHI Architects; Affordable Housing (under $300K) went to Kingfisher Road House by Michael Marshman and Associates; Non-residential – New went to Zero Emission Office Building by Reiner Schimminger Architects; Non-residential – Alts and Ads went to University of Wollongong Library by Bruce Bowman, Graham Bell and Bowman Architects; and the Termimesh Timber Award went to The Outlook by Michael Marshman and Associates, with commendations to Beach House by Slater Architects.
Western Australia
Hames Sharley is the architectural consultant for the proposed Stage 2 of The Shops at Ellenbrook, which will triple the size of the existing shopping centre // Woodhead won the Architectural Steel Design Award for the Clarkson Bus Rail Interchange at the ASI West Australian Steel Awards // Woodhead's Pinnacles Interpretive Centre, in the Nambung National Park, had its timber elements ritually burnt at the completion of stage 2 // Parsons Brinckerhoff and the Curtin University Institute of Sustainable Policy has conducted research on the full costs of urban fringe development – providing an economic argument for redevelopment along transit corridors // Timothy Hill presented at the inaugural Ross K Chisholm Forum.
South Australia
Woodhead and Denton Corker Marshall, architects in association, won the Architectural Steel Design Award for the Adelaide Central Bus Station at the ASI South Australian Steel Awards // Walter Brooke has appointed Mark Berlangieri, Emma Dodson and Anthony Balsamo as associates and Matthew Schapel as drawing office manager // Dr Anuradha Chatterjee has been awarded the David Sanders Founders Grant 2008 by SAHANZ for the project Touching the Surface, Looking for Substance – The Role of the Surface in Australian Architecture from 1990–2008.
Queensland
Planit Architecture is now called Ellivo Architects, with directors Scott Peabody, Scott Whiteoak and Mason Cowle. Ellivo has appointed Daniel Volpato, Allison Carter and Tanya Zealey as associates // Following his recent appointment at GHD in Brisbane as a principal consultant – architecture, Gavan Ranger has been nominated as the Buildings Stream Coordinator for Australia and New Zealand // Suters Architects has opened an office in Cairns // Gavin Adams has been appointed as regional principal for Woodhead's Brisbane office // Leighton Properties and Leighton Contractor's Green Square development in Brisbane won the 2008 Queensland Environmental Protection Agency's Award for Sustainability in the Built Environment.
Australian Capital Territory
Professor Annabelle Pegrum has been appointed head of architecture at UCanberra.