INTERNATIONAL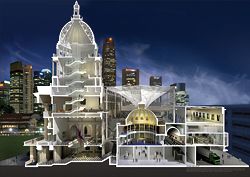 Smart Design Studio was one of five finalists in the Singapore National Art Gallery design competition // Elenberg Fraser, Baker Kavanagh, PTW, Dickson Rothschild, Schreiber Hamilton Architecture, Nettle Architects and Taylor Brammer Landscape Architects all exhibited at the Australian Pavilion for Cityscape Dubai 2007 // An office refurbishment at 55 St Andrews Place, Melbourne, by Cundall with H2o architects, was shortlisted for the "Most sustainable refurbishment" award at the UK's Chartered Institute of Building Services Engineers' Sustainable Building Services Awards // Thomson Adsett Architects has appointed Windra Immawan as associate and Iwan Sadono as director in its Jakarta office // Australia and Chinese Taipei have signed a deal to facilitate trade in architectural services // Architecture Media attended the world media preview of Coop Himmelb(l)au's BMW Welt in Munich, the only Australasian media organization invited. An interview by Ian Close with Wolf D. Prix is forthcoming in Artichoke // The UK's Roses Design Awards saw Denton Corker Marshall win the Architecture Grand Prix Gold Award and the Best Public Building Gold Award for Manchester Civil Justice Centre. The practice's UK director Stephen Quinlan was named Architect of the Year // HOK Sport Architecture has designed the London 2012 Olympic Stadium, with work to begin in April // Denton Corker Marshall is one of six practices selected for the second stage of the design competition for the new Madrid Criminal Courts Building //BVN's Gold Coast City Council Chambers was awarded an honorable mention: buildings above 10,000 sq ft at the Bienal Miami + Beach 2007.
NATIONAL
The H2H "House to House" has taken place in Sydney and Brisbane and on the Sunshine Coast, allowing students to physically experience architecture. See www.h2htour.com // Bates Smart has made the following appointments: Kristen Whittle, Lucy Best and Guy Lake as directors; Jenny Nolan as financial director; Martin Allen, Geoff Cosier, Grant Filipoff, Mark Healey, Terry Mason, Rachael McCarthy, Sarah Naarden, Alice Pennington, Kendra Pinkus and Carolyn White as associate directors; Grant Cheyne, Torsten Fieldler, Polly Gee, Peter Goh, Ian Laging, Mark Leib, Tim Leslie, Joanne Lewis, Janette Lisle, Nikolay Pechovski, Anke Pfeiler, Mirjana Sazunic, Helena Harry and Dana Tomic as associates; Natalie Morrison as architecture manager; and Sue McDonald as interior design manager // The 2008 edition of Who's Who in Australia includes Keith Cottier, Kerry Hill, and Enrico Taglietti // The RAIA, PIA, Green Building Council of Australia and Property Council of Australia joined forces in an effort to ensure built environment issues were considered by major parties before the federal election // World Architecture News will present projects and news from Australia, with a focus on Sydney, in Metro News // Tristram Carfrae, of Arup, is presenting the 2008 Warren Centre Innovation Lecture // Tom Kaye and Anthony Po of QUT won SuperStudio 07. Commendations went to Stephen Hicks and Andrew Power from UCurtin, and Chris Prince of UWA.
QUEENSLAND
Thomson Adsett Architects has appointed Leon Burton, Scott Wilson, Ben Kearny, Chad Brown, Stefano Vittone, Michael van Tienen, David Lee and Tom Fowler as associates, and Dinah Snowden as a director in its Brisbane office // EDAW Brisbane has appointed Damian Thompson as principal // Art + Place, Queensland's new $12M public art fund, has been launched // Conrad Gargett Architecture has introduced two undergraduate awards at UQ: the Conrad Gargett Architectural Design Prize, for the 3rd year student with the highest grade point average, and the Conrad Gargett Public Architecture Prize, for the design project that best exemplifies design in the public realm // A Women in Architecture forum, Lives of Others, was held in Brisbane. Facilitated by Justine Clark, speakers were Elizabeth Watson-Brown, Caroline Pidcock, Margaret West and Fiona Gardiner // Professor Brit Andresen and John Haycraft were speakers at the Australian Association of Architectural Illustrators' conference in Palm Cove // The third National Congress of the Australian Council for New Urbanism is on in Brisbane, 6–9 February // Work is underway on a major extension of Brisbane's Inner Northern Busway, designed by a Project Alliance Agreement including BVN, Queensland Transport, Leighton Contractors, Maunsell, Coffey and EDAW // Place Makers: Contemporary Queensland Architects shows at the Gallery of Modern Art in May // Woodhead has appointed Sam Constantin as regional principal and Bach Nguyen and Gavin Adams as associates in the Brisbane office // Hassell has appointed Mark Craig as a principal in Brisbane // Amalie Wright of EDAW has won the mecu Travel Bursary // Demolition of Indigo House will start once development approval is gained for a proposed 44-storey office building developed by The GPT Group and designed by Cox Rayner through a design competition // Deborah Fisher and Mark Buttrose have joined forces to launch Fisher and Buttrose Architects, otherwise known as FAB Architects, in Cairns.
AUSTRALIAN CAPITAL TERRITORY
Most of the heritage-listed Cameron Offices in Belconnen has now been demolished // The shortlisted proposals for a major Centenary artwork on Northbourne Avenue were publicly displayed in October // Annabelle Pegrum, National Capital Authority, spoke on the Griffin Legacy at Canberra's first Major Projects Symposium // Harry Seidler Associates' Edmond Barton Building may be overhauled to accommodate the Australian Federal Police in a Stockland project // May + Russell Architects and Walker Corporation are working on a new office building to house the Commonwealth Department of Education, Science and Training on the QE II site // The 2050 National Forum, Leaders of Change, addressed getting sustainable built environments onto political agendas // John Robertson is the new chief executive officer of the Land Development Agency // The National Capital Authority's Griffin Legacy Amendments to the National Capital Plan won the Urban Design – Plans and Ideas category at the PIA ACT Awards for Planning Excellence; Childers Street "Arts Heart" Upgrade by the ACT Planning and Land Authority won the President's Award and the Urban Planning Achievement.
NEW SOUTH WALES

Digby Hall has established a new practice, Genus Loci // Rice Daubney has appointed Paul Reidy, Darren Tims and Ronald Hicks as principals // Lend Lease is developing St Patrick's Estate in Manly. The first release includes houses by Tzannes Associates, Tanner Architects, and Alex Popov & Associates. St Patrick's College and the Archbishop's residence have been restored by Tanner Architects // DesignInc Sydney has won five new projects: the Chatswood Transport Interchange, the Sydney Airport Masterplan and Carpark, Adelaide University, Orange Base Hospital PPP and MLC Campus South // Total Immersion, a residential architecture studio for undergraduate students, will be held in February with Richard Leplastrier, Peter Stutchbury and Lindsay Johnston // Controversy surrounds the 3A development at the historic village of Catherine Hill Bay // 50 Pitt Street, refurbished by HBO + EMTB, is the first commercial office building in Sydney with a 4-star Green Star – Office Design rating // Roslyn Irons is the new RAIA NSW Chapter Manager // s_lab with Arup Sustainability, Suters Architects and McGregor and Partners Landscape Architects have won the Taree Waterfront Precinct urban design competition // Back to the City, 16 installations by artists and architects, shows in Newcastle until 17 February. Participants include Peter Tonkin, Robert Owen, Jennifer Turpin, Ian Moore, Richard Goodwin, Adrian McGregor, Cida de Aragon and Michael Zavros // BMA has appointed Kevin Ng and Michael Hay as associate directors // The Sydney Olympic Park Authority has signed an agreement with AV Jennings and Ashe Morgan Winthrop to construct a five-level complex on the southern end of the park's expanding urban core // Nick Murcutt, Gerard Reinmuth, Marcus Trimble, Adam Haddow and Brian Zulaikha are planning to stir up the RAIA NSW Chapter by standing on a combined ticket for Chapter Council. Their agenda for change includes an argument for a more inclusive RAIA – opening up membership to related professionals – and a proposal for a new members club and meeting space. Other intentions are to improve procurement processes, to engage in a statewide polemic regarding the built environment, and to promote improved urban planning and design outcomes by directly engaging with state planning authorities and councils // Coffs Harbour City Council has appointed GeoLINK as architects and landscape architects for the Cavanbah Hall redevelopment // The HHT Sydney Open on 13 February is an opportunity to explore the history of Harry Seidler and Associates' Blue Point Tower.
TASMANIA
Johnson Pilton Walker and Terroir are working on a master plan to redevelop the Tasmanian Museum and Art Gallery // Architecture Week celebrations included 10x10x10 and "Archi Idol" – five teams moved through concept, sketch, development and model stages, each lasting ten minutes // Chan Zhaowei Brennan of UTas received the RAIA Tasmania Graduate Prize 2007 for the best all round graduate.
VICTORIA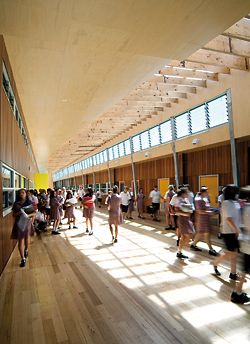 The Office of Housing, the Office of the Victorian Government Architect and the RAIA have announced two design competitions for public housing in Footscray and Dandenong // Chris Connell Design is redeveloping the Heide Museum of Modern Art Cafe // Thomson Adsett Architects has appointed Gareth Johnson, David Jackson and Fahmy Fahmy as associates in Melbourne // Elenberg Fraser has appointed Lorenzo Nuti as senior associate and Lisa Jennings as associate // The Buchan Group has appointed Alpar Kocis and Craig McLeod as directors; Peter Brown, Kevin Chen, Bruce Dickinson, Guy Millais, David O'Riordain, Branislav Vasic and Emma Watson as associate directors; and Sam Henderson, George Karapouloutidis, Connie Kontogiannis, Chris Price and Robert Torii as associates // The winners of the 2007 School Design Awards were announced in October. Spowers architects won Best School Overall and Best Secondary College (new or redeveloped) for Williamstown High School. Kneeler Design Architects won the Best Primary School (new or redeveloped) award for McKinnon Primary School and Rowan Opat Architects won the Best School Project up to $2.5M for Timboon P–12 Learning Centre. Minister's commendations went to Bacchus Marsh Science and Technology Centre (Ecolink) by Lyons; Snowy River Rural Learning Centre, Marlo, by FMSA Architects; and the Victorian Space Science Education Centre, by Gregory Burgess Architects. Other finalists included Oaten Stanistreet Architects, for Lakes South Morang Primary School; Hayball Leonard Stent Architects, for Upper Ferntree Gully Primary School and Wallan Secondary College; Patrick Architects, for Belmont High School; FPPV Architects, for Moonee Ponds West Primary School; and Suters Priory Cheney, for Rosebud Secondary College Performing Arts Centre // Fender Katsalidis has appointed Nicky Drobis as director and James Pearce and Craig Baudin as associate directors // GHD hosted a technical forum, Our Planet – Leaving a Legacy, to generate discussion and provide a platform to workshop sustainable solutions // A campaign against the revised proposal for the redevelopment of the Harold Holt Memorial Swimming Centre is underway. The modified proposal is seen as an improvement; however, many campaigners still have major concerns with the brief // Hume City launched the eco-friendly $1.17M Civic Plaza in Broadmeadows.
SOUTH AUSTRALIA
Professor Steffen Lehmann and Dr John Montgomery spoke at the Balancing Heritage Conservation with Sustainable Development forum in Adelaide, part of the Cultural Heritage Festival by Design // Woodhead received the Premier's award at the Business SA Export Awards in October // Matt Davis and Sally Davis (nee Edwards) have formed Davis + Davis Architects // Anthony Balsamo of Walter Brooke and Associates has won the inaugural Jack McConnell Travelling Fellowship // The VS1 Building in Adelaide is the largest building in Australia to achieve a 6-star rating using the Green Star – Office Design rating tool. The architects are Hassell with ESD consultants Cundall.
NORTHERN TERRITORY
Keith Savage has been appointed as regional principal and office manager at Woodhead's Darwin office.
WESTERN AUSTRALIA
Nine Aboriginal cultural organizations are participating in the Canning Stock Route Project, which includes a touring exhibition and emerging curators and multimedia training programmes // Hassell has appointed Andy Sharp as managing principal of the Perth studio.