INTERNATIONAL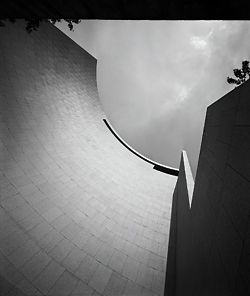 The Beijing National Aquatic Centre – Watercube, by PTW Architects in association with CSCEC and Arup, opened 28 January • Out from Under, the exhibition of Australian practices curated by Anthony Burke, was at the Seattle headquarters of the AIA until 16 January, then Hong Kong, Shanghai and Kuala Lumpur • At the International Emirates Glass LEAF Awards, the Watercube, by PTW Architects in association with CSCEC and Arup, was named Public Building of the Year (in design), while Woods Bagot received Best Environmentally Sustainable Project of the Year (special commendation) for City Central Tower 1, Adelaide and Best International Interior Design Award for the Flagship Qantas First Lounge (designed in association with Marc Newson and Sebastien Segers) • The Building as Muse: the creative collaboration between Max Dupain & Harry Seidler shows at the Australian Embassy, Paris, during February and March • 111, Adelaide, by Tridente Architects is one of 25 projects on the longlist for the World Architecture News House of the Year 2007 • ERCO Leuchten GmbH in Lüdenscheid is inviting students to an international lighting seminar, Light as the Fourth Dimension of Architecture, 26–30 August • Lucy Humphrey and Toby Breakspear were listed as finalists in the 2G International Venice Lagoon Park Competition for their submission Reforest.
NATIONAL
The eighth annual Glenn Murcutt International Architecture Master Class will be held 5–19 July, again at the Riversdale complex • The Banksia Awards 2008 address initiatives aimed towards better environmental stewardship, sustainable growth and actions to combat climate change. Entries close 5 May. See www.banksiafdn.com • Project of the Year at the Association of Consulting Engineers Australia 2007 Awards for Excellence was the facilities management system for the Sydney Opera House, developed by Arup and project partners the CRC for Construction Innovation and the Sydney Opera House. Arup was also awarded a Gold Award of Merit for Brisbane's Aurora Tower. A Silver Award of Highly Commended went to Hyder Consulting for Westpac Place and Taylor Thomson Whitting for the Queensland Gallery of Modern Art. Bornhorst & Ward was awarded a certificate of recognition at the same awards • The winners of the 2008 Interior Design Awards will be announced on 11 April at The Ballroom, Hilton Sydney • World-architects.com in association with Architecture Australia has introduced Australian Building of the Month. The first is the State Library of Queensland by Donovan Hill Peddle Thorp, architects in association • The international speakers for Critical Visions, the 2008 RAIA National Conference, are: Professor Kenneth Frampton, Columbia University, USA; Michael Hensel, Ocean North, Germany; Thomas Herzog, Herzog + Partner, Germany; Francine Houben, Mecanoo Architecten, Netherlands; Christoph Ingenhoven, Ingenhoven Architekten, Germany; Qingyun Ma, MADA s.p.a.m., China; Brigitte Shim, Shim-Sutcliffe Architects, Canada; Billie Tsien, Tod Williams Billie Tsien, USA; and Chris Wilkinson, Wilkinson Eyre Architects, UK • Sixty-eight office buildings across Australia have signed up to major energy-efficiency programmes, under a scheme developed with the Total Environment Centre • A group of Bond University researchers are examining the performance of Green-Star-certified buildings around Australia to determine the worth of the extra time, effort and cost of the rating tool.
SOUTH AUSTRALIA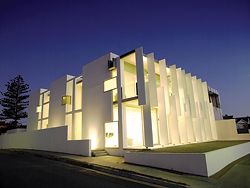 JPE has appointed Thea Sarris as an associate director. Thea was formerly Team Leader Urban Design at Adelaide City Council • Construction has begun on UAdelaide's new North Terrace building by DesignInc. The new building is part of the university's $300M development programme, to be completed over the next three years • Richard Hosking is the new RAIA SA manager • The City of Adelaide is to appoint a Manager, City Design, to "make a significant contribution to its ambitious agenda for increasing worker, visitor, resident and student numbers in the City".
WESTERN AUSTRALIA
A new regional centre, Alkimos, in Western Australia is being designed by the joint venture of Allen Jack + Cottier Architects and Oculus Landscape Architects. Carbon-neutral living is the goal of this development • Rachel Feldhusen from Wright Feldhusen Architects has won the Engineered Wood Products Association of Australasia's perpetual trophy for excellence in design using plywood and laminated veneer lumber • Michael Patroni has won a competition to design the new Cottesloe Surf Life Saving Club. A scheme by Iredale Pedersen Hook was also commended in this competition • The Billboard Design project, organized as part of the Perth International Arts Festival, features commissioned billboards by Iredale Pedersen Hook, Simon Pendal Architect, Jonathan Lake Architects, Gresley Abas Architects and artist Callum Morton • Gresley Abas Architects won the Minister of Housing and Works Emerging Practice Award 2007 • Woods Bagot is designing a new $200M world-class Biosecurity and Agricultural Research Facility for the Department of Agriculture and Food Western Australia.
AUSTRALIAN CAPITAL TERRITORY
An international competition for the design of memorials in Canberra to commemorate World War 1 and World War II has been launched. Registration open until 4 April. See www.mdc.org.au.
QUEENSLAND
EDAW Brisbane has appointed Amalie Wright and Lynn Sorrell as associate directors and Rachael Piper as an associate • Amalie Wright of EDAW Brisbane has won the 2007 mecu Travel Bursary to study sustainable design in subtropical urban locations around the world • Leigh Shutter, Bruce Medek and Peter Skinner have all been re-nominated for a further two years on the RAIA QLD chapter council and Richard Kirk has been appointed to chapter council 2008–2010 • The Brisbane office of Allen Jack + Cottier Architects recently celebrated its five-year anniversary in its new home at Newstead • Organized by the Australian Institute of Building, the Construct 2008 conference was held on the Gold Coast in late February • A $1.7B North Bank development proposal for Brisbane has caused controversy over how far the construction will extend into the Brisbane River • Penny Campbell, Haysom Architects and Carolyn Mitchell have opened a new retail venture called Aurora2 that features design products with a conscience • Peter Kozina's sculpture for the new Kogan Creek Power Station near Chinchilla for Queensland electricity provider CS Energy was unveiled in November last year by Anna Bligh.
VICTORIA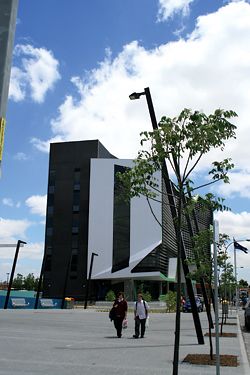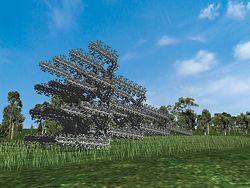 EDAW Melbourne has appointed Naomi Cole and Kevin Radford as associate directors and Joanna Bush as an associate • Plus architecture has appointed Craig Smart and Andromeda Hutchins as associates • Demaine Partnership has appointed Craig Barkla as associate director, Michael Collie and Alan Driscoll as associates and Andrea Zidziunas as associate interior designer • Paul Morgan Architects has appointed Michael Bouteloup as an associate • The inaugural Archicentre Victoria Design Awards were held late last year. The award for Best Ground Floor Renovation went to Michael Ellis Architects for an extension to a South Melbourne house and Terence Nott Architects won Best Ground Floor/First Floor Renovation for Carlton Cottage • At the end of 2007, the Bligh Voller Nield "Starchitects" faced their fears for a cause and abseiled 53 storeys down the Sofitel Building at Collins Place, in aid of the Starlight Children's Foundation • ConnectEast has commissioned a $5.5M artwork programme to accompany EastLink, featuring large-scale works from some of Australia's leading artists, including Desiring Machine by Simeon Nelson and Hotel by Callum Morton • Ljiljana Gazevic has been appointed as director of SJB Interiors • The new $1.17M Civic Plaza in Broadmeadows by Haskell Architects and Jones and Whitehead Landscape Architects has opened, coinciding with the City of Hume's 150-year celebrations • The State of Design and the Premier's Design Awards will return in 2008 (16–24 July) under the artistic direction of Ewan McEoin, with a state-wide festival approach that will create national and international conversations about design in Victoria • Melbourne City Council has agreed to construct a new $3.2M high-environmental-quality bowls club facility in Flagstaff Gardens • Without Frontiers, an exhibition of photographs, sketches, models and audio diaries, was presented by Architects Without Frontiers at Federation Square during February • Dr Paul Walker is now Head of Architecture at UMelbourne • Shahab Kasmai has been appointed associate director at Sally Draper Architects • The following practices have been shortlisted to go to stage two of the Victorian Government's Tower Turnaround design competition for high-rise housing in Footscray: BKK and Peter Elliott Architecture + Urban Design, Bligh Voller Nield, Lab Architecture Studio, Six Degrees and Williams Boag.
NEW SOUTH WALES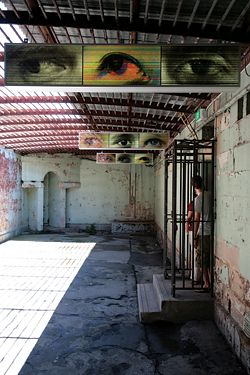 Smart Design Studio has appointed Hamish Ginn as an associate • EDAW Sydney has appointed Kate Guthrie and Stephen Callaghan as associate directors • Second-year architecture students at UTS have invented a visual projection pavilion called pixel.nest. The experimental structure generated from advanced computer modelling will be part of CitySwitch, an international programme encouraging the exchange of young professionals and their solutions to planning and design issues cities face across the globe • Group GSA has appointed Lisa-Maree Carrigan as a director • The Planning Institute of Australia has awarded the biennial Sidney Luker medal to architect/planner and former Lord Mayor of Sydney John McInerney • De Manincor Russell Architecture Workshop (DRAW) has been appointed to design a new State Emergency Services facility in Sydney's inner west • The Power of Ten is an exhibition of work by UTS architecture students and is on until 19 March at Customs House in Sydney • DesignInc Sydney and Silver Thomas Hanley have begun work on a $163M Orange Hospital PPP redevelopment, scheduled for completion in April 2010 • Back to the City, held in Newcastle early this year, involved temporary installations by 17 teams of artists, architects and landscape architects • The first series of three exhibitions to be staged over three venues, Concrete Culture is to be held at the Ivan Dougherty Gallery at UNSW 29 May – 5 July • The Australian Architecture Association (AAA) has added more tours to its 2008 programme. Contact info@architecture.org.au or (02) 8297 7283 • Anton James Design and Mather and Associates have merged to form James Mather Delaney Design • Cochlear has selected Toland Williams as the master planner and architect for its new campus-style headquarters at Macquarie Research Park • David Benson and Glenn McCormack have recently joined to establish Benson McCormack Architects.
TASMANIA
Heffernan Button Voss has appointed James Jones and Paul Newman as directors and Peta Heffernan and Helen Daly as associates • UTas's School of Architecture and Design is constructing a new building for the Australian School of Fine Furniture, adjacent to its own building designed by SBE and Six Degrees, who are also the architects for the new building.
NORTHERN TERRITORY
The Architects Studio has merged with the national practice Mode Design. Peter Fletcher will continue as director in the Northern Territory, supported by additional staff across master planning, urban design, architecture, interior design and graphic design nationwide.
FIXES
• Graham Crist tells us Ben Inman's name was missing in the project team for The Warburton Rail Trail Pedestrian Bridge by Antarctica, which received an Honourable Mention in the 2007 AA Prize for Unbuilt Work (Architecture Australia, January/February 2008, vol 97 no 1).
Related topics