INTERNATIONAL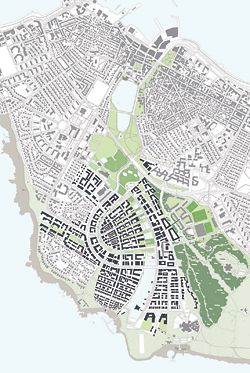 Architectural graduates Lucy Humphrey and Toby Breakspear are finalists in the 2G International Venice Lagoon Park Competition • Bligh Voller Nield will design part of the 2012 Olympic Village in London, following work on the Sydney, Athens and Beijing Olympics. In Beijing, BVN developed the operational plan as well as five venues • WOHA has won the Silver Award in the 2007 Emporis Skyscraper Awards for Newton Suites, a high-rise apartment complex in Singapore • Ar Zaihan Abdul Samad and Ar Ridzuwan Mansor have formed a new practice, Ridzuwan Zaihan Associates (RidZa). Prior to twenty years of practice in Kuala Lumpur, both were graduates of the Louis Laybourne Smith School of Architecture, UniSA • Woodhead International has appointed Andrew Carmichael as regional principal in South Asia • Denton Corker Marshall has been commissioned to design the new Birmingham Magistrates' Court in the UK, which will house twenty-four courts over fifteen storeys • Lee & Kerry Architects has won one of seven prizes in the international ideas competition The Shaping of a Capital City for Reykjavik, Iceland • Kirsten Miller, a fifth-year architecture student at Melbourne University in 2007, has won an honourable mention in MIT's international Just Jerusalem competition • Jim Colman, Sydney, a vice president of the International Society of City and Regional Planners, invited to contribute to a week of urban design workshops in Portland, Oregon, in May, will also give a paper on small town design to the ULI State Conference • Woodhead International has been commissioned for all design phases of the new EcoAgri City in Xuyi, Jiangsu Provence, China, in collaboration with the iContinuum Group • The Archiprix International, for graduate architects, urban designers and landscape architects, is calling for entries until 15 June • Denton Corker Marshall's Manchester Civil Justice Centre has received the Building Magazine Project of the Year Award.
NATIONAL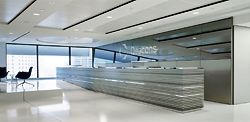 Bligh Voller Nield was the winner of the inaugural Australian Financial Review Boss Space Awards for Stockland House, Sydney. Other finalists were Carr Design for Transurban Operations, Melbourne; Bates Smart for Parramatta Justice Building, Sydney; Gray Puksand for DB Brief, Sydney; and BVN for Santos Centre, Adelaide, and Lincoln Scott, Melbourne. Honourable mentions went to Buro Architects for Oriental Pacific Group, Melbourne; Geyer for UBS, Melbourne; Geyer and Hassell for Westpac Place, Sydney; F2 Architecture for Davidson Design Studio, Richmond; and Hassell for Maddocks, Melbourne • The Green Building Council of Australia has received a grant under the Asia Pacific Partnership for international collaboration on high-performance buildings and developments • Choi Ropiha is collaborating with landscape architect McGregor and Partners on McDonalds restaurants' Store of the Future for the Australia/New Zealand region • Bligh Voller Nield was awarded Best Architectural Firm in the 2008 BRW Client Choice Awards • Suters Architects has appointed Ed Clode as special projects team manager, Australia-wide • The Green Building Council of Australia has launched a Future Green Leaders qualification for professionals and students • Carr Design Group won the Grand Prix at the Dulux Colour Awards 2008 for Deacons Law Tenancy, Sydney, which also won the Environmentally Friendly category. Other winners were: Commercial Interior: National Gallery of Victoria for Juan Davila. Commercial Exterior: Terroir for Kiosks. Residential Interior: Matt Gibson A+D for Albert Park Residence. Residential Exterior: McBride Charles Ryan for Klein Bottle House. Students Years 1–6: Kitina Kietgumjorn, University of Melbourne • Green Roofs Australia held a series of seminars in Brisbane, Canberra, Sydney and Melbourne in February and March, featuring Prof Manfred Köhler on green roofs and green walls in Germany • The Japan Foundation's travelling exhibition, Kumamoto Artpolis: Architecture Through Communication, is touring New Zealand and then Australia this year.
WESTERN AUSTRALIA
The City of Wanneroo and Cedar Woods Properties will construct two sustainable demonstration homes. The EcoVision Wanneroo project is intended to encourage affordable, sustainable small house design • Designbuild (Perth) will be held 17–19 October at the Perth Convention Exhibition Centre • As part of his studio residence at the Perth Institute of Contemporary Arts, Cedric Bomford built an installation referencing local and international architecture, constructed from local salvaged and used materials • Allen Jack + Cottier and Oculus landscape architects will design the first stage of new regional centre Alkimos, the first carbon-neutral development in Australia.
AUSTRALIAN CAPITAL TERRITORY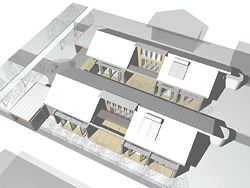 Winners have been announced for the ACT Affordable Housing Competition, run by the RAIA ACT Chapter and the Housing Industry Association in response to the ACT Government's Housing Affordability Action Plan. Site One – Inner Greenfield went to Marcus Graham and John Katsanevakis. Site Two – Outer Greenfield went to The Expert Client and Vision Building Group, with a commendation to Nathan Judd and Darren Goodwin. For Site Three – Entrant's Choice, commendations went to Strine Design and Strine Construction, and to Collins Caddaye Architects and Capezio & Co. In the Student Category, commendations went to Renee Roberts and Andrew Driscoll, and to Wesley Perrott and Nathan Watt. Jury members were Alec Tzannes (chair), Phil Robinson, Kirsty Westaway and George Tomlins.
QUEENSLAND
EDAW has appointed Marc Stringa as principal of planning and urban development • Suters Architects has made the following appointments in its Brisbane office: Paul Anthony and Chris Jacobson as senior associates, and Dan Killen and Jason Partel as associates • Some of the RAIA's Queensland Regional Awards have been announced. The J. W. Wilson Award for Central Queensland Regional Building of the Year went to Boyne Tannum Memorial Parklands by Studio 39, which also received regional commendations. Other commendations went to the Emerald Aquatic Centre by Fulton Trotter and Partners Architects, and The Haven Eco Education Centre by Ferrier Baudet Architects. The Robin Dods Award for Residential Architecture – Houses Sunshine Coast Regional House of the Year went to Honeydew Residence by Sparks Architects, which also received a regional commendation. Other commendations went to Storrs by BASE architecture, 251 Residence by Push, Buderim Residence by Sparc Architects, Back House by Bark Design Architects, and Canal House 2 by JMA Architects Qld. The FDG Stanley Award for Public Architecture Regional Building of the Year went to The Chancellery, University of the Sunshine Coast by Architectus, which also received a regional commendation. A commendation went to Gympie Hospital Emergency Medicine Redevelopment by Project Services – Sunshine Coast Region. A Beattrice Hutton Award for Commercial Architecture regional commendation went to Cooroy Studio by BCC City Design • At the RAIA's Sunshine Coast Regional Awards presentation night, Lego models constructed by the public were displayed, proposing future CBD designs for Caloundra, Maroochydore and Noosa.
NEW SOUTH WALES
David Benson (from Fitzpatrick + Partners) and Glenn McCormack (from SDA International) have recently established Benson McCormack Architects • Winners of the Design Institute of Australia NSW annual Graduate of the Year Awards were: Graphic design: winner Serhat Ferat, BillyBlue; runner-up Chantel de Sylva, UTS. Interior design: winner Margot Lane, TAFE Enmore; runner-up Janina van Zwieten, UTS. Interior design and decoration: winner Donna Martin, ICSD; runner-up Michelle Cook, CATC. Industrial design: winner Ian Edwards, UTS; runner-up Hugh Thomas, University of Canberra. Textiles design: winner Leanne Crofts, UTS; runner-up Amy Kerr, ANU • Fox Johnston has won an invited competition for a twenty-three-dwelling redevelopment in Ramsgate • As part of the RAIA national conference CV08: Critical Visions, with creative director Richard Francis-Jones, the Sydney Future Visions Exhibition features six emerging practices: Matt Chan of Scale Architecture, Hannah Tribe of Tribe Studios, Room 11, Choi Ropiha, Andrew Maynard Architects and Vector Guerillas • "Sydney's 100 Most Influential People", published in the Sydney Morning Herald's (sydney) magazine, included five architects: Angelo Candalepas, Elizabeth Farrelly, Rod Simpson, Richard Leplastrier and Frank Stanisic • Suters Architects has appointed Ting-Wei Wang as an associate in its Sydney office and Edward Highton and Ben Griffin as associates in its Newcastle office • The Ocean Design Research Network (formerly Ocean North) has expanded, with a new Sydney group consisting of Dr Charles Rice, Anthony Burke and Adrian Lahoud • Troppo Architects was the Grand Winner at The Northern Rivers Urban Design Awards, for Bay Street Byron Bay, which also received the Public Domain Award for Excellence. The Private Domain Award for Excellence and Sustainability Award for Excellence went to Haysom Architects for The Byron at Byron Resort, Spa and Conference Centre • Woolloomooloo and Zetland are to be connected by a 3.2-km separated cycle way • Humphrey and Edwards are the architects for a shopping centre in Green Square, the first commercial/retail stage of the Green Square Town Centre.
VICTORIA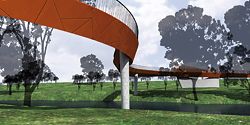 Architectus has appointed Lindsay Holland as design director at the Melbourne office • Difficulties with the implementation of the Aboriginal Heritage Act are leading to delays and increased housing costs • The Irrigation Australia 2008 Exhibition and Conference, including workshops and forums, was held 20–22 May at the Melbourne Exhibition Centre • WMCQ has won a limited invitation competition to design a new pedestrian bridge at Werribee, the Snake Bridge • Plus Architecture is the architect for a twelve-level apartment complex in South Yarra, Society, with a restaurant, bar, produce store, cafe and laundrette • Shelley Roberts has left FMSA Architects to start her own practice, Shelley Roberts Architect • The University Planning and Design Summit, a forum on the development of Australia's physical university infrastructure, will run 25–26 June in Melbourne • Cottee Parker Architects has appointed Shane Williams as associate director and Manager Victoria • The State of Design festival will run throughout Melbourne and in several regional centres in July • Deakin University's new $65M International Centre and Business Buildings, designed by H2o Architects, opened in February • Designbuild (Australasia) will be held 15–18 June at the Melbourne Convention and Exhibition Centre • WMCQ has appointed Richard Brenchley as an associate • There is controversy over alterations/additions to Royal Insurance in Collins Street, with the National Trust of Australia (Victoria) trying to persuade Heritage Victoria to list the building.
SOUTH AUSTRALIA
As part of the Adelaide Fringe 2008 programme, Designing Designers – the Evolution of an Architect was held. The exhibition presented a snapshot of the development of architecture in South Australia from 1958 • Dr Anuradha Chatterjee has been appointed as a lecturer at the Louis Laybourne Smith School of Architecture, UniSA • John Schenk has been appointed as a sessional commissioner in the Environment, Resources and Development Court • Adelaide's new Central Bus Station, designed by Woodhead and Denton Corker Marshall, has opened • DesignInc (Adelaide) has merged with Stafford Architects.
Related topics