INTERNATIONAL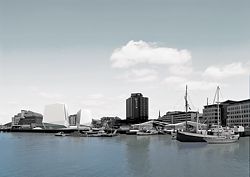 McGregor + Partners won second prize in the "Private Gardens in Cities and Suburbs" category of the Torsanlorenzo International Prize • The Architecture Foundation Australia New Zealand Architecture Master Class will be held 21–27 September. Convened by Lindsay Johnston, mentors will be Ian Athfield, Richard Leplastrier and Peter Stutchbury • John Denton and Justine Clark are on judging panels for the inaugural World Architecture Festival awards, to be held in Barcelona, 22–24 October • Entries for the Detail Prize close 14 July. The jury is Elke Delugan-Meissl, Albert Dietz, Helmut Dietrich, Prof Dietrich Fink, Peter Cachola Schmal, Lutz Heese and Christian Schittich • The lever design by Robert Watson, which won the 2004 Lockwood Design-a-Lever Award and became part of the Lockwood Aquileart range, has won a red dot design award • Architectus has won the international Autodesk Revit BIM Experience Award for 1 Bligh Street • Dimity Reed's Study Tour of Europe, 5–26 October, will visit Paris, Strasbourg, Interlaken, Lyon, Montpellier, Bilbao, Helsinki and Southern Finland • The winners and 56 shortlisted entries for the Venice Biennale New Australian Pavilion: Di Stasio Ideas Competition will be exhibited at Heide Museum of Modern Art from 28 June – 3 August • Lab Architecture Studio has opened a new office in Shanghai • Chris Clarke and Joel Kelder of Bligh Voller Nield and Peter Stutchbury and Richard Smith of Stutchbury and Pape are two of twelve finalists in Living Steel's international competition for sustainable steel-frame housing in Russia • Denton Corker Marshall has been appointed for residential work on the London Olympic Athletes Village • In a new arrangement between the Australian Instute of Architects and Google Earth, users can access 600 images and more than fifty 3D models of award-winning Australian architecture projects • Architectus Brisbane has been selected to participate in the worldwide architectural competition for new International Criminal Court premises in The Netherlands • London-based collaborative Langdon Reis Zahn (of which USydney graduate Ross Langdon is a member) has shared equal first prize in an open international design competition for a new library and theatre/concert hall in Bodo, Norway. Round two of the competition is underway • The deadline for the World Architecture Community Awards is 25 July. See www.worldarchitecture.org.
NATIONAL
From July the RAIA is trading as the Australian Institute of Architects, and will be known as the Institute in short • Sydney architect Howard Tanner is the Institute's 69th National President. The National Council has elected new office bearers: President Elect Melinda Dodson (Daryl Jackson Alastair Swayn Architects, ACT); Honorary Secretary Rod Mollett (Silver Thomas Hanley, WA); and Honorary Treasurer Andrew Vorrasi (studio nine, SA) • The winners of the inaugural Dulux Study Prize Tour are: Andrew Donaldson from Architect Marshall, Marissa Lindquist from Bosanquet Foley Architects, Samantha Taylor from Allen Jack + Cottier, Peter Walker from Morris Nunn and Associates and Drew Williamson from McBride Charles Ryan • The latest Who's Who of Australian Women includes Dianne Duggan, architectural historian; Stephanie Smith, Innovarchi; Leone Lorrimer, Sama Dubai; and Jennifer Hill, Architectural Projects • John Wardle Architects and Wilson Architects (architects in association) have won the Corian Design Awards Edition 1 – Commercial Category and the 2008 Fly Forbo Award for the Queensland Brain Institute, UQ • The Glenn Murcutt International Architecture Master Class occurs 5–19 July • Woods Bagot's Adelaide City Central Tower 1 won the Award for Innovation and Excellence in Office Development in the Property Council of Australia's National Innovation and Excellence Awards, held in May. Rice Daubney's Optus Centre at North Ryde, Sydney, won a Property Investment Award. Woodhead's Sydney Terminal 2 retail development won in the categories of Emerging Assets and Tourism and Leisure Developments. The winner of the Woodhead Award for Mixed Use Developments was Riparian Plaza by Harry Seidler and Associates • Entries for the Australian Timber Design Awards close 29 August. See www.timber.net.au • Adrian Lahoud, Bellemo & Cat, Rowan Opat, Choi Ropiha, m3architecture, and Pendal and Neille are participating in this year's Think Brick About Face Award.
NEW SOUTH WALES
Silvia Cupick and Gary Christian have joined Fitzpatrick + Partners • The Designing Out Crime Research Centre has been established by UTS and the NSW Attorney General's Department to help reduce crime through the design of products, buildings and environments • A $260M project to build up to 700 new affordable, social and private housing units at Glebe–Ultimo seeks to address the city's affordable housing shortage • DesignInc Sydney has appointed Ghislain Coulon as managing director with Richard Dinham's retirement, Richard Does as a director, Berg Arsenian and Ming-Yang Xu as associate directors and Kerry Ross as leader of Health Projects • Johnson Pilton Walker has appointed David Springford as an associate • DesignInc Sydney is designing the new cricket/AFL stadium for Blacktown Olympic Park • UTS student Linda Matthews won the Design Medal at the Institute's NSW Chapter Student Prizes • Nettleton Tribe is designing NSW's first 6-star Green Star Office Design rated project, Workplace6 (Darling Island Stage 3 – Pyrmont), with engineering services by Waterman AHW • Susanne Pini of Rice Daubney, Keith Cottier of Allen Jack + Cottier and Stephen Pearse 0f Group GSA will speak on "What Makes a Town" and the Rouse Hill Town Centre at the NSW Chapter on 5 August • The City of Sydney's latest Central Sydney Capacity Study suggests the city has the capacity to accommodate commercial development for up to 16 years.
TASMANIA
Preston Lane Architects in association with EDAW is working on a management plan for Franklin Wharf on Hobart's Waterfornt • The Institute's Tas Chapter won a grant from Arts Tasmania to hold the exhibition Modelmodelmodel as part of Design Island • The second Annual Hobart Design Index Open Day was held in early May.
NORTHERN TERRITORY
Woodhead has been commissioned for a 22-storey affordable housing unit development including retail and commercial components • Woodhead is working on the masterplanning for Coolalinga – a proposed new commercial centre south of Darwin.
AUSTRALIAN CAPITAL TERRITORY
The National Library of Australia is celebrating the fortieth anniversary of its construction with a display of rare images and plans of the building. The Opening Chapter: The National Library turns 40 is open until November • 36 submissions were received to the World War I and II Memorials Design Competition for Canberra. Stage 2 results announced in early July.
VICTORIA
The International Centre and Business Building, Deakin University, by H2o Architects was awarded Best New Commercial/Institutional Building, Environmental Sustainability and Best Landscape Design at the City of Whitehorse's Design Awards • Third Ecology Architects won the inaugural Geelong Yellow Local Business Champion award • Bruce Allen has appointed Rebecca Naughtin as a partner, with the practice renamed Bruce Allen and Rebecca Naughtin Architects • Hayball Leonard Stent Architects has rebranded as Hayball and appointed two new directors: Sarah Buckeridge and Luc Baldi • Site Image has opened its Melbourne office with Mike Phillip and Venta Slizys • Lab Architecture Studio has made the following appointments: Dean Boothroyd, Ann Lau, Oliver Hunt and Edwina Mcdermott as senior associates; and Lewis Hunt, Daniel Wolkenberg and Andy Wang as associates • Sustainable Housing: Climate for Change, the Conference of the Association of Building Sustainability Assessors, will be held in Melbourne 28–30 August.
QUEENSLAND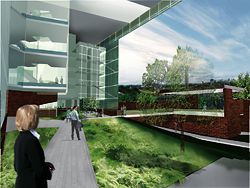 The work of 22 Queensland practices will feature in Place Makers: Contemporary Queensland Architects, on show 2 August – 23 November at GoMA. The exhibition includes: Rex Addison, Andresen O'Gorman, Arkhefield, Bark, Bligh Voller Nield, Bud Brannigan Architects, Lindsay and Kerry Clare (Architectus), Cox Rayner Architects, Donovan Hill, Richard Kirk Architect, JMA Architects, m3architecture, Ian Moore Architects, Owen and Vokes, Phorm Architecture + Design, Gabriel Poole, Riddel Architecture, James Russell Architect, Brian Steendÿk, Jennifer Taylor and James Connor, Elizabeth Watson Brown Architects and Wilson Architects • The Gold Coast regional awards have been announced. Karl Langer Building of the Year Award went to Ultra by DBI Designs, which also recieved regional commendations. House of the Year went to Southport Residence by Sparc Architects, which also received regional commendations. Other commendations went to Macintosh Island Bridge by Cox Rayner Architects, City Pacific Lifestyle Mixed Use by BDA Architecture, Robina Hospital Expansion by Jackson Architecture, Northbridge Residences by Sunland Group, The Annex by Paul Uhlmann Architects, She Oak by BASE Architecture, Amalfi Residence by BGD Architects, and Circle on Cavill and Appel Park by Sunland Group • The Brisbane regional awards have been announced. Building of the Year went to the Queensland Brain Institute by John Wardle Architects and Wilson Architects (architects in association). House of the Year went to the Clayfield House by Quirk Architecture. Commendations went to Queensland Brain Institute by John Wardle Architects and Wilson Architects (architects in association), the Cherrell Hirst Creative Learning Centre at Brisbane Girls Grammar School by m3architecture, QUT Student Learning Support Centre by Conrad Gargett Architecture, All Hallows School by Cox Rayner Architects, North Lakes Community Centre by Mode Design Corp, UQ Biological Sciences Library Refurbishment by Wilson Architects, Belbowrie Community Church by Studio 39, 800 Gympie by Richard Kirk Architect, Port Central 1 by Thomson Adsett Architects and Studio 39, QUAD by Push, Fortitude Valley Urban Vision, Brisbane by Hassell, Belbowrie Community Church by Studio 39, Holy Spirit by BASE Architecture, UQ Chemistry Building Laboratory Fitout Levels 9 and 10 by Wilson Architects, Periocare by Richard Kirk Architect, Samford House by Bligh Graham Architects, Flow by Bligh Voller Nield, the Village Centre by TVS Partnership, Campus Living Villages – Kelvin Grove by Allen Jack + Cottier Architects, Tufton Street Bowen Hills by Deicke Richards, Newstead Villas by AB+M Architects, Clayfield House by Quirk Architecture, Balmoral House by Owen and Vokes, Canoe Reach Residence at Yeronga by Steendyk, Toomba Avenue House by James Russell Architect, B House by Donovan Hill, Samford House by Bligh Graham Architects, Munro by BASE Architecture, House of Orange (William and Mary's Place) by Elizabeth Watson Brown Architects, Indooroopilly House by Owen and Vokes, Toy Box by Elizabeth Watson Brown Architects, and House Extension at Red Hill by Gall and Medek Architects • The North Queensland regional awards have been announced. The commended projects were Buchanan Park Redevelopment by Architectural Practice Academy, Tony Ireland Stadium by Cox Rayner Architects, Sacred Heart Cathedral by IA Group Architects, Wallaby Way House by Troppo Architects, One Bright Point development by Fairweather Proberts Architects and Yarrawanga Terraces Stage 01 by Phorm/Barrett Architects (joint venture) • Hassell is planning the development of Northshore Hamilton, a 304-hectare site in Brisbane's growth corridor, and also a new Sunshine Coast CBD in Maroochydore • Phillip Daffara of Futuresense, and the Institute's Sunshine Coast Regional Chair, has won a Future Summit 2008 Australian Leadership Award • Woodhead is masterplanning Royal Brisbane Hospital and working on the redevelopment for the Townsville Mental Health Unit • Wilson Architects and Donovan Hill (architects in association) have won the architectural design competition for the new multi- million dollar Translational Research Institute, located on the Princess Alexandra Hospital campus • Patrick Stanigar, former Dean of the Caribbean School of Architecture at the University of Technology, Kingston, Jamaica, is a keynote speaker at the 8th Biennial Conference of the Australian Association for Caribbean Studies at QUT in February 2009 • Woodhead, in conjunction with Gary Hunt Architects, is designing the new Argentea resort in far north Queensland • Heat: Queensland's New Wave of Environmental Architects is a campaign by the Queensland Government's Creative Industries Unit to raise the international profile and export sales of Queensland architects • Richard Kirk Architect has been awarded the new Australian Broadcasting Commission Brisbane Headquarters project in Newstead.
WESTERN AUSTRALIA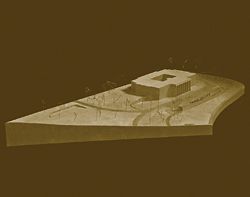 Simon Pendal and Stephen Neille have won a Department of Housing and Works competition to re-design the fountains and forecourt at Perth's Parliament House. They have also been chosen to exhibit in New Trends of Architecture in Europe and Asia-Pacific 2008-2009 • Entries to the West Australian Design Awards close 25 July. See www.design.org.au/awardswa • The number of "solar schools" in regional Western Australia has doubled with the latest allocation of funding under the Government's multi-million dollar Solar Schools Program • Woodhead has been commissioned by Qantas to upgrade the Qantas Domestic Terminal.
Related topics