International
Steve Thorne of Design Urban has been appointed as an urban design advisor to the Crown Prince of Abu Dhabi. The Abu Dhabi Urban Design Panel comprises five international members and is chaired by Canadian Professor Larry Beasley // Matt Davis, lecturer at the UniSA, received a special jury citation in an international design competition for the Northern Lights Observatory in Norway // Orbit Solutions has embarked on a joint venture with investment company Pure Real Estate to enter the United Arab Emirates, Middle East and North Africa regions // Winners of the first cycle of the World Architecture Community's 20+10+X Architecture Awards have been announced. Among the shortlisted projects, Urban Wall – Fremantle LIC (conception) by Luis Vale was cited by Honorary Members, and Tess McVicker's House (conception) by Magnus G. Bjornsson was selected through the rating of all visitors. Other shortlisted projects included the Children's Activity Centre at Skinners Playground by PHOOEY, and the Gloria Lee Ngale Environment Centre (Arrillhjere) by Brendan Meney // Lee & Kerry Architects has received an honourable mention in the Larvik Inner Harbour Open International Competition of Urban Planning Norway // The short list for the Emirates Glass LEAF Awards includes the Newton Suites, Singapore by WOHA, the Ross Street Residence, Melbourne by Hassell, and the Manchester Civil Justice Centre by Mott MacDonald // Peter Stutchbury has been invited to take the Catedra (Chair) Luis Barragan in Mexico in November. Stutchbury has asked that Richard Leplastrier also be involved in the two-to-three-week intensive program of lectures and tutorials at the eight schools of architecture in Mexico // Centor Architectural has won the award for Most Innovative Door Component in the Window & Door magazine's Crystal Achievement Awards for 2008 // Tony Arnel has been elected chair of the World Green Building Council // Bligh Street Sydney by Ingenhoven Architects in association with Architectus has won an International Architecture Award for Best New Global Design // Hassell's Bangkok studio has appointed Philip Hannaford as a director, Peter Skinner as a managing principal, and Teerachai Manomaiphibul and Tanya Suvannapong as principals // CH2 in Melbourne and 30 The Bond and The Mint in Sydney have been listed among thirty groundbreaking projects of the past thirty years by the UK Building Services Journal.
national
Jean Nouvel presented in Sydney and Melbourne in October as part of the Australian Architecture Association Black talks // The 13th annual National Association of Women in Construction Awards have been announced. Recipients included Alison McKenzie of Sinclair Knight Merz and Nina Barich of Connell Wagner // Sue Holliday has been appointed as the inaugural chair of the Built Environment Industry Innovation Council // The Housing Affordability Fund has been launched – a new, Commonwealth-funded initiative that will invest $512M over five years to lower the cost of new homes // The Australian Institute of Architects is backing calls for domestic and commercial buildings to cut carbon emissions substantially, above projections arising from the federal government's proposed carbon pollution reduction scheme // The National Steel Design Awards have been announced. The Architectural Steel Design Award went to the National Institute of Circus Arts by Cox Architects and Planners, while St John the Baptist Catholic Church, Woy Woy by Kingston Building was highly commended. The Metal Building Product Design Award went to Boroondara Sports Complex by Suters Prior Cheney Architects, with the LOX Facility, Richmond RAAF Base by Campbell Luscombe Folk Lichtman being highly commended. The Structural Engineering Steel Design Award went to the Allianz Centre by Arup, with the Adelaide Central Bus Station by Wallbridge & Gilbert and the Exmouth Marina Foot Bridge by BG&E being highly commended.
VICTORIA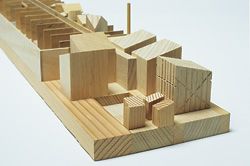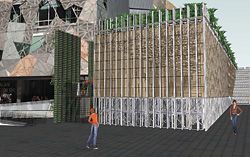 The final exhibition in the Homo Faber series was recently held at the Melbourne Museum. This included models by Mark Burry, Peter Downton, Andrea Mina, Michael Ostwald, students from RMIT University, BKK, Terroir and Steffen Lehmann // Amanda York has joined Red Design Group as an interior designer // Sheree Proposch has been appointed as a director of Bates Smart // BG Architecture has appointed Greg Buhagiar as an associate // Elenberg Fraser has appointed Aivars Kristens as senior associate, and Andrew Prodromou, Andre Perret and Linda Valentic as associates // UP, an exhibition about the growth of Melbourne over the last century, shows at the City Gallery until 30 November // The Architectural and Design Excellence in the South East Awards 2008 have been launched, with winners announced 27 November // Alex Selenitsch's exhibition, How are things at home?, showed at the Geelong Gallery // FJMT has designed a $128.5M extension to Melbourne's Art Centre, including a glass wing attached to the western side of Hamer Hall designed by Roy Grounds in 1982 // Greenhouse by Joost, a self-sustaining event venue constructed from recycled or recyclable materials, is at Federation Square until January 2009 // Environment Minister Peter Garrett launched the Co-Operative Research Centre For Construction Innovation's LCADesign at the SB08 conference. The program calculates the environmental footprint and risks of a building prior to construction // The Spanish Consulate brought a group of Spanish architects to Melbourne to present the seminar Green Architecture in Spain as part of SBo8. The event was chaired by Justine Clark // Out of the Square: Beach Architecture on the Mornington Peninsula, curated by Rodney James, shows at the Mornington Peninsula Regional Gallery until 22 February 2009.
NEW SOUTH WALES
David Tregoning has returned to Woods Bagot's Sydney office as director after four years spent in Hong Kong and London // Lawrence Nield has retired from Bligh Voller Nield // The Sydney Architecture Festival was held in October and featured architectural tours of the city, talks and activities at the World Heritage-listed Sydney Opera House, lectures, exhibitions, kids' activities at Customs House and tours of Cockatoo Island // Kumamoto Artpolis: Architecture through Communication, a worldwide travelling exhibition featuring images and sketches of architecture, was shown at the Japan Foundation Gallery and Tusculum in September. A series of talks by Professor Tom Heneghan accompanied the exhibition // The National Association of Women in Construction NSW/ACT Chapter held its 12th Annual Awards for Excellence in August. Winners included Anna Montag from Arup, Stockland Childcare and Parents Room Business Team, Anika Spears from Buildcorp Contracting, Alicia Maynard from St Hilliers Contracting and Sarah Crennan from Bovis Lend Lease // Living Steel and BlueScope Steel hosted an interactive forum, The Future of Innovative Housing Design: Medium-rise Buildings // Frasers Property has won the Urban Development Institute of Australia's award for Best High Density Housing in New South Wales for the Lumiere Residences (designed by Foster and Partners) // Lend Lease has approval for the construction of the $560M development of The Darling Walk // Sam Fiszman Park by 360º and McGregor Westlake Architecture has won the Civil Contractors NSW 2008 Earth Award // Bruce Rickard and the Sydney House was presented by the Australian Architecture Association and curated by Gerard Reinmuth at Customs House.
WESTERN australia
Dr Stephen Neille of UCurtin has won the RMIT 2008 University Research Prize for the doctoral research thesis Speed_Space: Architecture, Landscape and Perceptual Horizons // Work has begun on a $17M replacement of St Patrick's Cathedral in Bunbury, designed by Marcus Collins // Woodhead won the Architectural Steel Design Award for Clarkson Station at the Australian Steel Institute Awards of Western Australia.
northern territory
Hodgkison Architects has opened an office in Fannie Bay as an addition to the Adelaide office // Mode Design Corporation and The Architects Studio have recently merged. Max Weston has been appointed as studio manager of the Darwin office // A four-storey apartment building (Crest Apartments) and a three-storey office complex by Bruce Baldey of Peddle Thorp WKM are under construction in the Parap (Darwin) mixed commercial precinct. Norbuilt, the developer, has chosen to apply Section J of the BCA to the offices, even though compliance is not yet mandatory in the Northern Territory.
AUSTRALIAN CAPITAL TERRITORY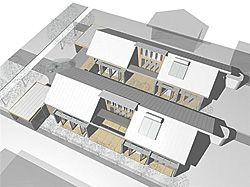 The ACT Government has launched The Canberra Plan – Towards Our Second Century // The winners of the Housing Industry Association and Australian Institute of Architects Affordable Housing Design competition have been announced. The category one (inner greenfield site) winner was Marcus Graham and John Katsanevakis. The category two (outer greenfield at section 63 Franklin 2 Estate) winner was the Expert Client and Vision Building Group; and a commendation went to Nathan Judd and Darren Goodwin. In category three (the entrant's choice of own site), commendations went to Strine Design and Strine Construction; and Collins Caddaye Architects and Capezio and Co. In the student category, commendations went to Renee Roberts and Andrew Driscoll; and Wesley Perrott, Nathan Watt and Andrew McInnes.
south australia
Pippa Morgan, Andreea Sankey and William Chua have joined Flightpath Architects, while Sam Hosking has been elevated t0 associate director // Studio Nine has made the following appointments: Andrew Brown and Michael Rawlings as senior architects, Matt Martin as senior interior designer, and Craig Tonkin as both senior interior designer and designer // GHD won the Unrestricted Square Design category in the Community Ideas Competition for the redesign of Victoria Square, Adelaide. Heath Jobson and Ian Nickolls won the Existing Square Design category // Adelaide Central Bus Station by Woodhead won the Architectural Steel Design category in the South Australian Steel Awards // UniSA's Architecture Museum and the Department for Environment and Heritage has launched the Architects of South Australia online database.
Queensland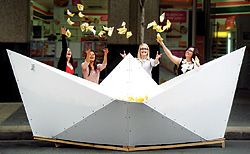 The Blair Pavilion at UQueensland's Ipswich campus will be restored to ensure its preservation for future plans and development of the building // Christina Waterson's new komodo form series was launched in September at Living Edge // UQueensland is creating a new School of Architecture (formerly part of the School of Geography, Planning and Architecture) for the start of 2009 // Centor Architectural is the 2008 Telstra Queensland Business of the Year // Park(ing) Day, a one-day global event pioneered by San Francisco arts collective Rebar, has taken off in Brisbane. Participants included Conics, Deicke Richards, Hassell, EDAW, JW Concepts, Tonic, Riddell Architects and students from UQueensland.
TASMANIA
Launceston Architecture Week was held in September at the University of Tasmania. Creative directors were Michael Jirku, Keith Westbrook and Alysia Bennett // Judith Abell and Poppy Taylor have received the Arts Tasmania/Vitra Design Museum Fellowship for 2008 and 2009 // Phil Ackerly has been appointed associate of Preston Lane Architects' Hobart office // Tonkin Zulaikha Greer's Stage 1 of the four-stage conservation of the Separate Prison, Port Arthur has been completed and opened by Prime Minister Kevin Rudd and Premier of Tasmania David Bartlett // Professor Richard Blythe, James Jones, Dr Jimmy Lim (Malaysia), Robert Morris-Nunn, Leigh Wolley and Scott Balmforth have all been recently appointed as adjunct professors at UTasmania.