INTERNATIONAL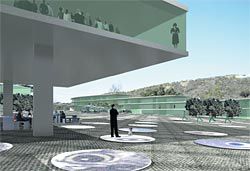 Glenn Murcutt is the chairman of the Living Steel International Architecture Competition for Sustainable Housing // Open Studio Architecture, in collaboration with artist Caroline Williams, is one of five finalists in Auckland City's "A Vision for Matiatia" design search // Chris Tucker from UNewcastle is the first Australian to win the Central Glass International Architectural Ideas Competition // Iredale Pedersen Hook Architects has received an Honourable Mention in the international Architectural Review Awards for Emerging Architects for the Walmajarri Community Centre.
NATIONAL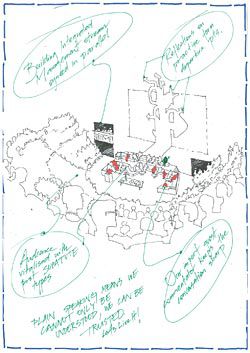 The RAIA National Conference 2007, Departure Lounge, will be held in Melbourne from 19–22 April. Sessions will be broken into two streams: Lounge, which will focus on the efforts of individual architects on chosen topics, and Integrated Practice, which will focus on the use of building information modelling (BIM) // The Robin Boyd Foundation is looking for sponsorship and supporters to assist with its varied programmes to advocate for good design // The winners of the Iken Design a Workstation of the Future competition have been announced.
The professional innovation award went to Nick Scherpel-Obbelode (Group GSA), the professional commercially viable award went to Carr Design, Anthony Franze (UniSA) won the student innovation award, and Aaron Goh (UNSW) won the student commercially viable award.
Commendations in the professional category went to Paul Charlwood and Nobbs Radford Architects, and a commendation went to Xanthe Warren (UNSW) in the student category // Entries are open for the Fly Forbo & Fly to Europe competition. See www.forboflooring.
com.au // The judges of the 2007 Dulux Colour Awards are Nina Campbell (UK), Abbie Galvin of Bligh Voller Neild and Tim O'Sullivan of Multiplicity // The 2006 Australian Timber Design Awards have been announced.
The overall winner is Edward River House by Jackson Clements Burrows. The overall finalists were Deakin University Central Precinct by H2o architects and Melbourne Central by Ashton Raggatt McDougall. Residential Class 1 – New Buildings (Open) went to Edward River House by Jackson Clements Burrows, with Stephens House by Seeley Architects and Burst *003 by System Architects being highly commended in this category. Residential Class 1 Best Renovation (Open) went to Kensington Residence by Delia Teschendorff. High commendations went to both MG House and the White House by Marsh Cashman Koolloos. The Excelsior Hall Redevelopment by Michael McKenna won Residential Class 2, 3 and 9c (apartments, resorts and aged care). The Public and Commercial Buildings Timber Frame award went to Hassell's Twin Creeks Golf and Country Club. High commendations went to the Abbotsleigh Research Centre by Johnson Pilton Walker. The Public and Commercial Buildings Composite Frame award went to Kerstin Thompson Architect's Visitor Centre, Australian Garden, RBG Cranbourne. Public and Commercial Buildings Other Outstanding Use of Timber went to Deakin University Central Precinct by H2o architects. High commendations went to Melbourne Central by Ashton Raggatt McDougall, and the Mean Fiddler Hotel by Squillace Architects.
Interior Fitout featuring Wood Veneer went to MG House by Marsh Cashman Koolloos Architects. Exterior Structures went to Melbourne Central by Ashton Raggatt McDougall for Melbourne Central with high commendations to M Central by Dale Jones Evans Architecture with Marchese & Partners and The Mean Fiddler Hotel by Squillace Architects. Best Use of Timber Flooring went to Bligh Voller Neild's Gully House. Best Use of Timber Engineered Products went to Abbotsleigh Research Centre by Johnson Pilton Walker. Best Use of Timber as a Structural Element went to Twin Creeks Golf and Country Club by Hassell.
Environmental Commitment went to ELF by Arena Design Architects and Shack Design. High Commendation went to Excelsior Redevelopment by Michael McKenna. Best use of Western Red Cedar – Commercial went to Melbourne Central by Ashton Raggatt McDougall. Best Use of Western Red Cedar – Residential went to House 8 by Bird de la Coeur. Best Use of Treated Pine in Exterior Structures went to Studio by Bevan Rees // Gill Robinson has resigned as executive officer of the RAIA.
QUEENSLAND
Suters Architects has appointed Pieter Melis and Scott Chapple as senior associates // The Planning Institute of Australia (Qld) Awards for Excellence in Planning have been announced. The Powerlink Queensland Award for Social and Community Based Planning was awarded to the Wynnum CBD Urban Renewal Planning Charrette by the Wynnum CBD Urban Renewal Coalition Inc, Ecologically Sustainable Design, Deicke Richards, MPS Architects, Studio 39, Parish Clarke and Wolter Consulting. The Tract Consultants Urban Planning Achievement Award went to EDAW, Bligh Voller Nield and Brisbane City Council for Planning for Future Growth – Building Typology and Compact Community Modelling Study. The Brisbane City Council Encouragement Award was awarded to Bligh Voller Nield and the Aboriginal Environments Research Centre for Re-reading the City: Indigenous geography & Colonial space in the Australian City. In the Humphreys Reynolds Perkins Urban Design – Plans and Ideas category Certificates of Merit were awarded to Ipswich River Heart by EDAW, Ipswich City Council and Malcolm Middleton Architects; Sippy Downs Town Centre Master Plan by Deicke Richards, Maroochy Shire Council and Bligh Tanner; and James Cook University Master Plan by James Cook University, CRI, Hassell and Maunsell AECOM // Brisbane's new cultural precinct opened in December. This includes the new Gallery of Modern Art by Architectus and Donovan Hill + Peddle Thorp's redevelopment of the State Library of Queensland // A new category has been established for the RAIA Qld Chapter Regional Awards, Small Project Architecture. Eligible projects will be those considered to be "small" in terms of area or budget as determined by the jury.
NORTHERN TERRITORY
Construction of the first building on the $30M Desert Knowledge Precinct in Alice Springs has started. It is the Business and Innovation Centre, designed by Susan Dugdale & Associates and Stephen Lumb Architect, working in association.
NEW SOUTH WALES
The Sydney Opera House is launching a worldwide appeal to find designs entered into the 1956 international competition. Contact designs@sydneyoperahouse.com // Suters Architects has appointed Robert Macindoe as CEO and Chris Acevski, Stuart Landrigan, Rod Bucton, Hilary Spiers and Ken Dyer as senior associates // Emergency Architects Australia was launched last October in Sydney // Caroline Pidcock appeared on Channel 7's Sunrise programme for the RAIA, and drew viewers' attention to the fact that the Federal Government is slashing solar electricity rebates and plans to phase these rebates out completely within six months.
Sunrise launched a public petition to have the rebates reinstated in full, which will be presented to the Federal Government // Woodhead is the winner of the China Exporter Award at the 2006 Premier's NSW Export Awards // James Grose has been elected national director of Bligh Voller Nield, after the retirement of Phil Page. Phil will continue to work with BVN on select major projects // Designers Block, a display of emerging talents of young designers, was held at the Lidcombe College Tafe, South Western Sydney Institute // HBO+EMTB has appointed Darren Mansfield in the newly created position of director of landscape design // Paul Geehan has been appointed as director/senior associate of EDAW // CIOB Australasia 2006 research grant winners have been announced.
Equal grants of $2000 went to two projects from UNewcastle. The first will look at Information and Communication Technology use in the multifirm, temporary organization of the typical construction project; the second will investigate the suitability of the UK's Society of Construction Laws' delay and disruption protocol for adoption by the Australian construction industry // Anthony Burke is the new course director of the Master of Digital Architecture programme at UTS.
TASMANIA
Celebrating Architecture Week 2006, the event 10 x 10 x 10 was held at Salamanca Place. Ten speakers, with 10 images, spoke for ten minutes each over four nights// Celine Lim is the new RAIA Tasmanian Chapter manager.
SOUTH AUSTRALIA
The Affordable Housing Exhibition was held at the RAIA SA Chapter in early December. This was an exhibition of student exploration of affordable housing concepts, curated by UniSA and University of Adelaide.
AUSTRALIAN CAPITAL TERRITORY
A national memorial for police who have died in the line of duty, designed by Liam Proberts of Fairweather Proberts, was officially unveiled by Prime Minister John Howard in October last year // Tanner Architects has won an invited competition for a new faculty building for the Crawford School of Economics and Government at the ANU // The 2006 Walter Burley Griffin Memorial Lecture was presented by Richard Johnson, of Johnson Pilton Walker, at the National Gallery of Australia // The inaugural Capital Alliance conference is to be held at Parliament House, Canberra, on 22–23 January // The 2007 Canberra Biennial was launched with a boat race on Lake Burley Griffin. The theme will be "Winning by Design" // The National Capital Authority is running the international Canberra Central Parklands Competition, for a schematic masterplan for the parklands north of the central basin of Lake Burley Griffin. See www.nationalcapital.gov.au // The Planning Institute of Australia (ACT) Awards for Excellence in Planning have been announced.
The ACT Planning and Land Authority won the Environmental Planning and Urban Planning Achievement award. The Urban Design – Plans and Ideas award went to HBO+EMTB Urban and Landscape Design.
WESTERN AUSTRALIA
Jacqui Preshaw has been appointed principal of Woodhead // Student prizes were awarded at the UWA final year exhibition to Gregory Niziskiotis, Elizabeth Russell-Smith, Richard Grocke, Hannah James, Alexandra Gaunt and Claire Broun.
VICTORIA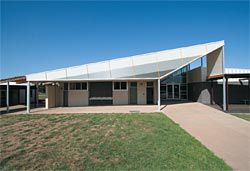 The winners of the inaugural School Design Awards have been announced. Hayball Leonard Stent won two awards, Best School (overall winner) and Best Secondary College, for Wallan Secondary College. H2o architects won Best Primary School award for Castlemaine Primary School, and Baradis Architects won Best Specialist School for Barwon Valley School. G&C Kennedy Consulting won Best School Project up to the value of $2.5M for Sunshine North Primary School // Public Space, Private Space, Other Space was a moderated discussion at Words@Bldg50 concerning the changes to Whitlam's NT land rights laws // Form & Function and designEX return to the Melbourne Exhibition Centre from 19–21 April The New Products Award will feature at these events // FMSA Architects has won the Master Builders' Australia National Exporter 2006 Award // The UMelb Lockwood Graduate Architecture exhibition showcased architecture projects from 5th Year and Masters students in November 2006 // Toby Horrocks of John Wardle Architects has won the 2006 Lockwood Design a Lever Competition // Bates Smart has appointed Rob Graham, Nicola Lodge, Robert Moore, Natalie Morrison and Kristen Whittle as associate directors. Grant Filipoff, Claudia Fleuter, Albert Gregori, Olda Kurdiovsky, Rachael McCarthy, Sarah Naarden and Anthony Windust have been appointed as associates. Sheree Proposch has been appointed as health science and education manager, and Debra Low Chow has been appointed as interior design manager // EDAW Melbourne has appointed landscape architect Thad Patradoon as an associate.
Simon Drysdale has also been appointed as an associate of architecture and urban design in the Melbourne studio // Kestie Lane and Anne Thompson have been appointed as associates in the Melbourne office of Woodhead.