INTERNATIONAL
The Deutsches Architektur Zentrum is organizing an exhibition on Australian architecture to be held in Berlin later this year. Living the Modern_Australian Architecture: on the tradition and transformation of modern architecture in Australia aims to exhibit Australian works from the last 15 years that are mostly unknown in Europe. Twenty-five architects have been invited to exhibit // Woods Bagot has become climate-neutral, across its network of 400 employees in Australia, the Middle East, Asia and Europe // Herzog & de Meuron have appointed Australian Ben Duckworth as an associate. He has coordinated the London offi ce since early 2006 // Entries close 30 March for the UNESCO Asia-Pacific Heritage Awards for Culture Heritage Conservation // At the invitation of the San Francisco Chapter of the AIA, Anthony Burke of UTS is curating the exhibition Out From Under: Australian Architecture Now, showing in San Francisco in March and April.
NATIONAL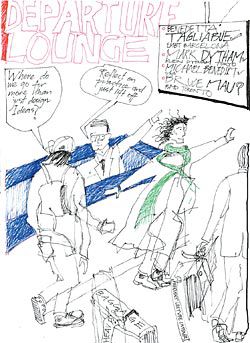 James Grose is the new president of the Australian Architecture Association, taking over from Glenn Murcutt // The Glenn Murcutt International Architecture Master Class is being held 8–22 July. Tutors include Glenn Murcutt, Richard Leplastrier, Peter Stutchbury and Lindsay Johnston.
See www.ozetecture.org // Entries close on 29 March for the Cement Concrete & Aggregates Australia Public Domain Awards. See www.concrete.
net.au/publicdomain // The RAIA and Archicentre have launched the online training portal www.continuum.com.au // The 2007 Australia Day Honours List has been announced. Those awarded Member of the Order of Australia include Ross Ashley Bonthorne, NSW, "for service to architecture and planning and design of urban areas, to the architectural profession, to local government, and to the community"; and Peter Roy Watts, NSW, "for leadership in the conservation and preservation of cultural heritage in Australia, particularly through the Historic Houses Trust of New South Wales and the Australian Garden History Society, and to the arts".
Those awarded Medal of the Order of Australia include Vyonne Marie Geneve, WA, "for service to the community through recording and preserving Art Deco architecture and art in Western Australia"; Juris Greste, Qld, "for service to urban design, particularly through raising community awareness of the need for high quality and sustainable environments, to professional associations and to education"; Nicholas Craig Safstrom, Vic, "for service to heritage conservation, particularly through the National Trust of Victoria, and through urban design and landscape architecture"; and John Whyte Thomson, NSW, "for service to architecture in New South Wales, particularly through the design and development of government schools and significant public buildings and spaces, and to the community".
NEW SOUTH WALES
The Government Architect's Office has appointed two Assistant Government Architects, Peter Poulet and Helen Lochhead // The Australian Architecture Association joined forces with the Sydney Rotary Club in late February, conducting architecture tours of Sydney to raise money for the campaign "Make Poverty History" // The National Trust Heritage Awards 2007, part of the National Trust Heritage Festival, run 3–18 March 2007 // The exhibition Homes in the Sky: Apartment Living in Sydney shows at the Museum of Sydney 12 May – 26 August, and includes work by Max Dupain, Arthur Streeton, Harry Seidler, Aaron Bolot and Emil Sodersten along with contemporary developers such as Mirvac // Green Cities 07 Conference was held in Sydney in February on the theme "Green Cities: Where our Future Lives" // UTS is hosting the 4th International Conference of the Association of Architecture Schools of Australasia 27–29 September.
Keynote speakers include: Michael Hensel and Defne Sunguroglu of Ocean North, London; American artist/architect, Adam Kalkin; New York writer Tom Vanderbilt; Dutch electrical engineer/artist/performer Bert Bongers; and Professor Peggy Deamer of the University of Auckland // Maritime limbo: Walsh Bay in waiting, an exhibition of photographs by Michael Nicholson, taken in 1989 prior to redevelopment of the wharves, shows at The Mint until 27 April.
SOUTH AUSTRALIA
Matt Davis, formerly associate director of Bates Smart Sydney, has been appointed as a lecturer at the Louis Laybourne Smith School of Architecture at UniSA.
TASMANIA
Carme Pinós and Wiel Arets presented a talk on their work in January while they were in Hobart to participate in the judging of the Hobart Waterfront Ideas Design Competition run by the Sullivans Cove Waterfront Authority // The Tasmanian Architectural Narratives: Cranbrook 2007 "a weekend away" will be held 16–18 March at Gala Estate at Cranbrook. The weekend camping event involves a forum to raise issues and challenge convention across design fi elds, within and beyond Tasmania // Crawford Shurman Architects has become Crawford Padas Shurman – Architects Designhaus, welcoming John Padas as a new director to the fi rm. An exhibition will celebrate the 150+ years of practice of the fi rm.
NORTHERN TERRITORY
David Bridgman has left The Architects Studio to become a senior lecturer at Charles Darwin University.
WESTERN AUSTRALIA
Hassell is working on the 140 William Street redevelopment in Perth. This includes the restoration of heritage buildings, setting new standards in energy and water effi ciency and intensifying development around the railway stations.
AUSTRALIAN CAPITAL TERRITORY
The inaugural Capitals Alliance Conference, Contemporary National Capitals: Plan, Promote, Enhance and Maintain, was held in late January.
QUEENSLAND
Cox Rayner, Denton Corker Marshall, Ashton Raggatt McDougall and Woods Bagot have been shortlisted by South Bank Corporation to produce concept designs for the proposed $100M expansion and redevelopment of the Brisbane Convention and Exhibition Centre // The Green Roofs for Australia conference was held in Brisbane during Sustainability Month (February 2007) // Urban Directions and The Centre for Subtropical Design are hosting fi ve urban design workshops until 2010.
Each will focus on a particular sense, to explore possible futures for the urban and regional environment in SEQ.
VICTORIA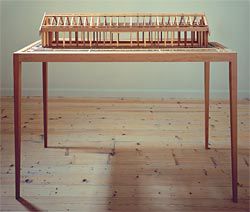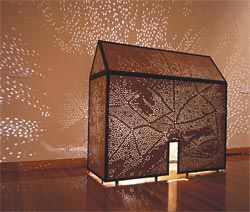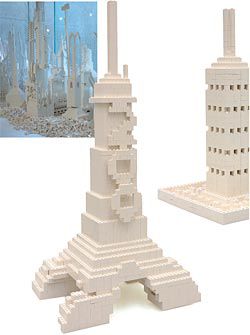 The AGIdeas International Design Week will be presented by The Design Foundation at Hamer Hall, Victorian Arts Centre, 1–5 April. See www.
agideas.net // The Victorian Barn was a one-day conference held at UMelb in February to discuss the origins and traditions of regional barn types // Peta Carlin's exhibition Urban Fabric: Greige shows at West Space 1–24 March. The conceptual installation explores the relationship between architecture and textiles through mid-century corporate facades. See www.westspace.org // Artist Greer Honeywill's exhibition Against the Grain explores the dwelling space between art and craft and shows at Craft Victoria 17 May – 23 June // Olafur Eliasson: The cubic structural evolution project 2004, an exhibition at NGV International 2 March – 13 May 2007, invites audience collaboration.
Viewers will help construct a Lego world with more than 400,000 white Lego blocks as building material // TAKE 5, Looking Ahead: Defining the terms of a sustainable architectural profession, by 2005 Sisalation Prize recipients Paolo Tombesi, Blair Gardiner and Tony Mussen, was launched in Melbourne in late February // Kerstin Thompson Architects has won the commission for a new Performing Arts Centre for Genazzano College FCJ.