International
Participating practices in the exhibition Out from Under: Australian Architecture Now, curated by Anthony Burke for the San Francisco Chapter of the American Institute of Architects, included Tony Owen NDM, Terroir, Dale Jones-Evans, McBride Charles Ryan, Neeson Murcutt, Chenchow Little, Sean Godsell Architects, John Wardle Architects, Kerstin Thompson Architects, Peddle Thorp and Walker, Gary Marinko Architects, Staughton Architects, m3architecture, Offshorestudio, Andrew Burges Architects and Minifie Nixon Architects. It is envisaged that the exhibition will travel to other design hubs in the United States // Hassell, with the assistance of Austrade, is designing the new headquarters for online trading company Alibaba.com in Hangzhou, China // Tony Owen NDM's Bondi Beach Wave House has been shortlisted in the World Architecture News International House of the Year Award // Sean Godsell's St Andrew's Beach House received a special mention in the Detail Prize 2007 in Germany. St Andrew's Beach House has also received a 2007 Chicago Athenaeum International Architecture Award // David Pennisi Architect has won the sixth Honorable Mention (Conservative Project) in the International Architecture Competition KUELAP 2007 // Allen Jack + Cottier is designing a new city for Yimin, Inner Mongolia, which aims to promote urban sustainability in China. Yimin will become an ecologically driven home to 100,000 people from 12 ethnic groups in the area // Shane Murray of RMIT University was on the selection jury for Archiprix International Shanghai 2007, an exhibition of the world's best graduation projects from architecture, urban design and landscape architecture from over 60 countries // Woods Bagot has won the commission for a new research complex for the Hong Kong Science and Technology's Advanced Learning Centre, working closely with Hong-Kong-based architects DLN.
National
Cheryl Collett is the new executive officer at the RAIA // The winners of the 2007 Dulux Colour Awards have been announced. The Grand Prix title went to Libbi Bennison of Liberati Colour for Golden Monkey Lounge Bar and Asian Tapas, Melbourne, which also won the Commercial Interior category. Commercial Exterior went to the Richmond Train Station upgrade by David Shultis of Cox Architects and Planners, Residential Interior went to Bond House by Mark Cashman of Marsh Cashman Koolloos Architects and Residential Exterior went to Albury Residence by David Boyle of David Boyle Architects. The Student Specifier (4–6 years) award went to Guadalajara Library by Nicholas Barber of University of Sydney and the Student Specifier (1–3 years) went to Handbags and Gladrags by Gemma Corfe of Curtain University // Submissions are now being invited for the 2007 Sisalation Prize. The primary prize winner will edit Take 7, featuring a collection of papers aimed at furthering the body of knowledge in the discipline of architecture. See www.architecture.com.au // Speakers in last month's Designbuild Green Building Seminar programme included John Macdonald from DesignInc, Gerard Reinmuth from Terroir, Frank Stanisic from Stanisic Associates Architects, Caroline Pidcock from Pidcock Architects, Tone Wheeler from Environa Studio and many others.
Queensland
Paul Rice has been appointed as associate of Fairweather Proberts Architects // Hassell held an International Women's Day event in Brisbane with the theme "Mentoring and the next generation". The event was chaired by Lucy O'Driscoll. Sue Dean, KPMG Queensland marketing manager, and Barbara Heath, jeweller, provided thoughts on mentoring the next generation.
New South Wales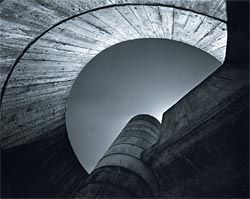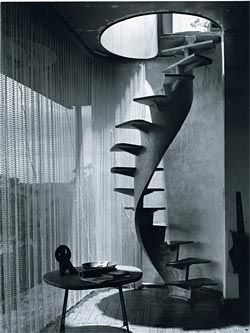 The exhibition Max Dupain – Modernist shows at the State Library of NSW, 9 June – 23 September. It celebrates the photographer's contribution to the Modernist movement with 80 black-and-white photographs of work by Seidler, Utzon, Murcutt, Cox, Ancher, Buhrich and others // The Australian Architecture Association has organized its 2007 tour programme, themed "Look at your world differently". Including 170 architecture tours, the programme was launched in February, with all proceeds going to the Make Poverty History campaign // The 2007 Marrickville Medal for Heritage has been awarded to All Saints Petersham // Alex Jelinek recently passed away at age 81 // Tamara Donnellan and Niki Douglas have joined Sarah Benton as associates of Terroir in the Sydney office // The 2007 Energy Australia National Trust (NSW) Heritage Awards have been announced. In the corporate/government sector the award for Conservation Built Heritage Project over $1 million went to the NSW Government Architect's Office for the Cleveland Street Intensive English Public School. The Education Award went to Lindfield Public School by Godden Mackay Logan, who were also awarded the Conservation Built Heritage Project under $1 million for the Barn Conservation Project, Mosman. The Conservation Management Plans Award went to Conybeare Morrison International and Context Landscape Design for the Bobbin Head and Apple Tree Bay Masterplan, Conservation and Landscape Management Plans, the trophy for the Cultural Heritage Award for Survey of Significant Landscape Features went to Andrews Neil, and the Interpretation and Presentation Award went to Roberston and Hindmarsh for "World Wars 1 and 2: Survey of buildings, sites and cultural landscapes in NSW". The National Trust is currently seeking corporate members.
South Australia
The SA Government has announced its plans for Adelaide's Victoria Park (Bakkabakkandi) in the Park Lands. Oxigen and Troppo Architects were the design consultants for the original site-sensitive proposal. However, the SA Government does not credit these consultants, nor show correct information, on their website // The 24th International Conference of SAHANZ, Panorama to Paradise: Scopic Regimes in Architectural and Urban History and Theory, is being held 21–24 September at UniSA, Adelaide. Keynote speakers are Paulette Singley, Keith Eggener and Mark Crinson // Woodhead is the architect for the Flinders Medical Centre redevelopment in Adelaide // Andrew Vorrasi is the new RAIA SA Chapter President.
Victoria
Taylor Cullity Lethlean with Troppo Architects and David Lancashire Design have won the Stories From the Sea project at Melbourne Zoo // Pecha Kucha Night Melbourne Volume Two was held in late February // International Women's Day was celebrated by the RAIA Vic Chapter with a breakfast. Cassandra Fahey spoke about extending architectural expression into a wider public realm // Michael Brooks has been appointed as a full director of WMCQ Architects. This practice has been working with Elementree in WA to develop a workable carbon-neutral system applicable to the provision of consultant services // Lorina Nervegna is now the manager of City Sustainability for the City of Melbourne // The 2007 Miegunyah Fellowship Lecture was delivered in March by Professor Bill Mitchell of the Massachusetts Institute of Technology, USA // Professor Tom Kvan is the new Dean of the Faculty of Architecture, Building and Planning at UMelbourne // A new project space was opened at the Spatial Information Architecture Laboratory at RMIT // Deakin University Central Precinct by H2o architects won three awards at the 2006 City of Whitehorse Building a Better City Awards, including Best New Commercial Building, the ESD (Commercial) Award and the Mayor's Choice Award // The Office of the Government Architect and the state government's Office of Housing are collaborating to encourage innovation and high-quality urban design in public housing // Drew Carling has been promoted to director of Maddison Architects, and Chris Jones has been appointed as an associate // The new Deakin University International Centre and Business Building (ICBB) by H20 architects is almost complete, forming the new iconic gateway building to the university // Robin Boyd House II has been added to the Victorian Heritage Register // Monash University has awarded John Denton an honorary Doctor of Laws for his outstanding and ongoing contribution to architecture // The four shortlisted practices to undertake the next stage of the Australian Centre for Neuroscience and Mental Health Research Facilities competition are Denton Corker Marshall and S2F, DesignInc Melbourne, John Wardle Architects + Wilson Architects and Lyons.
Tasmania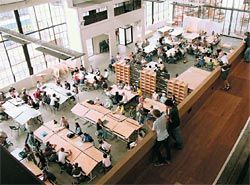 Shaun Miller has been appointed as an associate of Terroir at the Hobart office // UTasmania's School of Architecture has moved into the new building at Inveresk, by Six Degrees and environmental consultants SBE, with a design charrette, house-warming party and an exhibition // A Weekend Away, Tasmanian Architectural Narratives, was held in March. Speakers at the Cranbrook event were architects John Andrews and Peter Myers, Indigenous writer Greg Lehman, writer, poet and environmentalist Pete Hay and artist Sieglinde Karl-Spence // James Jones is the new RAIA Tas Chapter President.
Australian Capital Territory
The jury for the Canberra Central Parklands Competition is United States-based Elizabeth Mossop (chair), Christophe Girot from Switzerland, Robert Schaefer from Germany and Australians Sue Barnsley, Rob Adams and Stuart Mackenzie. The international competition is for a schematic master plan for the parklands north of the central basin of Lake Burley Griffin, including the Commonwealth Park, Rond Terraces and Kings Park // Canberra opened its new Childers Street Arts Precinct in February, marking the start of an urban renewal programme for the national capital. EDAW has been the lead master planner for this project // The Keep Australia Beautiful 2007 ACT Sustainable Cities Awards have been launched. See www.kab.org.au.
Western Australia
Creative Capital has organized a petition in support of making Perth a less conservative city. Charles Landry made a public presentation in March with observations about Perth and the ways the city needs to change to embrace a successful future // Rod Mollett is the new RAIA WA Chapter President // Andy Sharp from Hassell received a 40 Under 40 award as recognition of his professional and community achievements in WA // The 2006 Peter Hunt Travel Prize has been awarded to Curtin architecture graduate Andrew Boyne. The prestigious annual $10, 000 cash award will take Andrew to the USA to work with organic architect Robert Harvey Oshatz.
Related topics