INTERNATIONAL
Southern Cross Station, Melbourne, by Grimshaw in association with Daryl Jackson Architects, has won the RIBA Lubetkin Prize. The shortlist for the award was drawn from RIBA International Award winners, which also included Edith Cowan University, Perth, by JCY; and L5 Building, UNSW, by Bligh Voller Nield • The Sydney Opera House has been inscribed on the World Heritage List • Collins and Turner Architects is one of eighteen finalists in the Living Steel 2nd International Architecture Competition for Sustainable Design • The inaugural Pacific Students of Architecture Congress, CtrlShift07, was held 1–6 July in Wellington, NZ, running concurrently in physical and virtual worlds • Ian Athfield, Richard Leplastrier and Peter Stutchbury will lead the NZ Architecture Masterclass residential design studio at the Athfield-designed Awaroa Lodge, Abel Tasman National Park, 16–22 September • Gall and Medek with Team DES has come second in the RIBA USA ideas competition, Building a Sustainable World: Life in the Balance • Woods Bagot has appointed Ross Donaldson as global group managing director • Smart Design Studio is one of five firms shortlisted in the Singapore National Art Gallery international competition • SONA sponsored Josephine Bastian to attend the Third Rotterdam International Architecture Biennale in May.
NATIONAL
Geoffrey London and Simon Anderson have won this year's Sisalation Prize. They will edit Take 7 on the topic Housing Australia: How architects can make a difference • The Global Studio travel bursary winner is Daniel Griffin from RMIT • Entries to the ReeceDesign Bathroom Innovation Award close 31 October • Lyons has won two national design competitions: the Australian Centre for Neuroscience and Mental Health Research, UMelb and Austin Hospital, and the College of Science, ANU.
AUSTRALIAN CAPITAL TERRITORY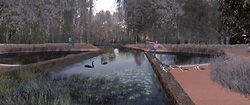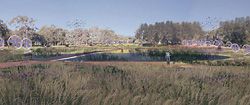 The winners of the National Capital Authority's international design competition for the Canberra Central Parklands have been announced. First prize went to Oxigen Landscape Architects, Adelaide; second prize went to Colin Stewart Architects, Canberra; and third prize went to EDAW/Eco Engineering.
QUEENSLAND
RAIA Qld Chapter has established a permanent biennial Paula Whitman Prize to support and mentor architectural graduates • Cox Rayner won the Fly Forbo and Fly to Europe competition for the fitout of Suncorp Brisbane Square • Woodhead is designing the "foundation" building for USouthern Cross's new Gold Coast campus • Allen Jack + Cottier and Cox Rayner are the architects for an eight-storey office building on the SW1 site, South Bank • Michael Heenan of Allen Jack + Cottier and Cheng Jianxin of Shanghai Design Centre spoke at the Live in Queensland: Design in the World seminar at QUT • Fulton Trotter and Partners has appointed Katie Maccoll and Greg Dart as associates in its Tweed Heads office; and Nathan Vinall, Wendy Hay, Hayley Crofts and John Ward as associates in its Brisbane office • Deicke Richards has made the following appointments: Cameron Davies and Eloise Atkinson as directors; and Ian Hamilton, Jeffrey Briant, Shem Guthrie, Tamsin Scott, Arno King and Phillip Smith as associate directors • Higher education leaders met at the Next Generation Learning Spaces Colloquium in July, organized by UQ and Wilson Architects • The RAIA's Qld Regional Awards have been announced. The Far North Queensland E. H. Oribin Award Building of the Year is St Augustine's Multi-Purpose Hall, Cairns, by MMP Architects. The Far North Queensland House of the Year is Struthers Residence, Beachfront Mirage, by Total Project Group. Commendations went to Shangri- La Hotel, Cairns, by Watermark Architecture and Interiors; St Andrew's Catholic College, Stage 2–7, Redlynch, by Peddle Thorp Architects; Port Douglas House, Port Douglas, by Wolveridge Architects; and Palm Cove House, Palm Cove, by Studio Mango. The Gold Coast House of the Year is Tugun Residence, Tugun, by Fairweather Proberts Architects. The Gold Coast Building of the Year is Tweed River Art Gallery, Murwillumbah, by Bud Brannigan Architect. Commendations went to Ephraim Island Villas, Ephraim Island, by HPA; Couran Cove House, South Stradbroke Island, by Arkhefield; 128, Southport, by Shane Denman Designs and Greg Barnes Design Group; W House, Anglers Paradise, by Tangram Architects; Waters Edge, Biggera Waters, by Archidiom Design; Southport Police Station, Southport, by Project Services; Harvey Norman Commercial Showroom, Stapylton, by Cottee Parker Architects; The Oracle Sales Centre, Broadbeach, by DBI; Ferry Road Market, Southport, by Cox Rayner Architects and Planners; and The Wave, Broadbeach, by DBI.
SOUTH AUSTRALIA
Pruszinski Architects is working on 20 Hindmarsh Square, a $140M hotel and residential complex on the Academy cinema site in Adelaide's CBD • Hassell in association with Cox is designing the 12,000-seat grandstand redevelopment for Adelaide Oval • Swanbury Penglase Architects has won a design competition for a project house for the proposed Blackwood Park Subdivision • Hassell has appointed David Homburg, Ashley Halliday and Chris Watkins as senior associates; and Tim Horton as an associate • Woodhead in association with Denton Corker Marshall is designing stage 3 of the Newport Quays redevelopment. Stage 2 is under construction • Tectvs has appointed John Endersbee as an associate • Ian McDougall has been appointed Professor of Architecture at UAdelaide.
VICTORIA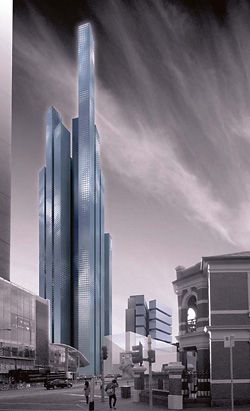 Denton Corker Marshall has won an architectural ideas competition run by Grocon for a commercial tower on the Carlton Brewery site • Monash University has launched its new architecture programme, a three-year Bachelor of Architectural Design followed by a two-year Master of Architecture. The advisory panel comprised Brit Andresen, John Denton, Geoffrey London, Desley Luscombe and Carey Lyon, with Sandra Kaji-O'Grady also involved in course design • Waterworks, an exhibition on water use in sustainable architecture, organized by the RAIA Vic Chapter, was part of the Melbourne Design Festival • UMelb hosts Asia-Pacific Modernities, a PhD colloquium, on13 October • Elenberg Fraser has appointed Karen McWilliam as practice manager and Hazel Porter as a senior associate • The proposed auction sale of Robin Boyd House II on 21 July was halted pending further discussions on keeping the property in public hands • The exhibition Savage Luxury: Modernist Design in Melbourne 1930–1939 shows early Modernist interior design at Heide Museum of Modern Art until 4 November • Denton Corker Marshall has made the following Melbourne appointments: Ian White, Neil Bourne, Peter Williams and Greg Gong as directors; Wojciech Pluta as associate director; Roger Demarte as senior associate; and Ian P'ng, Nicola Smith, Noel Tighe and Mark Bol as associates • Hassell has appointed Joanne Hartsias as a principal in its Melbourne office • Ashton Raggatt McDougall has appointed Tony Allen as a director, Simon Shiel as a senior associate, and Jeremy Stewart and Ivan Turcinov as associates • Smith + Tracey Architects with LU Simon Builders has won the competition for the Mercy Health and Aged Care Project on the Commonwealth Games Village site in Parkville • Paul Morgan Architects is designing computer labs and offices for RMIT, a Five Star Green Star Learning Centre for Central Gippsland Institute of TAFE in Leongatha, and a TAFE building for Chisholm Institute • Michael Roper of Black Kosloff Knott was unofficially crowned "Best Dressed Architect 2007" at the RAIA Victorian State Awards on 13 July • Hassell hasappointed David Andrew as a senior associate in Melbourne • Architectus has appointed Ruth Wilson as a director, Justin Phillips and Paul Weston as associate directors, and Stephen Thompson and Mark Baldwin as associates.
TASMANIA
Arts Tasmania is collaborating with various organizations to offer residencies and grants at sites of ecological and/or cultural significance within Tasmania's parks and on Aboriginal land • Two heritage-listed properties have been damaged by fire: the former Burnie High School, and Tasmania's oldest surviving farm home, Pitt Farm.
NORTHERN TERRITORY
Which Way? Directions in Indigenous Housing, the first national Indigenous housing conference in 30 years, will be held in Alice Springs, 26–27 October. It is coordinated by the RAIA Indigenous Housing Taskforce. Confirmed speakers include NZ architect Rewi Thompson and Paul Pholeros • Hassell has appointed Paul Watkinson as a senior associate in Darwin • In Alice Springs, Woodhead is the primary consultant on the Central Land Council (CLC) development; and is the architect for a new studio and office facility for Imparja Television, the first fully digital station in Australia.
WESTERN AUSTRALIA
The Breadbox Gallery hosted Touching Space in June, a lighting exhibition by Stuart Williams • Woods Bagot's Perth office is designing a $900M residential apartment project at coastal Port Coogee • Hassell has appointed Toni Kerr, David Jenkins, Mark Jeavons and Stephanie Rush as associates • DIA WA presents the 2007 Design Awards on 21 September, with the exhibition of award entries on show at QV1, 21–29 September. DIA WA's 2007 Design Forum will take place on 20 October.
NEW SOUTH WALES
In the RAIA NSW state awards this year, the Marion Mahony Griffin Prize went to Wendy Lewin and a Special Jury Prize went to Don Gazzard. The President's Prize went to John Niland and David Chesterman for their contribution to the UNSW Kensington campus, while FJMT won the Premier's Prize for the Max Webber Library • Fernando Romero, founder of the Mexico-City-based Laboratory of Architecture, gave the 2007 Lloyd Rees Memorial Lecture at the MCA in August • The Australian Architecture Association ran 35 architecture tours as part of Sydney Design 07 • Nick Collis-George has stepped down as RAIA NSW Chapter Manager • Smart Design Studio has appointed Zig Peshos as an associate • The following RAIA student awards have been made: Partridge Partners Prize: James Buskin, UNewcastle. HPA Mirvac Award: Shaun Purcell, UNewcastle. Design Medal: Alicia Pozniak, UTS. RAIA Lend Lease design Ross Bonthorne Award: Raymond Fung, UNSW; Justine Newby, UNewcastle; Lucy Humphrey, USydney; Clare Sowden, UTS. Chapter prizes: Thomas Barclay, Raymond Fung, Nicole Robinson, UNSW; Shaun Purcell, Karina Piper, Steele Olney, UNewcastle; Alina McConnochie, Toby James Breakspear, Adele Jennifer Rowland, USydney; Hana Hannemann, Jose Serrao, Deni Mandrovski, UTS • Import/Export: Australian Architecture Abroad, a public discussion, was held at UTS in June, led by Andrew Mackenzie (Architectural Review), Justine Clark (Architecture Australia) and Janne Ryan (ABC) • The National Trust of Australia (NSW) has listed the Seidler House in Killara on its heritage register • The Historic Houses Trust reopened Sydney's Government House to the public in July, with a major refurbishment of the state drawing rooms • Urban Islands 2007, a design studio and symposia, was held on Cockatoo Island, Sydney Harbour, in July • Without Frontiers, an exhibition of projects by Architects Without Frontiers, is at Customs House until 23 September/1 October for the ground fl oor • Hassell has appointed Luke Johnson as senior associate; and Megan Reading, Jari Seppanen, David Tickle and Neil Hill as associates • Fulton Trotter and Partners has appointed Ben O'Halloran as an associate in its Bondi Junction office • Conybeare Morrison has appointed Michael Andrew, Richard Nugent, Colin Polwarth, Judith Rintoul, Peter Simmonds and Ron Yuen as associate directors; and David Appleby, Elizabeth Cranfield, It Chew Tan and Audrey Thomas as associates • Annie Tennant of Lend Lease Communities is the National Association of Women in Construction NSW president.
FIXES

• In "Fire Safety Engineering", by Tony O'Meagher and Leong Poon (Architecture Australia, March/April 2007, vol 96 no 2), Tony O'Meagher, who now works for Meinhardt Consulting Engineers, discusses a number of projects with which he is familiar. We have since been informed that the fire engineering work on most of these projects should have been attributed to Arup Fire and dates from the period of Tony's employment with Arup. The projects are: Ian Potter Gallery, BHP Billiton, Singapore National Library, Henry Jones Art Hotel, and Swiss Re Offices. The NAB Building was credited to Arup Fire in the article. Leong Poon was at Hyder when he undertook the fire engineering on the Hillsong Religious Facility.