International
Australia did well at the World Architecture Festival in Barcelona last November. World House of the Year went to Klein Bottle House by McBride Charles Ryan, World Sport Building of the Year went to Berry Sports Hall by Allen Jack + Cottier, World Housing Development of the Year went to The Met by WOHA and World New and Old Building of the Year went to TKTS Booth and the Redevelopment of Father Duffy Square by Choi Ropiha, Perkins Eastman and PKSB Architects // Richard Leplastrier has been awarded the Dreyer Foundation Award Denmark – the first non-Dane to win this award // Woods Bagot has launched a new design studio in Shanghai, China // The Iscid World Design Congress Singapore 2009 was held in November. Foster & Partners, WOHA and Toshiko Mori Architect explored how urban areas would be experienced in 2050 // Tony Grist of Hassell has been appointed to the 2009 World Architecture News Awards commercial sector jury // Gooseberry Hill Alterations and Additions by Iredale Pedersen Hook won an award in the fifth cycle of the 20+10+X World Architecture Community Awards // Matt Gibson A+D won a World Interior Design Award (Best Retail Interior) in Dubai for the retail installation The Coop, a "Pop-Up store" conceived by GPT Melbourne Central // Woods Bagot's Qatar Science and Technology Park won the Commercial/Mixed Use Built Project Cityscape Award // AECOM associate architect Josephine MacLeod has won a trip to India to attend the 2010 International Federation of Consulting Engineers Annual Conference as a representative of the Association of Consulting Engineers Australia // The Institute delivered 15 calls for action at the United Nations conference in Copenhagen late last year // Kazuyo Sejima of SANAA is the director of this year's Venice Architecture Biennale // Terroir has won a prize in the international Statens Naturhistoriske Museum competition for a new Natural History Museum in Copenhagen's historic Botanical Gardens // Gerard Reinmuth has been appointed as visiting professor at Arkitektskolen Aarhus, Denmark.
National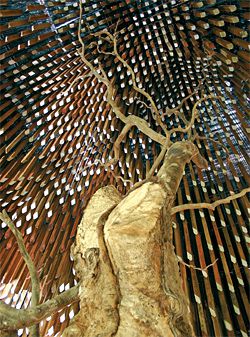 The Grand Prize at the 2009 National Australian Timber Design Awards went to Brian Hooper Architect and m3architecture (architects in association) for the Tree of Knowledge Memorial, Barcaldine, Queensland. Other winners include: McBride Charles Ryan for the Letterbox House; CplusC Design Construct for Queens Park Residence; Elenberg Fraser for St Falls; FJMT for the Faculty of Law, Library and Teaching Complex; Hassell in association with City Projects for Turruwulk Park Kiosk and Change Rooms; Johnson Pilton Walker for National Portrait Gallery; Gall & Medek Architects for Noosa North Shore EcoCentre; Vos Construction and Joinery for Melbourne Recital Centre; Sydney Design Group for Hazelwood Beach House; University of Tasmania and Gumatj Corporation for Garrathiya Bunkhouse and Ben Callery of Zen Architects for Brunswick Lane Solar House. Overall regional winners were as follows: Johnson Pilton Walker for National Portrait Gallery; Neeson Murcutt in association with Coddington Co for Whale Beach House (joint winners of central region, ACT/NSW); Brian Hooper Architect and strong>m3architecture
(architects in association) for Tree of Knowledge Memorial (northern region, NT/QLD);
McBride Charles Ryan
for the Letterbox House (southern region, TAS/VIC); and
Iredale Pedersen Hook Architects
for Swan Street Residence (western region, SA/WA) //
Anton Garcia-Abril
will speak at this year's C+A Talks in Perth, Melbourne and Sydney //
Keith Cottier
has been awarded the 2009 Doctor of Science in Architecture (honoris causa) by
USydney
// Winners of the 2009 Boral Design Award have been announced. First place went to
Paul Focic
and
Jeremy Marsden
from
Cox Rayner Architects
for Jacaranda House. Second place went to
Shane Plazibat, Tony Jemmott, Vincent Teo
and
Jindrich Hoazak
from
Plazibat and Jemmott Architects
. The winner of the student category was
Lachlan Joseph
of
QUT
// Confirmed international speakers for this year's architecture conference include
Alejandro Aravena (Elemental S.A.), Tom Bloxham (Urban Splash), Teddy Cruz (Estudio Teddy Cruz), Jeremy Edminston (SYSTEMarchitects), Liza Fior (muf architecture/art), Sean Griffiths (FAT: fashion, architecture, taste)
and
Francis Diebedo Kéré (Kéré Architecture)
.
Queensland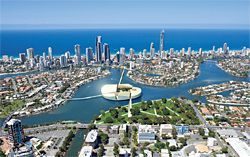 SuperColossal has won the Gold Coast's Cultural and Civic Centre Precinct Master Plan Ideas Competition with its Island of Culture proposal. Other place-getters were Gall & Medek Architects and Queensland College of Art (Griffith University), DC8Studio, LVO' Architecture and Matt Drysdale Architecture // Thomson Adsett has appointed Ben Kearney as a director at the Brisbane office and William Wong as a director at the Rockhampton office // The $126M redevelopment of the Gold Coast Stadium by Populous is underway // The Vibrant Laneways and Small Spaces program, an initiative of the City Centre Master Plan, has been introduced by the Brisbane City Council // A prefab house designed by Owen and Vokes has been installed on South Bank for Happy Haus // Group GSA has appointed Chris Adkins as a principal.
New South Wales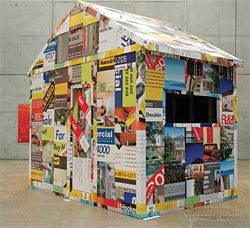 Frank Gehry is undertaking a concept design for a new Faculty of Business building at UTS // The shortlist for the UTS Building 1 and Building 2 Podium Extension Design Competition is DesignInc, Hames Sharley, Johnson Pilton Walker, Lacoste + Stevenson with Daryl Jackson Robin Dyke, Tonkin Zulaikha Greer // ThomsonAdsett has appointed Denise White, Dave Bryant, Ian Craig, Michael Chance, Daniel Smith, Marcelo Ochoa and Nigel Parker as new directors of the Sydney office. Peter Morson, Glenn Cameron, Kim Tan and Gary Kleyn have been made associates // Chroma_City by Linda Matthews showed at the DAB LAB Research Gallery, UTS // The Master Builders Association and the NSW Chapter are providing a mentoring program in building, construction and design // 1 House = 1000 Homes, an art and architecture project led by Mathieu Gallois, Caz Comino and Vesna Trobec that proposes the speculative financial redistribution of an Australian home, showed at CarriageWorks // The 27th SAHANZ conference will be held at UNewcastle, 30 June – 2 July // The Barangaroo Delivery Authority is conduc ting a bid process for the development of Stage 1 Barangaroo.
Victoria
D'Or: A day in Bendigo featured presentations by NMBW, Cox Architects and BVN Architecture/Gray Puksand // Paolo Tombesi has been appointed to professor of construction at UMelb // Plus Architecture has appointed Jessica Liew as associate // The winners of the 2009 Bayside Built Environment Awards were Maddison Architects, CBG Architects, Austin Design Associates, SJB Architects and Cocks and Carmichael Architects // Public Works, an exhibition of projects by Peter Elliot Architecture + Urban Design, showed at UMelb // Museum Victoria proposes to transform the car park at the World Heritage-listed Royal Exhibition Building into the original 1880 landscape // The Robin Boyd Foundation held Griffin's Melbourne, a public open day // Lyons won the design competition for the new $90M La Trobe Institute of Molecular Science at Bundoora // Ezio Manzini, professor of design at the Politecnico di Milano, made a presentation on design for social innovation and sustainability // The Penfold's building, a remodelled moderne-style tram shed by Harry Norris, has been demolished despite objection by the Victorian Heritage Register // Feminist Practices, an international exhibition which included work by Janet McGaw, showed recently at UMelb.
South Australia
Esther Chew has won the 2009 Jack Hobbs McConnell Travelling Fellowship // Claire D'Adorante has been appointed as associate by Hames Sharley // The Clever Green Conference and Showcase is on 15–16 February // The New Architects and Graduates Group and Adelaide City Council have formed a partnership to rethink the way public space is used, with the Design Festival 2010 a key initiative // UniSA has established an interdisciplinary Graduate Diploma of Sustainable Design leading into the 1.5-year Master of Sustainable Design.
Australian Capital Territory
Jan Gehl presented the 2009 Walter Burley Griffin Memorial Lecture // Ben Walker won The New Push 2009 design ideas competition and exhibition for young and emerging architects // Steensen Varming has received the Award of Excellence at the IES: The Lighting Society Awards for The National Portrait Gallery by Johnson Pilton Walker. Awards of Commendation went to Point of View's Events Cinema Castle Hill Gold Class Lounge, Point of View's Epping to Chatswood Railway Link, AECOM's Queen Victoria Building access stairs, Webb Australia Group's Sydney Cricket Ground, Northrop's DLA Phillip Fox offices, Haron & Robson's Paddington Reservoir and Haron & Robson's Bankstown District Sports Club.
Tasmania
Controversy surrounds the Sullivans Cove Waterfront Authority's redevelopment of Hobart's Parliament Square as it may involve the demolition of 10 Murray Street, a 1960s office building associated with Dirk Bolt // A Weekend Away to be held on Bruny Island, 12–14 March, will raise issues and challenge convention across design fields // The Institute's Tasmanian Chapter judged an edible architecture competition at its Christmas party.
Western Australia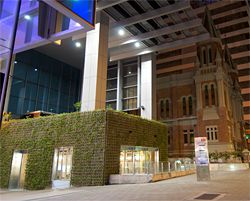 The Shamrock Hotel; St John's Anglican Church and Parish Hall; The Colonial Tavern and Stables; and the Former Northam Town Council Offices and Library have been placed on the WA State Register of Heritage // Winners of the LandCorp Regional Environmental Affordable Living Challenge (People's Choice Awards) were Oasis by Copraxis Architects and Samson Homes; K1 by SIA Architects and Northern Aspect Construction; Wing House by Copraxis Architects and Samson Homes // Peter Keleman has been appointed as director, Keat Tan as associate director and Ali Devellerez as associate at Cameron Chisholm Nicol's Perth studio // Architecture.Collective was invited by the Western Australian Department of State Development to take part in a trade delegation to China // John Crabtree is now managing principal of the Hassell Perth studio, with Brenden Kelly as deputy managing principal // After the success of a temporary greenhouse installation in Melbourne, a greenhouse by Joost Bakker, and designed by Fitt de Felice, was recently opened at St Georges Terrace, Perth.
FIxes
Lawrence Toaldo of Conrad Gargett Architecture tells us Conrad Gargett Architecture was awarded the Gold Award at the Queensland Heritage Council Awards for Old Government House – Restoration and Adaption, not Andrew Ladley Architect as we were told (Architecture Australia Nov/Dec 2009, vol 98 no 6). Conrad Gargett Architecture also won the John Herbert Memorial Award as principal consultant and design architect. Allom Lovell was the policy and concept heritage architect and Andrew Ladley Architect was the conservation heritage architect on this project.