INTERNATIONAL
Denton Corker Marshall is on the architects' panel from which architects will be chosen to design the Athletes' Village for the London 2012 Olympic Games and Paralympic Games • John Wardle Architects exhibited at the XIV Biennale of Cerveira, Portugal, 18 August – 29 September • Albert Mo of Architects EAT won third prize in the Cotton Bay Estates' Young Architects Design Competition in the Bahamas • Sean Godsell Architects has won a Chicago Athenaeum Award for St Andrew's Beach House • Woods Bagot is doing the concept and scheme design for the new US$70M Jordan National Financial Centre in Amman • Woodhead has two projects in northern India – the Tiger Resort redevelopment in the Kumaon Himalayas, and master planning a retail and hospitality precinct on the outskirts of Chandigarh • Woods Bagot (Earle Arney) has been appointed to convert the historic Edwin-Lutyens-designed Grosvenor House Apartments in central London, constructed between 1912 and 1918, into a "super-deluxe apartment hotel" • Michael Heenan, Allen Jack + Cottier Architects, and Kerry McDonald, Chairman Bank of New Zealand, presented in Auckland to the ASEAN + 6 Group of Nations regarding a new CEPEA (Comprehensive Economic Partnership in East Asia).
NATIONAL
Woodhead has appointed Alex Nock as National Sustainability Manager • The Australia New Zealand Solar Energy Society held Sustainable House Day 2007 on 8–9 September, all states except NT • The 2007 Australian Timber Design Awards have a new category, Best Use of Plywood and LVL • Property Council of Australia Innovation and Excellence Awards went to Architectus Melbourne, for the Australian Synchrotron, Vic; SJB Architects, for Szencorp Building, 40 Albert Road, Vic; Bates Smart, for Jones Bay Wharf, NSW; and to Adelaide Airport for Terminal 1, SA, designed by Hassell • Arup has appointed Dr Robert Care, CEO of Arup Australasia, to its global board • Neeson Murcutt Architects has won Think Brick Australia's About Face competition, with the project Future Contract. Iredale Pedersen Hook were Highly Commended for their project Economic Realist, while Mulloway Studio received the Peer Award for Post-Industrial Sanctuary.
WESTERN AUSTRALIA
JCY Architects and Urban Designers has appointed Mike Buttery, Ian Hart, Paul Steed and Glenn Russell as associates • The Perth Institute of Contemporary Arts hosted an exhibition of electronic works, I took a deep breath …, from 12 September to 21 October, as part of the 2007 Biennale of Electronic Arts Perth • Joint overall winners at the 2007 Master Builders Association WA awards were the University of WA's new biomedical research facility at Shenton Park, by Hames Sharley; and Cygne Crawley Edge, by McDonald Jones Architects. Other winners included Geraldton Hospital by Silver Thomas Hanley and JCY; Woodman Point Recreation Camp, by Sandover Pinder; Bunbury Civic Centre, by Peter Hunt Architect; Midland Gate Shopping Centre, by NHArchitecture; Olive Farm Winery, by Michael Yurisich; New Sports Hall, Iona Presentation College, by Edgar Idle Wade Architects; Stirlings Metal Distribution Centre, by Meyer Shircore and Associates; WA Police Service Forensic Building, by Hames Sharley; Gemini Medical Centre by Greg Davies Architect; Talbot Avenue Complex, Como, by Peter Jockrell and Associates; Ravensthorpe Nickel Workforce Housing, by JCY; Opus Restaurant at the Richardson Hotel, by Scott Wilson Design Consultants; The Anchorage Aged Care, Mindarie, by Montague Grant Architects; and Hedland Health Campus "Karlarra House", by Hassell.
AUSTRALIAN CAPITAL TERRITORY
The Canberra Biennial runs throughout November, with the theme Winning: The Design of Sport. Events include two exhibitions, Designing the Ideal Athlete and Olympic Cities: Designing for Winning, and an international symposium, Olympic Cities: How Do Hallmark Events Shape the Cities of the Future?, with an associated master class • The first Pecha Kucha Night in Canberra was held 26 September at Knightsbridge Penthouse.
TASMANIA
Aukland Architecture has appointed Deborah Aukland as a senior associate • Gataric and Freeman Design has produced the Hobart Design Index, edited by Sarah King • DesignInc Tasmania has appointed Judith Abell and Jeremy Holloway as associates • Artas Architects and Planners has won a commission for the master plan of St Aloysius College, south of Hobart. Other shortlisted architects were Aukland Architecture in association with Guida Moseley Brown Architects, DesignInc, and Philp Lighton Architects • Hassell, DesignInc and GHD have been shortlisted for a new high school at Kingston • Hobart City Council has approved a design by jawsarchitects for a 12-storey building in central Hobart.
NORTHERN TERRITORY
Woodhead is the architect for the $6.8M Central Land Council development, intended to be the first Green-Star-rated building in Alice Springs.
VICTORIA
UMonash has appointed Dr Shane Murray as Foundation Professor and Head of Discipline, Architecture in the Faculty of Art and Design. He will lead the new architecture programme which begins next year • Denton Corker Marshall and London practice Ab Rogers Design are collaborating on a new gallery for the Australian Centre for the Moving Image • John Wardle Architects has appointed Diego Bekinschtein, Tom Drazic and Oscar Paolone as associates; and Toby Horrocks as research and development architect • Homo Faber: modelling ideas was exhibited at Melbourne Museum in August • Payne Pattenden Architects has appointed Nghia Pham and Mario Chavez as associates • Architectus Melbourne has made the following appointments: Ruth Wilson as a director, Justin Phillips and Paul Weston as associate directors, and Stephen Thompson and Mark Baldwin as associates • Transported, the Architects for Peace forum on collective modes of transportation, was held in September • The EcoEDGE 2 conference on sustainable cities, will be held at Federation Square in February • Winners of the second ArchiTeam Architecture Awards include Brett Phipps Architect for Brunswick House; Jon Pye Architects for Two Boxes (Merricks); Grant Amon Architects for Rooftop Cinema; and Lucy Tibbits with The Rexroth Mannasmann Collective for Agricultural Baroque • Cara Wiseman was one of 12 finalists in the British Council Realise Your Dream programme • Bayside City Council has released the Bayside Architectural Trail guide book • Gray Puksand has appointed Paul de Podolinsky as a partner in its Melbourne office • H2o is designing a respite eco retreat for carers of people with disabilities at the heritage-listed Point Nepean Quarantine Station • The City of Port Phillip's Design and Development Awards have been announced. Kerstin Thompson Architects won best new single dwelling; Neometro won best new development 2–5 units; Fender Katsalidis Architects won best new development 5 units or more; Neil + Idle Architects won best non-residential development; Leeton Pointon Architects won best heritage development; Sunpower Design won best contribution to sustainable development – small scale; DesignInc Melbourne with The Office of Housing won best contribution to sustainable development – large scale; Geoff Nees in association with Studio 505 won best contribution to urban art; and DesignInc Melbourne and The Office of Housing won the Mayor's Award • Suters Architects has merged with Prior + Cheney, and will be known in Melbourne as Suters Prior Cheney. Mark van den Enden and Peter Smith are now senior associates and Graeme Christianson, Vicki Leo, Mike McGrath and Scott Francis are associates • Peter Elliott Architecture and Urban Design has announced the following appointments: Rob Trinca as senior associate and Justin Mallia and Catherine Duggan as associates.
NEW SOUTH WALES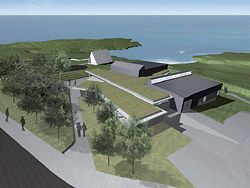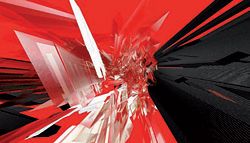 John Wardle Architects has won the design competition for the Westfield Sydney City development, a 30-storey commercial tower • PTW has appointed Ewa Adamczyk as an associate • UTS's new research gallery has shown two exhibitions by architecture staff – Niall Durney's graphitecture showed in August, and Sandra Kaji-O'Grady's Cuts and Scores in September • Woods Bagot's Sydney studio has appointed Christie McKanna as design leader • Lahz Nimmo and Grindley Constructions have won a competition to design and construct a community centre at Prince Henry at Little Bay • NSW Urban Taskforce award winners included Allen Jack + Cottier, for the residential development Valencia, part of The Waterfront in Homebush Bay; and developers Stockland and Stevens Holdings, for Batemans Bay Retail Centre, designed by PTW • Tanner Architects has won a limited design competition for the redevelopment of SCEGGS Darlinghurst, an Anglican School for Girls • The symposium Liquid Cities: Berlin and Sydney in Conversation was held at Customs House in October • Dino DiPaolo is the new Sydney practice manager for Suters Architects, following Stewart Corner's retirement. Hilary Spiers and Ken Dyer are now principals and Shane Wood is now a senior associate • Suters has been appointed as master planners for the major redevelopment of the Pitt Street Waterfront site for the Greater Taree City Council. Lab + Oculus, Dickson Rothschild and HBO & EMTB were also shortlisted • The first Sydney Architecture Festival was held on 1 October, World Architecture Day and World Habitat Day. A collaboration between the Australian Architecture Association, the RAIA, the NSW Architects Registration Board, the NSW Government Architects Office and the City of Sydney, the event included walks, talks, kids' activities, an exhibition, an architecture magazine and book exchange, and DArch's Iron Architect. The last saw teams lead by Chris Bosse, John Choi and Tai Ropiha, Eoghan Lewis, Chris Major and David Welsh, and Adam Russell and John De Manincor compete in an intensive design challenge about the future of Sydney, inspired by the television programme The Iron Chef.
SOUTH AUSTRALIA
Studio Nine has appointed Tony Zappia as director and Matt Martin to lead the interior design discipline • The new Santos Building (part of the Flinders Link development in Adelaide) by Hassell has achieved a five-star Green Star – Office As Built rating • David Burton, Mario Dreosti and Jason Schulz have formed the Adelaide 2050 Group. Driven by concerns that major projects were being planned in isolation, this trio has proposed a master plan for the development of major areas across Adelaide.
QUEENSLAND
Architectus Brisbane and Mark Jones Architects have announced their joint operations as Architectus Brisbane • Architectus Brisbane in association with Guymer Bailey Architects are the architects for Brisbane's new Supreme Court and District Court project • GroupGSA Brisbane has appointed Melissa Reid as Principal Interiors National, Sally Macnaughton as Principal Interiors Brisbane, and Angela Spathonis as Studio Manager Brisbane. The restructure accompanied a move to larger premises • Scott Chapple has been promoted to principal at Suters Architects.
Related topics