INTERNATIONAL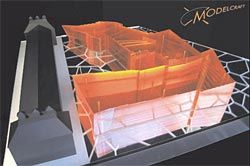 Johnson Pilton Walker has won the 2005 China Architectural Project Luban Award for the Suzhou Logistics Centre // Sean Godsell is a guest speaker at the 10th Alvar Aalto Symposium in Jyvaskyla, Finland, in July // Johnson Pilton Walker has won the UNSW Asia Round 2 competition to design the Science and Engineering Building for the new UNSW Singapore campus. Bligh Voller Nield, Daryl Jackson, Lyons, and Team3 also took part in the invited competition // Koning Eizenberg has won an Honor Award from the American Institiute of Architects for the Children's Museum of Pittsburgh // Wood Marsh's Australian Centre for Contemporary Art in Melbourne has been selected for the exhibition Museums of the Twenty-first Century: concepts, projects, buildings. It is the only building in Australia to be included.
NATIONAL
The RAIA is calling for submissions for the Sisalation Prize, sponsored by Insulation Solutions. The winner will edit TAKE 6, with the $10,000 in prize money shared between the editor and associated contributors.
Submissions close 28 April // ABC Radio National has a new Saturday morning programme, By Design, presented by Alan Saunders and produced by Mark Wakely and Janne Ryan // Archicentre has called on the federal government to make solar-powered airconditioning a compulsory part of residential and commercial building projects // The ABC'sNew Inventors television programme featured Sydney architect Kim Crestani's "Pod System", a house renovation package that "includes all aspects of design, costing, council application and construction" // The RAIA has established a Special Circumstances Membership for postgraduate students and for architects on parental leave // The Future is Now, the RAIA National Conference, kicks off in Sydney on 6 April. Confirmed international speakers are: Andrew Freear of Rural Studio, USA; Elke Delugan-Meissl of Delugan Meissl Associated Architects, Vienna; Carme Pinos of Estudio Carme Pinos, Spain; Anupama Kundoo of Kolam, an architecture, design and construction unit established under the Auroville Foundation, India; Kerry Hill of Kerry Hill Architects, Singapore, and this year's RAIA Gold Medallist.
A "Mystery International" speaker is yet to be announced. Australian based speakers are
Kerstin Thompson
of
Kerstin Thompson Architects, John Wardle
of
John Wardle Architects
, and
Timothy Hill
of
Donovan Hill // Ian McDougall
of
Ashton Raggatt McDougall, Steve Kennedy
of
Kennedy Associates Architects
and
Alec Tzannes
of
Alexander Tzannes Associates
all stood for election as
RAIA
nationally elected councillors //
Australia Day Honours
went to Professor
Leon Van Schaik
of
RMIT
who was made Officer (AO) in the General Division "For service to architecture as an academic, practitioner and educator, and to the community through involvement with a wide range of boards and organizations related to architecture, culture and the arts." Perth architect
Garry Baverstock
was made a Member (AM) in the General Division "For service to architecture, the environment, and the community through education about the importance of passive solar and energy efficient design for houses and other buildings."
Lawrence Rose
, President of the Planning Research Centre at
USyd
, was also made a Member (AM) in the General Division, "For service to town planning, particularly urban development, infrastructure and residential design and to environmentally friendly soil and water management initiatives and practices." Adelaide architect
Philip Earle Scott
was made a Medal (OAM) in the General Division "For service to architecture and to the community through welfare and heritage organizations." // The
RAIA
is looking for a Creative Director for an exhibition in the Australian Pavilion at the 10th Venice Architecture Biennale in September this year. The Biennale theme is Meta-Cities // Finalists in this year's RAIA Colorbond Steel Student Biennale are:
Michelle Blakeley
of
UWA, Jonathan Chua
of
UWA, Alistair Dickinson
from
Curtin, Aimee Goodwin
of
UMelb, Tracee Lim
of
UNSW, Alan McLean
of
UMelb, Wei Song
of
Curtin, Michael Spooner
of
RMIT, Elena Svistounova
of
UAdelaide
and
Steven Swain
of
RMIT
// The
RAIA
is continuing its campaign to save
John Andrews'
Cameron Offices and has now renominated it to the National Heritage List.
(The complex is already listed on the Register of the National Estate, and is recognized as an example of internationally significant twentieth-century architecture by the International Union of Architects.) The RAIA understands that approval for demolition of Buildings 1 and 2 to make way for a car park has recently been sought, and the governing Development Control Plan allows for such demolition.
TASMANIA
Annabel Lahz and Andrew Nimmo, of Lahz Nimmo Architects, Sydney, kicked off the Tasmanian Chapter's Laminex Luminaries Series in February.
QUEENSLAND
Ian Mitchell FRAIA is the new President of the Queensland Chapter of the RAIA // Brisbane City Council has announced a design competition for the redevelopment of King George Square. See www.brisbane.qld.
gov.au // Keynote speakers at the Subtropical Cities Conference, to be held in Brisbane in September, include Rob Adams, Director, Design and Culture at the City of Melbourne; Dr Carlos Leite, Professor of architecture and urbanism at Mackenzie Presbyterian University, Sao Paulo, Brazil, and Professor Rodney Harber of Harber and Associates Architects, Urban and Regional Planners, South Africa.
SOUTH AUSTRALIA
Speakers at Smart Space, the Urban Development Institute of Australia's National Congress, to be held in Adelaide at the beginning of April, include Professor Ed Blakely, chair of urban and regional planning and director of the Planning Research Centre at USydney; Patrice Derrington, an expert in community housing, and John Eckert design director at HPA Architects.
AUSTRALIAN CAPITAL TERRITORY
Melinda Dodson is the new RAIA ACT Chapter President // The RAIA National Office is moving out of its Mugga Way headquarters, designed by Bryce Mortlock, Ancher Mortlock Woolley, in 1967. The ACT Chapter will remain in the building.
WESTERN AUSTRALIA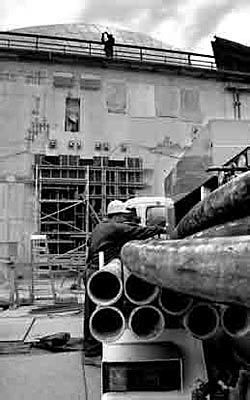 The design for the redevelopment of the Old Treasury Buildings has been released. The design, by Melbourne-based Peter Elliott Architects and Perth architects Donaldson + Warn, Sandover Pinder, and Palassis Architects, includes a nine-storey glass tower facing Barrack Street that has generated some controversy in local newspapers // Fremantle will host "Challenge and Change: In ports, their towns and cities", the Australia ICOMOS national conference in November. The call for papers closes 12 April // The first stage of Fremantle Train Station's restoration has been completed. The works form part of the Donaldson + Warn master plan to return the station to its former glory and to revitalize the historic precinct // Murdoch University has established a Master of Science in environmental architecture.
Aimed at graduate architects, the two-year course is coordinated by Garry Baverstock, Adjunct Associate Professor, Energy Studies // Bernard Seeber has been selected as the architect for the refurbishment of the RAIA WA Chapter's new premises, designed by Julius Elischer. John Taylor and Katrina Chisholm are the Heritage Consultants and Brian Wright is the Asbestos Consultant.
NEW SOUTH WALES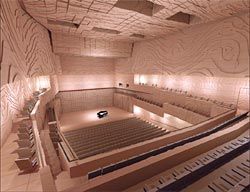 Things are changing at USydney.
Tom Kvan
, formerly of the
University of Hong Kong
, has started as the new Dean of Architecture;
Marc Schnabel
, also from the
University of Hong Kong
, is now Lecturer in Digital Architecture; and
John Landis
, Chair of the City and Regional Planning at the
University of California, Berkeley
, is a Visiting Professor //
Woodhead International
has appointed
Digby Hall
as principal //
Steffen Lehmann
, formerly Professor of Architecture at
QUT
, is now Professor of Architectural Design at
UNewcastle
//
Breakthrough: Creating Utzon's Colonnade
is on display in the Western Foyers of the Sydney Opera House from 11 March to 11 April. The exhibition of photographs by
Jeremy Piper
documents the first structural change to the building since it opened in 1973 //
UTS
is holding an Evening Forum on Computers in Design Education in April. Speakers include
Tom Kvan
of
USydney, Anthony Burke
of the
University of California, Berkeley,
and
Brennan Buck
of
Studio Greg Lynn
and the
Universitat fur Angewante Kunst
, Vienna //
Stephen Varady Architecture
has won the Dalski Stonescape competition to design a feature wall in the Dalski Stone Gallery showroom // The
Sydney Harbour Foreshore Authority
has called for submissions for the Rocks Dig Site, seeking "the best of historic conservation and contemporary urban architecture for this important site" // Professor
Ed Blakely
of
USyd
has developed the Mayors Design Forum, an intensive short course for mayors to learn about design, sustainability and planning issues // American landscape architect
Martha Schwartz
spoke at the Yellow House in February //
Brother International
(Australia) has appointed
M.Gerstl & Associates
as architect and principal consultant for their new Australian headquarters in North Ryde // The
City of Sydney
has released the next phase of the Green Square Town Centre development, with the latest Draft Local Environment Plan on public display last month.
VICTORIA
The design for the new Melbourne Recital Centre centrepiece, Elisabeth Murdoch Hall, by Ashton Raggatt McDougall, was unveiled late last year // Work to remove the Flinders Street overpass has been completed. This reconnects the south-western corner of the CBD to the Yarra River. Following this work the Melbourne Aquarium has announced expansion plans // Black Kosloff Knott Architects director Tim Black has been awarded the Nobby Clarke Scholarship to undertake an MBA at the Melbourne Business School // Conrad Hamann has been made an Honorary Fellow of the RAIA // UMelb's Dean's Lecture Series is underway again, with Japanese architect Kengo Kuma speaking on 4 April // peckvonhartel is undertaking a feasibility study and master plan for the redevelopment of RAIA Victoria premises // UMelb has established a new masters degree in workplace design. Developed by Professor Graham Brawn, industry teachers will include Corbett Lyon, James Calder, John Worthington and Rosemary Kirkby // The official Victorian Working Party Group of Docomomo Australia was launched in February at Boyd House. Convened by Doug Evans, the working party will begin by compiling a list of the top "100 or so" Modern buildings in Victoria.
FIXES
Helen Matthews of Mountain Creek Architecture has written with a correction to the review of Melbourne Central. (Architecture Australia January/February 2006 vol 95 no 1.) She points out that the original project was divided up into the shopping centre and the office tower. As indicated in the review, Bates Smart McCutcheon did the office tower with Kisho Kurokawa. However, Hassell worked with Kisho Kurokawa and American retail designer Chaix & Johnson on the shopping centre.