INTERNATIONAL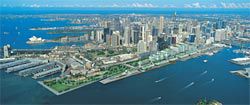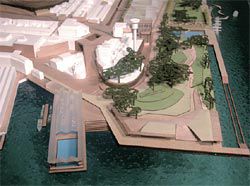 Peddle Thorp Architects has been appointed by PT Triadi, Bali, to work on the Australia Bali Memorial Eye Centre as part of a design and construct team // The RAIA has reintroduced the International Award to National Architecture Awards // BURO Architects is working on a Buddhist Peace Centre in Bhutan // RAIA International was launched in Hong Kong in February, the first off-shore presence for the Institute // Earle Arney of Woods Bagot has been short-listed in an international urban design competition for an oceanfront residential, retail and hotel development to accommodate 5,000 people on the island of Bahrain // A consortium headed by Cox Architects has won a competition to design two bridges costing $56M in Singapore. The Cox-led team includes Arup and Singapore firm Architects61 // Woods Bagot is working with Nasa Multiplex to deliver a Foster and Partners-designed 86-storey mixed-use tower in Dubai.
NATIONAL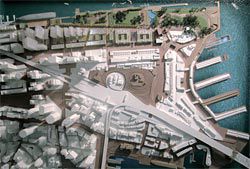 Shane Murray and Nigel Bertram, of RMIT, have been appointed as Creative Directors for the Australian exhibition at this year's Venice Biennale. Other short-listed proposals came from: Merrima Design + tUG (Kevin O'Brien and Michael Markham) (Qld/Vic); Roderick Simpson and Craig Allchin (NSW); Jennifer Harvey and Sean Pickersgill (SA); and Andrew Mackenzie (Vic) // RMIT is hosting the UAL International Housing Conference in October 2006, which aims to examine architecture's involvement in general provision of housing in Australia. Manual Gausa, Spain, is a keynote speaker // Alec Tzannes of Alexander Tzannes Associates and Ian McDougall of Ashton Raggatt McDougall have been elected as the RAIA National Councillors // Fine Grain, SONA's Australasian Architecture and Design Student Conference, has been postponed until further notice // The Realise Your Dream scholarship for creative young Australians in design fields is calling for entries. Organized by the British Council Australia, the scholarship awards six $10K prizes to send winners to the UK to work with a mentor in their chosen field. Entries close 16 June.
See www.realiseyourdream.org.au // International Women's Day was celebrated on 7 March by a number of practices. In Sydney
PTW
organized a breakfast with a presentation by
Barbara Rich
, CEO of Jarrah House, while in Brisbane
Kirsti Simpson
, managing principal of
Hassell
, organized a conversation on leadership with guest speakers
Kate Meyrick
from
The Horenery Institute, Petie Walker
from
Leighton Contractors
and artist-researcher Dr
Lyndall Milani
// Proponents from Adelaide, Perth, Kalgoorlie, Alice Springs, Townsville, Newcastle, Sydney, Melbourne and Bendigo have been short-listed at the Solar Cities expression of interest phase. Each will submit a detailed business case and winners will be announced from July.
QUEENSLAND
Justin Wells and Matt Riley have formed a new firm, Tonic, in Brisbane // Ian Brodie is the new GHD Office Manager for the Sunshine Coast // Deicke Richards has appointed Phil Smith as a senior urban designer and architect to establish and manage the practice's Sunshine Coast office // Springfield Land Corporation has launched its proposals for an integrated transit development, which will surround the proposed railway station and a Centenary Highway extension in the emerging town centre of Springfield. The proposals seriously engage with TOD principles and have been designed by Portland-based ZGF in collaboration with local practice Deicke Richards.
NEW SOUTH WALES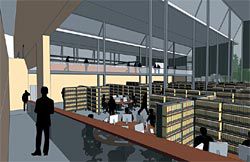 John de Manincor, of AO,, and Adam Russell, of Vim, have combined their practice, research and teaching to form a new practice called draw (de Manincor Russell Architecture Workshop) // A $1.4B civic place urban revitalization plan for Penrith, to be built by 2014, has just been announced // Su-Hsin Lee, Chair of the Graduate Institute of Landscape and Recreation at Feng Chia University, Taiwan, is a Visiting Professor at USydney; and Circe Monteiro, Chair of the Urban Design Program at the Federal University of Pemambuco, Brazil, is Visiting Associate Professor // Woolsheds & Shearers' Quarters, an exhibition by Alison Bennett, is at Shear Outback, the national shearing museum at Hay, until the end of May // The 2006 RAIA NSW Architecture Awards jury is: chairperson Diane Jones, PTW; Ken Woolley, Ancher Mortlock & Woolley; Steve Kennedy, Kennedy Associates Architects; Peter Graham, UNSW and environment specialist; Janne Ryan, ABC Radio National; Eva-Marie Prineas, Architect Prineas; and Sandra Kaji-O'Grady, UTS // Tonkin Zulaikha Greer's Newtown Silos and a house by Nicholas Dunn and Associates are among the seven finalists for the Marrickville Medal for heritage and cultural preservation // A Sydney team lead by Hill Thalis, Paul Berkmeier and Jane Irwin has won the East Darling Harbour competition // Sydney's iconic Rowe Street has come back to life in Memory Lane – Recollecting Rowe St, an exhibition presented by the City of Sydney at Customs House // Alain de Botton is a guest speaker at the Sydney Writers' Festival (22–28 May) and will discuss his book, The Architecture of Happiness // The RAIA has launched the NSW Architecture Graduates and Emerging Architects' Prizes // Stutchbury & Pape has won a national competition to design a $10M development on Charles Sturt University's Albury-Wodonga Campus.
TASMANIA
Morris Nunn + Associates in association with PTW, Sydney, has won a project for a new resort at Port Arthur // Peter Cripps has been elevated to a Life Fellow of the RAIA // Richard Blythe has been appointed Associate Professor at the School of Architecture, UTas // Jenny Binns is the winner of the Design Award in Certificate IV in Residential Drafting at TAFE (sponsored by the RAIA Tas Chapter) // Sam Aukland has joined GHD Architecture and is the new chair of the RAIA Tas Chapter's Public Affairs Committee // Design Island, a new Arts Tasmania triennial programme aimed at developing and profiling the Tasmanian design sector, commences in May // The Hobart Waterfront International Design Competition, a design ideas competition for the area around the City Hall Axis, will be launched in June // The RAIA Tas Chapter is pushing for the appointment of a state government architect // The Young Professionals Network Tasmania was launched in February, bringing together young professionals from design, planning and engineering // Construction has begun on UTas's new School of Architecture in Launceston, by Sustainable Built Environments in collaboration with Six Degrees.
NORTHERN TERRITORY
Construction has started on the Waterfront Convention and Exhibition Centre in Darwin as part of the $1.1B Waterfront Development // Architects Studio is completing a Conservation Management Plan for the old Borroloola Police Station.
Constructed in 1887, it is the oldest surviving example of an outpost police station erected in the NT //
Build Up Design
is currently working on an interpretive cultural centre at Kalkaringi, to commemorate the Wave Hill walkoff and handback of land to the Gurindji people //
MKEA Architects
has been engaged through
GHD
for the briefing, design and documentation for the second stage of the redevelopment of the PowerWater site at the Ben Hammond complex in Darwin.
SOUTH AUSTRALIA
Stephen Ward is the new director of the architecture programme at UniSA's Louis Laybourne Smith School of Architecture and Design // Carr Design is undertaking the $3M refurbishment of Hilton Hotel, Adelaide // Woods Bagot has been engaged by Connell Wagner as subconsultants to master plan the Osborne Maritime site for Techport Australia // The Old and New Parliament Houses, on Adelaide's North Terrace, have become the first SA entry on the National Heritage List. The complex includes work by Colonial Architect W. Bennett Hays, Colonial Architect Edward Hamilton, competition-winning architects Edmund Wright and Lloyd Taylor, Colonial Architect E. J. Woods, and Architect-in-Chief A. E. Simpson // The South Australian Heritage Council has replaced the State Heritage Authority, with Carolyn Wigg, Judith Brine and Christine Garnaut appointed as part of the new council.
AUSTRALIAN CAPITAL TERRITORY
The Canberra Olympic Pool, designed by Ian Slater and awarded the RAIA Sulman Award in 1955, celebrates 50 years // The national capital's oldest church, St John's in Reid, has launched a design ideas competition, calling nationally for architects and designers to explore development opportunities for the historic site.
The competition is being run by the
National Capital Authority
// The winners of the ACT
AILA
awards have been announced, with awards of excellence received by the
National Capital Authority
for
The Griffin Legacy
and
Harris Hobbs Landscapes
for the Harris Hobbs Garden, which also won an AILA Partnership Award. Partnership awards also went to
Enviro Links Design
for the University of Canberra Innovation Centre;
Harris Hobbs Landscape
in conjunction with
ACT Parks and Places
for the Holt Shopping Centre Refurbishments; and
John Easthope and Associates
for Garden at 9 Roma Mitchell Cres, North Watson.
Jennie Curtis
and
Edwina Richardson
shared the President Award and
Josh Dransfield
of
RedBox Design Group
was the graduate awarded.
WESTERN AUSTRALIA
Contested Terrains, the 23rd Annual SAHANZ Conference, takes place in Fremantle, 30 September – 2 October. Keynote speakers are: Andrew Ballantyne, Newcastle University, UK; Zeynep Celik, New Jersey Institute of Technology, USA; and Helen Mallinson, London Metropolitan University, UK // Woods Bagot has appointed Michael Michelides and Georgia Singleton as principals.
VICTORIA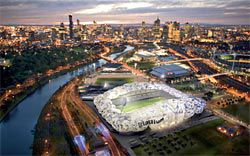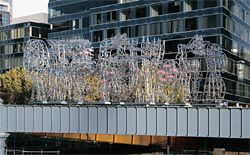 ARM is working with the Shrine of Remembrance on Stage 2 of the Visitors Centre, which is proposed to accommodate extensive education and display areas // Fender Katsalidis is working on a new $155M development called The Foundry in the Melbourne CBD // HBO + EMTB has appointed Tina Berardi as director of interior design in Melbourne // Fender Katsalidis is involved in a $40M redevelopment of an old office tower in Frankston as part of a transformation scheme for the city // The centrepiece of the new $18.5M Sandridge Bridge Precinct, a new $3M public artwork by Nadim Karam, The Travellers, has opened. Ten 7.5-m-high sculptures depict the story of the migrants arriving in Melbourne // The RAIA Vic Chapter is preparing PopUp: Past + Present + Future, an exhibition for the Melbourne Design Festival, 6–16 July.
Exhibitors include Antarctica, Atelier Wagner, BENT Architecture, BKK Architects, Cassandra Complex, Di Mase Architects, Architects EAT, Matt Gibson a + d, Live Load, Andrew Maynard Architects, Paul Morgan Architects, ODR, Rexroth Mannasmann Collective, Studio 101, Kennedy Nolan Architects, Whitefield McQueen Architects, Barbara Moje Architecture, Multiplicity, BURO Architects, Form Architecture Furniture, Michael Ellis Architects, phooey, BY Architects, Watson Architecture + Design, Etak Design and Studio 505 // Ken Sowerby has returned to Australia to set up an architectural studio in Melbourne. Studio Architetto will be linked with Peddle Thorp // ARM has started work on two urban planning schemes in association with VicUrban. The first is based on the city of Geelong and the second is the Revitalising Central Dandenong Project // Philip Goad has become a member of the RAIA Victoria Council // Peter Crone & Associates has received Best New Commercial Dwelling and the Environmentally Sustainable Award in the Whitehorse Urban Design Awards for the PLC Junior School in Burwood // Cox Architects Melbourne has received the commission for Melbourne's Rectangular Pitch Stadium, to be situated in Olympic Park along with other sporting icons such as the MCG and the Rod Laver Arena.
FIXES
The obituary for Belinda Brito misspelt Belinda's husband's name.
He is Ben Hewett, associate director at Crone Partners Architecture Studios. Our apologies.