INTERNATIONAL
Lab architecture studio has won a competition to design the Xianlin Commercial Centre, a four-level retail complex in Nanjing, China // Tokyo-based Australian firm Riccardo Tossani Architecture has been appointed master architect for an 8,000-plus-bed ski resort village at Niseko Mountain, in Hokkaido, Japan // Woodhead International is masterplanning a residential development to accommodate 11,000 people in Chandigrah, India // Federation Square is one of 33 projects selected for the Chicago Athenaeum 2006 International Architecture Award. The winners will be exhibited in Dublin in December // Stadia Vision, a joint venture team of GroupGSA, Eeles Trelease and Architects Bureau (New Delhi), has been shortlisted for the India Commonwealth Games design // Earle Arney of Woods Bagot has won a competition to design a new high-rise office building in Auckland for the Bank of New Zealand // Woods Bagot's group managing director David Tregoning has relocated to the practice's London office.
NATIONAL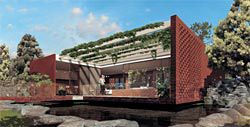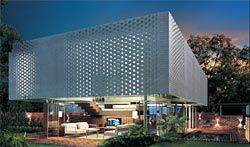 This year's Interior Design Awards have been announced, with the Solivoid Project by Monash University's Spatial Research Group winning the Excellence and Innovation in Interior Design award, Commercial Interior Best of State (VIC) award and the Hospitality category award. Other winners included John Henry Architects for Research House, Johnson Pilton Walker for JPW offices, Francis-Jones Morehen Thorp for The Mint, Lacoste and Stevenson Architects for Customs House Library and Ara Design Group for Point Piper apartment // The Planning Institute of Australia awards have been announced. The Footscray Principal Activity Centre and Transit City by Maribyrnong City Council (VIC) and The Griffin Legacy by the National Capital Authority (ACT) jointly won the Plans and Ideas Award for Planning Excellence // McBryde Charles Ryan, DKO, Donaldson + Warn, Environa Studio, Fairweather Proberts, Kerstin Thompson Architects and Order Architects have all designed houses for About Face, which aims to challenge commonly held beliefs about brick's versatility and sustainability // Spanish architect Elias Torres is the next speaker in the Australian Architecture Association's Black talk series. He speaks in Sydney on 27 July and in Melbourne on 28 July. See www.architecture.org.au // Superstudio 06, a 48-hour national cross-university student design competition organized by SONA, is scheduled for early August // Shahana McKenzie is the new RAIA national events manager // Szencorp has won the Green Building Award at the World Environment Day Awards for "Taking Buildings to the Next Level with 40 Albert Road". A special commendation went to the Westbourne Grammar School hospitality complex by Cowland North Architecture.
QUEENSLAND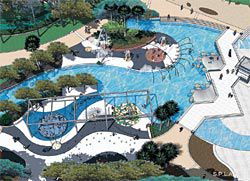 Six redevelopment designs have been shortlisted for the King George Square in Brisbane, with the winner being announced in late August.
The shortlisted entries are
Brian Dunstan Architect, Pseudoland, Urbis JD, Suters Architects, HBO+EMTB
and
DesignInc
// Gold Coast property developer
Nifsan
has set up a nonprofit organization, the
Queensland Development Research Institute
, to fund university research in architecture, civil engineering and urban design. It has received a $680,000 grant from Japan's Ogasawara Foundation for the Promotion of Science and Engineering //
Macks Robinson architects
has joined with
PDT Architects
in a new office in West End,
Macks Robinson PDT Architects // HBO+EMTB
has appointed
Lil Golinelli
as business development manager for the Brisbane office //
Design Excellence in Queensland
, an exhibition of the Queensland Design Awards, showed at the Queensland Art Gallery in June //
Splat landscape architects
have designed a water park, Aquativity, as part of the $4M redevelopment of Brisbane's South Bank Parklands lagoon into an interactive playground // A joint venture between
Architectus
and
Fulton Trotter and Partners Architects
is designing a new CBD office building adjacent to the Albert Street Uniting Church. It will be designed by
Kerry Clare
and
Lindsay Clare
in collaboration with
Mark Trotter
// Former South Bank Corporation CEO
Bill Grant
has joined
Arkhefield
as a member of its Advisory Board //
Fulton Trotter and Partners Architects
is celebrating 60 years since its beginnings as
Fulton Job and Collin
in 1946 //
Sally Macnaughton
has joined
Group GSA
as an associate for interior design // The
Centre for Subtropical Design
's inaugural Mecu Travel Bursary has been launched. Entries close 31 July. See www.subtropicaldesign.bee.qut.
edu.au // The RAIA's Queensland Regional Awards have been announced. Northern Queensland Building of the Year and winner of the People's Choice Award is Edge on Echlin, West End, by Architects North. Commendations went to Lavarack Barracks Redevelopment Stage 3, Townsville, by Bligh Voller Nield; and Jimberella Offices, Dajarra, by Stephen de Jersey Architect // Far North Queensland House of the Year is Machans Beach Cottage by Deborah Fisher Architect. Commendations went to Croydon Railway Station by Buchanan Architects; and Argentea Display Office/House, Palm Cove, by Total Project Group // Gold Coast Building of the Year is shared by Q1, Surfers Paradise, by Sunland Design Group and Innovarchi (podium design), and Air, Broadbeach, by Ian Moore Architects. Gold Coast House of the Year is M T House, Currumbin, by Shane Denman Designs. Gold Coast People's Choice Award went to M House, Casuarina Beach, by Tangram Architects.
Commendations went to Byron at Byron Resort and Spa by
Haysom Architects
; Mermaid Beach Residence by
WIM Architects
; 5 Beech Lane, Casuarina Beach, by
Scott Carpenter Architect
; Banora Point Multi-Purpose Centre by
Fulton Trotter and Partners
; Denaby House, Currumbin Waters by
Shane Denman Designs
; GH1 Medicine and Oral Health, Griffith University, Southport, by
Phillips Smith Conwell Architects
; Poinciana Residence, Mermaid Beach, and Sunset Residence, Surfers Paradise, by
Paul Uhlmann Architects
; and APVC, Robina, by
Nettleton Tribe Partnership Qld
// Brisbane Building of the Year is the Sir James Foots Building, St Lucia, by
Wilson Architects
. Brisbane House of the Year is Gully House, Yeronga, by
Bligh Voller Nield
in association with
Daniel R Fox
. Commendations went to Nanna's Verandah, Highgate Hill, by
Jeremy Salmon Architect
; Roma Street Parkland by
Malcolm Middleton Architects
on behalf of
PARC Consultants (DEM Design/ Gillespies Aust/Landplan/Civitas)
; River House, Tennyson, by
Mitchell Design
; Midvale Lane Houses, Mt Ommaney, and Linear Auchenflower, by
Kevin Hayes Architects
; Keema Complex, Springwood, by
WIM Architects
; Chapel Hill House by
Owen and Vokes
; London Woolstore, Teneriffe, and 171 Project, Bulimba, by
Push
; Beckman House, Clayfield, and Reliance Worldwide Factory and Offices, Eagle Farm, by
Biscoe Wilson Architects
; St Stephen's Cathedral Northern Development, Brisbane CBD, by
Conrad Gargett Architecture
; Deka Showroom, Fortitude Valley, by
Cottee Parker Architects
; Building 8, UQ Ipswich Campus, and The James and Mary Emelia Mayne Centre, St Lucia, by
Wilson Architects
; 61 Brookes Street, Bowen Hills, by
Phillips Smith Conwell Architects
; UQ Chemistry Building Lab Fitout, St Lucia, by
m3architecture
; Warry Street Residences, Fortitude Valley, by
Cox Rayner Architects
; Boe Lawyers, Petrie Tce, by
Richard Kirk Architect
; Shroud House, West End, by
Phorm A + D and Carroll Go-Sam
; Altura, New Farm, by
Shane Plazibat Architect
; Stanley Terrace, Taringa, by
M J M Workshop
; Westpac Customer Contact Centre, Brisbane CBD, by
Ceccato Hall and Associates
, architects in association with
Anthony John Architect
; Holy Spirit Home Apartment Precinct, Carseldine, by
Bickerton Masters Architecture
; Newstead Terraces by
Arkhefield
; 99 Melbourne Street, South Brisbane, by
Peddle Thorp Architects
; Brookes Street House, Fortitude Valley, and Violet Street House, Yeronga, by
James Russell Architect
// Sunshine Coast Building of the Year is Viridian Residences, Noosa Heads, by
John Mainwaring and Associates
. Commendations went to Lend Lease Sale Centre, Yaroomba, by
Planit Architecture and Management
; Viridian Houses, Noosa Heads, by
John Mainwaring and Associates
; Noosa Valley House, Doonan, by
Robinson Architects
; Alex Forest Bungalows, Alexandra Headland, by
Ken Down Architects
; Peregian Beach House by
Geoffrey Pie Architect
; The Breakers, Noosa Heads, by
Foster Designs
; and C Bargara by
PCA Architects
// The Central Queensland commendation went to Roche Labs and Aquaria, Heron Island, by
Dimitriou Architects and Interior Designers
// Darling Downs commendations went to Kingaroy Visitor Information Centre by
Studio 39
; Ballandean House by
Arkhefield
; and Astonlee Residence, Crossdale, by
The Buchan Group Architects
// Mackay commendations went to Rothiemay Place and DGL Building by
Gordon Gould Ipson Architects
.
NEW SOUTH WALES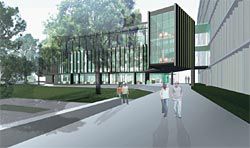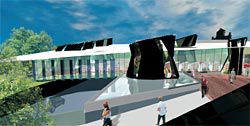 Allen Jack + Cottier has a new warehouse conversion studio in Sydney, combining their three offices into one // Peter Mould is the new NSW Government Architect and General Manager of the Government Architect's Office.
Peter has been Assistant Government Architect since 1998 and Acting Government Architect since July 2005 // 900 friends and admirers attended a memorial for
Harry Seidler
at the MLC Centre in early April //
Bovis Lend Lease
has been appointed by
The GPT Group
to design and construct the Rouse Hill Town Centre, a communitybased mixed-use development in north-western Sydney //
UNSW
architecture and design students have produced concepts for a clubhouse for people with mental illness, which were displayed at the NSW Parliament House during Schizophrenia Awareness Week. When completed in early 2007, the clubhouse will be available to the 3,000 families affected by mental illness in the Illawarra region // The four shortlisted architects for the competition to redevelop the Newcastle Region Art Gallery are
Lab architecture studio, FJMT, PTW Architects
with
Schreiber Hamilton Architecture
(Newcastle-based) and
Alexander Tzannes Associates // UNSW
has appointed
Lahz Nimmo Architects
, in association with
Wilson Architects
, as lead architectural consultant for the design and documentation of a new Biomedical Research Building at the Kensington Campus //
Wilson Architects
has won a design competition for the new Armidale War Memorial Library //
Harry Seidler: A Tribute
, curated by
Jacqueline Urford
, shows at Customs House until 6 August.
TASMANIA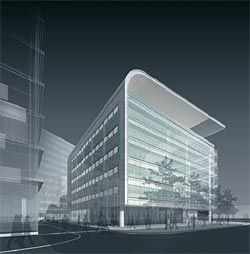 Rod King has been appointed Tas Chapter Council to fill a casual vacancy resulting from Richard Blythe's resignation. Richard will continue to chair the National Education Committee // Mark Dewsbury has resigned from the Tas Chapter Council as the Northern Representative and chair of the Northern Committee.
NORTHERN TERRITORY
Tangentyere Design has become a registered architectural company with the Northern Territory Architects Board. It is the first Aboriginal-owned registered architectural company in Australia // Build Up Design is documenting a new office for Gundjiehmi Aboriginal Corporation, the traditional owners of a part of Kakadu National Park.
SOUTH AUSTRALIA
Adelaide's City Central Tower 1 has become the largest building in Australia to receive a 5 Green Star rating from the Green Building Council of Australia.
AUSTRALIAN CAPITAL TERRITORY
Woods Bagot has designed two buildings, totalling 50,000 m2, in Civic, Canberra, which target a 4.5 AGBR and have been designed as a new benchmark in workplace standards in Canberra // Controversy surrounds the design of the new Humanities and Science Campus Place redevelopment of the National Library of Australia forecourt by Spackman Mossop and Lahz Nimmo. The project proposes an elliptical forecourt, to bring together existing buildings.
Criticism concerns the removal of two avenues of poplar and plane trees, which will be replaced with river red gums, brittle gums, iron barks, poplars and holly oaks // A new ACT Memorial to recognize Canberrans and those associated with the city who have served Australia overseas has been designed by local artist Matthew Harding for a site at the intersection of the Ainslie Avenue pedestrian area and London Circuit.
WESTERN AUSTRALIA
Curtin University graduate Paige Plummer has been awarded the 2005 Peter Hunt Travel Prize // Philip Kirke has been promoted to senior associate with Hassell.
VICTORIA
Mark Kelly, former Woods Bagot managing partner, Europe, has returned to Melbourne to drive the Woods Bagot strategic consulting and design studio's specialized buildings business // After a three-stage selection process, John Wardle Architects has won the commission for the new Exercise Science and Sport Precinct and Learning Commons at Victoria University's Footscray campus // Entries are open for the ARBV Architectural Services Award, which focuses on client evaluation of their architects' service, management and communication.
Clients are to nominate their architect by 30 June // The
City of Melbourne's
green office building Council House 2 has won three out of seven awards at the 2006 Eco-Buy Awards for Excellence //
Dennis Payne
and
Douglas Pattenden
, formerly from
Fish Payne Pattenden Viney
, have formed a new practice,
Payne Pattenden Architects
//
Homo Faber: Modelling Architecture
is on display at the Discovery Centre Foyer, Melbourne Museum, until 2 July //
Alan Synman
, founder of
SJB Architects
, has joined
BST Consulting // Lab architecture studio
has appointed
Ann Lau
as a design associate //
Kestie Lane
has joined
Woodhead International
as a senior interior designer // Eureka Tower, the world's tallest residential building, by
Fender Katsalidis
, is complete.