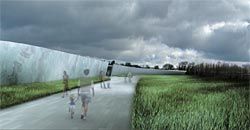 INTERNATIONAL
A QUT-led consortium of urban designers, architects and landscape architects have designed a $60M transit centre in China, which is expected to be completed by the end of the year // Alexander and Lloyd has been awarded the tender for the upgrade works to the National Library of Papua New Guinea, Port Moresby. The upgrade works are a gift from the Australian Government through AusAID to celebrate the 30th anniversary of Papua New Guinea's independence // A $55M TEDA Soccer Stadium, designed and built by United States-based engineering firm Parsons Corporation in conjunction with Peddle Thorp, has received the 2005 China Construction and Engineering Luban Award. This is the most prestigious award in China's construction industry // The competition entry by Lee & Kerry for Kakolanmäki Hill, Turku has been included in an exhibition titled The New and the Bold. Held at the Museum of Finnish Architecture, Helsinki, the exhibition displays select projects from recently judged Finnish open competitions // World Day of Architecture is to be celebrated this year on 2 October, with the theme "Cities, magnets of hope" // Sam Crawford, of Sam Crawford Architects, has joined forces with Aspect Sydney and Northrop Engineers to design a Youth Training Centre to assist AIDS orphans in Thyolo in Malawi // Stephen Jones of Woods Bagot Hong Kong has been appointed Regional Managing Principal of Asia // Woods Bagot Dubai has been appointed as masterplanners and architects for an equestrian-themed residential estate in Dubailand // Planning permission has been granted for Denton Corker Marshall's design for the new visitor and interpretation centre for Stonehenge in the UK // Denton Corker Marshall has also been commissioned by The Foreign and Commonwealth Office to design a new British Embassy for Manila in the Philippines.
NATIONAL
The 2006 RAIA National Award jury is Bob Nation (chair), Prof Geoffrey London, Ken Maher, Garry Emery and Annabelle Pegrum // The ten finalists of the Bombay Sapphire Design Discovery Award are Charles Wilson, Davis Giorgio, Donald Holt, Henry Wilson, Kelly Freeman with Rena Bernabei, Lana Alsamir, Louisa Vilde, Ruth McDermott with Bettina Easton, Stuart McFarlane and Trent Jansen. An exhibition of the finalists' work will be on display at Object Gallery as part of the St Margarets Design and Architecture Festival, Sydney, in September and will tour to Melbourne and Perth in 2007 // Tim Griffith has been named the 2006 AIPP Australian Commercial/Industrial Photographer of the Year at the Canon Australian Professional Photography Awards // Elias Torres spoke in Sydney and Melbourne in July as part of the Australian Architecture Association's Black series.
QUEENSLAND
Gold Coast architect Ron Burling passed away on 24 June, aged 72. He was a Fellow of the RAIA, a past president of the Gold Coast division and chairman of the Gold Coast City Council Urban Design Advisory Board and ran a private practice with business partner Darrell Brown // Harley Vincent has joined the Woods Bagot Brisbane studio // QUT is hosting the School of Design Tuesday Night Talk Series 13, which continues until 17 October // Eloise Atkinson has received an AV Jennings Churchill Fellowship to explore affordable housing study in the USA, Canada and the UK // Ashton Raggatt McDougall in association with Arkhefield have won the competition to redesign Brisbane Central // Roma Street Parklands, by Nettleton Tribe, has won two awards at the 2006 UDIA Suncorp Queensland Awards.
NEW SOUTH WALES
Geoff Dawes has joined the Sydney office of Woodhead International // The St Margarets Design and Architecture Festival is being held 9–24 September in Surry Hills, Sydney. Joining forces with Object Gallery, this festival celebrates design and architecture. As part of this event, Sam Marshall is curating Supermodels, an exhibition showcasing architectural models by Sydney architects // Hassell has appointed David Tickle as Senior Urban Designer // The NSW and ACT Australian Steel Institute Steel Awards 2006 have been announced. Sherman Studio by Tzannes Associates won the Domestic and Studio category, with Mobbs Residence, Termeil, by Peter Dalton Architects and McAssey House by Ian Moore Architects being awarded high commendations. The Industrial and Commercial category winner was the Paramatta Transport Interchange by Hassell, with high commendation to Deutsche Bank Place, Sydney. The Brick Pit Ring by Durbach Block Architects was the winner of the Architectural and Engineering Innovation category // UTS is convening Queer Space: Centres and Peripheries, a conference to be held 20–21 February 2007 // Hassell has appointed Sven Ollmannn, Peter Black and Ron Bridgefoot as principals, Matthew Pullinger as senior associate and Luke Johnson, Kevin Carrucan, Nesa Marojevic, George Wong, Tim Mein, Martin Lee and Benson Abrahams as associates // Former partners of Metro D Architects, Robert Costa and Meryl Pearse have recently formed a new firm, Space Architecture // LAB Architecture Studio has won a competition for the $25M redevelopment of the Newcastle Region Art Gallery // BCI Australia and the Green Building Council Australia, in association with the RAIA, are presenting a study on Green Building in Australia as the centrepiece of a one-day international conference on sustainable design. The conference will be held in Sydney on 15 September // Tonkin Zulaikha Greer Architects has won a limited competition to design a new campus for The Buttery at Bungalow. The Buttery is a non-government organization, providing a range of treatment services to the local community and NSW // Nettleton Tribe has appointed Ken Ng, Howard Morris and Darren Turner as associates // Aspect Studios in collaboration with Hill Thalis Architects and CAB Consulting have been awarded the consultancy for the design development and documentation of the New Park at the Former Police Station site in Pyrmont, Sydney // A project by Tokyo-based Atelier Bow-Wow is on display in the Object Gallery window until 24 September // In August, Teddy Cruz, from Estudio Teddy Cruz, San Diego, presented the 2006 Lloyd Rees Memorial Lecture at the Museum of Contemporary Art, Sydney // The preferred proposal for The Rocks Dig Site has been announced. A consortium led by Youth Hostels Association includes Tzannes and Associates. The proposal features a 110-room hostel, an Archaeological Centre and public accessibility // Hannah Tribe and Marcus Trimble are the winners of the North Sydney bus shelter and canopy entrance competition // Richard Marshall has rejoined Woods Bagot in Sydney to lead the global urban design discipline // Adam Haddow has been awarded a Churchill Memorial Fellowship. He will travel abroad to study alternatives to conventional medium-density housing // Yin Kwok has joined Woodhead as an associate and a key member of the national health portfolio team.
TASMANIA
The Sullivans Cove Waterfront Authority has launched an international design competition for one of Hobart's major waterfront spaces. Entries close mid-December // Tim Penny, of Philip Lighton Architects, is one of five Tasmanians to be awarded a Churchill Fellowship. Tim will go to the USA, Netherlands, Finland and Denmark to evaluate innovative primary and secondary school designs that illustrate alternative models applicable for Tasmanian schools.
NORTHERN TERRITORY
Controversy in local papers surrounds the objection to the proposed new Northern Territory Planning Scheme by local architects in conjunction with RAIA NT Chapter // Hassell has appointed Craig Rydquist as senior associate.
SOUTH AUSTRALIA
Damian Madigan has formed a new practice called Madigan Architecture as well as taking up a part-time lecturer's position at UniSA // The Adelaide Prize has been awarded to the North Terrace Redevelopment. The three clients, along with principal designers Taylor Cullity Lethlean and Peter Elliott Architects, will receive this prize // Julie Calvert has resigned as RAIA SA Chapter Manager // Hassell has appointed urban planner Peter Hall as an associate // Work has commenced on Tower 2, designed by Woods Bagot. This building is the office building component of the City Central development.
AUSTRALIAN CAPITAL TERRITORY
Demolition has commenced of the iconic Cameron Offices building, Canberra, ahead of a decision regarding National Heritage Listing of the site. The RAIA is now attempting to halt any further demolition // The last major collection of Marion Mahony Griffin and Walter Burley Griffin's work in private hands was recently acquired by the National Library of Australia.
WESTERN AUSTRALIA
Ashton Raggatt McDougall has opened an office in Perth, with Andrew Lilleyman as the representative // Controversy surrounds the redevelopment scheme for the Old Treasury Building, Perth, with the Lord Mayor opposing the project.
Architects in WA are taking action and mobilizing support for the new building // Hassell has appointed Brendan Kelly as principal and Phil Kirke and Peter Dean have been appointed as senior associates // Caroline Diesner, principal of Hassell, has recently transferred from the Sydney studio to Hassell Perth // HBO + EMTB are designing a $20M transformation of the Perth GPO building, one of WA's most significant heritage buildings // A new collaborative graduate programme in urban design has been developed in a joint project by The Urban Design Centre of WA and the architecture, landscape and planning schools at UWA and Curtin University. The programme will begin in 2007.
VICTORIA
Elenberg Fraser has appointed Hazel Porter, Orlando Harrison and Lauren Holland as associates // The Royal Botanic Gardens, Cranbourne won three categories in the South East Development Architectural Awards. One was for the Visitors Centre for the Australia Garden by Kerstin Thompson Architects, which won Best Public Building and Chairman's Premier Award // Hassell has appointed Ingrid Bakker as principal and Robin Deutschmann as an associate // Lee & Kerry has relocated from Main Beach, Queensland to Melbourne // Harmer Architecture has won a design competition to build the $5.5M Wangaratta Performing Arts Centre // Ashton Raggatt McDougall has appointed Peter Bickle, Stephen Davies and Jesse Judd as senior associates. Rhonda Mitchell and Andrew Lilleyman have been appointed as associates // Professor Philip Goad has curated Living in Landscape: Heide and Houses by McGlashan and Everist, an exhibition presenting the architectural inspiration for Heide's iconic Modernist house. It is showing until 5 November at Heide II // Craig Yelland, Rainer Strunz and Ian Briggs have been appointed as directors of Plus Architecture // Made in Germany: Architecture + Ecology shows at RMIT Gallery until 23 September. It presents nine buildings that demonstrate the diversity of German-designed ecological construction methods // Professor Philip Goad is the new RAIA Victoria President // Matt Drysdale of Jackson Architecture has won the Melbourne Central design-achair competition. Second prize was awarded to John Leung of ClarkeHopkinsClarke and third prize to Natalia Mona Tjahjono of Natalia Mona Design // PMDL Architecture + Design has appointed Jason Williams as an associate // Boyd Open Houses – Open Heritage, an event organized by The Robin Boyd Foundation, will be held in October // The short-list for The Premier's Design Awards has been announced.
Short-listed entries for the Premier's Built Design Prize are National@Docklands by Bligh Voller Nield, St Andrews Beach House by Sean Godsell Architects, Old House, Richmond by Jackson Clements Burrows, Out of the Box Grades 5/6 Refurbishment, Wooranna Park Primary School by Mind's Eye Interactive and Diversity Gardens at the new Royal Botanic Gardens by Site Office. The winners will be announced on 2 October.
FIXES
• Hill Thalis has written regarding the public art projects that were part of the winning East Darling Harbour competition entry by Hill Thalis, Jane Irwin and Paul Berkmeier (AA July/August 2006, vol 95 no 4). These were designed by Jenny Turpin, who along with Durbach Block, Tony Caro and Collins and Turner assisted the team on specific architectural projects within the competition entry.
• Ché Wall of Lincolne Scott Australia has written concerning the project team published for Deutsche Bank Place, Sydney (AA July/August 2006, vol 95 no 4). Lincolne Scott was credited, in concert with sub-consultant Roger Preston and Partners, as mechanical and electrical engineers for this project. However, Lincolne Scott tells us that their involvement ended in the early stages of the project, after which the design was significantly amended, and therefore any association with Lincolne Scott's original design is incorrect.