INTERNATIONAL







The 2nd Architecture Biennial in Beijing opened on 27 September.
The Australian section of the exhibition, curated by RMIT University Adjunct Professor Tom Kovac, includes the work of Lyons and Minifie Nixon, along with emerging firms such as Kokkugia and Mesne. The showpiece is the Di Stasio Virtual Pavilion, with an exhibition titled Design City Melbourne based on the book of the same name // Eugene Cheah and Celine Lim were one of twelve special mentions in the Living Box competition, organized by Edilportale in Bari, Italy. They were also finalists in the Japan Design Foundation's International Design Competition in Osaka // Following Studio505's win in the FollyDOCK International Architectural Design Competition, the practice's folly is to be built for the Rotterdam Biennale in 2007 // Williams Ross Architects is documenting work on the Oamaru Opera House in New Zealand, which involves extensive refurbishment and extensions to one of Oamaru's grand historic limestone buildings.
NATIONAL
Good Environmental Choice Australia (GECA) and the RAIA are conducting the Sustainable Architecture and Interiors National Tour – Specifying Green, providing practical methodologies for the environmental assessment of building products // The Urban Development Institute of Australia (UDIA) has added its voice to mounting calls from business and community groups for the Howard government to engage with the future of our cities. The 2006 UDIA State of the Land report looks at why the future of our cities is critical to the economy and society // Rapt! 20 Contemporary Artists from Japan is a programme of exhibitions, residencies and public events showcasing contemporary Japanese art in Australia. See rapt.jpf-sydney.org // Entries for the 2007 Interior Design Awards open on the 20 November and close on 16 February 2007. See www.interiordesignawards.com.au // The 2007 Dulux Colour Awards are now open for submission. See www.dulux.com.au // Walter Barda Design has won the inaugural Boral design award, A Different Pitch. The winning team includes Walter Barda, Jaie Midei
and
Adrian Esdaile
.
Finalists were Shem Kelder; Milenko Podnar, Wayne Reid and Tony Cotter from Latitude Architects; and Shaun Carter, Linda Matthews and Anna Williamson from Carter Williamson // Carr Design Group has won the 2006 Fly Forbo & Fly to Europe competition // The 50th Anniversary winners of the 2006 Sisalation Prize are Beverley Garlick, Guy Luscombe and Diane Jones. They will edit Take 6, with the working title Good Design for Older and Disabled People // The finalists of the Lockwood Design a Lever competition are Peter Prysten, Toby Horrocks, Rusk Mathew, Lucas Chirmside and William Smart // Stephen Collier has won the 2006 Lysaght Research Scholarship. He receives $45,000 to produce an exhibition in Sydney which extends an earlier Barcelona exhibition City Corners, curated by Manuel de Solã Morales. The Sydney exhibition will be done in collaboration with Solã Morales.
QUEENSLAND
Greg Sexton has been elevated to associate director at Conrad Gargett Architecture. In addition, Ian Mitchell has joined their team // Hastings Street in Noosa, is undergoing a $7 million upgrade, designed by a project team led by Architectus.
NEW SOUTH WALES
Greg Isaac has been appointed as a partner of Fulton Trotter and Partners Architects, after managing the Sydney office since 2002 // Allen Jack + Cottier has appointed Cindy Ch'ng, Matthew McNeil and Fergus Cumming as new associates. Jane Johnson, Adrian Tarrant, John Gunnell, Daniel Staebe, Russell Parker, Mark Corbet and Tony Spragg have been appointed as senior associates // Julia Borghesi has been appointed as senior designer at Hassell // Pittendrigh, Shinkfield and Bruce has joined EDAW Australia, becoming part of the EDAW AECOM global design company // Sam Crawford Architects and FOCHTA (Friends of Claude Ho in Thyolo Association) held a cocktail party to raise awareness concerning orphaned, AIDS-affected children in Malawi.
The proceeds will go to building a new youth centre in Thyolo in Malawi, East Africa // PTW Architects has appointed Rod Brown, Michael Yip, Koichi Takada, Chris Bosse, Kathy Pal, Katerina Vrdoljak and Terry O'Rourke as associates. Siobhan McInerney has been appointed as an associate director. John Blanchard has been appointed as associate at PTW Architects' China office and Jun Sakaguchi has been appointed practice director at their office in Japan // A multi-milliondollar model of the Sydney Opera House, built by Australian modelmaker Harold "Bill" Lambert, has been reassembled after being discovered in a suburban warehouse. It was displayed at USydney's Faculty of Architecture, and is now on permanent display at the Opera House // Sydney Open 2006 is being held on 5 November 2006.
Coordinated by the Historic Houses Trust, this one-day event features 65 buildings // Eeles Trelease has appointed Mary Randles and Robin Yeap as senior associates. John Wilson and Janene Fowlstone have also joined Eeles Trelease as senior architects and Christopher Hewson has joined as a graduate architect // The Master Builders Association NSW (MBA), the RAIA NSW Chapter and National Association of Women in Construction NSW Chapter (NAWIC) have signed a Memorandum of Understanding, agreeing to work together to provide a mentoring programme for young women entrepreneurs.
The programme, Constructive Mentoring, will mentor managers of small business in the building, construction and design industries.
It is an Australian Governmentfunded service under the Building Entrepreneurship in Small Business Programme // A collaborative timber design studio was held at UNSW to strengthen a partnership between Australian and Japanese architecture students.
This was attended by a group of senior staff and senior students of the UNSW Faculty of the Built Environment and the Japanese Gifu Academy of Forest Science and Culture // Architectural items at the State Library of NSW have been brought online at www.atmitchell.com/journeys/arts /arch/. These range from the dwellings of Indigenous Australians and the first European buildings recorded, through to early architects of the nineteenth century and internationally recognized architects of the twentieth century. This is sponsored by Woodhead, DesignInc and Harry Seidler (dec.) and Penelope Seidler // The Sydney Pecha Kucha will be held on the last Thursday of every second month, in the bar at the Commercial Travellers Association.
See www.pecha-kucha.org/sydney // Clive Lucas, Stapleton & Partners has appointed historian Meg Quinlisk as an associate // The winner in the Metal Building Products category of the ACT and NSW ASI Steel Awards is Lacoste Plus Stevenson Architects for Barcode – Recall Information Centre, with Hassell receiving a high commendation for the RTA Crash Test Facility.
TASMANIA
The first Pecha Kucha night was held in Hobart. Presentations were made by Mark Dytham and Astrid Klein (via QuickTime), Terroir, 1+2 Architecture, James Newitt (artist), Room11 (designers), John Vella (artist), Jusy Phillips (artist) and Todd Houstein (engineer) // Janine Saunders has resigned from her role as RAIA TAS chapter manager // The RAIA TAS Chapter attended a mediation hearing to elaborate its representation to the proposed Carters Landing development at Strahan, on the west coast of Tasmania // Sam Aukland has launched a new practice, Aukland Architecture, based in Hobart // The debate surrounding the controversial Ralphs Bay canal development proposal by the Walker Corporation continues. It has been approved as a project of state significance, and will be considered beyond usual planning processes // A multi-million-dollar mixed-use development, with a major retail focus in central Launceston is being designed by Sydney's Buchan Group and GHD.
SOUTH AUSTRALIA
The Christie Walk Ecocity Project, Adelaide, by Ecopolis Architects, has won the Silver Prize in the international Ryutaro Hashimoto APFED Awards for Good Practices.
AUSTRALIAN CAPITAL TERRITORY
The Capitals Alliance Conference will be held in Canberra in January 2007. Washington DC's Architect of the Capitol, Alan Hantman, is a keynote speaker // Sophie Clement is the new chapter manager of the RAIA ACT Chapter.
WESTERN AUSTRALIA
Construction of the Perth Arena, being designed by Ashton Raggatt McDougall, Cameron Chisholm and Nicol and USA specialist consultants RTKL, is expected to start in April 2007 // Decisions are still pending on the Old Treasury Building refurbishment designed by Peter Elliott Architecture with Donaldson + Warn, Sandover Pinder and Palassis Architects // 2006 Gold Medallist Kerry Hill presented his AS Hook Address at UWA as part of Architecture Week.
VICTORIA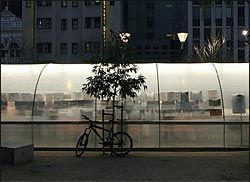 The exhibition The House on the Hill: A portrait of Chancellor & Patrick's McCraith House, Dromana, 1953 shows at the Mornington Peninsula Regional Gallery from the 29 November – 25 February 2007 // Daniel Seyd of In Site has won the commercial category for Edition 2 of the Corian Design Awards for an environment at Melbourne Central's Food Lounge // Jeremy Ham, director of FUNKarchitects and lecturer at UDeakin, has received a 2006 Carrick Australian Award for University Teaching citation for Outstanding contributions to Student Learning // Open Studio has been shortlisted in an ideas competition to develop Matiatia Bay, a coastal site on Waiheke Island in the Auckland Harbour // An Architects for Peace pro bono launch was held at CH2 in Melbourne, with principal speaker Mick Pearse // Droog Design: A Human Touch is an exhibition at the National Design Centre on until 10 December 2006 at the old Melbourne Theatre Company site.
See www.nationaldesigncentre.
com // The 10th World Conference of Historical Cities was held in Ballarat on the theme Sustainable Historical Cities: Economics, Preservation and Visions for the Future // Hassell has curated an exhibition of their work which was on display to the public at their new Melbourne studio // Williams Ross Architects has appointed Chris Hose and Gray Barton as associate directors // DARK, an exhibition of Dianne Peacock's dye-line printing, was held at the new DireTribe Gallery in Carlton // Denton Corker Marshall is designibg a new medical research facility for the Walter and Eliza Hall Institute of Medical Research in Parkville // Meaghan Dwyer spoke as part of the Architects for Peace monthly talk programme on the topic Constructing an Urban Design Case. The Favela Bairro Project: Mending the City Fabric // John Wardle Architects has appointed Stefan Mee to join John Wardle as principal and Meaghan Dwyer and Bill Krotiris as senior associates // The RMIT Urban Architecture Laboratory International Housing conference, titled Re Housing, was held in early October. International keynote speakers included Mark Brearley, principal urban designer at the Greater London Authority's Urban Design Unit, and Robert Breugman, Professor of Art History at UIllinois and author of Sprawl: a compact history // A small greenhouse in Melbourne's City Square was a glowing presence for two weeks in August as part of Atelier Bow- Wow's contribution to Rapt! 20 Contemporary Artists from Japan.
This was used as a study of public spaces in Melbourne. Collaborators were Taira Nishizawa (Tokyo architect), four students from the University of Tsukuba and the Tokyo Institute of Technology, NMBW Architecture Studio, and Mauro Baracco and twelve students from RMIT University.
FIXES
• Nghia Pham tells us that his name and that of Adriana Stelmach were supplied misspelt in the credits for Deakin Central (Architecture Australia vol 95 no 5 Sept/Oct, 2006).
• Michael Nicholson tells us that some of the photography credits for the NSW RAIA Awards were jumbled (Architecture Australia vol 95 no 4, July/Aug 2006).
The correct credits are: 21 Alberta Street by Nation Viney, photograph Michael Nicholson; Five new terrace houses and gallery in Woollahra by John Grove Architect, photograph Willem Reithmeier; 36/37 Squadron Headquarters, RAAF, by Bligh Voller Nield, photograph by Brett Boardman; 23–25 Egan Street, by Mackenzie Pronk Architects, Julie Mackenzie, Shack Design and Kieran McInerney, architects in association, photographs Oliver Berlin.