INTERNATIONAL
Lab architecture studio are the architects for the new Museum of Bristol, UK • Ashton Raggatt McDougall has been shortlisted for the Fengxian New Library competition in Shanghai, China • Cracknell and Lonergan Architects have project managed a site-specific public artwork which is part of the architectural fabric of the Musée du quai Branly. Curated by Brenda Croft and Hetti Perkins, it is the largest international commission of contemporary Australian Indigenous art • Buro and Holt Architects are opening a new office in Hong Kong • FMSA Architects are into the second stage of a competition to transform a rural island into a township in Wenzhou, China • Ashton Raggatt McDougall are finalists in Architecture+ Professional's Choice Award, for the Marion Cultural Centre • Archibett architecture+ has received a Merit Award for the Best New Veterinary Hospital in an international competition from Veterinary Economics magazine, for the Brisbane Veterinary Specialist Centre, Albany Creek.
NATIONAL
David Parken, immediate past president of the RAIA, is the RAIA's new CEO • The winners of the YBE2004 National Awards Exemplars Program are: Ché Wall, The Burra Charter, Archicentre, Melbourne City Council's Council House 2, Federation Square, Chris Johnson with the Houses of the Future exhibition, Walsh Bay, John McInery, Broken Hill Heritage and Cultural Tourism program, and Arup's Indigenous Capital Works Program. Highly commended were Ecospecifier, the Inkerman Housing Project, Adelaide City Council's Heritage Incentives Scheme, Canterbury Primary School, Humitec, Burnie City Walking Track, Wangka Wilurrara, Smart Housing Queensland, Tahune Forest Airwalk, and Queensland Heritage Trails • When we went to print, international speakers for the RAIA conference included Anne Lacaton (Lacaton Vassal, France); Atelier Bow Wow (Japan); Jae Cha (Light Inc., USA); Kaas Kaan (Claus en Kaan, NL); Chang Yung Ho (China); Hjvoe Njiric (Croatia); and Peter Cook (UK). There will also be a large Australian contingent, both in the main section and in the "conference club", with the aim of generating dialogue between local and international participants • "Total Immersion", the Architecture Foundation Australia's summer school, will be held 13-19 February in Pittwater, NSW (www.ozetecture.org/summer05). Teachers include Rick Leplastrier, Peter Stutchbury and Lindsay Johnston. The Foundation's Glenn Murcutt International Master Class is set for 10-24 July • Finalists for the Helen Lempriere National Sculpture Award include architects Bellemo and Cat and Sue Buchanan with Eli Giannini • RAIA National President Warren Kerr is now also the national chair of the Australian Council of Building Design Professionals • Allen Jack + Cottier have promoted Mark Louw to associate director and Russell Parker to associate • The Australian Building Codes Board, in conjunction with the Australian Greenhouse Office, is asking for public comment on energy efficiency measures to be introduced into the Building Code of Australia. Documents are available at www.abcb.gov.au • James Coutts, formerly the head of Brisbane City Council's Local Planning and Design Section, has joined EDAW Gillespies Australia as national director of urban planning • The 2004 Australia Award for Urban Design Excellence (made by the PIA, the RAIA and the AILA, with the support of Urban Design Forum) went to VicUrban for Melbourne Docklands Innovative Strategy for Designed Development • Garry Emery Design, Melbourne, and Emery Vincent Design, Sydney, have merged to become emeryfrost • Richard Choy is the new CEO of NATSPEC • DesignInc has appointed Richard Gould as chairman • Bligh Voller Nield staff are now entitled to paid "maternity" leave - available to the primary care-giver, regardless of gender • The major review of the Australian Architecture Course Recognition and Accreditation Procedure has led to a draft revised document, available for stakeholder comment • Woods Bagot has appointed Stephan Reinke, Vince Pirrello, Earle Arney and Ross Donaldson as new directors to their Global Board • The RAIA recently lodged a submission with the ACCC for continued authorization to allow potentially anti-competitive activities • Winners at the Australian Timber Design Awards were: Dawson Brown Architecture, Stutchbury & Pape in association with Bourne & Blue Architecture, Inarc Architects, Scale Architecture, Casey Vallance & Rebekah Vallance, Andrew Maynard Architect, Michael Ellis Architects, BKK Architects, Engelenmoore, Wilson Architects with Arup Structures, Sean Godsell Architects, Phillips/Pilkington Architects, Baxter & Jacobson Architects, Bush Pavilions, Fiona Robb in association with Rolfe Chrystal & Associates, Craig Phillips, Studio 101 Architects, Nettletontribe, and Chris Vandyke Designs • A draft report by the Productivity Commission argues that local councils are eroding national consistency in building regulations and increasing the cost of building.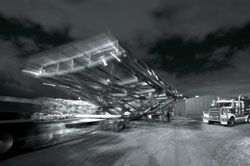 VICTORIA
Simon Knott of BKK Architects and Stuart Harrison of Harrison + Crist Architecture have started a weekly radio show on RRR called "The Architects", on Tuesdays 7-8 pm • lab.3000's Digital Design Biennale 2004, Imagining the Future, shows at the Melbourne Museum until 6 February • Subaud magazine is running a competition to restore Robin Boyd's first house, to be judged at the RAIA national conference • SJB and Billard Leece's Parkville Gardens, which will house the 2006 Commonwealth Games athletes, has opened • The Melbourne Sports and Aquatic Centre is being upgraded by Peddle Thorp Architects for the Commonwealth Games • Fender Katsalidis Miram Architects are redeveloping the Peninsula Centre, Frankston • A new Yarra Precinct Pedestrian Link bridge will be built from Birrarung Marr to Yarra Park. Kellogg Brown & Root is the principal designer, Cox Architects and Planners is the architect, and the original concept was proposed by Arup • Hayball Leonard Stent has appointed Richard Ekberg, John Hair, Sarah Buckeridge and Luc Baldi as associate directors and Ann Lau and Eufemia Bruno as associates • Melbourne Masters Architecture, curated by Leon van Schaik, is on at the TarraWarra Museum of Art until February • 3 Deep Design has launched a design workshop program, "Everything in Between", to be held in two streams from 8 March to 30 August. Brett Phillips is program director, Peta Carlin is program coordinator and Kelly Healy is program manager. Participants include: Phillip Adams, Stephan Bam, Tim Black, Mari Funaki, John Gollings, Andrew Keen, Paul Minifie, Lars Müller and Fabio Ongarato • The National Urban Design Forum will be held 15-17 April, on a round trip from Melbourne to Williamstown, Geelong and Queenscliff • The shortlist has been announced for the St Kilda Edge Project: Peter Elliott and Taylor Cullity Lethlean; Jackson Clements Burrows and Site Office; Rush/Wright Associates, Terrain NYC and Minifie Nixon; Urban Initiatives and 4DForm; and NHArchitecture, Cath Stutterheim and Charles Anderson • Melbourne's heritage listed GPO has been redeveloped into a retail extravaganza by Williams Boag Architects • Ian Briggs of At the Coal Face has won the professional section of the Bendigo House Competition • Jackson Clements Burrows, "colourist" Matthew Johnson and developers SC Land have finished a boutique Richmond development • Daryl Jackson Architects and Prior Cheney Architects are designing the City of Maribyrnong's new Aquatic Centre • The Victorian State Government is replacing the St Kilda Pier kiosk with a replica, designed by Allom Lovell and Associates • As both Simon Swaney and Sally Draper are leaving Swaney Draper, the practice itself has merged with CS+T (formerly Stephenson and Turner) • The winners of the VicUrban Affordable Home Design Competition are: Live Load Architecture; John Cherry; Anthony Styant- Browne; Pleysier Perkins; and Kimberley Pannan, Shem Harding and Edward Running • O'Connor + Houle's redevelopment of Heide III at the Heide Museum of Modern Art is underway, along with a new Sidney Myer Education Centre. Bryce Raworth is restoring David McGlashan's Heide II.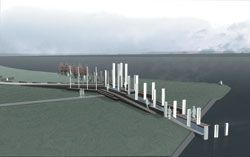 WESTERN AUSTRALIA
Kerry Hill Architects, in association with Architectus, has won an international competition for a mixed-use beachfront development in Cottesloe • Hames Sharley has won the open competition for the new War Memorial in Mandurah • The WA Architects Bill was passed in November.
NEW SOUTH WALES
The Studio of Jørn Utzon shows at the Museum of Sydney until 1 May • Bates Smart has appointed Simon Swaney as a director • mcgregor+partners' ECO apartments in Green Square, Sydney, has won a national merit award from the AILA • Negotiations are underway to begin construction of the Ian Thorpe Aquatic Centre. Harry Seidler and Associates won the design competition for the centre, originally known as the Ultimo Aquatic Centre, in 2001 • Coble Stephens Architects has won a design competition for the Petrea King Quest for Life Centre in Bundanoon in the Southern Highlands • Foster and Partners' 126 Phillip Street, Sydney, is nearing completion. A "topping off" celebration was held in November • A group of six second-year UTS architecture students - Jonathan Lynch, Angela Rowson, Kathryn Bunn, Chantel Carr, Carl Redfern and Wes Baker - have made it to the finals of the Designing for the 21st Century (D21) competition • The YBE2004 Youthquake Forum was held in Newcastle in November • World Square, by Crone Partners Architecture Studios, is complete • Rice Daubney has appointed architect Sergio Azevedo, designers Chelsea Dawson and Alex Wessling, interior designer Amy Chellew, architectural technologist Craig Chand, and technicians Steven Ingram and Neil Lloyd-Shepherd • Adrian Boddy and UTS architecture graduate Cristina Garduno-Freeman collaborated in a recent photographic exhibition, Georgian Eyes • Pittendrigh Shinkfield Bruce has appointed James Rosenwax as partner • The RAIA NSW Chapter's Architecture Bulletin recently celebrated 60 years of continuous publication • Construction of Tullimbar Village, a new town for 5,000 people designed by Steve Thorne, is about to begin • Crone Partners has designed a $150M luxury residential complex in Airlie Beach for Aquiplan and Ivana Trump, with apartments sold by invitation only for up to $6M • Gerard Reinmuth of Terroir appeared in The Bulletin's SMART 100 series for 2004 • Group GSA has won a design excellence competition for a 27-storey apartment building in Pitt Street • Veronica Bullock from UWestern Sydney has won the Sydney Harbour Foreshore Authority Heritage Prize • The Museum of Sydney hosts an RAIA talk by Jan Gehl, of the Royal Danish Academy of Fine Arts, 7 February • The RAIA's Monday night talks begin 28 February with Peter Myers on the work of Jørn Utzon, Museum of Sydney.
QUEENSLAND
Wilson Architects, Four Generations: Exhibition of Paintings and Drawings runs until 13 February at UQ's Mayne Centre, exploring 120 years of continuous practice by the Brisbane family firm • Angelo Pernazza of DesignInc has won the Australian Nursing Homes & Extended Care Association's award for Best Design, Aged Care and Senior Housing Building for Banglaor Retreat • Brisbane's new Magistrates Court, by Cox Rayner and Ainsley Bell and Murchison, is finished • Fairweather Proberts Architects has bought Yolk Interiors and Sally Macnaughton has joined Fairweather Proberts Architects' interior design team • Wayne Petrie exhibited at the 8th Contemporary Furniture Exhibition 2004 • The former St Brigid's Convent on Red Hill, built by Eaton & Bates in 1902, will be conserved and adapted by Robert Riddel Architect • Architectus Brisbane has appointed Caroline Stalker as associate director and Allan Rielly as associate • QUT's Dr Paula Whitman won Queensland's National Association of Women in Construction's Year of the Built Environment Award • UQ's Dr Greg Bamford won Aged Care Queensland's YBE Award • Wendy Mills won Public Art Agency's Queensland YBE Award • Allen Jack + Cottier and Oculus Landscape Architects have won the Maroochydore Civic Square Design Competition • QUT Art Museum shows Ian Friend: Terragni until 13 February • Architectus is designing a science and technology discovery centre for Canterbury College • Bligh Voller Nield is designing the Brisbane demonstration home of the Sustainable Homes initiative • Timothy Rodgers of QUT has won the RAIA/Architectus Graduation Prize • QUT student Carmen Slatter has won a competition to design a new pavilion to be built in the Roma Street Parklands.
NORTHERN TERRITORY
David Bridgman's Acclimatisation: Architecture at the Top End of Australia has won the Chief Minister's Northern Territory History Book Award 2004 • The Darwin Cove Consortium has been chosen for the $1 billion Darwin City Waterfront development. Consortium principals are ABN Amro Australia and Toga Group. Architects are Hassell and Crawford/TVS. Two other consortia were shortlisted - Multiplex Led Consortium with architects The Cox Group and Spowers, and WharfLink with architects Woodhead International, EDAW Gillespie, HOK Sport Venue Event, Troppo ArchitectsM.
SOUTH AUSTRALIA
The review of UAdelaide's School of Architecture, Landscape Architecture and Urban Design, conducted by Professors Michael Keniger, Catherin Bull and William Mitchell, recommends a major overhaul, including: appointing a senior figure as Head of the School; design to be established as the core strategic direction; academic programmes to be simplified, focusing on quality; a vigorous lecture programme; a strong and separate identity; relocation to a distinctive building; and immediate attention to the under-provision of course content in landscape architecture • Sue Averay is now manager of the Heritage Branch of the Department for Environment and Heritage • The 2004 Edmund Wright Heritage Awards have been announced. The Medina Grand Adelaide Treasury, by Danvers Schulz Holland Architects in association with SJB Architects and SJB Interior Design, won the Minister's Award: Outstanding Contribution and Heritage Place (Non-Residential) award. Commendations included Torrens Parade Ground and Training Depot, by Grieve Gillett Architects; St Vincent de Paul's, Whitmore Square, by Alexander Wilkinson Design + Planning by Design; Chateau Tanunda Estate, by John and Evelyne Geber; Karka Pavilion, by the Department for Administrative and Information Services, Design and Heritage Management, Heritage Unit; and Veber Residence by Alexander Wilkinson Design + Planning by Design • Russell & Yelland Architects have appointed Meredith Harrison as senior associate, Sam Aukland as design associate, and Jonathan Mau and Stewart Caldwell as associates • Simon Drew and Resource Architecture have joined GHD Architecture's Adelaide practice • James Hayter & Associates is now Oxigen • Brown Falconer architect Mario Dreosti has won the inaugural Hebel Designed For Future Living Award, launched by CSR Hebel in conjunction with the RAIA in late 2003, for an urban terrace house design • Paul Boyce is now a partner at Tridente Architects • Carolyn Wigg is the next President of the RAIA SA Chapter • Phillips/Pilkington won an Award of Merit in the Civic Trust of SA Awards for the McCormick Centre for the Environment, Renmark. Their Wilderness School Multi- Purpose Hall, Medindie, won both SA and National Awards of Merit at the Illuminating Engineering Society of Australia Awards.
AUSTRALIAN CAPITAL TERRITORY
The Land Development Agency has called for expressions of interest for sustainable rural villages • The Well Station Homestead Precinct at Harrison has been listed on the interim Heritage Register • ACT Forests' new headquarters, by Collins Caddaye, has opened, replacing the facilities destroyed in the January 2003 bushfires • The ACT Government has launched the two-year Planning System Reform Project • The RAIA is seeking donors to help commission a portrait of Romaldo Giurgola, to be offered as a bequest to the National Portraits Gallery.
TASMANIA
Ceridwen Owen has been appointed as lecturer in architecture at UTasmania • UTasmania's School of Architecture is to relocate to the Inveresk Railyards, home to the Academy of the Arts and the Queen Victoria Museum and Art Gallery.