INTERNATIONAL
Spanish architect Anton Garcia-Abril appears at the CCAA's C+A talks in Perth, Melbourne and Sydney in March // Hassell has been ranked number one in Australasia and number 25 in the world's 100 biggest practices, in the BD 2010 World Architecture 100 // JPJLY8H – Flex Not Flat by David Ho, Idzfan Zainal, Suffian Shahabuddin and Mohamad Suhayl Che Mohd Annuar (Studio Nomadic) and Mohamad Herwin Bunting were named as one of the top 50 submissions in Up to 35, an international competition for student housing organized by Oliaros // Three Australian projects were recognized in the 2009 International Architecture Awards given by the Chicago Athenaeum and The European Centre for Architecture, Art and Urban Studies: CarriageWorks by Tonkin Zulaikha Greer, the Ian Thorpe Aquatic Centre by Harry Seidler and Associates and Glenburn House by Sean Godsell Architects.
NATIONAL
Twenty-four teams are shortlisted for the "When" component of Now + When at the Australian Pavilion at the Venice Biennale. They are: Richard Goodwin, Art/Architecture, Terroir, Andrew Benjamin, Ingo Kumic and Dan Hill, Sydney 2050: Fraying Ground; Steve Whitford, UMelb + James Brearley, BAU Brearley Architects and Urbanists and RMIT Symbiotic City; Justyna Karakiewicz, Thomas Kvan and Steve Hatzellis, Urban Life Without Fear; Edmond and Corrigan, A Future Australian City; Colony, Mould City; Brit Andresen and Mara Francis, Sedimentary City; NH Architecture with Andrew Mackenzie, Not all Arrows Hit the Target; John Wardle Architects and Stefano Boscutti, Multiple Cities; Alanna Howe, Alexander Hespe (Arup), biomimetic  city; PDJ Architects (Fiona Dunin, Alex Peck, Martina Johnson), -41+41; Bangarra Dance Theatre, Woodhead, Doris McIIwain, Ross Honeywill, Greer Honeywill, Love and Movement; BKK Architects, Village Well, Charter Keck Kramer, Survival vs Resilience; Hassell, Mike Young (UAdelaide) and Holopoint; Michael Lewarne and Tom Rivard in association with House of Laudanum, Lian Loke and Anne Arquit Neiderberger Food for Thought: e-agora 2059; Arup, Cities of Resilience in the wake of Climate Change; Room 11 + Scott Lloyd and Katrina Stoll, Island Proposition 2100; Lacoste + Stevenson, Six Degrees, Frost Design; Harrison and White with Nano Langenheim, Implementing the Rhetoric; Ben Statkus (Statkus Architecture), Daniel Agdag, Melanie Etchell, William Golding, Anna Nguyen, Joel Ng, How Does it Make You Feel?; McGauran Giannini Soon, Bild + Dyskors, Material Thinking; Billard Leece Partnership, A Tale of Two Cities 2100; Innovarchi, The Mangrove occupying the Now and WHEN of the water's edge; Design Research Institute RMIT (CRI) + Minifie Nixon Architects, Cloudnets; Beth George, Jon Tarry and Rene Van Meeuwen, Speciation City //The 2009 Boral Design Award for conceptual residential design has been announced. First place went to Paul Focic and Jeremy Marsden of Cox Rayner for Jacaranda House; second place to Shane Plazibat, Tony Jemmott, Vincent Teo and Jindrich Hozal of Plazibat + Jemmott Architects; student category winner was Lachlan Joseph of QUT // Sally Boer of AECOM, won the inaugural Achievement in Developing a Sustainable Environment Award at the Urban Development Institute of Australia's Women in Development Excellence Awards // Winners of the 2009 UDIA National Awards for Excellence were Landcom for Prince Henry at Little Bay, Stockland South Beach and LandCorp for South Beach Promenade, Lend Lease for  Visage at Hyatt Coolum, Principle Properties for Castlebar Cove, Land Development Agency for Kingston Foreshore, Land Management Corporation for Lochiel Park Green Village, VicUrban for Tenterfeld, Halcyon for Halcyon Waters // Richard Meier speaks in Sydney Melbourne and Canberra in March as the star of the Institute's International Speaker Series // Project of the Year in the 2009 Association of Consulting Engineers Australia Awards for Excellence was to the Inner Northern Busway by AECOM and Coffey Geotechnics on behalf of the Department of Transport and Main Roads, Leighton Contractors and Bligh Voller Nield // Annie Scapetis is the new Head of Communications for Hassell // The Architecture Foundation Australia's 10th Glenn Murcutt International Architecture Masterclass runs 11–25 July // The Institute has launched the inaugural Study Tour of China in May with keynote speaker Anne Warr.
VICTORIA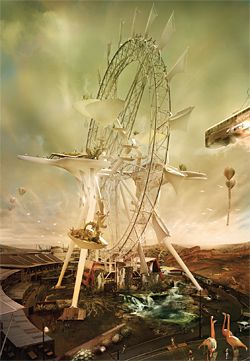 Jill Garner has been appointed as the Associate Government Architect, following Shelley Penn's return to private practice // Peter Bennetts, Büro North and Squint Opera have come up with their own proposition for Melbourne's persistently troubled Southern Star Observation Wheel: "a wind-driven, solar-powered wheel that would be a hub for a new fleet of steam-powered punk trams to alleviate Melbourne's unremitting congestion woes." We can only hope they come equipped to deal with the hapless Myki ticketing system // Nexus is working with ACCA to produce seven exhibition sites in the gallery to celebrate the tenth anniversary of the New exhibition // Lyons has appointed James Wilson as a principal // Kirsten Trengove has left the Institute's media unit and joined Denton Corker Marshall as communications manager // John Wardle Architects has been appointed to redevelop and extend the Main Library at the Bundoora Campus, La Trobe University // Research by UMelb and the CFA shows that houses built in bushfire hotspots that met current Wildfire Management Overlay standards were three times more likely to survive the Black Saturday fire conditions than houses that were not referred to the CFA and assessed according to WMO principles.
NORTHERN TERRITORY
Tangentyere Design in association with MKEA Architects recently completed a new office and research laboratory for CSIRO Sustainable Ecosystems in Alice Springs.
NEW SOUTH WALES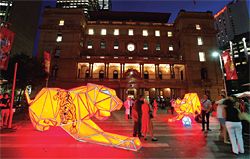 Two giant digital origami tigers took up residence in the forecourt of Customs House in Sydney. Designed by LAVA, the mammoth cats were installed to celebrate Chinese New Year // Dr Russell Rodrigo has been appointed as program director for Interior Architecture, UNSW // Keith Cottier, chairman of Allen Jack+Cottier, has been awarded the 2009 Doctor of Science in Architecture (honoris causa) by USydney // Hames Sharley has been awarded the Steps Co-Location Research Facility redevelopment project for UTas // David Nelson has been appointed senior associate at Allen Jack+Cottier // Congratulations to Donald Gillies, designer of the world's first purpose-built container ship, who has been honoured with the Member of the Order of Australia (AM) for exceptional services to naval architecture // Leslie Walford also received the Member of the Order of Australia (AM) for exceptional services  in the field of theatre restoration and decoration, and to the profession of interior design // Ronald Silberberg was honoured with the Officer of the Order of Australia (AO) for service to the building and construction industries through the promotion of housing affordability and contributions to improved public and social housing // The NSW Chapter and the Heritage Council of NSW have published two guidelines (Design in Context and New Uses for Heritage Places) for architects working on heritage buildings or in a heritage context // Fender Katsalidis Mirams Architects has appointed Martin Dudasko as an associate.
Queensland
Bond University, Gold Coast, has launched the Soheil Abedian School of Architecture, with first intakes in 2011. Professor George Earl, Head of the Mirvac School of Sustainable Development, will develop the program with an industry advisory group // Peter Dawson has been appointed as senior associate at Architectus's Brisbane office // Shaun Lockyer has left Arkhefield to start Shaun Lockyer Architects // The Project Definition Phase of the Brisbane Cross River Rail Project has been awarded to Hassell, with AECOM // Congratulations to Professor William Curnow who has been honoured with the Member of the Order of Australia (AM) for service to the construction industry, particularly as an architect of correctional, educational and bio-secure facilities // John Wardle Architects and Wilson Architects, working in association, have been appointed to design the UQ Centre for Advanced Imaging building.
AUSTRALIAN CAPITAL TERRITORY
The ACT Planning and Land Authority is seeking comment on the Sustainable Future Workshop report, which draws out ideas on how to make the ACT more sustainable, particularly in regard to future planning // In February Dr Enrico Taglietti spoke on the Seat of Government and the Chaos Theory at the National Library of Australia // The 3rd International Urban Design Conference, Designs on our Future, will be held in Canberra 30 Aug – 1 Sept // Sheila Hughes is the new ACT Chapter Manager.
south australia
SA Premier Mike Rann has announced an Integrated Design Commission and a government architect // The New Architects and Graduates group (NAG) and Adelaide City Council are holding a competition as part of Design Festival 2010. Young graduates are asked to form teams, including at least one designer and one artist, to design street furniture for Rundle Street // Claire D'Adorante has been appointed associate at Hames Sharley // Sarah Oliver and Tess Pritchard from UniSA were awarded the 2009 Hames Sharley Undergraduate Award for interior architecture and architecture // From Plans to Places, the Australian Council for New Urbanism congress, will be held in Adelaide 28–30 April // John Wardle Architects with Swanbury Penglase are the architects for UniSA's M2 Building and The Plasso, minerals and materials research building.
TASMANIA
Hobart City Council has adopted, in principle, a sustainable transport strategy and has undertaken a public consultation period // State Architect Peter Poulet has released the draft Sullivans Cove Masterplan for public comment // The Tasmanian Chapter held Tasmanian Architectural Narratives at Murrayfield Station, Bruny Island, 12–14 March, with invited speakers including Brit Andresen and Richard Leplastrier // The Tasmanian Chapter's Pictures in the Pub series has kicked off with the 2009 Awards in Review.
WESTERN australia
Hames Sharley has been selected for the Building Management and Works Interior Design Panel to undertake interior consultancy services for non residential building projects within Western Australia // Woodhead has completed the fitout of Shell Development Australia // Simon Anderson has been appointed Dean of the Faculty of Architecture, Landscape and Visual Arts at the UWA // The Art Gallery of Western Australia presents Built, an exhibition of artists whose works explore our relationship with the built environment // Silver Thomas Hanley, Hassell and Hames Sharley are working with evidence-based design expert Professor Roger Ulrich to be part of the planning for the Fiona Stanley Hospital.