INTERNATIONAL
11 September was Solar House Day, organized by the Australian and New Zealand Solar Energy Society with support from the Australian Greenhouse Office • Sean Godsell is on the jury for this year's Architectural Review Awards for Emerging Architecture. Other members are Paul Finch (chair), AR editor; Peter Davey, former AR editor; Annette Gigon, Gigon/Guyer, Switzerland; Luis Mansilla, Mansilla+Tuñón, Madrid; and Thom Mayne, Morphosis, Los Angeles • Kerry Hill Architects has won the international competition to design the master plan and library for the new UNSW Asia campus at Changi, Singapore • Kathryn Underwood and Steven Feast were semifinalists in the US-based ArchVoices Essay Competition 2005 • Austrade has invited architects and design companies to participate in a trade mission to Southern China, 14–19 November • DesignInc and Future Food have won the food and beverage design and consultancy contract for The Dubai Mall, Dubai, UAE • Timothy Court and Company has been awarded the contract to design an equestrian facility for the 2008 Beijing Olympic Games • An exhibition entitled Marion Mahony Griffin: Drawing the Form of Nature will run until 4 December at the Northwestern University's Block Museum of Art, Chicago, USA. A symposium focusing on the significance and impact of Mahony Griffin's life and work will be held on 5 November 2005. Australian participants in the symposium are Christopher Vernon (UWA), James Weirick, (UNSW) and Anna Rubbo (USydney).
NATIONAL
Architecture Week will be 24–28 October • BlueScope Lysaght, in partnership with the RAIA, has introduced an annual Lysaght Research Scholarship • Suters Architects has appointed Dino Di Paolo as a board director • The 2005 RAIA National Architecture Awards gala evening, in celebration of the 75th anniversary of the RAIA, will be held on 27 October in the Concert Hall of the Sydney Opera House. The 2005 jury is Warren Kerr, Guy Maron (Raffen Maron Architects), Ken McBryde (Innovarchi), Gordon Moller (President of the NZIA, Moller Architects, Auckland) and Justine Clark ( Architecture Australia) • The creative director for next year's RAIA National Conference is Stephen Varady. The 2006 conference will be co-located with Designex and Form and Function at the Sydney Convention and Exhibition Centre, 6–8 April 2006 • The Dulux Colour Awards celebrates its twentieth anniversary in 2006. Entries into the 2006 awards will be automatically entered into the colour categories of the 2006 Interior Design Awards • Registration for the 2006 Interior Design Awards opens on 12 December 2005. Entry submissions open on 21 November 2005 and close on 17 February 2006. The gala presentation dinner will be held in Sydney on 7 April 2006 • The winner of the 2005 Fly Forbo and Fly Free to Europe design award, which was run in conjunction with the 2005 Interior Design Awards, is the Sydney-based practice Nordon Jago Architects for the Leigh Jones Orthodontic Practice and Artist's Studio • The Woods Bagot Strategic Facility Planning Lecture Series was held in Adelaide, Perth, Melbourne, Sydney and Brisbane in June and July. The speakers were Trudy-Ann King, Karen Smith and Angela Sampson • Mexican architect Ricardo Legorreta presents the Australian Architecture Association's Black Talk 3 entitled "Meditations and Projects", in Sydney on 27 September and Melbourne on 28 September • DesignInc's Bio21 laboratory has been named Lab of the Year by the Science Industry of Australia. The OCP New Technology Centre by Tony Green Architects was highly commended. Small Lab of the Year commendations went to Brian Griffin + Jones Sonter for the APAF Laboratory Refurbishment and to S2F for the Biota Holdings Chemistry Laboratory • The 4th National Housing Conference (NHC) will be held at the Perth Convention Exhibition Centre 27–28 October. The theme of the conference is "Building for Diversity" • The Sydney Opera House has been placed on the National Heritage List. The Australia Government and the NSW Government are working towards listing the Opera House on the World Heritage List.
TASMANIA
Sam Aukland has joined Bush Parkes Shugg & Moon • The RAIA Tas Chapter held a continuing education event in July, CE on CE • UTas is seeking a suitable student for a potential postgraduate scholarship.
VICTORIA
Alan Synman is retiring from SJB Architects. He will continue to undertake consultative work for the practice. SJB has appointed Tony Battersby as a director • Jane Williams of Bligh Voller Nield has been awarded a Future Directions Young Achiever Award by the Property Council of Victoria • Victoria University students will build a house at Sunshine Campus incorporating green technology and automation systems • The Victorian Government's new 5-star home energy efficiency rating system has been controversial. Critics include the Energy Conscious Housing Council • RMIT held a symposium in July, "The Politics of Space in the Age of Terrorism". Keynote public lectures were conducted by Daniel Ross, UMonash, and Catherine Ingraham, Pratt Institute, New York. Other speakers included Prof Leon van Schaik, RMIT; Prof Charles Stivale, Wayne State University, USA; Prof Eugene Holland, Ohio State University, USA; and representatives from the Escape From Woomera Collective • The Victorian Government has appointed Lyons to design three "Superclinics" in Craigieburn, Melton and Lilydale • Peckvonhartel has appointed Sam D'Orio as a new design principal in Melbourne • The exhibition, New Trends of Architecture in Europe and Asia Pacific 2004-2005, ran until 17 September 2005 at the RMIT Gallery. Speakers at the exhibition's public lecture, which was chaired by Prof Leon van Schaik, were Kerstin Thompson, Rene van Zuuk, Nobuaki Furuya, Rocco Yim, Grainne Hassett and Elastico • Jeffrey Turnbull gave a lecture entitled "The Architecture of Newman College:Walter Burley Griffin's Dome" in August as part of the UMelbourne Dean's Lecture Series 2005 • DesignInc has appointed Colin Bell as associate director in their retail, hotels and leisure division • Gray Puksand has appointed Paul de Podolinsky and Kevin Edwards as associates. Mark Freeman and Kevin Miles have been appointed senior managers • The Victorian Government has announced that it will appoint a State Architect • The Billard Leece Partnership is commemorating ten years of practice with a book about its work • The City of Melbourne has released a study of the city's street-life by Danish architect Prof Jan Gehl. The study is entitled "Places for People 2004".
AUSTRALIAN CAPITAL TERRITORY
Daryl Jackson Alastair Swayn's building at 8 Brindabella Circuit at Canberra International Airport has been featured in the federal government's recently released ESD design guide for Australian Government buildings • In July Colin Stewart gave Living City lectures at the RAIA ACT Chapter and at the Canberra Museum and Gallery • The Canberra Chapter of the Walter Burley Griffin Society will present Christopher Vernon's lecture "'The Silence of Mountains and the Music of the Sea': The Landscape Artistry of Marion Mahony Griffin" at ANU on 25 October 2005.
SOUTH AUSTRALIA
Woodhead International are designing an apartment complex called Place on Brougham on the landmark Hotel Adelaide site • The Adelaide Festival of Ideas was held 7–10 July • Graeme Hopkins of Fifth Creek Studio has been awarded a Churchill Fellowship and will visit Singapore, Malaysia, Japan, the USA and Canada to research recreated ecosystems on building tops and on vertical walls • Architect John Maitland and builder Ross LangNext You're Home • Lance K Burton FRAIA has passed away.
WESTERN AUSTRALIA
Construction is underway on Considine and Griffiths Architects' conversion of a 100-yearold- plus flour mill into new offices for the East Perth Redevelopment Authority in Northbridge • Fitzpatrick + Partners and NHArchitecture are leading the project design for a proposed $500M office, retail and entertainment development for Westralia Square • Architecture student Robyn Creagh is in Europe working with Barcelona firm Flores/Prats in a work exchange program, sponsored by Sandover Pinder • A team of architects comprising Donaldson and Warn, Sandover Pinder, Palassis and Peter Elliott have been appointed to produce a redevelopment plan for the Old Treasury Buildings in Perth • The Western Australian Department of Housing and Works and the East Perth Revelopment Authority have launched the Building for Diversity design competition. The competition is an open housing design competition for a site in Northbridge. Entries close 7 October • Marc Karol has been appointed an associate director of DesignInc.
QUEENSLAND
Peter Tonkin of Tonkin Zulaikha Greer Architects gave a public talk at the RAIA QLD Chapter on 25 July • Nettleton Tribe are designing Stage 2 of CitiCentral Robina • Prof Michael Keniger has been appointed Deputy Vice-Chancellor (Academic) at UQ • Speakers at the Cairns regional conference in August, On Edge Off Centre, included Jim Birrell, Alec Tzannes, Paul Fairweather, Mick Pearce, Carey Lyon, Marci Webster- Mannison, Bob Nation and Prof Rob Adams • PDT Architects has appointed Ray Pini, Richard Patenaude, Mike Musil and Mike Tod as senior associates, and David Uhlmann and Laurence Taylor as associates • Woods Bagot has appointed Mark Damant as design director and Chris Adkins as business development director • Members of Queensland's Architectural Practice Academy and the Q Build Industries Apprenticeship Programme have collaborated to design, contruct and install a chair at Brisbane's Prince Charles Hospital to commemorate the marriage of Prince Charles and Mrs Parker Bowles • Marvels, an exhibition of competition and unbuilt architecture, runs from 30 October to 2 November. The exhibition has been organized by yarch.Q and will be hosted by the Architectural Practice Academy.
NEW SOUTH WALES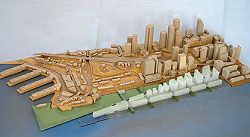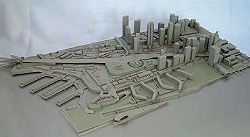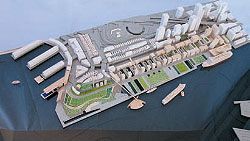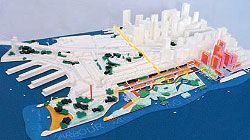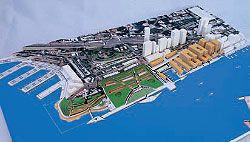 Architectus has appointed director Lindsay Clare to lead their Sydney office • Snell Architects were the architects for the new Mission Australia Centre in Surry Hills, a redesign and redevelopment of one of Mission Australia's men's homeless shelters • Tom Kvan has been appointed Dean of Architecture at USydney • Nettleton Tribe has appointed Glen Mallett and Justin Morgan as directors, and Kirsten Prince, Rita Pereria, Rodney Moyle and Donal Challoner as associates. The Sydney office is currently master planning a new residential community, Cannon Park, on the site of the Cairns Racecourse in Queensland. They will also be designing the Cairns Jockey Club's new racecourse and associated facilites • A consortium including Cox Richardson and DesignInc will build the $360M Chatswood Transport Interchange, creating three residential towers above a new railway station • The deadline for BASIX regulations for multi-unit developments has been extended until 1 October • NSW Government Architect Chris Johnson has left after ten years to take up the newly created position of executive director of urban renewal at the Department of Infrastructure, Planning and Natural Resources, overseeing the Metropolitan Strategy. Peter Mould has been acting as Government Architect since mid- July • Lyons' $50M Building for the Faculty of Law at UNSW's Kensington Campus is under construction • Sandra Kaji-O'Grady has been appointed Head of the School of Architecture in the Faculty of Design at UTS, Sydney • 30 The Bond, designed by PTW in collaboration with Lend Lease, has won the 2005 Property Council of Australia Rider Hunt Award NSW • Brian Meyerson Architects has appointed Justine Reef, Kevin Ng and Michael Hay as associates • Sketches from the drawing board of Harry Seidler and selected photographs of his work were presented in an exhibition at the Tin Sheds Gallery entitled Shaping Space: Drawings by Harry Seidler • Work is underway on the construction of a new facility for the USydney School of Information Technologies designed by FJMT • Johnson Pilton Walker has been appointed to design a new science and collections storage building for the Australian Museum • Sydney Design 05, 9th International Design Festival, was held 6–21 August. The NSW Chapter of the RAIA presented an online exhibition entitled Endangered Species, Lost and Altered Significant Sydney Buildings and screened a selection of influential architecture films; Lawrence Nield of Bligh Voller Nield presented a lecture at USydney entitled "Substance – against a masculine architecture"; and the AAA presented a series of walks and a harbour cruise • The five Stage 1 finalists in the East Darling Harbour Urban Design Competition invited to participate in Stage 2 are: Peddle Thorp Walker; Project Architecture, Hargreaves Associates, and Thom Mayne (Morphosis); Hill Thalis Architecture + Urban Projects, Paul Berkemeier Architects, and Jane Irwin Landscape Architecture; Lippmann Associates, Richard Rogers Partnership, Martha Schwartz Partners, and Lend Lease Development; Lend Lease Design Group.
FIXES
• Nigel Fitton was credited as the design architect in the review of Building 8, Box Hill TAFE (Architecture Australia July/August 2005, vol 94 no 4). Fitton is Design Director at Spowers. He is not a registered architect.
• The coverage of the RAIA WA Chapter 2005 Awards (Architecture Australia July/August 2005 vol 94 no 4) contained a transcription error. The architect of the Rupert Street project, winner of a Residential – Alterations and Additions Award, is Hillam Architects, not Roel Loopels, who is the photographer.
• Yung Ho Chang points out that the Trade "couch session" in the last issue (Architecture Australia July/August 2005 vol 94 no 4) contained a number of transcription errors. The environmental activist, Liang Congjie is the son of Liang Xicheng. The population of Beijing is 18 million not 80 million.