INTERNATIONAL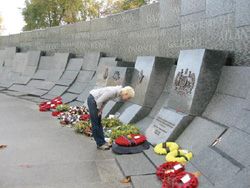 At a Rememberance Day dedication service, the Queen and Prime Minister John Howard unveiled the Australian War Memorial in London by Tonkin Zulaikha Greer and Janet Laurence • Allen Jack + Cottier working with Kellogg Brown and Root received the highest score and equal second place in the international competition for the design of the 2008 Beijing Olympic Sailing Base in Qinqdao (note: no first prize!)
American Fulbright Senior Scholar Dr Jawaid Haider will be studying at the University of Adelaide teaching a course in 20th Century Architecture and Landscape Architecture and conducting research in the design of engaging environments for children • Eight Australian architects have visited China as winners of an RAIA/Austrade sponsored competition. A second tour is planned for February • Woodhead International has been commissioned to masterplan China's Boshan district in association with the Tongji University in Shanghai • Visit Interbuild 2004, 25–29 April, National Exhibition Centre, Birmingham UK • ICOMOS International Scientific Conference will be in Budapest, Hungary, 22–28 May, 2004.
NATIONAL
The Year of the Built Environment 2004 has been officially launched by the Governor-General • The 1:1 Seductions symposium, part of the YBE 2004 initiatives, will be in Brisbane at QUT, 25–26 March chaired by Prof Steffen Lehmann, and in Sydney at USYD, 29–30 March chaired by Prof Tom Heneghan • The National Museum of Australia recently received two awards from the Concrete and Cement Association of Australia. In the Public Domain Awards, the NMA was awarded Best Overall Winner and Precincts Winner for the Garden of Australian Dreams • Ian McDougall (ARM) has been awarded the Centenary Medal by the Governor-General • Allen Jack + Cottier and Kogarah Council were recently awarded the 2003 TAS/Francis Greenway Society Green Building Awards Gold Medal for the innovative use of building integrated photocoltaic cells and extensive water recycling in the design of Kogarah Town Square • Bookings are now being received for the 2004 Glenn Murcutt International Architecture Master Class from 11 to 25 July 2004 • Stella de Vulder, National Manager Public Relations + Events, has left the RAIA after a very long association with the National Office and the NSW Chapter • 2004 Banksia Environmental Awards, 13 February – 19 March • Register now for the Interior Design Awards Australia, go to www.interiordesignawards.com.au • 2004 ASI Steel Awards – NSW & ACT, call for entries • The RAIA warns that do-it-yourself renovation projects may be unsafe. Of all inspections carried out in Queensland, 23 per cent were illegal.
VICTORIA
Robert Watson of Robert Watson Architects has won the RAIA/Lockwood Security Products Design a Lever Competition • Chris Hayton, Angelo Pignalosa and Bruce Ratcliffe have been made associates and Penny Stokes has been appointed as the interior design manager at Rothe Lowman Architects • Neometro has appointed Karen Alcock as a director • Lab Architecture Studio in association with Bates Smart have won the urban design category at the Cityscape 2003 Awards for Federation Square and Best Gallery and Exhibition in the FX International Interior Design Awards for the design of the NGV Australia • ARM have been appointed architects for a major new cultural project on Melbourne's Southbank Arts Precinct • Documentation of the revamped Melbourne Central shop-till-youdrop centre is almost complete and construction is underway in several parts of the site • King Street Wharf has been submitted for Development Approval and is presently being advertised • Lend Lease has launched Park Terrace, the first mid-rise garden homes for inner urban Melbourne • Melbourne designers Marnie Rudd and Duncan Ward of Satelight Design exhibited at the Milan Furniture Fair after winning airline tickets in The Sydney Morning Herald's 2002 Young Designer of the Year award • Hayball Leonard Stent have won the 2003 Maroondah Urban Design Awards, Best Non- Residential Design, for the new Senior Student Centre at Yarra Valley Grammar • Joe Rollo is writing a book on concrete architecture in Australia entitled Concrete Poetry • RMIT University's Centre for Design in conjunction with Natural Integrated Living have launched Ecospecifier, a guide to eco-preferable products • The Victorian Government has disbanded its Urban Design Advisory Council • Steve Thorne has resigned as Director of the Vic Government's Urban Design Unit in the Department of Sustainability and Environment • Michael McKenna recently completed the design and documentation of a new student college at the Victoria University's Sunbury Campus, extending and redeveloping Sunbury Hall which is one of the remaining 20th Century buildings from the Sunbury Lunatic Asylum on Jackson's Hill.
NEW SOUTH WALES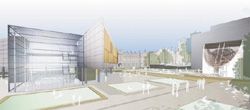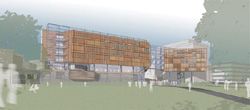 Desley Luscombe has been appointed Dean of Design Architecture and Building at UTS • Parramatta's Civic Place Masterplan has won commendations in the Urban Planning Achievement and the Environmental Planing or Conservation categories in the Planning Institute of Australia (NSW Division) Awards • Bob Nation has left Crone Nation to practise on his own • The PMM Board has announced the appointment of new director Peter Egerton • Nettleton Tribe has won the NSW Urban Taskforce Development Excellence Award for adaptive re-use in development 2003 for its Waratah Mills project • Sydney Architecture Walks (SAW) is joining forces with the Museum of Sydney (MoS) to run a new program of city walks • Rice Daubney have announced the merger of DiCarlo Potts and Associates with their health sector to form a the new business unit Rice Daubney DiCarlo Potts Health • Steven Shaw and Tony Quinn have become shareholders and principals of Rice Daubney. The practice has also appointed Darren Tims as a director. Ron Bridgefoot has been appointed as a director and Benson Abrahams as an associate director of Rice Daubney Di Carlo Potts Health • Philip Coxall has been appointed as a new director of McGregor + Partners • Peter Davidson and Ken Woolley are speaking at the Historic Houses Trusts's Meet the Architects series • Jackson Teece Chesterman Willis have announced their new trading name Jackson Teece • Brian McDonald has been appointed a director of HBO + EMTB and will head their heritage team • Construction Industry Relief and Assistance for Sydney's Homeless (CRASH) will establish its first accommodation in the unused Waverley Woollahra Waste Management Facility in Green Square. The scheme is organised by University of Sydney's Col James • The Migration and Housing Affordability Crisis study has found that Immigration is fuelling Australia's housing frenzy and causing affordability levels to plummet in Sydney • Five positions will become vacant on the NSW Chapter Council in March 2004. Nominations are now being invited from interested RAIA Corporate members • University of Technology Sydney and DesignInc have commenced work on the refurbishment and development of the UTS science faculty and research institute in Ultimo • FJMT have won the Boston Society of Architects Sustainable Design Award 2003 for The Red Centre at the University of New South Wales • The University of Sydney has announced the winners of its Campus 2010 international design competition. The winners are FJMT Architects (Sydney) for the Faculty of Law Building and John Wardle in association with GHD (Melbourne) for the USYD Central, Student Services Building. The joint winners of the Public Domain Project are Jeppe Aagaard Andersen (Denmark) in association with Tinka Sack (Perth) and Turf Design Studio, and Taylor Cullity Lethlean (Melbourne)
A Design Excellence Competition is underway for the addition of a thirty-storey tower and basement carparking to Harry Seidler's Mid City Centre (1982). The work will need to be undertaken while maintaining the operation of the shopping centre. Shortlisted practices are Project Architecture, Bates Smart, PTW, Lyons and Crone Nation.
AUSTRALIAN CAPITAL TERRITORY
The ACT Government has announced a restructure of Community Housing Canberra Ltd (CHC)
The ACT Planning and Land Authority has received an award for its commitment to working with people with a disability, at the inaugural ACT Inclusion Awards.
WESTERN AUSTRALIA
UWA Student Kelly Rattigan won the the Midland Brick Travelling Fellowship • Multiplex has revealed its plans for the Cottesloe Hotel and the Nedlands Park Hotel.
QUEENSLAND
The Queensland Department of Housing's Research House is being used to test and demonstrate new and innovative technologies, building practices and products as part of the Smart Housing initiative • Entries for the 2004 RAIA Queensland Architecture Awards close at midnight on 31 January 2004 • The new Architects Act is now law in Queensland. The new Architects Board is currently drafting regulations • Architectus has launched its new Brisbane office • QUT student Nadia Watson was a runner up in the Royal Institute of British Architects President's Dissertation Medal for 2003. Last year she received an honourable mention in the 2002 Berkley Undergraduate Prize for Architectural Design Excellence • The RAIA/DIA Grass Roots Forum, Design – A Business, has been launced. The forum is in March.
TASMANIA
At the UTasmania architecture graduation exhibition and opening, Lauren Holland received the RAIA Woods Bagot graduation prize. The RAIA Tasmanian Chapter award went to Cameron Clifford. The Terroir third year prize winner was Mathew Hinds • The 2004 Biennial Australasian Student Architecture Conference, States of Mind: Design Evolution, will be held in Launceston and Hobart in July 2004 • The Tasmanian government has released a draft of the Hobart Waterfront Urban Design Framework. The plans for Sullivan's Cove include a new pier and a redevelopment of both Macquarie Wharf and the Brooke St Pier.
SOUTH AUSTRALIA
Entries for the 2004 RAIA South Australian Architecture Awards close on 1 March 2004 • At the launch of the 2004 awards the Chapter welcomed new Chapter Manager Julie Calvert • Experience fantasies of the future home created by Australian and international artists at "Experimenta House of Tomorrow", Artspace, Adelaide Festival Centre 27 Feb – 20 Mar 2004.
Related topics