INTERNATIONAL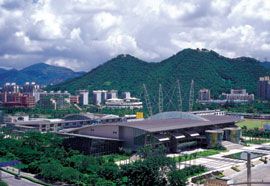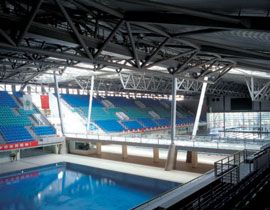 A delegation of more than 25 Australian companies including Bligh Voller Nield and PTW exhibited products and services in the Australian Pavilion at Beijing's Stadia China 2004 in February ›› The international competition to design the National Swimming Centre for the 2008 Beijing Olympics has been won by PTW with Arup and the China State Construction and Engineering Corporation and Design Institute ›› The Cox designed Shenzen Aquatic Centre has opened in preparation for the 2008 Olympic Games ›› Cox are one of two architects short-listed for the $1.2 billion Beijing Convention Centre which will operate as the International Broadcast Centre for the 2008 Games ›› The 1st Architectural Biennial in Beijing will be held from 20 September to 6 October, 2004 ›› DesignInc have won an international design competition for a $750 million mixed use project in Beijing.
NATIONAL
Alexander Tzannes and Robert Nation were re-elected in the 2004 RAIA National Council election ›› Four architects have received Australia Day honours for their services to architecture. They are Laurie Hegvold from Western Australia, Keith Cottier and Kevin Rice from Sydney and Maurice Hurst from Queensland. Maurice Hurst was invested in September 2003 prior to his death in November 2003 ›› At the SONA National Committee meeting in Adelaide, Joshua Waters was elected SONA 2004 President, Florian Heise, Vice President (Finances), and Christian Oliver, Vice President (Communications)
Editor submissions for the 2004 RAIA Sisalation Prize close on 30 April 2004 ›› Entries for the 2004 RAIA Architectural Education Prize close on 25 June 2004 ›› The Australian Architecture Association has been formed. Membership is now open ›› The Biennial Australasian Student Architecture Conference will be held in Launceston, Tasmania, 5–9 July 2004 under the theme States of Mind: Design Evolution ›› In a jointly funded initiative of the Australian Government's Innovation Access Program and a range of private sector partners, a six month study will pinpoint changes in demographics, technology, building and environmental sustainability over the next two decades. The new Housing Technology Road Map aims to provide a picture of how we will live, play and work at home in 2020 ›› The former CEO of the RAIA, Michael Peck, has launched a mediation and conciliation service to guide the resolution of disputes in the construction industry ›› An inquiry by the Planning Institute of Australia has identified a critical shortage of planners in both the cities and regions of Australia. Vacancy rates over the last 3 years have been between 13 per cent and 19 per cent >> Visit DesignEX/Comfia 2004 at the Sydney Convention and Exhibition Centre 22–24 April 2004 ›› Designbuild, the 18th international building and design forum will be in Melbourne, 20–23 June ›› The Interior Design Awards Australia (IDAA) inaugural awards presentation will be held 24 April 2004, in Sydney.
The Dulux Colour Awards Presentation is in Sydney on 21 April 2004.
NEW SOUTH WALES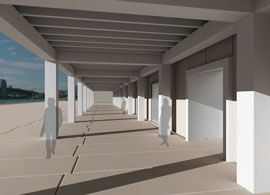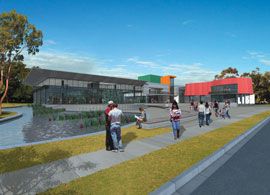 Bob Carr's call for improved housing design at the Sydney launch of the Year of the Built Environment has been supported by the RAIA ›› The construction of a colonnade on the western side of the Sydney Opera House will begin in July. Jorn Utzon is working in collaboration with his son Jan Utzon and Richard Johnson from Johnson Pilton Walker on the project. It is the first exterior structural change to the house since its opening. The work is part of the NSW Government's $69 million venue improvement plan. The $6 million colonnade is more than 45 metres long and 5 metres wide ›› DesignInc have been appointed as architects for Stockland's Bay Village Shopping Centre at Bateau Bay with Bovis Lend Lease ›› Lyons have won the limited design competition for a new building for the Faculty of Law at the University of New South Wales ›› Allen Jack + Cottier have appointed Deena Ridenour as a senior associate and leader of urban design ›› Hilton International has unveiled the Hilton Office Tower. The Johnson Pilton Walker designed building is due for completion in mid-2004 ›› Group GSA's design for a new library at Narellan has won Camden Council's limited design competition ›› A regulatory impact statement on the Architects Act 2003 has been prepared and released for public comment ›› The Sydney City Council has granted approval for the Foster and Partners designed Lumiere at Regent Place, on the site of the former Regent Theatre on George Street ›› Joseph Buch and John Brogan are speaking at the Historic Houses Trust's Meet the Architects series in May ›› Also in May, Paul Memmott will speak on Aboriginal Housing for Indigenous Australia at the Tusculum Talks at the Museum of Sydney ›› The five vacancies on the RAIA New South Wales Chapter Council have been filled by Ingrid Pearson, Andrea Wilson, Graham Bell, Tim Horton and Michael Mandl.
VICTORIA
The Sunland Group have commenced construction of the Wood Marsh designed YVE high-rise development on St Kilda Road ›› Lyons have been appointed by the Victorian State Government to design three "super clinics" on the edge of Melbourne ›› The Victorian minister for education and training, Lynne Kosky, has launched the Design 2004 Exhibition and Awards with a call for entries ›› Bligh Voller Nield has won the architectural advisory role in the $250 million relocation and development of a new Royal Women's Hospital in Melbourne ›› Alex Hotchin has been appointed associate director and Lock Wong has joined as project architect at DesignInc ›› Black Kosloff Knott Architects have been awarded second place in the Buildsmart Sustainable Housing Competition ›› Elliet Spring has won the 2003 RAIA Bates Smart Graduate Prize ›› lab.3000 has launched a new website that offers information and resources to digital design professionals ›› Thirty-nine retailers are now trading from Melbourne's QV ›› The five vacancies on the RAIA Victorian Chapter Council have been filled by Jose Alfano, Robert McBride, John Wardle, Vanessa Bird and Tim Whitfield.
AUSTRALIAN CAPITAL TERRITORY
Jo Metcalf has taken up a position as service group manager at GHD ›› The Peter Hunt Architects designed Canberra International Sports and Aquatic Centre in Belconnen has opened ›› A working group led by Sandy Holloway has been formed by the ACT Government to implement the recommendations of the Shaping our Territory report on the future of non-urban ACT ›› Daryl Jackson Alastair Swayn Architecture + Interiors have been appointed concept design architects for NICTA's 20,000 square metre Canberra office ›› Work has begun on the new advanced instrumentation and technology centre at Mount Stromlo designed by Daryl Jackson Alastair Swayn Architecture + Interiors ›› The ACT planning minister, Simon Corbell, will table a Territory Plan variation that places four of Canberra's first government designed and built houses on the Heritage Register. The Cuthbert Whitley designed houses were built in 1939 ›› The RAIA ACT Chapter's new Chapter Councillors are Geoff Driscoll and Melinda Dodson.
SOUTH AUSTRALIA
Woods Bagot have appointed Thomas Masuallo, Gavin Kain, Andrew Ford and Kathryn Winwood as directors ›› The Stage 1 Inpatient Accommodation building in Woodhead International's redevelopment of the Queen Elizabeth Hospital in Adelaide has opened ›› Peter Petrou and James Sage have been appointed as directors at Cheesman Architects ›› The five vacancies on the RAIA South Australian Chapter Council have been filled by Andrew Vorrasi, Carolyn Wigg, Ross Sands, Mark Wiltshire and Stephen Ward.
QUEENSLAND
Construction has commenced on John Mainwaring and Associates and the Buchan Group's Viridian Noosa. The controversial Noosa Hill project was first lodged for approval in 1997 ›› Russell Hall has decided to run for Lord Mayor of Brisbane and has called on architects for help in his campaign ›› DesignInc have opened a Gold Coast office led by principal Noel Robinson and senior associates Paul Ziukelis and Angela Pernazza ›› Nettleton Tribe have been appointed by joint venture partners, Ariadne Australia and Seymour Group, to design a residential building on the last riverside site in the Admiralty Precinct in Brisbane ›› George Henderson died in December last year, aged 72. His lifelong passion for architecture was practised with Hayes and Scott, Robin Gibson, Harry Seidler, and Philip Cox.
The BRITE Project of the Cooperative Research Centre for Construction Innovation (CRC) has completed six case studies of innovation in the industry. The case studies are presented as short booklets highlighting the lessons learnt by innovators ›› The RAIA Queensland Chapter has elected new Chapter Councillors Ian Mitchell, Bruce Medek, David Neish, Peter Skinner and Leigh Shutter.
TASMANIA
The Hazards, a major new resort for the Freycinet Peninsula designed by Terroir, has been submitted for development approval ›› The five vacancies on the RAIA Tasmanian Chapter Council have been filled by Yvette Breytenbach, Roger Fay, Paul Lan, Peter Scott and Stuart Tanner.
WESTERN AUSTRALIA
As part of its YBE initiatives the RAIA's WA Chapter is calling for submissions for the RAIA MBA Birthmark program. As part of the program, a plaque will be provided and attached to nominated architect-designed buildings listing the architect, the building and the date of completion ›› Woodhead International has been awarded the contract to design the new Adult Biomedical Research Facility on the Queen Elizabeth II Medical Centre (QEIIMC) campus ›› The vacancies on the RAIA Western Australian Chapter Council have been filled by Ian Dewar, Rebecca Moore and David Karotkin.
FIXES
Kelly Ratigan, winner of the Midland Brick Travelling Fellowship, is a UWA lecturer and graduate architect.
Watering Sydney (Architecture Australia Vol 93 No 1, Jan/Feb 2004) omitted individual photography credits. Image 3 on page 79 was taken by Patrick Bingham-Hall. All the other images on pages 78–85 were taken by Richard Glover.
The equal second place in the international competition for the design of the 2008 Beijing Olympic Sailing Base was Cox.