INTERNATIONAL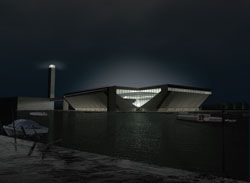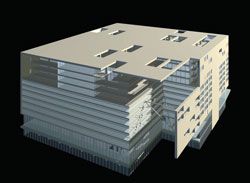 Denton Corker Marshall have seven buildings featured in Phaidon's new Atlas of Contemporary World Architecture ›› Lawrence Nield from Bligh Voller Nield has been commissioned by the Mayor of Venice to design a new stadium for the city's soccer and rugby games ›› Melbourne-based practice Buro Architects have formed a partnership with Donald Holt, formerly of Skidmore, Owings and Merrill LLP New York. Buro and Holt have a number of projects in China including the 14-storey Moonbeam building in Beijing ›› Gerard Lynch, Elizabeth Anderson, Justin Wells, Carolyne Jamieson, Michelle Mantsio, Suzanne Wynter, Troy Chambers and Roslyn Scarcella of Kevin Hayes Architects in Brisbane have won the International Union of Architects (UIA) Celebration of Cities competition for the Asia-Pacific region ›› Melbourne practice FMSA has come equal first in an international urban design ideas competition to transform the rural Chinese island, Qidu, into a town ›› GHD are working on the Women's Quran Centre and the Kassem Darwish Fakhroo Centre in Doha, Qatar. The firm also has two projects in the central business district of Changsha in central China ›› Melbourne-based UrbisJHD is designing a 120 square kilometre redevelopment of the Chinese city Tiajin-Tangu ›› Hayball Leonard Stent have been awarded the Hong Kong Australia Business Association's 2003 Victorian Pearl Award for Business Entrepreneurial Achievement ›› Cox has been announced as the winner of the Qingdao Olympic Sailing Regatta, the sailing facility for the 2008 Beijing Games.
NATIONAL
RAIA President David Parken and Lindsay Johnston, the chairman of the RAIA National Environment Committee, appeared before the House of Representatives Standing Committee on Environment and Heritage during its Sustainable Cities 2025 Inquiry ›› Architectus staff John Norman, Jane Priest, Bob Standen, Diana Griffiths, Stewart Verity and Peter St Clair have been elevated to associate ›› Life Fellowships of the RAIA have been awarded to Hobart architect and former Tasmanian Chapter President Garry Forward, and Melbourne architects Ian McDougall and Peter Corrigan. Photographer John Gollings has been made an Honorary Fellow of the RAIA ›› John Doggart, an architect and engineer based in Britain, and Australian architect Danielle McCartney, are speaking about "Profiting from Sustainable Communities" in the RAIA National Seminar Series on sustainability in the built environment. Organized with the support of the Australian Greenhouse office, the seminars will be held in all capital cities in the last week of May and the first week of June ›› Richard Goodwin has won this year's Helen Lempriere Scupture Award with Prosthetic Apartment B. The shortlist includes meme by landscape architects Phin Murphy, Marie Sierra and Jim Sinatra, and Cocoon by architects Cat Macleod and Michael Bellemo ›› Mexican landscape architect Mario Schjetnan, Catherin Bull, Michael Keniger and Chris Johnson are keynote speakers at 200 Mile City: Designing a Sustainable Urban Future, the Australian Institute of Landscape Architects conference in September. Held in Brisbane, the conference will explore "the possibility (or reality) of one city, stretching from the Tweed in Northern NSW to Noosa in Queensland, enveloping the region's most valuable assets – its coastal landscape, open spaces and local communities." ›› Entries for the RAIA Architectural Education Prize, awarded to a person who has made an outstanding contribution in architectural education, are due 25 June.
NEW SOUTH WALES
Allen Jack + Cottier have appointed director Glynn Evans as Managing Director ›› Ken Maher has been appointed design director for Westpac's new headquarters fit-out in Sydney. Hassell are working with Geyer Design and DEGW on the project ›› American Hank Dittmar and Australian Professor Peter Newman presented their ideas on Sydney's Public Transport Future in the third talk of the Year of the Built Environment 2004 City Talks series in April ›› The NSW Parliment Standing Committee on Public Works has tabled its Report into Energy Consumption in Residential Buildings ›› The Landcom 2004 Lower Hunter Civic Design awards have been officially launched ›› Woodhead International's retirement facility at Campelltown, part of Landcorp's 10.5 hectare Park Central development, has received Development Approval ›› Beatriz Colomina, well-known author and director of Princeton University's School of Architecture, is a keynote speaker for the Biennale of Sydney. She will also speak at the YBE2004 City Talk series on Media + Architecture ›› The Parramatta City Council has called for Expressions of Interest for a major urban redevelopment, Civic Place ›› In a RAIA proposal to improve housing design and sustainability no new home could be sold in New South Wales without advertising its energy and water efficiency score ›› Five firms have entered Australand's competition for its Balfour Park project on the site of the former Kent Brewery ›› Joseph Paonessa has joined HBO+EMTB as a director ›› Catherine Evans, the former RAIA Victoria Professional Services Manager, is now the RAIA National Education Manager ›› Nick Colliss-George is the new RAIA NSW Chapter manager ›› Randwick City Council has launched its Inaugural Urban Design Awards. The jury comprises UNSW Professor Alexander Cuthbert, Ken Maher and NSW Government Architect Chris Johnson ›› Bates Smart have won the City of Sydney Design Excellence competition for a 35-storey high rise commercial building to be built over Harry Seidler's Mid City Centre at 420 George Street.
WESTERN AUSTRALIA
Kent Lyon has received a Western Australian Business News 40under40 Award.
VICTORIA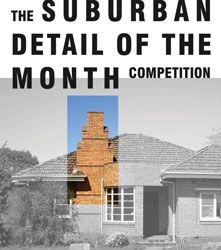 Glenn Murcutt and Wendy Lewin have designed five houses for the Moonlight Head resort on the Great Ocean Road ›› The Architects Registration Board of Victoria has launched the Architectural Services Award ›› Bird de la Coeur Architects' Mt Eliza House won the Building and Design Award in the Victorian Coastal Awards for Excellence 2004 ›› Luisa Caelli Drent has established a new practice Drent Interiors ›› The Rexroth Mannasmann Collective convenes The Surburban Detail of the Month Competition on the last Wednesday of every month at Fitzroy's Old Colonial Inn ›› Melbourne based practice s-architecture is changing its name. Stuart Harrison and Graham Crist's practice is now called Harrison & Crist ›› David Sydes won the inaugural FMSA Award for the best graduate of the University of Melbourne's Architecture and Planning Construction course ›› Bruce Henderson Architects' Deco Tower development on the site of the former Victorian Police Headquarters has been completed ›› ConnectEast, one of two bidders for the Mitcham-Frankston Freeway, have selected Wood Marsh and Tract to design the freeway sound barriers, pedestrian bridges and landscapes, should ConnectEast be the successful bidder ›› Rob Stent is the new RAIA Vic Chapter president ›› The City of Port Phillip's Seventh Design and Development Awards have been announced. Cocks Carmichael won Best New Single Dwelling for 183 Beaconsfield Parade. Best New Development 2–3 Units went to 89 & 89a Mitford Street, Elwood, by Bojan Simic Architecture. Best New Development of 4 or More Units went to BAU Brearley Architects + Urban Designers for 102 Barkly Street, St Kilda. Best Non- Residential Development Design was won Dennis Paphitis with Six Degrees Architects for Aesop, St Kilda. Perkins Architects won Best Refurbishment of an Existing Development for the Cosmopolitan Motel, Kilda. Best Sustainable Development (large scale) was won by Roger Dalling of Woods Bagot for Toyota Corporate Headquarters. Sonia Kras won Best Contribution to Sustainable Development (small scale) for 15 Foster Street, St Kilda. Best Urban Art went to Buro for the Perforated Metal Screen, Rouse Street, Port Melbourne.
SOUTH AUSTRALIA
DesignInc Adelaide have appointed David Cooke and Tim Ross as directors ›› Woodhead International has completed the conservation and development of the circa 1876 Kent Town Brewery buildings ›› Professor Mads Gaardboe is replacing Gini Lee as Head of School at the Louis Laybourne Smith School of Architecture and Design at USouth Australia ›› Mulloway Studio has formed Mulloway Fisher as a collaborative association with Dr Kenn Fisher ›› Totalspace Design are working on a new control room at the Mount Gambier Prison ›› Woodhead International has designed a fully demountable, single skinned fit-out for The City of Onkaparinga ›› Paul Downton, of Ecopolis Architects, has been elected to the Development Assessment Panel of the Adelaide City Council as an independent expert on heritage and environment.
QUEENSLAND
An exhibition of Patrick Bingham-Hall's photos entitled A Short History of Brisbane Architecture opens at the Museum of Brisbane on 28 May ›› Alfred Laspina has started his own Brisbane-based practice ›› Wayne Petrie has been appointed Queensland Chair for the Year of the Built Environment steering committee by the Department of Public Works ›› The inaugural "Casuarina Beach Sculpture Walk" is on until 2 May ›› UQueensland has appointed Pedro Guedes as a senior lecturer in design and technology ›› Anthony Gall has returned from his practice in Hungary to take up a lecturing position at UQueensland ›› Paula Whitman is the new RAIA Queensland Chapter President ›› Kathi Holt-Damant has hosted a joint Masters project at UQueensland with ten postgraduates from Columbia University, NY ›› Australians Kerstin Thompson, Mark Burry, Peter Sheehy, Shane Thompson, Ian Ainsworth and Stephen Kajewski joined Ludwig Wappner (Munich), Franz Sumnitsch (Vienna) and Georg Gewers (Berlin) as speakers at 1:1 Seductions: A liaison between the disciplines of architecture and engineering, a symposium organized by QUT Professor Steffen Lehmann ›› Anthony Fitzgerald, FRAIA, was recently killed in a flying accident. The longstanding moderator of the Sole Practitioners Group, he is remembered as a quiet achiever and a driving force in making the needs of sole practitioners known to the wider profession ›› Kathi Holt-Damant and Steffen Lehmann are organizing art+arch infinite. A collaborative exhibition project in to be held in September in Brisbane, it will involve both well-known, and still un-known, artists, architects, urban planners and landscape architects and is supported by Brisbane City Council, Arts Queensland, Brisbane Festival, RAIA and South Bank Corporation.
TASMANIA
John Harrs has joined DesignInc and heads the firm's interior design department ›› The Port Arthur Historic Site, in association with Australia ICOMOS, Tourism Tasmania and the Sustainable Tourism Cooperative Research Centre, will host the Australia ICOMOS Annual Conference at Port Arthur in November on the theme "Loving it to Death: Sustainable Tourism at Historic Places" ›› The Tasmanian Minister for Education has opened DesignInc's Early Years Facility for the Friends' School ›› Richard Leplastrier joined historian Henry Reynolds, novelist and journalist Danielle Woods, Indigenous writer Greg Lehman and writer, poet and environmentalist Pete Hay to discuss "The culture of settlement in Tasmania" at Designate Cranbrook, the RAIA's March "camping conference".
NORTHERN TERRITORY
The Northern Territory Government has announced that it will appoint a Government Architect to mark the Year of the Built Environment ›› Sunbuild has lodged a DA for a 33-storey residential apartment tower in the CBD by Gold-Coast-based practice Burling Brown ›› Peddle Thorp has completed stage 1 of the 5-stage expansion of the existing Darwin Convention and Exhibition Centre.
AUSTRALIAN CAPITAL TERRITORY
A joint initiative between the ACT Government and Aboriginal and Torres Strait Islander Services will contribute $870,000 to expand the Aboriginal and Torres Strait Islander community housing in the ACT ›› The Architect's Bill 2004 has been introduced into the ACT Legislative Assembly ›› ACT Planning Minister Simon Corbell has launched the Canberra Spatial Plan.