International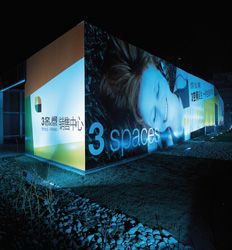 Bligh Voller Nield have been shortlisted in an international design competition to redevelop the Noumea Airport • Richard Leplastrier has won the Finnish-based biannual Spirit of Nature Wood Architecture Award. He received the award at a ceremony in the Sibelius Hall, Lahti, Finland • Hayball Leonard Stent have received The Chinese Art of Architecture Award from The Ministry of Culture, People's Republic of China, for their 3 Spaces project in Beijing • Lab architecture studio have been shortlisted to design the $33 million Nottingham Centre for visual and live arts in the United Kingdom • Woodhead International's refurbishment of the East Hall food and retail precinct at Hong Kong International Airport has been launched • Sean Godsell's FutureShack has opened at the Cooper-Hewitt National Design Museum in New York • Arup have won the Bentley Award of Excellence for their 3D design of the National Swimming Centre under construction for the 2008 Olympics in Beijing • GHD Canberra have picked up the design and documentation of the Wellington High Commission in New Zealand.
National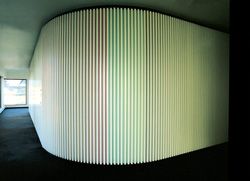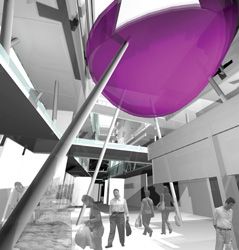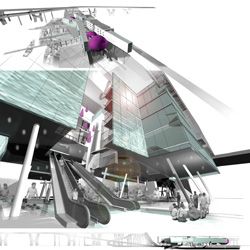 Warren Kerr has become the RAIA's 65th National President • Che Wall has been named the Prime Minister's Environmentalist of the Year in the Banksia Environmental Awards • RAIA Professional Risk Services have announced that from 30 June 2004, the new insurer of the RAIA Professional Indemnity Facility is Suncorp Metway Insurance Limited (Suncorp) • The Australian Copyright Council has released the book Architects: Copyright & Moral Rights • Eugene Chieng from RMIT University has won the 2004 Colorbond Steel Biennale Prize. Andrew Byrne and Davin Smith from Deakin University were highly commended • In June, the ABC's George Negus Tonight profiled Harry Seidler and featured the practices of John Wardle, Robert Morris-Nunn, Gregory Burgess, and Richard Goodwin • PTW Interiors have won the 2004 Dulux Colour Awards Grand Prix for their South Sydney City Council project. The project also won the Commercial Interior category of the awards. Category winners are: Commercial Exterior: DesignInc for the Australian Phenomics Facility. Residential Interior: Staughton Architects for the Brunswick Annexe. Residential Exterior: Robert Nation Architect for Nest Apartments. Public Space and Temporary Structure: Endra Che-Kahn and Marco Mattucci for "Safe Between Us" • The winner of the inaugural IDA award for Interior Design Excellence and Innovation is Lab architecture studio in association with Bates Smart for the Ian Potter Centre, NGV Australia. The project also won the Public/Institutional Interior category of the awards. Category winners are: Corporate Interior: Harmer Architecture, Budd Street Office. Retail Interior: Tobias Theodore, Precision Flooring. Hospitality Interior: Carr Design, Hilton Adelaide, Victoria Ballroom. Refurbished Residential Interior: Cassandra Fahey, Chameleon; and Marsh Cashman Architects, White House. New Residential Interior: John Wardle Architects, City Hill Residence. Apartment Interior: SJB Interiors, Melbourne Penthouse • Over 300 participants have taken part in a nationwide consultation into Australia's planning system. The consultation centres on the "Draft Leading Practice Model for Development Assessment" produced by the Centre for Developing Cities at the University of Canberra commissioned by the Development Assessment Forum • Timothy Hill, Chris de Campo and John Mainwaring spoke at the Cement and Concrete Association seminar series "The Iconic Concrete Home" in June • The 2004 RAIA Sisalation Prize has been won by Associate Professor Susan Savage, QUT; Dr Paula Whitman, QUT; and Louise Wallis, University of Tasmania • Phaidon have selected 10 architects for the latest edition of 10 x 10 from a shortlist of 15 selected by Davina Jackson. They are Lyons, Tom Kovac, FJMT, Minifie Nixon, Architects Patterson, Dale Jones-Evans, Kerstin Thompson, Merrima, John Wardle Architects and Lacoste Stevenson.
New South Wales
Tanner Architects' restoration of the Female Orphan School on the Rydalmere campus of the University of Western Sydney has won the Parramatta City Heritage Awards • Xing Ruan has been appointed professor at UNSW • At the Randwick City Council's inaugural Urban Design Awards, Nettleton Tribe's project at 221–223 Clovelly Road, Clovelly, was awarded in the Residential – Multi-unit Housing – New Residential Flat Buildings category • The Parramatta City Council has acquired Macquarie House in its consolidation of the Parramatta Civic Place site and has announced the shortlisted companies to be asked to bid to partner the development • The Harvard University Graduate School of Design Australian Alumni Aid Fund has been launched • The 2004 Australian Institute of Landscape Architects (AILA) NSW Award for Excellence in Landscape Architecture has been won by Sue Barnsley's Design for Commonwealth Place, Canberra • The Historic Houses Trust exhibitionRed Cedar: The Tree That Built a Nation has opened at the Museum of Sydney • Metro D Architects have moved into a new space on the Jones Bay Wharf in Pyrmont • Woodhead International have received Development Consent for the Knightsbridge Tower residential project in Newcastle • Kevin Rice and Swetik Korzeniewski are speaking at the Historic Houses Trust Meet the Architects series in July and August respectively.
Western Australia
Prof Laurie Hegvold has won The Architects Board of WA Board Award for 2004 • Environment Minister Judy Edwards has called for nominations for the SGIO 2004 WA Environment Awards. The State Government encourages individuals, companies, schools, businesses and community groups to enter across 13 categories.
Victoria
GollingsPidgeon have received bronze awards at the Melbourne Advertising and Design Club (MADC) Awards for Best Book Design for Judging Architecture: Issues, Divisions and Triumphs, Victorian Awards 1929–2003 and Best Signage/ Environmental Design for the Melbourne Central Retail Leasing Suite • The shortlisted entries for Victoria's State of Design Festival that will make up the Design 2004 Exhibition were announced on 13 May. The entries include Allan Powell Architects for the Tarrawarra Museum of Art, Ashton Raggatt McDougall for the Shrine of Remembrance Visitors Centre, BURO Architects for The Botanical, Cassandra Complex for Chameleon, Cherrey Architecture/Industrial Design for the Stealth Table, Daryl Jackson SKM Lyons for the Victorian County Court, GollingsPidgeon for the Judging Architecture book and exhibition, Jackson Clements Burrows for the Punch Lane Street Canopy and Richmond House, John Wardle Architects and Peter Kennedy for And So….Illumination 1, Lab architecture studio in association with Bates Smart for Federation Square, Nation Fender Katsalidis for the Sidney Myer Asia Centre and Rice and Skinner for Zinc @ Federation Square • Gray Puksand in conjunction with Michael Z. Avramidis have won the Best New Commercial Building and Mayor's Choice Award (Commercial) for Nunawading Toyota in the City of Whitehorse Building a Better City Design Awards • Woodhead International have been engaged by Centrelink to create a new corporate image and service environment and to make their 400 locations more functional • Gray Puksand in association with Bligh Voller Nield have secured the $60 million Bendigo Bank headquarters redevelopment project in Bendigo • Woodhead International have relocated their Melbourne office to Little Bourke Street • Des Smith has been appointed Chair of Architecture at Deakin University • Digital Dreams, Manufactured Realities. An exhibition of tea and coffee sets designed by 22 international architects for Alessi has opened at the Melbourne Museum • Hassell's Activity Centre Structure Plan for the urban-fringe township of Eltham has been released under the new Melbourne 2030 planning policy • The 2004 City of Stonnington Urban Design Award winners are: Best New Residential Development, Single Dwelling: Black Kosloff Knott Architects for Vista Grove, Toorak. Best Heritage Design, Alterations and Additions/Restoration: SJB Architects for Pran Central Apartments. Best New Non-Residential Development: BE Architecture for Wilson Street, South Yarra. The Metropolis Award (landscape, urban art and public spaces): HPA Architects for 700–800 Chapel Street, South Yarra • Black Kosloff Knott Architects are curating the annual Lite exhibition. Registration is open to designers and students to design a light installation for under $25.00.
South Australia
Thea Sarris has been appointed as Team Leader of Urban Design at the Adelaide City Council • Match has begun – a multi-disciplinary-team-based design competition organized by the RAIA Collaborations Steering Committee.
Queensland
Bligh Voller Nield, Hassell, John Wardle Architects with Wilson Architects, and Daryl Jackson Architects have been shortlisted in the design competition for the University of Queensland's Brain Institute • Sydney-based architects Rice Daubney have opened an office in Brisbane • Craig Mecklem has been appointed Retail Designer at PDT Architects • At the Design Institute of Australia (DIA)'s Three – Queensland Design Awards 2004, awards of merit were received by M3 Architecture for Set/Display Design (Paper Wall for the RAIA Queensland State Awards) and Public Art Collaboration (Micro-Health Laboratory at The University of Queensland); Hassell for Interior Design – Corporate (Rotondo Dental Practice); and 1.618 Architecture + Interior + Design for Interior Design – Retail (Guggenheim Hair + Body) • The RAIA Queensland regional awards are now well underway. In Brisbane regional commendations were received by Brand and Slater Architects for Normanby Hotel; John Price and Elizabeth Musgrave for Hilltop Residence, Paddington; Jeremy Salmon Architect for Paddington Residence; Parups Waring Architects for St Margaret's Anglican Girls School Arts Centre Stage 1; HPA Architects for Mossvale Integrated Housing; HPA Architects for Arbour on Grey, Southbank; ML Design Brisbane for Brisbane BMW Showroom; Brisbane City Council – City Design for Nudgee Waterhole; HOK Sport+Venue+Event and PDT Architects for Suncorp Stadium; Project Services for Western Campus, Logan Institute of TAFE; Shane Plazibat Architect for Fig Tree Pocket House; Daryl Jackson for Queensland Bioscience Precinct; Daryl Jackson for Virgin Blue Flight Simulator and Training Centre; Fairweather Proberts Architects for Catalina; Fairweather Proberts Architects for Dig - It Landscapes; Richard Kirk Architect for Cutting Edge; Richard Kirk Architect for Hopkins and Clark; Hassell for Rotondo Dental Practice; Donovan Hill for Taringa 2; Donovan Hill for M M House; Peddle Thorp and Donovan Hill for GPN3 (General Purpose North 3), UQ; Robin Spencer Architects for Story Bridge Hotel; J2 studio for Dunbar; Bickerton Masters Architecture for 99 Brookes Street; James Cutbitt Architects for Defence Housing Authority – John French Estate. On the Sunshine Coast regional commendations were received by Peter Conley and Associates for Sirocco; Ken Down Architects for Golden Eye Clinic; Onedegree for Cooloola Shire Public Gallery; Middap and Ditchfield for Riverfront House; Rhonan O'Brien Architects and Designers for "Montego's on the Bay" Restaurant; Loucas Zahos Architects for Tewantin Retreat; John Mainwaring and Associates for Modica Residence. On the Darling Downs regional commendations were received by Project Services for Toowoomba Police Station; Ehrlich Layton International for Commercial Office; Namoi Cotton, Project Services for Horticultural Facility, South Queensland Institute of TAFE. In Central Queensland regional commendations were received by Dimitriou Architects and Interior Designers for Heron Island Research Station; Peddle Thorp Architects for Gladstone Regional Art Gallery Extension; and Andrews and Girle Architects for Gracemere Exhibition Centre. In Mackay regional commendations went to Peter Conley and Associates for Waters Edge; Peddle Thorp Architects for Mater Private Hospital, Mackay; and Paul Ipson Architects for Whistler Way Apartments. In North Queensland regional commendations went to ML Design Brisbane for Nelly Bay Ferry Terminal; Kerrie Prescott for Ryan Catholic College, Junior Campus. In Far North Queensland regional commendations were received by Brand and Slater Architects for Gilligans Backpackers Hotel and Resort; Peddle Thorp Architects for Peddle Fogarty Park Soundshell; Peddle Thorp Architects for Esplanade Boardwalk Information Nodes; Cox Rayner Architects in association with Tract Consultants for Cairns Esplanade Redevelopment; Insideout Architects for Mija; John Mainwaring and Associates for The Sanctuary, Palm Cove.
Northern Territory
Chief Minister Clare Martin has announced the appointment of Bob Nation as the first Northern Territory Government Architect.
Australian Capital Territory
The ACT Government is setting up a task force to identify strategies to revitalize Civic, ACT • Chief Minister Jon Stanhope has unveiled a model and plans for the new $3.5 million Kippax library designed by Anthony Cooper and Associates • Daryl Jackson Alastair Swayn have received an ACT Environment Award (2004) for their fit-out for the Department of Environment and Heritage in an underground bunker dating from 1944 • The ACT Government has hosted a National Summit on the Future of Australia's Cities and Towns • Expressions of interest have been submitted for the $300 million Defence Headquarters Joint Operations Command at Bungendore • Bligh Voller Nield's Civic Library and Link project will start construction later this year • The AIS is undertaking a $65 million works program. Daryl Jackson Alastair Swayn is currently working on a $12 million upgrade and extension to the existing Sport Science Sport Medicine building.
Related topics