INTERNATIONAL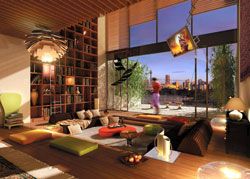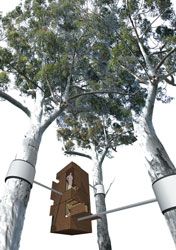 USydney student Adriano Pupilli has won the Barcelona Prize, the travel fellowship in the Berkeley Prize Essay Competition, international undergraduate architecture essay competition run by the University of California, Berkeley • Artist Callum Morton will represent Australia at the Indian Triennale in January 2005. Tomorrowworld transform Le Corbusier's designs for Chandigarh into car parks and golf driving ranges • Allen Jack + Cottier will partner the Beijing Institute of Architectural Design in the Tian Jiang Watersports World design competition • Nettleton Tribe has won an international competition to create a multifunction space for the Wuhan Commercial Bank in China • Melbourne architect Andrew Maynard has been selected as part of the Young Guns exhibition in New York for international designers aged 30 and under • BN Group are collaborating with NZ practice Ignite on a $45M redevelopment of a shopping centre in Palmerston North • With the Australian pavilion going unoccupied at this year's Venice Biennale, Andrew Benjamin is curating a Virtual Pavilion. When we went to print the list of those involved was still under development, but includes: Durbach Block, FJMT, Terroir, Merrima, Room 4.1.3, lab architecture studio, Wood Marsh, ARM, Minifie Nixon, Denton Corker Marshall, Woodhead International, Tom Kovac, John Gollings • Two images by C3D Interactive have been selected for the architectural visualization category of Elemental, an international annual publication of computer generated imagery.
NATIONAL
States of Mind 04, the student conference held in Tasmania in July, was a huge success, with a diverse array of speakers, both local and international • Bryce Mortlock, highly respected architect and former RAIA National President, has passed away in Sydney, aged 82 • Adelaide practice Brown Falconer has won the Hebel Designed for Future Living Competition • Christine Harvey has resigned as CEO of the RAIA • Nominations are now being accepted for the Australia Award for Urban Design Excellence. See www.planning.org.au • 12 September 2004 is National Solar House Day, with public tours of more than 100 open passive solar houses. See www.solarhouseday.com • The Planning Institute of Australia National Congress will be held in Melbourne and Bendigo, 17–20 April 2005. Abstracts are due by 24 November • Entries for the Australian Timber Design Awards close on 11 September • The "Fly Forbo and Fly Free to Europe" interior flooring and surface finishes design competition has been won by John Wardle Architects for the ISPT offices in Melbourne and McFadyen Architects for the Badajoz Aged Care Facility in North Ryde • Australia ICOMOS and the Sydney Harbour Foreshore Authority are planning a joint conference on the theme of Port Cities for 2006 • Peter Corrigan is a keynote speaker at Limits, the 21st annual conference of the Society of Architectural Historians, Australia and New Zealand, in Melbourne, 26–29 September. He joins expat Australian Felicity Scott of the University of California, Irvine, Reinhold Martin of Columbia University – both founding editors of Grey Room – and Dianne Favro, professor of Architecture and Urban Design at UCLA.
VICTORIA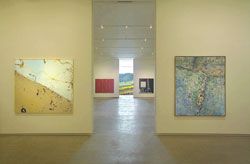 Allan Powell has won the $40,000 Victorian Premier's Design Award for the TarraWarra Museum of Art in Yarra Glen. lab architecture studio won the $5,000 Melbourne Design Prize for Federation Square and a Highly Commended award also worth $5,000 went to Garry Emery Design for the visual identity of the Ian Potter Museum at NGV Australia • A team of 19 academics from UMelbourne, the RMIT Centre for Design and Deakin University has been appointed to carry out a series of ten studies of the environmental features of the City of Melbourne's new Council House 2 building. The studies are supported by a $50,000 research grant, funded by AusIndustry • Reinhold Martin and Felicity Scott will be the keynote speakers at the symposium "The 1970s: Designing Futures" at UMelbourne, 22–24 September • Construction of Elenberg Fraser Architects' Huski luxury apartments at Falls Creek begins in October • The RACV has appointed SJB Architects to develop a facilities masterplan for its Healesville Country Club in the Yarra Valley • Construction has begun in Parkville on the Commonwealth Games athletes village which will also be marketed as an upmarket housing estate • The City of Melbourne has launched Citysounds, a computer programme designed by RMIT's Spatial Information Architecture Laboratory that allows users to travel through a virtual city and listen to its sounds.
NEW SOUTH WALES
UTS architecture graduate Tse-Hui Teh has been awarded a Fulbright Scholarship to study at Columbia University • UNewcastle Visual Communication Honours student Jenni Drayton has won a competition to design a logo for the international Architects For Peace organization • The 1 October deadline for compliance with the BASIX building sustainability index has been extended to 1 February 2005 for multi-unit dwellings • Sydney architect Dillon Kombumerri has undertaken a tour of Europe to explore social housing development, tenant participation and community regeneration. Kombumerri gave lectures in Denmark, Holland and England and visited the Stonebridge community development in London • Kylie Legge has organized ALTS + ADDS, an exhibition of residential renovations on show at Sydney shopping centres including Westfield Bondi Junction,Westfield Chatswood and, from 13 September to 1 October, at Galeries Victoria in the CBD • An exhibition of work from 1994 to 2004 by artist Robert Owen shows at the Art Gallery of New South Wales until 28 November • McGregor Westlake Architecture, Aspect Sydney and Deuce Design have collaborated to win an ideas competition for Jacaranda Square at Homebush • Hurstville Council has approved the Kann Finch Group's DA for the 2.8 hectare Amcor site, paving the way for the construction of six apartment towers and a range of public amenities • Exactly 50 years after Harry Seidler's house of the future was erected in Sydney's Town Hall, six more futuristic homes will be displayed in Hyde Park 5–25 October. Houses of the Future is part of the NSW celebration of the Year of the Built Environment • Sam Marshall is organizing Supermodels, an exhibition of some 200 architectural models, to be held in a warehouse in Chippendale from 8 December 2004 to 22 January 2005. Sydney architects interested in contributing their models should email supermodels@ozemail.com.au • DesignInc, celebrating 50 years of practice in Sydney, has appointed Anthony Quan and Yap Kok Wah as partners • The 2004 UNSW Faculty of the Built Environment Graduand Exhibition will be held at Sydney Town Hall from 29 November to 2 December • The Sydney Olympic Park Authority has established a design review panel, chaired by NSW Government Architect Chris Johnson, to oversee development of the next phase of the Homebush Bay Olympic site • HBO+EMTB has appointed Alex Ritchie as principal designer of interiors • The Planning Institute of Australia NSW state conference will be held from 14 to 17 November in Wollongong • The Bachelor of Landscape Architecture Program at UNSW celebrates its 30th year on 27 November with a gala event to honour the achievements of the programme's alumni • Engelen Moore is to separate. Ian Moore will continue the practice as Ian Moore Architects.
WESTERN AUSTRALIA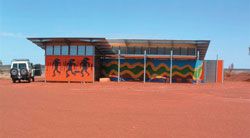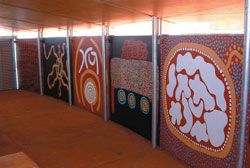 Donaldson + Warn Architects has been awarded the $21 million Secret Harbour Middle School project • UWA have appointed Fiona Hogg, Kelly Rattigan, Andrea Quagliola, Marco Vittino and Philip Goldswain to their architecture staff • The Planning Institute of Australia WA state conference will be held 3–5 November • The Patjarr Visitors Centre, Gibson Desert, by UniSA and UNSW (reviewed in AA Jan/Feb 2004) has been transformed through a community arts project • Donaldson + Warn Architects has recently completed the WA Ecology Centre in Bold Park. Also just finished is a collaborative learning centre at Christ Church Grammar School along with the school's new masterplan for future improvements and development. An advanced computer laboratory, classrooms and a school archive are currently under construction.
SOUTH AUSTRALIA
The RAIA has recommended ten South Australian buildings, including Adelaide Botanical Gardens' Bicentennial Conservatory and the Walter Burley Griffin-designed Hindmarsh Incinerator, to the national register of significant twentieth-century buildings • Danvers Schulz Holland Architects, SJB Architects and SJB Interior Design were the big winners at the Edmund Wright Heritage Awards where they were lauded for their work on the Medina Grand Adelaide Treasury building • Adelaide City Council is running a $35,000 Green Architectural Design Competition • Flightpath Architects are currently working on three separate projects that will celebrate the Adelaide Botanic Gardens' 150th anniversary – the Museum of Economic Botany adaptation, a new Victoria House and a redeveloped Mediterranean Garden • Flightpath are also documenting their sixth inner city community housing project – 15 one bedroom apartments in Hocking Place.
TASMANIA
UTasmania will host the 38th Annual Conference of the Architectural Science Association in Launceston 10–12 November • Henry Jones Art Hotel, part of the redevelopment of the historic Jones & Co. buildings in Hunter Street, Hobart, by Morris Nunn and Associates has opened. The next stage is scheduled for completion in October • DesignInc have been appointed to undertake a masterplan for the St Michael's Collegiate School • A major city-edge mixed-use development in Launceston, seeking to link river edge and the central area, has been lodged for DA by Fender Katsilidis Architects • Barry McNeill, Graeme Corney and Leigh Woolley are among the speakers at the RAIA Tasmanian Chapter seminar "Responding to Heritage". This is in response to a recent Supreme Court ruling that a place may have significant heritage value even though not included in a heritage schedule • Jacob Allom Wade Architects have lodged a DA for a new downtown hotel in Hobart.
AUSTRALIAN CAPITAL TERRITORY
The ACT Government is inviting public comment on the proposal to create a position for an ACT Government Architect • The inaugural Canberra Biennial for Architecture and Design will be held in October 2005. Run by the UCanberra Faculty of Architecture and Design, it has the support of the National Capital Authority and ACT Planning and Land Authority • MGT Canberra Architects has changed its name to Guida Moseley Brown Architects • An exhibition of John Horbury Hunt's architecture is on at the National Archives of Australia until 31 October • The ACT's Legislative Assembly has passed the Heritage Bill 2004 • New on-campus student accommodation at Canberra Institute of Technology designed by Bill Szydlik Architects has opened. Bill Szydlik Architects are also currently working on a $5.6M Sports Development and Education Centre and new Administration Building for the Australian Institute of Sport • GHD has been engaged by the ACT Government to investigate future uses and site options for John Andrews' Callam Offices,Woden • Canberra's busiest bus interchange – Woden – will undergo an $8.5M upgrade in 2005 • Ten years of planning for a prison in the ACT has moved forward with an expression of interest called for a design consultant • The currently mothballed Anzac Park West will be refurbished as the Australian Federal Police's new headquarters. GHD continue with the design up to the tendering of a D+C contract • Munns Sly Architects have been appointed as design architects for the ACT Multicultural Centre to be located in the North Building.
QUEENSLAND
A masterplan for new works in the Southbank precinct has been released, including a concept by Denton Corker Marshall for a boutique hotel replacing Southbank's existing restaurant boardwalk, which was left over from Expo 88 • A site opposite the Brisbane Convention Centre (the Mazda site) has been won by the SW1 consortium using Cox Rayner as master architect with buildings by Innovarchi, John Mainwaring, Haysom Architects and m3architecture • Alex Selenitsch's exhibition Shreds, Cuts & Tears, Brushmarks showed at the Grahame Galleries in August • John Wardle Architects and Wilson Architects have won the design competition for UQueensland's Brain Institute • Following the recent retirement of John Blanshard, Conrad Gargett Architecture has appointed four new directors – David Peters, Rebecca Moore, Leanne Conley and Lawrence Toaldo – to join Managing Director Bruce Wolfe • Architectus Associate Director Caroline Stalker has been appointed as chair of the Urban Design Alliance of Queensland • Sarah Foley and Suzanne Bosanquet have joined forces to create Bosanquet Foley Architects, located in Brisbane • Bligh Voller Nield has completed the new Gold Coast City Council Chambers • The University of the Sunshine Coast has awarded lifetime Honorary Senior Fellowships to Lindsay and Kerry Clare, directors of Architectus • The Department of Primary Industries at Parkhurst hosts the Sustainable Tropical Architecture Forum on 6 October as part of the YBE programme • Woodhead International will design the new $4M Hervey Bay airport terminal • Susan Mezger of QUT won the 2003 DesignInc Dux of Architecture Prize for Sustainability • The RAIA conference "Making a Difference: The Social Conscience of the Architect" will be held 10–11 September. Speakers include Norman Day, Kevin O'Brien, Greg Burgess, Esther Charlesworth and Kevin Hayes • Nettleton Tribe has been appointed by QIC to design their new office building in Robina • Brisbane City Council's Brisbane Design architectural team has won the Queensland Heritage Council gold award for its restoration of the Brisbane City Hall dome • Cool: The 60s Brisbane House, curated by Tracey Avery and Peta Dennis, showed at the QUT Art Museum in August.
FIXES
Three errors were made in transcribing Peter Myers' obituary for Rory Spence, which altered its meaning. Two words were omitted from the second and third sentences.
These should have read: "In February 1986, Rory prepared a composite plan of an Aboriginal rock engraving site near Sydney. First, in pencil on drafting film, Rory laid down survey data defining the rock platform and then, with infinite patience, he drew in the dozens of figures, rubbing grooves and indented lines of this vast and ancient composition." We also failed to italicize exactly, in the description of his drawing each caterpillar track indentation. Our sincere apologies.
• Some of the data in the charts accompanying Paolo Tombesi's essay in the last issue contained errors. Columns 1 and 3 with the GDP should have had dots in place of the second comma, or millions rather than billions. Column 5, average annual growth, was 1990–2002 rather than 1990–1992.