INTERNATIONAL
Opening the door, Australia's Virtual Pavilion for the Venice Biennale, is up and running at www.venicebiennaleaustralia.com. John Gollings is project director and Andrew Benjamin is curator. Hosted by RMIT's Lab 3000, the virtual exhibition was designed by David Pidgeon, with pavilion architecture by Tom Kovac, pavilion interiors/images/web by Daniel Flood and David Liao, and organizational help from Davina Jackson. Exhibiting architects are: Ashton Raggatt McDougall, Durbach Block, FJMT, Merrima, Minifie Nixon, lab architecture studio, Room 4.1.3, Terroir, Woodhead, and Wood Marsh • PTW Architects and their Chinese partners CSCEC + Design won the Atmosphere section of this year's Venice Biennale for the Beijing 2008 Olympics Aquatic Centre • lab architecture studio have opened a Beijing office. Their current China projects are a 170,000 sq metre, $115M office and retail complex for Soho China in central Beijing, a 33,000 sq metre public customs office building in Qingdao, a large masterplan in Tianjin and two residential towers in Chongqing • lab has also been shortlisted for the new Museum of Bristol • Mark Burry curated Melbourne Hotspots, which represented Australia at the Architecture Biennale Beijing. Participating firms were: Bellemo & Cat, Black Kosloff Knott Architects, Cassandra Complex, Kerstin Thompson Architects, lab architecture studio, Metraform, Minifie Nixon, Paul Morgan Architects, Pia Ednie-Brown, and Resonant Designs • John Taylor won an Award of Distinction in the UNESCO Asia-Pacific Heritage Awards for Culture Heritage Conservation for his work on the Church of Our Lady of Mount Carmel in Mullewa,WA. Tanner Architects' conservation and adaptation of the 190-year-old Female Orphan School, UWestern Sydney, Parramatta campus, received an Honourable Mention.
NATIONAL
The RAIA has published TAKE 3 – The Double Dimension: Heritage and Innovation, edited by Jennifer Hill, with essays by Susan Macdonald, Wessel de Jonge, Jennifer Hill, Philip Goad, Neville Quarry, Alec Tzannes, Howard Tanner, Lindsay Clare, Andrew Andersons, Mariolina Toniolo, Elizabeth Farrelly and Graham Jahn • The Ministerial Council on Energy has agreed in principle to the implementation of nine policy packages over three years as the first stage of the National Framework for Energy Efficiency • The Perth and Darwin practices of Spowers have become part of Hassell's national practice • Ross Clark is the RAIA Acting CEO • Bates Smart announced the following promotions: associate directors – Sheree Proposch, Philippa Sutton, Andrew Francis, Natalie Lane-Rose, Luisa Watson; associates – Andrew Colangelo, Martin Allen, Hamish Cant, Geoff Cosier, Erica Lienert, Esther Mavrokokki, Robert Moore, Sarah Whyte • The winners of the YBE2004 Exemplars Program will be announced on 23 November at the Sydney Opera House • Sinclair Knight Merz has developed a new Sustainability Assessment Tool • The revised Australian Architecture Program Accreditation and Recognition Procedure, September 2004 has been announced.
VICTORIA
Peter Brew and Simone Koch have joined Architectus's Melbourne office as project architects • The YBE Ball 04 – Celebrating Victoria's Buildings, Places and Spaces is on 3 December at the Royal Exhibition Building • Luna Park's heritage-listed Scenic Railway is open again, restored and upgraded by FMSA Architects • VicUrban and the RAIA Victorian Chapter has launched the Affordable Home Design Competition. Architects are asked to design a two/three bedroom, single-storey, sustainable, 120 sq metre house that can be built for $120,000 and incorporated into a house and land package of no more than $200,000 • Expressions of interest close on 9 November for the new Melbourne Convention Centre Development, to be built on the banks of the Yarra, adjacent to the Melbourne Exhibition Centre • Elenberg Fraser has appointed Karl Engstrom as senior associate and Cassian Lau as associate • Frankston City Council has established a Design Review Panel. Members are: Dimity Reed (Chair), Stuart Niven, Peter Droege, Simon Lloyd, Carol Atwell and Louis Sauer • At the National Association of Women in Construction Vict/Tas Chapter Awards, Erica Lienert of Bates Smart won the Basset Kuttner Collins Award for Outstanding Achievement in Design. The Bovis Lend Lease Award for Outstanding Achievement in Construction went to Rachael Lambert of Baulderstone Hornibrook. Bovis Lend Lease's Claire Ridding and Lisa Okkonen received the Major Projects Victoria Award for Outstanding Achievement in Development • A draft programme has been released for The EcoEdge: Urban Environments or Urban Disasters? To be held in February, the fourth of the CityEdge International Urban Design Conference Series includes Michael Sorkin, Jan Gehl, Shigeru Ban, Enrique Penalosa, Mick Pearce, Che Wall, James Grose, John Wardle, Greg Burgess and Gabriel Poole • lab architecture studio are designing Artbank's Melbourne showroom, and have two new residential commissions • The Architects for Peace forum will be launched on 4 November in Melbourne.
NEW SOUTH WALES
The new reception hall at the Sydney Opera House, by Jørn Utzon in collaboration with Jan Utzon, and Richard Johnson of Johnson Pilton Walker, is complete • The NSW Goverment has disbanded the Urban Design Advisory Service, a specialist unit charged with lifting the quality of urban design • Cox/Tzannes, architects in association for Australand, won the Balfour Park Competition for the Carlton United Brewery site masterplan • Alexander Tzannes Associates won a limited competition for redevelopment of the Potts Point Post Office site. They also won the competition for the new gallery for the National Art School in Darlinghurst • Greg Lynn hosted a YBE CityTalk on "Houses of the Future" • Louise Cox has been reappointed to the NSW Professional Standards Council • At the NAWIC NSW Chapter Awards, Laurel Robinson of Bovis Lend Lease won the Arup Innovation Award and the CPG Australia Award for Achievement in Design for 30 The Bond, and Leah Cleary of Bovis Lend Lease won the Multiplex Award for Achievement in Construction, also for 30 The Bond. The Sinclair Knight Merz Award for Achievement in Development went to Natalie Borozan of Multiplex Developments for the KPMG Tower, Kings Street Wharf • Graham Jahn won House of the Year at the Belle Magazine awards for a home at Kutti Beach. MC2 Design and Interiors won Apartment of the Year for the refurbishment of an apartment in the Manar Building, Potts Point • Parramatta City Council has asked its four shortlisted private sector partners to begin working on their design and development concepts for Civic Place, the $1 billion gateway complex to Parramatta CBD. Shortlisted bidders are: Grocon, Bovis Lend Lease, Leighton Properties/James Fielding Group/Industry Superannuation Property Trust, and Multiplex Constructions • Professor Xing Ruan presented his inaugural professorial lecture, "The Character of a Building – Paul Cret's Human Analogy, and the Architecture of Louis Kahn and Yang Tingbao" at UNSW • Barcelona architects Flores Prat Architects spoke at UNSW in September • Group GSA is working on a $6.5 million Regional Gallery Museum and Cultural Centre for Dubbo, won in a limited design competition • USydney architecture students Ross Langdon, Alex Nichols, James O'Neill and Hamish Watt have won the inaugural SuperStudio $5,000 Competition • DesignInc has appointed Chalong Phijidvijan as associate director • Lynn Osmond, President and CEO of the Chicago Architecture Foundation, was guest speaker at the NSW Country Division's convention • The NSW Department of Commerce won NSW Project of the Year in the Project Management Achievement Awards for the relocation and construction of the State Debt Recovery Office in Lithgow • DesignInc+TGP have begun work on the new John Hunter Forensic Medicine Facility in Newcastle • The Trilogy Integrated Communication Group has surveyed 200 Sydney residents on attitudes to property development. There was support for development in general, especially residential development, but concerns about sustainability, affordability, multi-storey projects and community consultation, particularly with regard to local councils • Allen Jack + Cottier has appointed director Glynn Evans as managing director, as part of its policy of rotating the role • At the Inaugural Northern Rivers Urban Design Awards, the Commercial Award for Design Excellence went to Kovalan for Rainforest Ridge residential development in East Ballina. Tweed Shire Council won the Government/Community Award for Design Excellence for Tweed River Art Gallery at Murwillumbah, with Bud Brannigan as architect. Three Merit Awards were made: Ballina Shire Council and Environmental Landscapes for Fawcett Park Waterfront Redevelopment, Ballina; Geolink in conjunction with Northern Rivers Regional Strategy for "An Investigation Into The Desirable Characteristics Of Villages In The Northern Rivers Region"; and Tweed Shire Council in conjunction with the Tweed Heads Taskforce for Tweed Heads Town Centre Masterplan.
WESTERN AUSTRALIA
Jones Coulter Young are the architects for the new library at Edith Cowan University • DesignInc created a 996-crypt Fremantle Mausoleum in Perth • The Cox-designed Perth Convention & Exhibition Centre officially opened amid criticism by the Lord Mayor of Perth, city councillors and some prominent local architects. The Spowers-designed railway station adjoining the Perth Convention & Exhibition Centre was also criticized by the Perth City Council • Hames Sharley are the architects for the new Health and Wellness Building on the Joondalup campus of Edith Cowan University • The City of Perth and the WA Department of Planning & Infrastructure have announced separate design concepts for the Perth river foreshore • Due to funding and time constraints, the new South-West Metro rail line in Perth will be sunk only as far as Lake Street. No funds have been allocated for sinking the Fremantle and Joondalup lines • Max Hipkins has finished his term as director of planning for the City of Perth. The RAIA has called on the City to fund a replacement • The Minister for Planning & Infrastructure launched Network City, the new regional planning strategy for metropolitan Perth • WA Government Architect Geoffrey London spoke on the ABC's Stateline about the opportunities for adaptive reuse of Perth's unused government buildings.
SOUTH AUSTRALIA
Hassell has been appointed principal consultant for a "green village" the SA Land Management Corporation plans to develop at Campbelltown • David Cooke was recently named director of DesignInc's Adelaide office • President's Medallists Rod Roach (2003) and Max Pritchard (2004) gave a presentation at the Laminex Showroom as part of Architecture Week.
TASMANIA
The RAIA Tasmanian Chapter will again participate in Tasmania's Environmental Home Expo – Solutions for Sustainable Communities, in early November • jawsarchitects (formerly Jacob Allom Wade) received a development approval for a new hotel tower in Hobart, yet to be named • The RAIA Tasmanian Chapter held an exhibition, The Contemporary House – new architecture in temperate and sub-tropical environments, in Hobart in October, comparing work in Tasmania and Queensland • The Australian Institute of Building Surveyors conference, Building a Sustainable Tomorrow, will be held in Hobart 7–10 November • Jacob Allom Wade has designed the Dismal Swamp Visitor Centre, with its 110-metre-long slide, a Forestry Tasmania tourism complex in a giant blackwood sinkhole.
AUSTRALIAN CAPITAL TERRITORY
Walter Burley Griffin's plan for Constitution Avenue will be revived as part of the comprehensive, multi-million-dollar Griffin Legacy Project, to be announced by the National Capital Authority after the ACT elections • Diane Jones has been appointed director at PTW Architects. Diane is undertaking refurbishment works at the Embassy of Sweden. Designed in the late 1940s by Peddle Thorp & Walker in association with Swedish architect E. G. H. Lundquist, it won the Sulman Award in 1952 • Marcus Graham has won the ACT Young Architects Award • Daryl Jackson Alastair Swayn's 8 Brindabella Circuit, one of the firm's ten buildings at Brindabella Business Park, is Australia's first five-star Greenstar rated building • Bryan Dowling died suddenly in April this year, aged 64. Winner of the Haddon travelling scholarship in 1966, he received the AIA award for design excellence in 1968. Based in Canberra, his buildings include Rydge's Hotel on Capital Hill and Victorian projects such as the rebuilt Church of the Resurrection at Macedon and the Ivanhoe Girls Grammar School Performing Arts Centre.
QUEENSLAND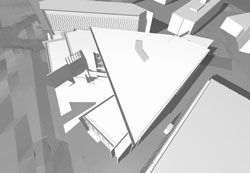 Richard Kirk Architect and ML Design have won the competition for GPN4 at UQueensland • The Queensland Government's Year of the Built Environment Award went to Thiess, awarded at the Engineering Excellence Awards in Brisbane. Arup won the Buildings and Structures Award for Suncorp Stadium; and Connell Wagner, Department of Housing, QUT and Project Services won the Environment Award and the Inaugural Sustainability Award for Kelvin Grove Urban Village • The Courier Mail reports that Robin Gibson is considering invoking his copyright law "moral rights" to block redevelopment of the Queensland Performing Arts Centre • Brisbane design group Archicafe is one of six multi-disciplinary teams shortlisted in an international competition to design a new scientific research station in Antarctica, run by the British Antarctic Survey and the RIBA • DesignInc have opened a Gold Coast office led by principal Noel Robinson and senior associates Paul Ziukelis and Angelo Pernazza • The Queensland regional conference Making a Difference: The Social Conscience of the Architect was a great success • The Qld chapter of the Australian Institute of Project Management has given Brisbane City Council the Year of the Built Environment Award for the development of Rocks Riverside Park. Arup received an Award for Excellence in Regional Development for their restoration work on Cloncurry's historic Shire Hall.
NORTHERN TERRITORY
The RAIA NT Chapter held a forum on "Tall Storeys" at Darwin's Botanical Gardens in September, discussing the appropriateness of tall buildings in Darwin. Speakers included NT Government Architect Bob Nation, Hully Liveris, Monica Van Den Nieuwenhof and Tom Pauling.
FIX
The July/August issue of Architecture Australia (vol 93 no 4) contained an error of attribution. The photograph of the Neville Bonner Building on page 23 should have acknowledged the architects as Davenport Campbell, Donovan Hill and PDT Architects, in association. Our apologies.