International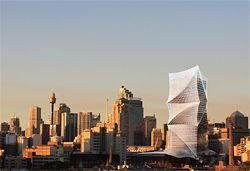 The Green Building Council of Australia has signed a memorandum of understanding with the Hong Kong Green Building Council to collaborate on sustainable building practices // Whitefield McQueen Irwin Alsop, with Professor Graham Brawn, has been appointed to design the new Supreme Court Hall of Justice for the Government of Vanuatu // The World Architecture News international sector awards program is now operated in conjunction with the International Union of Architects // TKTS Booth and Redevelopment of Father Duffy Square by Choi Ropiha Perkins Eastman and PKSB Architects continues to garner awards. It was cited as "Building of the Decade" in New York magazine and was recognized in the 2010 American Institute of Architects National Honor Awards for Architecture // Choi Ropiha also had three projects commended in the AR Awards for Emerging Architecture – TKTS, Port Botany Lookout and Ventilation Shaft // Butterpaper, the Australian and New Zealand architectural website developed and run by Peter Johns, is ten years old // LAVA's Tower Skin, a speculative transformation of the UTS tower in Broadway, has won the Future of Re-Skinning Award in the ZEROprize Re-Skinning Awards // Bark Architects is collaborating with Australian artists in the Bordeaux Art project, at the Cour Mably, built as a Dominican monastery in 1684, in the historic city centre in Bordeaux // Andrew Maynard has been named Best Young Architect in the Treehugger Best of Green Awards // Justine Clark, AA editor, and Michael Heenan of Allen Jack + Cottier are on the juries at this year's World Architecture Festival. The superjury will be chaired by Arata Isozaki. Entries are now open. Architecture Australia is once again the Australian media partner for the festival.
NATIONAL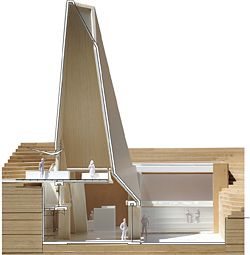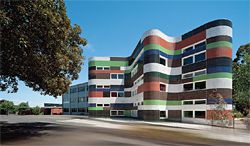 The 2010 Colorbond Steel Student Biennale Winner is Keith Westbrook of UTas for Ross Slip: Shipwright School. Commendations went to James Barclay of UNSW for The Nook House – Hybrid Housing Solutions; Nicholas Flutter, UQueensland, for NorthBank; Lachlan Seegers, UNewcastle, for Newcastle Abattoir + Beef Market. The jury was Stephen Loo, Ken Maher, John Schenk and Alysia Bennett // The Intergrain Timber Vision Awards are open for entries until 30 June // Ross De La Motte of Hassell has been appointed to the board of directors of Consult Australia (formerly the Association of Consulting Engineers Australia) // The Dulux Color Awards have been announced. The winner of the Grand Prix and Commercial Interior category is McBride Charles Ryan for Fitzroy High School. Other winners are: Commercial Exterior: Suters Architects for Churchill and District Intergenerational Community Hub; Residential Interior: SJB Interiors for Prahran House; Residential Exterior: Clare Cousins Architecture and Interior Design for 342 Apartments; Sustainable Interior: Iredale Pedersen Hook Architects for Public Transport Authority (PTA), Perth Underground Information Centre; Student category: Joyce Pang, International School of Colour and Design, for Savaterre Vineyard. Commendations went to Ryan Russell for Aesop Armadale; Bent Architecture for Campus Colours Swinburne University, Wantirna; and Troppo Architects Queensland for Horseshoe Bay House. The jury was Carey Lyon, Alison Page and Vincent Fantauzzo // The Melbourne Convention and Exhibition Centre by Woods Bagot Urban and NHArchitecture won the Environmental Excellence Award at the Urban Development Institute of Australia National Awards // Australia's first Built Environment Climate Change Adaptation (BECCA) Wiki is now live online at wiki.climatechangeadaptation.org.au // Built Environment Meets Parliament is on 16 June.
NEW SOUTH WALES
Jackson Teece Sydney has appointed Nadira Yapa as principal of urban design and Simon Owen as associate managing building diagnostics // Jan Utzon began UNSW's public lecture series, The Utzon Legacy // GroupGSA has announced mergers with Moore+Cashell Australia and John Holland Landscape Architects // Stella de Vulder is once again promoting BVN Architecture // Melonie Bayl-Smith of Liquid Architecture won the NAWIC International Women's Day scholarship for her project "Build/Ability: The Future of Construction Education", which also won the 2009 Byera Hadley Travelling Scholarship // DesignInc Sydney has appointed Nigel Justins and Stewart Bradley as associate directors and Geoff Baker as director of urban design // The NSW Architects Registration Board has launched architectureinsights.com.au, a website with user-generated content that "aims to inspire enthusiasm and interest about architectural issues and encourage public debate about design excellence in the built environment" // Co-Isolated, an exhibition of work by Richard Goodwin, Michael Snape and David Burns, curated by Tarsha Finney, showed at Australian Galleries in April // William Holmes à Court is the new CEO of the National Trust (NSW).
VICTORIA
Elenberg Fraser Architecture has appointed Tim Angus as an associate // The Victorian Government's State of Design Festival will have Lou Weis as Festival Creative Director and Kate Rhodes as Design for Everyone Public Program Curator // Whitefield McQueen Irwin Alsop has been appointed to design the new North Fitzroy Library and Community Hub // A conditional planning permit has been granted for the controversial $200 million refurbishment and redevelopment of the Hotel Windsor, designed by Denton Corker Marshall // Peckvonhartel has appointed Lindsay Holland as design architect and Tamara Hansen as senior interior designer in the Melbourne office // The 5th Annual Housing Congress will be held in Melbourne 17–18 May // The 10th Annual National PPP Summit will be held in Melbourne 17–18 June // The City of Melbourne has launched the 1200 Buildings program, which aims to retrofit more than two thirds of Melbourne's commercial buildings to reduce their greenhouse gas emissions by 38 percent. Sixteen corporates, including the City of Melbourne, managing thirty buildings have already signed up // The Institute's 2009 Graduate Prize winners are: McGlashan Everist/Deakin University Prize, Richard Wiesebrock; BVN Architecture/RMIT University Prize, Jessica In; Bates Smart/University of Melbourne Prize, Daria Leikina // Third Ecology won an award in the Victorian Employers' Chamber of Commerce and Industry's sustainability program, Grow Me The Money // Robert Puksand is the new President of the Victorian Chapter // Cardboard Spaces, by foundation year architecture students from Monash, shows at Art Play, 15 May – 27 June // Jane Homewood has been appointed general manager of development at Frankston City Council.
Queensland
The Queensland Regional Awards program is underway with Bud Brannigan as the Queensland State Awards Director. The North Queensland Building of the Year is the Mackay Entertainment and Convention Centre by Cox Rayner. North Queensland House of the Year is Horseshoe Bay House, on Magnetic Island, by Troppo. Commended North Queensland projects are Tyto Wetlands Cultural Centre by Troppo; Wave on Hamilton by Harry Seidler and Associates; Townsville North Railway Yards by Fairweather Proberts; Blue Water Lagoon by Aecom; and Lanai by BVN Architecture. The Darling Downs Building of the Year is the Ipswich Justice Precinct by Cox Rayner with ABM Architects. Commended Darling Downs projects are Tustin Windmill Reconstruction by Project Services with Russell Hall Architect; Miles Health Service Redevelopment by Fulton Trotter; Fernvale Village Shopping Centre by Push Architects, University of Queensland Rural Clinical School by Arkhefield, and Jimbour House North Verandah Project by John Walsh Architects // NBRS Architects has appointed Daniel Killen as an associate // UQ is running its Architecture Public Lecture Series,   Pacific, on Tuesday nights until 12 August // Peter Dawson has been appointed senior associate at Architectus' Brisbane office // The annual Queensland Transport Infrastructure Summit will be held in Brisbane 21–22 July // Nathalie Ward, Paul Druery, Tony Dickson, Damian Thompson and John Ilett have formed a new design partnership, Lat27 // Owen and Vokes, Donovan Hill and Cardno S.P.L.A.T. have been short-listed for Stage 1 of the Brisbane Sustainable Backyard Experience at the Brisbane Botanical Gardens, Mt Coot-tha, an initiative of the Brisbane City Council and Signature Brisbane // Ewan McEoin is the Creative Director of the first Design Triennial, Brisbane.
WESTERN australia
Architectural events and issues in Perth can now be debated on a new blog, pertharchitecture.wordpress.com // HBO+EMTB won the Property Council of Australia's WA Award for Heritage and Adaptive Re-use for the GPO redevelopment in Perth // Structuring Perception: architectural projects by Pendal and Neille showed four works by Simon Pendal and Stephen Neille at the John Curtin Gallery in March // Emma Williamson of CODA was one of forty "outstanding young business men and women" recognized in the WA Business News 40under40 Awards.
TASMANIA
Cassandra Kiss has returned to JAWS Architects to head the practice's interior design services // The Sullivans Cove Master Plan drafted by the State Architect has completed public consultation. A feedback report and implementation strategy will be presented to the new government in June // Jan Gehl, with the UTas School of Architecture and Design and Helen Norrie, is undertaking a Public Space, Public Life consultancy for a sustainable liveable waterfront city in central Hobart, closely coordinating with the Sullivans Cove Master Plan. The team is also undertaking a similar consultancy for central Launceston // JAWS Architects in association with Eco Cabins has released the MAKO Series of pre-made modular housing // Architects Designhaus in association with PTA are the architects for Kalis Properties' redevelopment of the Myer site in Hobart // Peter Poulet is collaborating with the UTas School of Architecture and Design to provide students with integrated workplace learning in the office of the State Architect in Hobart. The school has also set up a student architecture office with the Launceston Assistance and Research Centre.
AUSTRALIAN CAPITAL TERRITORY
Peckvonhartel has appointed Natalia Prpic as senior interior designer in its Canberra office // Richard Weller is among the keynote speakers at Designs on our Future, the third International Urban Design Conference, held 30 Aug – 1 Sept, Canberra // UCanberra is running the Campus Design Ideas Competition. Jurors are Annabelle Pegrum (chair), Wally Caruana, Justine Clark, Harriet Elvin, Garry Emery, Neil Hobbs, Leonard Lynch, David Parken and Sarah Ryan. Robert Thorne is competition advisor // The Canberra Convention Centre tender has been awarded to Ernst and Young and Cox Architects // The Gallery of Australian Design is calling for exhibition proposals.
south australia
An SA Government Architect is expected to be appointed by July 2010, following a national recruitment process // Sean Humphries and Sasha Radjenovich are the winners of the inaugural Design Festival run by Adelaide City Council and the Institute // Hassell is principal consultant for UFlinders to design teaching laboratories for the $10 million School of Biological Sciences Extension at the Bedford Park Campus // Adelaide City Council and the state government have unveiled plans for a revitalized Victoria Square by Taylor Cullity Lethlean and Tonkin Zulaikha Greer // An Integrated Design Strategy for Adelaide City has been announced. This is expected to be a demonstration project of a design-led planning process.
FIXES
In the last issue Sheila Hughes was erroneously credited as the new ACT Chapter Manager. Instead, she is the ACT Chapter President. Our apologies.