International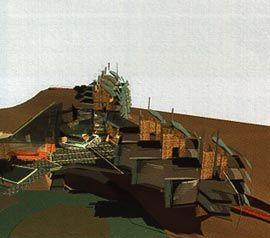 Troppo Architects have won an international competition for the Porter School of Environmental Studies and the University Visitor Centre at Tel Aviv University, Israel. One of fourteen practices with a track record in environmentally sustainable architecture invited to compete, Troppo were assisted by Steensen Varming as services engineers ›› Eeles Trelease will design the accommodation for the 2012 Olympics, should Düsseldorf win the bid to host the games ›› Woods Bagot and Richards Basmajian have won an AIA Award of Merit for the Cathay Pacific Airport Club Lounge at Hong Kong International Airport ›› Singapore and Australia have signed an expended trade accord allowing for mutual recognition of standards which will, among other things, benefit Australian architectural practices wishing to operate in Singapore.
National
Robert Irving has been awarded the Medal of the Order of Australia (OAM) for service to the documentation of the architectural history of Australia ›› Australia ICOMOS has published 20th Century Heritage, Our Recent Cultural Legacy, which includes a number of essays on architectural issues ›› The RAIA is calling for submissions for editor (Stage 1 winner) for the 2003 RAIA Sisalation Prize ›› The Walter Burley Griffin Society, now in its fifteenth year, is seeking to extend its activities outside Sydney ›› The Australian Greenhouse Office and the Alternative Technology Association are running the seminar series "Sustainable Houses: Renovating Your Home" in major cities from 26 May to 5 June. Keynote speakers are Andreas Sederof and Dick Clark.
New South Wales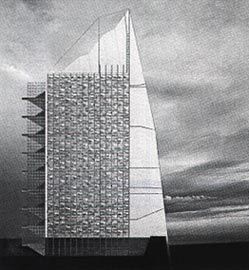 Bligh Voller Nield has been appointed to design a new $18 million paediatric facility at The Children's Hospital,Westmead, Sydney ›› Malcolm Carver of Scott Carver Architects and John Haycraft of Haycraft Duloy Architectural Illustrators have collaborated on The Out of Italy (and Greece and Africa) an exhibition at the Ewart Gallery, Willoughby ›› Ken Yeang and Emilio Ambasz will be keynote speakers at "Greening Cities: A New Urban Ecology", the conference of the NSW Australian Institute of Landscape Architects, 29-30 April ›› Tracings, an exhibition by Professor Michael Ostwald, Chris Tucker and Michael Chapman, showed at the Lovett Gallery, Newcastle. This featured four imaginary designs inspired by historic events and sites in Newcastle ›› Zone Architects have "revamped" the Howard Silvers Building, Ultimo, an office building by Harry Seidler, 1959-60 ›› Allen Jack and Cottier have designed Sydney University Village, a student accommodation development between Carillon Avenue and Missenden Road ›› Fosters and Partners, Kohn Pederson Fox and Johnson Pilton Walker will each submit a proposal for the development of the former Regent Theatre site on George Street ›› Pont Williams + Leroy Architects have redeveloped the Old Hawkesbury Hospital site in Windsor, restoring the hospital and adding a new library and commercial building ›› Westfield's plans for Centrepoint Tower include two 26-storey residential blocks to "bookend" the tower, with a third, slender block to the north. These will sit atop the existing retail and office space. Greg Crone, of Crone Nation Architects, is Westfield's architectural consultant on the project ›› The Sydney Architecture Walks have four new walks: Three Towers, Utzon, Harbourings and Public: Art, Space + Landscapes.
Tasmania
Jack Newman passed away peacefully on 17 December 2002. The Tasmanian Chapter of the RAIA describes Jack as a stalwart of the profession in the Tasmania's north for more than 40 years who was well know by many Institute members, both as a friend and mentor. He was Chapter President and National Councillor from 1972 to 1974 ›› BPSM Architects, with sub-consultants Phillips Smith Conwell (Brisbane) and Heffernan Button Voss and landscape architects Barwick and Associates and Prue Slatyer have been appointed to the Prisons Infrastructure Development Program ›› Catriona McLeod and Julia Gatley have joined the staff of the UniTas School of Architecture ›› Richard Blythe and Paul Johnston are appealing the Hobart City Council's approval of a demolition application for the old Ministry of Transport Building at 1 Collins St, designed in 1959 by the Tasmanian Public Works Department.
Western Australia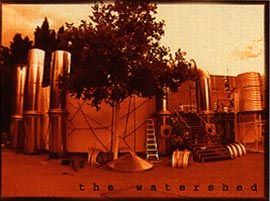 Perth's Council House features in Back from Utopia: The Challenge of the Modern Movement, edited by Huber-Jan Henket and Hilde Heynen. The building is the subject of a chapter by Hannah Lewi of Curtin University ›› Cox Howlett and Bailey Woodland, Woodhead International, Jones Coulter Young, Bernard Seeber, Donaldson and Warn and Woods Bagot were invited to submit an EOI for a memorial for the victims of the Bali bombing in Kings Park. The later three practices have been short-listed to complete concept schemes ›› The Festival of Perth's tradition of transforming the Cultural Centre continues, as for the fourth year, Andrew Carter's Watershed "set" converts a 1970s water feature into an exclusive performance space for "Celestial City"
Patricia Piccinini's viscerally moving installations The Breathing Room and Swell are part of her exhibition at the John Curtin Gallery ›› David Mah, a Curtin University alumnus, and Leyre Asensio-Villoria, both from Zaha Hadid Architects, spoke about recent work to a gathering at IPH Architects. David presented Hadid's recent Singapore urban design work. For our informant, the highlight was Leyre's prizewinning project for extending the beaches of a Spanish resort town ›› The State Government has announced $1.3 million to upgrade the Pilbara town of Cossack, including renovating the town's historic buildings ›› We are told that amid increasing numbers of vacant buildings in Perth, a prominent storey-high sign depicting a tabletop dancer in central William Street has been generally endorsed as part of the city streetscape.
Northern Territory
Construction has begun on the upgrade of the Central Aboriginal Congress Centre, designed by Brendan Meney ›› Stage 1 of Francis Park, on the CBD fringe overlooking Francis Bay, by Cox Richardson is underway. The project claims to be Darwin's first asterplanned medium density residential precinct ›› Peddle Thorp has received DA on Darwin's tallest building, a 20-storey residential tower also at Francis Bay ›› The Palmerston City Council Library short-list is Spowers with Hassell, Jackman Gooden with ARM, Hamlet Management with Danvers Schutlz Holland Architects ›› Michael Keniger is visiting Darwin to talk to the Chief Minister, government bodies and the building profession about the responsibilities and benefits of a government architect. The NT Government is interested in the position with large projects, such as the redevelopment of the wharf precinct and oil/gas projects looming ›› The Yeperenye Centre redevelopment , Alice Springs, is drawing to a close. Architect is Sue Dugdale in association with B&N group ›› The final stage of the Zone A designed capital works programme at Yirara college opened early this month ›› Expressions of interest to purchase and develop a unit complex for hospital staff in Alice Springs closed mid-March and attracted a lot of attention, with most local architects producing schemes.
Victoria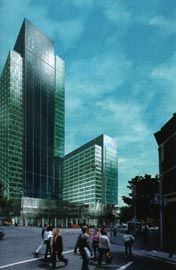 Woods Bagot are designing an office and retail development for the Southern Cross site in the Melbourne CBD ›› Lend Lease have announced an international competition to design the public-use building for the end of Central Pier in Docklands ›› An exhibition of the work of emigre architect Kurt Popper showed at the Jewish Museum of Australia ›› Heine Investments are seeking a permit to build an office complex on the site of the barley silos beneath Richmond's Nylex Clock. The development, designed by Fender Katsalidis, would refurbish the sign and clock and reinstate them on top of one of the two new buildings ›› Melbourne's City Square is once again boarded up for another refurbishment ›› The restaurants and apartments in the first stage of New Quay, Docklands, are now fully operational ›› Burne Hocking Weimar Architects have completed the Field of Gold Fragments, an urban installation at the Western Ring Road/Calder Freeway and Tullamarine/Calder Freeway Interchange, which forms stage 3 of the Images of the West project ›› Planning minister Mary Delahunty has approved a 25-storey residential development on the corner of Spencer and Dudley Streets, suggesting that it will help reinvigorate West Melbourne. Designed by Fender Katsalidis, the project will require the demolition of a 1930s building with a C-grade heritage listing ›› RMIT architecture and communication students collaborated on Meanwhile… an installation of cardboard models in the windows of the David Jones city store ›› The Melbourne Magistrates Court has fined the owner of an apartment in Frederick Romberg's Stanhill $31,000 for altering the apartment without permission.
Queensland
The Queensland Chapter held the Grass Roots Forum Conference in mid-March. The event was designed to inform RAIA members of the legislative changes and business opportunities for collaboration with Government that will occur in 2003 and was opened by Ian Moore of Engelen Moore ›› Australand Holdings are the preferred developer of the heritage-listed Yungaba site at Kangaroo Point in Brisbane ›› The UQ Architecture Talk Series begins on 20 March ›› Woods Bagot has promoted Simon Moisey to senior associate and Barry Paterson, Marco Calvino and Gavin Kain to associates ›› Michael Keniger has been appointed executive dean of the Faculty of Engineering, Physical Sciences and Architecture at UQueensland. He intends to maintain his connection with architecture and will continue in the advisory role of Queensland Government Architect ›› Cox Rayner have just completed the James Street Market ›› Steffen Lehmann has been appointed Professor of Architecture at QUT. Lehmann, who starts in July, has run his own practice for a decade in Berlin and prior to that worked for Arata Isozaki and James Stirling and studied at the AA ›› Woods Bagot has won a design competition for the Sales Pavilion for Lensworth's Kawana Waters residential development on the Sunshine Coast ›› The regional awards has begun with the Central Queensland Architecture Awards in Rockhampton ›› The Brisbane City Council has given the green light to the Newstead Riverpark master plan developed jointly by Mirvac and Cox Rayner Architects in consultation with The Urban Renewal Task Force, Brisbane City Council and owners. The $800 million Newstead Riverpark is Queensland's largest single urban renewal development ›› The Queensland Heritage Council is applying to have the State's Heritage Act amended so that churches will have to gain development approval before altering or demolishing heritage-listed properties.
South Australia
Steve Loo is the new program director of Architecture at the Louis Laybourne Smith School of Architecture and Design, UniSA. Steve will remain as a non-active partner of Mulloway Studio ›› UniSA has a number of major projects on the drawing board. In addition to the work at City West Campus by Hassell and John Wardle Architects, these include a 4-level campus building and the Mawson Centre by Russell and Yelland Architects in association with MGT Canberra at the Mawson Lakes Campus; an ESD focused 3-storey extension to the Mawson Lakes Campus Library by Thomson Rossi; and a 6-level health sciences laboratory building at City East Campus by the joint venture Cox Grieve Gillett ›› The redevelopment of Adelaide's Victoria Square is delayed again, due to an investigation into building a tunnel for underground traffic ›› Kapunda's Christ Church, by Edmund Wright, built in 1857 and extended in 1868, has been included in the State Heritage Register ›› Gini Lee and David Morris, of UniSA have gained an Australian Housing and Urban Research Institute grant for "Best Practice Models for Effective Consultation Towards Improving Built Environment Outcomes for Remote Indigenous Communities"
Australian Capital Territory

The ACT Government has established the Community and Expert Reference Group, a key advisory body to the Bushfire Recovery Taskforce. Members include Catherine Townsend, president of the RAIA's ACT Chapter, and Claire Middleton, ACT Division, Planning Institute ›› Catherine Townshend is also the new chair of the Planning Minister's Urban Design Advisory Council ›› Lyons have won the design competition for the new John Curtin School of Medical Research at the ANU. Stage 1 is $20 million, with the total building program worth approximately $65 million ›› The ACT Government has established a Design Advisory Service to provide free advice for residents rebuilding after the bushfires. This involves meeting with an architect and a Planning and Land Management officer to discuss the opportunities and the processes involved ›› 300 people attended the ACT Chapter and Archicentre's forum "Opportunities For Rebuilding After The Fire". It may be re-run due to popular demand ›› The ACT Prison project has been put on hold due to the bushfire crisis ›› The former Silverton hole in the ground in Civic West shows promise of being filled with a Willemson Group building of approx 8,000 sqm ›› The ACT Chapter is considering the National Capital Authority's offer to include the prestigious Walter Burley Griffin Memorial Lecture as part of a new National Capital Lecture Series. The NCA's proposal has the support of PIA and IEAust with their respective Overall Lecture and Butters Oration. AILA is also considering contributing to the series ›› Planning and Land Management's High Quality Sustainable Design process is under review and the Design Review Panel is also being re-assessed ›› The City West Master Plan, due for release last December, will not be launched until April ›› Daryl Jackson Alastair Swayn are writing Centrelink's 30,000 sqm base building brief and design the ensuing fitout ›› The Canberra Times is publishing a series of articles on "Canberra's special architecture".