INTERNATIONAL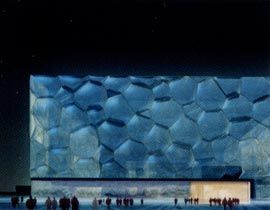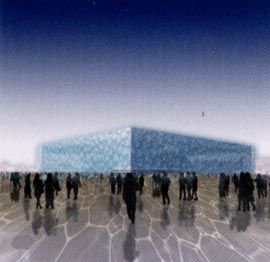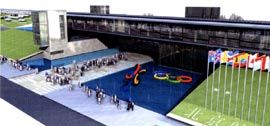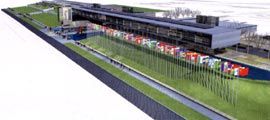 GroupGSA is one of two winners of the international competition for the Beijing Olympic Shooting Range • The initial masterplan for the Beijing Olympic Green will be developed by Bligh Voller Nield. The site will house thirteen key venues including the National Aquatic Centre, which will be designed by an Australian-Chinese consortium including PTW Architects • HOK Sport + Venue + Event (SVE) has won the gold medal at the the IOC/IAKS Awards, for Telstra Stadium, designed by Bligh Lobb Sports Architecture, an HOK SVE joint venture. The Westpac Stadium,Wellington, NZ, by Bligh Lobb Sports Architecture, in association with Architecture Warren and Mahoney won one of seven bronze medals • Cityscape 2003 is planning a major new series of awards honouring top architects working in the Middle East, the Subcontinent, Asia and Africa • HOK Sport + Venue + Event has been shortlisted in the invitation-only competition for the Foshan Sports Centre and Foshan Arena, being designed for the Guangdong Provincial Games in October 2006 • Black Kosloff Knott have recently undertaken an exploratory trip seeking opportunities in China.
NATIONAL
The 2003 National Architecture Awards Jury comprises Graham Jahn (chair), Adrian Welke, Catherine Townsend, Garry Forward, and journalist David Meagher • Lahz Nimmo and Farnan Findlay grace Wallpaper's annual directory of 25 hot architects around the world • Jennifer Hill has won this year's RAIA Sisalation Prize. She will edit Take 3, on "the development of sustainable philosophy for heritage conservation" • The Federal Government has announced an inquiry into urban sprawl and environmental pressures, to be conducted by the House of Representatives Standing Committee on Environment and Heritage • RAIA Gold medallist Peter Corrigan gave the A. S. Hook Address in Melbourne at the end of August. This was followed by tributes from David Parken, Maggie Edmond, Nigel Bertram, Ian McDougall and Conrad Hamann • 6–11 October is National Architecture Week • Planning Week, organized by the Planning Institute of Australia, takes place 14–21 November • James Grose is the Australia/New Zealand judge for the Antron Design Awards. Entries close 31 October • 14 September is the second annual Solar House Day • The RAIA Imagining Architecture Student Competition winners are Alicia Pozniak of UTS, Jo Bandy of Deakin University and Jorg Kramer, also of Deakin University.
NEW SOUTH WALES
The NSW Architects Bill 2002 was rescheduled for debate in September • Richard Huxley and Associates are part of the consortium which have won the bid to design the first stage in the commercial redevelopment for Sydney Olympic Park • Hassell is working on two Sydney gateway projects, at William St and Broadway • The third, two-week, Glenn Murcutt International Architecture Master Class took place 13–27 July, with 32 participants. Tutors included Glenn Murcutt, Richard Leplastrier and Peter Stutchbury • National Parks and Wildlife Service has run a design competition for a Visitor Centre and NPWS Office in the Blue Mountains. The four shortlisted teams are Gregory Burgess; Innovarchi with Dillon Kombumerri; Lindsay Johnston; and Blue Mountains architect Nigel Bell • The National Trust is opposing the extensions to the Observatory Hotel at Millers Point by Cox Richardson Architects on the grounds that it will obstruct the significant harbour views from the Observatory and Observatory Hill • Reflecting the changing role of architects due to the market's preference for D&C delivery, Arthur Chapman has joined major building firm, Barclay Mowlem as their Business Development Manager (NSW). Chapman was formerly general manager of Morris Bray Architects • Bligh Voller Nield have completed the $50 million clinical services facility at Royal North Shore Hospital, the first stage in the $452 million hospital campus redevelopment • Rice Daubney are developing a concept for a commercial campus park in Wagga Wagga, which will combine office space with a working vineyard and olive grove • Rice Daubney has promoted Nigel Sullivan, Maurice Valentinuzzi and Mark Shoolman to associate director. Paul Reidy, Mark Sim, Igor Molitor and Mark Muldoon have been promoted to associate • The NSW Department of Infrastructure, Planning and National Resources has announced a number of reviews of the state planning procedures. These include a regulation review taskforce into local development approvals, a review of masterplans that are a requirement of a number of SEPPS, a review of the Minister's consent role, Plan First Review Taskforce, SEPPS Rewrite, and SEPP 5 Review • USydney is conducting design competitions for three interrelated projects. Stage one submissions include 35 for the Faculty of Law Project, 44 for the USYD Central Project, and 41 for the Public Domain Project.
QUEENSLAND
Bligh Voller Nield has won a limited design competition for a major residential village at Coffs Harbour, with landscape by EDAW • The Financial Review reports that Harry Seidler is pursuing a court case objecting against the signage of the Pig 'N' Whistle pub. The case will test the Copyright Amendment (Moral Rights) Act, which protects against derogatory treatment or unsympathetic modifications that might damage an architects reputation or honour • The Leichhardt Community Centre, by the Department of Public Works, won an award for architectural excellence in the Ipswich City Council Design Awards • QUT's semester two Tuesday night talks include Ian McDougall, Elizabeth Grosz, and Leon van Schaik • The Mainwaring, by John Mainwaring, is the first of three resorts to be built at the architectural enclave of Casuarina Beach • Bligh Voller Nield are working on stage 3 of the Lavarack Barracks • Clare Cooper Marcus, Professor Emerita in Architecture and Landscape Architecture at UCalifornia, Esther Charlesworth and Sean Godsell were among the speakers at Ideas at the Powerhouse.
AUSTRALIAN CAPITAL TERRITORY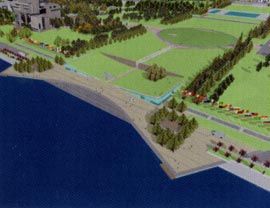 Neil Savery has been appointed chief planning executive of the new ACT Planning and Land Authority • London-based architects Kevin Carmody and Andy Groarke are seeking support for Shadow House, a commemorative installation to mark the first anniversary of the Canberra fires in January 2003. They are looking to install the project in a Canberra gallery in January 2004 • Watermark Press has launched a new guide, Canberra Architecture • Work has begun on the restoration of the Old Parliament House Garden to the 1930s design • Gevork Hartoonian, formerly of USydney, has been appointed associate professor at the UCanberra School of Design and Architecture • Staged construction has begun on a pedestrian square adjacent to Commonwealth Place, designed by Graham Scott-Bohanna and Craig Egle of the National Capital Authority, to connect the parliamentary zone with the waters of the lake • Plans are developing for the Griffin Institute, which is intended to house an archive of drawings and memorabilia, a research centre, a library, an exhibition space and a shop. Possible sites include Mount Ainslie, integrated with the lookout, and within the Parliamentary Zone • The National Capital Authority is masterplanning Kings Park.
NORTHERN TERRITORY
Paul Pholeros spoke to the RAIA NT Chapter on recent work in remote places • NT's Architecture Week took place in early August and included a talk by Prof Peter McIntyre and a Great Debate, "Who came first the architect or the engineer?".
WESTERN AUSTRALIA
The launch of the exhibition and catalogue Fading Events and Place: Documenting the architecture of the VIIth British Empire and Commonwealth Games, curated by Hannah Lewi and Stephen Neille was the opening event of the WA Architecture Week in September • Festivities also included an exhibition on local modernist architect Julius Elischer curated Simon Anderson and Mike Bradshaw, and a lecture by Six Degrees • Joe Chindarsi is leaving Jones Coulter Young to set up his own practice • Tim Hurbrugh and Mark O'Dwyer of H2O Architects presented this year's Robertson Memorial Lecture at Curtin University.
SOUTH AUSTRALIA
Wendy Pascoe of UniSA has won the DesignInc ESD Award for students • The City of Unley is proceeding with the $4.5 million upgrade of their civic centre and library complex by Danvers Schulz Holland Architects, which includes the adaptive reuse of the former Oxford Cinema Complex • The final stage of the State Library redevelopment by MGT and Hassell is now complete • Landscape architect and set designer Peter England is designing Universal Playground, a project that will transform the Torrens Parade Ground into "a stomping ground of urban excess" for the Adelaide Festival next year.
VICTORIA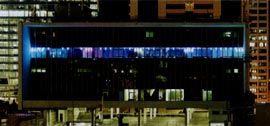 Spowers' 60L building has won a Banksia Foundation Award for Leadership in Environmentally Sustainable Design • ARM has appointed Antony McPhee as principal, and Simon Shiel as associate • Robin Boyd's Lloyd House in Brighton was controversially demolished in July • RMIT student Beng Kiet Wee, has won a Melbourne Docklands Student Design Award for Public Infrastructure, held by the Docklands Authority to develop designs for public amenities in the Docklands Park • Carr Design Group are expanding into architecture with the establishment of a "comprehensive architectural service" • Habitat by Callum Morton, an artwork based in a 1:40 model of Moshe Safdie's 1967 housing project of the same name, is at the National Gallery of Victoria • Lockwood Security Products and the RAIA Vic Chapter have collaborated in the Design a Lever Competition, inviting twenty-six architects to design door levers • The Sustainable Energy Authority of Victoria is organizing the implementation of the Victorian Solar Innovation Initiative, which aims to get solar applications into community facilities that are ineligible for the current photovoltaic and solar hot water rebate schemes • Allan Murray, former managing partner of Stephenson and Turner, has died aged 81. He served the RAIA as Vice President, Chapter Councillor and as chairperson of many committees related to architectural practice and he contributed widely to Practice Notes. Allan was also a negotiator with the Master Builders Association on contract and administrative matters and an experienced arbitrator • Suters Architects has joined with Whiting Architecture & Interiors and will operate in Victoria as Suters Architects (Victoria) • City of Melbourne released its Census of Land Use and Employment in July • And So…. a light-based artwork by Peter Kennedy has been installed in the windows of John Wardle Architects. Commissioned by the practice, the work was supported by funding from the City of Melbourne • The State Government has announced new mandatory regulations which will require all new homes to be "5-star energy efficient" • Experimenta House of Tomorrow, a media arts exhibition of "inventions" for the house of the future runs at the Arts Centre's Black Box until early October, accompanied by a film programme at the Australian Centre for the Moving Image • Kerstin Thompson, Peter Williams, Roger Wood and Rick Zen spoke at a Victorian Heritage Council/RAIA forum on designing new buildings in heritage areas • Nominations for the 2003 Planning Institute Australia (Victoria Division) Awards for Planning Excellence close 20 September • Bochsler and Partners, BAU Brearley, Denton Corker Marshall, Hassell, Hayball Leonard Stent and Urbis feature in Melbourne Architects Working in China, an exhibition at Experimedia, the State Library of Victoria's new interactive media space • Kirsty Fletcher is curating this year's Small exhibition, which runs 6–19 October at Medium. Exhibiting practices include 4SITE Melbourne, Andrew Maynard, Andy Wong, Brett Phipps, Buro+, Diabase, Habitus Architecture, *If This, Then….., Mooney & Associates, Peter Woolard – Studio101 Architects, PoHa, Rexroth Mannasman Collective, Tolman Cowle Design and Wilder Architecture.
TASMANIA
The RAIA Tas Chapter State Manager, Don Thompson, has left the RAIA to take the position of Southern Natural Resource Management Facilitator with the Southern Natural Resource Management Regional Committee • RBB Terroir has won the limited competition for The Hazards at Freycinet, a $20 million 5-star resort for Federal Hotel.
FIXES
Donald Bates advises us that, "the credits for Federation Square in the Architecture Australia vol 92, no 3 (March/April) failed to acknowledge the participation of Tim Hurburgh beyond competition stage 2, design team member. Tim Hurburgh carried responsibility on behalf of Bates Smart for the joint-venture association with Lab architecture studio during the stage 2 competition entry in London and Melbourne.
Following the awarding of the project he continued as a director of the Lab+Bates Smart association and facilitated the project and consultancy teams until his resignation in mid 1998."
Related topics