International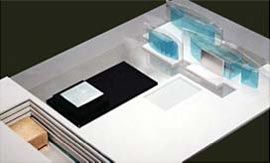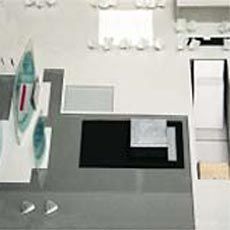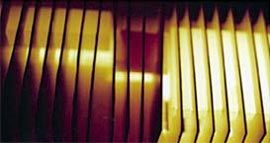 The Woolloomooloo Bay redevelopment has won the Top Honor Award in the Waterfront Center's annual Excellence on the Waterfront awards. The jury selected the project from an international field "primarily because of its audacity" • The competition entry for the new National Opera House in Oslo by Michael Morrissey of H20 Workshops is one of thirty selected for exhibition at the Art Gallery Antonella Nicola, Turin • Translation and Transcription [1:0] showed in London during December. The exhibition, organised by expats William Tozer and Kevin Carmody of Proto_type, looks at the role of representation in the production of architecture • Sydney Opera House Trust's chairman, Joseph Skrzynski, has met Jörn Utzon in Copenhagen regarding Utzon's newly-drafted design principles, which form the basis of a strategic plan for the icon's redevelopment • Bligh Voller Nield is appealing the Greek Government's decision to exclude Australian architects from bidding for work for the Athens Olympics. The exclusion has been made because Australia is not a signatory to the World Trade Organisation's Government Procurement Agreement • Woodhead/Wilson , a joint venture between Woodhead International and international hotel interior design firm Wilson Associates, has won the interior design consultancy for Changi Airport's new Terminal 3 • Sean Godsell's Carter/Tucker house has been highly commended in the ar+d Award for Emerging Architecture • Silvia Barrera, Giacomo Bronzini, Marco Romagnoli, and Stefano Valzer, students at the Academia d'Architettura di Svizzeria Italiana in Mendrisio, Italy, who worked for Australian architects during 2000, have curated an exhibition of work by Australian architects including Greg Burgess, Nonda Katsalidis, Sean Godsell, Clinton Murray, Shelley Penn and Wood Marsh • Anton James Design has been engaged to develop stage one of the $10 million Mt Penang Permanent Garden • DCM is working on the foyers of Pelli's World Financial Centre in Hong Kong.
National
The RAIA is working to develop a regulation model in collaboration with all state and territory governments • The CSIRO has confirmed anecdotal evidence about design quality and fee levels. New research connects a long term decline in the quality of design and documentation to reduced designers' fees levels and demonstrates its significant impact on construction process inefficiency • Peddle Thorp has appointed four new directors, John Flynn, Peter Gardiner,David Porgand and Henry Hancock; two new associate directors, Steve Child and Paul Hanley; and two new associates, Jacque Galloway and Brett Hudson.
Australian Capital Territory
The ACT Government has launched the Quality Design and Sustainability Assessment Kit for Canberra in an attempt to improve the quality of urban developments • GHD has converted the former Institute of Anatomy's buildings into new premises for ScreenSound Australia • The draft ACTCode residential development guidelines propose limiting the amount of urban open space in Canberra suburbs to 5%.
New South Wales
The City of Sydney has announced a competition for the design of a new Aquatic Centre in Ultimo • Walter Burley Griffin's Glebe Incinerator, one of only two remaining of the original seven, is under threat from Leichhardt Council's masterplan, which proposes a housing development on the Blackwattle Bay site • Alex Popov's Rockpool won the Small/Medium/High Density Housing or Mixed Use Development Award at the Urban Development Institute of Australia's annual Excellence Awards • Harry Howard, architect, landscape architect, planner and designer of the Sculpture Garden at the National Gallery in Canberra, has died in Sydney aged 70 • Work has begun on Hassell's redevelopment of the North Sydney Olympic Pool • Eoghan Lewis is conducting walking tours "using contemporary architecture to navigate the culture and life of the city" • Sydney University's Faculty of Architecture is experiencing "unparalleled growth" with seven new academic positions advertised • McConnel Smith and Johnson relaunched their company image at an event at the MCA • The NSW Government has responded to the recommendations of the Urban Design Advisory Committee, chaired by Ken Maher, by establishing a new State Environmental Planning Policy for residential flat development. A registered architect will be required to direct the design of apartment buildings over three storeys, and a Residential Design Fund will provide $1.1 million over two years for design assistance to council and to establish expert Design Review Panels • Lindsay Johnston is the new Dean of the Faculty of Architecture Building and Design at Newcastle University • Travis McEwen Group has masterplanned Broadoak Waters, a housing development on the former Commonwealth Department of Defence naval stores site at Ermington • Tonkin Zulaikha Greer has won the Scotts Church design excellence competition • Berlin: Planning Postdamer Platz and New Architecture in Berlin are showing at the City Exhibition Space until the end of March, accompanied by the Berlin Summer Series talks.
Northern Territory
Ngaanyatjarra Tjulyuru has opened in Warburton. Designed by Tania Dennis of InsideOut Architects, the complex will house the Warburton Arts Collection, the most substantial Aboriginal art collection in Australia, and be the seat of local government for the Shire of Ngaanyatjarraku • As part of a pilot project to develop standard designs for the Indigenous Housing Authority of the Northern Territory, Build Up Design in association with Deborah Fisher Design, Troppo, Brendan Meney and Associates and Tangentyere Design have each completed sketch designs for Aboriginal housing in the Papunya region.
Queensland
Construction begins shortly on the University of Queensland and the CSIRO joint project designed by Daryl Jackson • Practices have been busy on a design construct competition for River Park, the 18 hectare urban renewal project at Tenerife • The UQ Department of Architecture has appointed Michael Rayner, Peter Roy and Shane Thompson as adjunct professors and Rex Addison, Brian Donovan, Timothy Hill and Gerard Murtagh as adjunct associate professors • Harry Seidler's Riparian Plaza, planned for Eagle Street, is in for a DA • The next stage of the Southbank masterplan is underway • A competition has been announced for the Queensland Magistrates Court • HOK LOBB's controversial Lang Park Stadium is in for a DA, amidst complaint that the State Government is apparently circumventing the public notification process • The Public Art Agency has released its Art Built-in toolkit • Professor Gordon Holden is stepping down from his role as Head of School of Architecture at QUT • The $20 million Australian Catholic University masterplan commission has gone to Conrad and Gargett, who were also awarded the new Theological College adjacent the ACU site at Banjo in a separate selection process • QUT's Architecture Colloquium joined with the Brisbane Writer's Festival to present Making Spaces Writing Places, which paired architects and fiction writers in a series of amusing exchanges • Fumihiko Maki was made an Honorary Fellow of the RAIA at the Fellows Dinner following his seminar "The Construction of the Public Realm", which saw a huge turnout.
South Australia
Ron Radford, Director of the Art Gallery of South Australia, has described Martin Towers, an apartment bulding proposed above the John Martin carpark, as "appallingly ugly". Objections have also been made by the State Library, Adelaide University and Councillor Judith Brine • Mulloway Studio are the architects for the new Moana Surf Life Saving Club • Raffen Maron Architects and Woodhead International are collaborating on a South Australian Police project comprising extensions to the existing Watch-House, demolition of the police building at Victoria Square and the refurbishment of the Federal Police Building • The SA Government and Adelaide City Council have approved the $15 million Riverbank Precinct redevelopment designed by Hassell, Woodhead International, Foster and Partners and Peter Walker and Partners • MGT and Hassell are working on extensions to the State Library • Mulloway Studio have completed two key interpretation projects: a major redevelopment of the historic Glenelg Town Hall; and architectural interpretive installations at Queens Theatre, the oldest purpose built theatre on the Australian mainland • The National Wine Centre, adjacent to the Adelaide Botanic Gardens, is well under way. Architects are Cox Grieve Architects, a joint venture between Cox Richardson in Sydney and Grieve Gillett in Adelaide • Steve Loo of Mulloway Studio and Nick Opie have been appointed to two new fractional lectureships at the Louis Laybourne Smith School of Architecture, University of South Australia • Raffen Maron Architects in association with Woodhead International are architects for the $33 million Regency Institute of TAFE Hotel School, currently under construction • Woods Bagot, working with Skidmore, Owings and Merrill, are the architects for the $85 million Adelaide Convention Centre extension • Flightpath Architects are continuing their inner city community housing work, with 15 of 22 low cost dwellings underway at four city sites • The controversial $8.4 million Marion Cultural Centre by ARM and Phillips/Pilkington Architects commenced construction in November last year.
Tasmania
The Forestry Tasmania Headquarters by Morris-Nunn & Associates has won the Medium Structures Award for Excellence in the Lightweight Structures Association of Australia Design Awards.
Victoria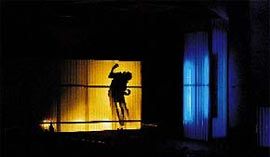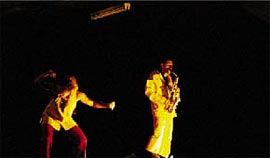 The new Performing Arts School at the Victorian College of the Arts is being designed by Edmond and Corrigan in association with Castles Stephenson and Turner • Federation Square opened to the public for a day in November • The new Harbour Esplanade project in Docklands, designed by ARM and Rush\Wright Associates, has been unveiled • Lyons are completing sketch designs for a new botany building at the University of Melbourne • The Victorian Government has called for tenders to redevelop Spencer Street Station • ARM are the architects for the new Remembrance Reserve masterplan and for the redevelopment of the undercroft of the Shrine of Remembrance • Six Degrees collaborated with Contemporary Music Events, Dance Works, and Aphid on three Melbourne Festival events • The State Government has called for expressions of interest to redevelop the Sandridge rail bridge • Pels Innes Neilson Kosloff have merged with Bligh Voller Nield • Andrew Hutson is now Head of Architecture at the University of Melbourne • Architectural writer, editor and critic Wilfried Wang advised an audience at RMIT that "truth to materials" is the only way forward • Edmond and Corrigan's Film School at the VCA is nearly complete • Peddle Thorp's Vodafone Arena is up and running • Leon van Schaik is now Acting Vice Chancellor at RMIT • ARM will work in association with Portico Group of Seattle on pre-planning the new Melbourne Zoo masterplan • The Department of Infrastructure has released Challenge Melbourne, an issues paper for the Metropolitan Strategies project • John Wardle Architects, Hassell and B+N Group are working on "Urban Workshop", a new commercial tower on Lonsdale Street • Well-known architect and academic Kevin Borland has died aged 74.
Western Australia
UWA has released a draft campus plan which aims to retain the "ambience, beauty and functionality" of the campus, while providing possibilities for future development • DCM are redeveloping the Institute of the Blind • The East Perth Redevelopment Authority has released a master plan for the Northbridge project which will see 27 hectares of land above and adjacent to the Graham Farmer Freeway Tunnel developed for residential and mixed use • Cox Howlett have now signed the contract for the controversial Convention Centre.
Related topics