International
English Heritage has appointed Denton Corker Marshall to design the new Stonehenge visitor centre • James Legge, of Six Degrees, contributed to Tramjatra,a collaboration between artists and tramworkers artists from Kolkata (Calcutta) and Melbourne. Legge erected a bamboo and cane matting re-interpretation of Melbourne's The Vault, in Kolkata. Melbourne will host the Kolkata participants in October/November • Woods Bagot has taken over UK practice Whinney MackayLewis (WML)
Sinclair Knight Merz has designed a suspended roof for the Rangiri Dambulu International Cricket Stadium, Sri Lanka, based on concept designs by Surath Wickramasinghe Associates • John Macarthur, Karen Burns and LAB have each contributed to the final issue of Assemblage, the highly influential American journal • Woodhead International has won the contract to expand the Qingdao Liuting Airport for the City of Qingdao, China • Fulton Trotter and Partners, with artist Jane Grealy, have won an award for excellence in the graphic representation of architecture from the American Society of Perspective Artists for Kingscliff Library in Tweed Shire • Tasmanians James Morrison and Yvette Breytenback have made a glass house addition to Charles Green's James House, California. They worked collaboratively with Izumi Masatoshi on a series of sculptures/ landscape interventions in the house grounds • Dragonair by Wong Tung & Partners (Radar Projects AA March/April 2000) has won the Silver Medal from the Hong Kong Institute of Architects for Design Excellence • MGT are working in association with NZ practice Jasmax on the redevelopment of Auckland Hospital.
National
Graham Jahn was interviewed on the ABC as the incoming President of the Australian Institute of Architects • Spowers have reorganised. Offices in Sydney and Brisbane have become part of the Reid Campbell Group, while the Perth, Melbourne and Darwin offices will continue as Spowers and have formed an alliance with Di Carlo and Potts in Sydney and Brisbane • Rob Cheesman and Nigel Shaw are the new nationally elected RAIA councillors • The Cement and Concrete Association of Australia has announced the winners of the Streetsmart Awards, judged by Jim Sinatra, James Weirick and Andrew Hutson. Best Project went to Taylor Cullity and Lethlean's Geelong waterfront, which was also joint winner of the Pedestrian Precincts award, along with Context Landscape Design's University Mall, UNSW. Richard Goodwin won the award for Architectural Road Walls for the Glebe Island Arterial Road Walls. The Residential Streets award went to the City of Wanaroo for the Girrawheen Avenue Streetscape, WA, while the City of Booroondara's Junction Skate Park was the winner of the Bicycle Paths and Shared-Use Pavements award.
Australian Capital Territory
Various newspapers report that Col Madigan, with the support of John Andrews, Robin Gibson, Daryl Jackson and Richard Leplastrier, has spoken out against Tonkin Zulaikha Greer's plans for the refurbishment of the National Gallery of Australia • Zillah Gisz is the Graduate Representative on the ACT Chapter Council • Townsend and Associates, in association with Renfree Hanrahan Architects, are designing a residential medium-rise to reinforce the Northbourne Avenue corridor development • The ACT Chapter has launched ProjectARCH, the RAIA Mentor Scheme • Bronwen Jones is now at Colin Stewart Architects • The New Zealand memorial on Anzac Parade, designed by Wellington's Studio of Pacific Architecture, with sculptor Kingsley Baird, was unveiled on Anzac Day • The RAIA are trying to halt the refurbishment of the Enrico Taglietti's Dickson Library, recipient of the 1995 RAIA 25 Year Award. The planned refurbishment would remove the mezzanine, an important part of the building's heritage significance • Christine Boyer, Professor of Architecture and Urbanism at Princeton University, gave the 40th Walter Burley Griffin Memorial Lecture.
New South Wales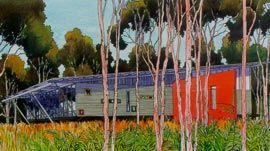 Harry Seidler's 1951 "Igloo House" (Williamson House) is in danger of demolition following a Mosman Council development committee decision that it has no heritage value • The Sydney Harbour Foreshore Authority's Heritage Prize has gone to Paula May Oxley of the University of Wollongong. Research projects by Maurice Evans and Barbara Hickson were also highly commended • Photographer Anthony Browell has an exhibition at the Stills Gallery from 23 May to 23 June • Bridget Smyth is the recipient of this year's Max Kelly Scholarship - Sydney Venice Exchange • Peter Wager has been appointed design director at Davenport Campbell and Partners • DCM have completed a feasibility study to reorient the Powerhouse to Darling Harbour and to provide a new gallery • Human Scale in Architecture: George Molnar's Sydney shows at the City Exhibition Space until mid-July • Sydney's Lord Mayor Frank Sartor has released a booklet of Land Environment Court "blunders"
Crone Design and Oculus Landscape Design have designed a mixed-use waterfront development at Honeysuckle Creek, Newcastle • Hill Thalis won three awards at the NSW RAPI Awards for Excellence • Richard Francis-Jones is the new NSW Chapter President • The Historic Houses Trust of NSW and DOCOMOMO continue their "Meet the Architects" series at the Rose Seidler house. John James speaks on 24 June, Stuart Murray on 29 July and Col Madigan on 19 August • Rice Daubney has appointed Steve Durack and Susanne Pini as new directors, and Ron Bridgefoot, Adrian Foung, Eva Holmquist, Carolyn Miles, Sandra Stewart and Darren Tims as new associates • The "Can Architecture Help the City?" forum, hosted by the Board of Architects of NSW and the City of Sydney saw Paul Keating call for a ban on the real estate industry giving political donations. Frank Sartor, who composed an "Ode to a Developer" for the event, also supported the idea • Andrew Benjamin, Professor of Philosophy, Warwick University and writer on architecture, spoke as part of the University of Sydney's Thursday Night Lectures • Jackson Teece Chesterman Willis and Newcastle architect Keith Savage have formed JTCW Savage • The Historic Houses Trust of NSW presents an exhibition of the work of Augusto Lorenzini, renowned late 19th century interior designer, at Elizabeth Bay House from June 2 • The DPWS won a Gold Award at the Australian Government Technology Productivity Awards for Projectweb, its online procurement system • Peter Kollar, architect, respected teacher and writer, and associate professor at UNSW, died in Sydney age 73.
Northern Territory
The Northern Territory University will host In the Making: Architecture's Past, the 18th conference of the Society of Architectural Historians of Australia and New Zealand,at the end of September.
Queensland
Cox Rayner has been appointed to masterplan the Queensland Cultural Centre • Construction has started on Harry Seidler's Riparian Plaza • Peddle Thorp have completed the Canon Boggo Pilot Hostel on Thursday Island for Aboriginal Hostels • Greg Boyko has been appointed as manager of the Interior Design Business Unit at Woodhead International • Fulton Trotter and Partners, in collaboration with sculptor Christopher Trotter, have won a design competition run by Tweed Shire Council for a new Community Centre • Gavin Kain has been appointed design leader at Woods Bagot • Tomaszewski Associates has completed the Lord Howes Island Museum • Ceccato Hall Architects won the Brisbane Development Association competition for Brisbane's "welcome monument" on Ann Street.
South Australia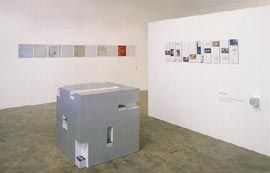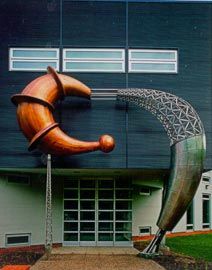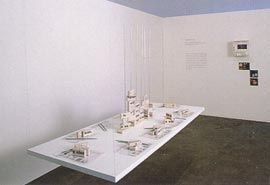 Jason Dew, an architecture student at Adelaide University, has been awarded a Centenary Scholarship by the Foundation for Young Australians and the Commonwealth Government • Flightpath Architects are redeveloping the former Greater Union Cinema for kwp! advertising agency and the Adelaide Symphony Orchestra (fitout by Stanley Psaltis and Associates)
Rachel Hurst and Gini Lee, with Erica Green, curated TEN 10 : Anniversary Objects at the University of South Australia Art Gallery. Selected graduates of the Louis Laybourne School of Architecture and Design made speculative installations, reflecting on their practice over the last decade • John Morphett, architect of Adelaide's Festival Centre, is the new Adelaide festival chairman.
Tasmania
Richard Blythe, Joao da Costa Molyneaux and Roger Fay have been elected to the RAIA Tasmanian Chapter Northern Committee • Hobart lighting retailer Casa Monde hosted a five-day lighting course in conjunction with RMIT. Ian Johnson presented to a mix of Hobart's architecture, interior design and lighting retail professionals • Forward Briannese's Hastings Cave Visitor Centre was officially opened in March • The Tasmanian Chapter is looking to re-establish the mentor scheme • Reinmuth Blythe Balmforth TERROIR has transformed a two-storey local store overlooking Storm Bay into Blackmans Bay Bar and Restaurant • Hobart City Council have announced the Dr Edward Hall Environmental Awards for innovative projects which enhance and protect the environment of Hobart's municipal area • Forward Briannese have joined DesignInc.
Victoria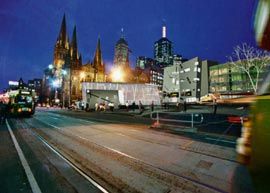 The new design for the "shard" on the north-west corner of Federation Square has been unveiled • Lyons has been commissioned to design BHP's new "green" global headquarters at the Queen Victoria site • MAB has announced the first stage of a $10 million public arts program at NewQuay, Docklands • By-Product-Tokyo, produced by RMIT students on exchange with the Tokyo Institute of Technology, showed in early April • City Edge 2: Centre vs Periphery proceeded without Martha Schwarz and Manuel de Sola Morales, both of whom were unable to attend at the last minute. International speakers included Nadim Karam, Francois Jousse, Francine Houben, Joel Garreau, Zhang Jie and John Montgomery • Interbuild is sponsoring a competition for students and recent graduates of Melbourne University, Deakin and RMIT. The closing date is 16 July; for further information contact the universities or Catalyst Design Group • Cox Sanderson Ness are town architects for Springthorp, on the site of the old Mont Park Asylum • The City of Stonnington has announced an inaugural Urban Design Awards program • GHD Architects are working on two RACV resorts in country Victoria • RMIT hosted the first Australia and New Zealand New Urbanism congress in April • Work has begun on the restoration of the house and gardens of Heide 1, and the integration of it into the existing Heide Museum of Modern Art • Silver Clouds, an exhibition of works by sculptor Geoffrey Bartlett, is the inaugural exhibition at Stonington Stables Museum of Art, the new Deakin University Toorak campus gallery from 27 April - June 9 • Lend Lease have won the contract for Victoria Harbour, Docklands.
Western Australia
The RAIA Education Committee held a cocktail party in an attempt to get Curtin and UWA architecture staff to talk to one another • Iredale Pedersen Hook has completed a new entrance and information centre at Perth Zoo. A 1:50 scale model of the Orang Utan project is also drawing attention and visitor donations • Curtin's long-established "Brown Bag" Friday lunchtime public lecture series has been renamed "Noodle Box"
Warren Kerr, director of Hames Sharley, is the new WA Chapter President • Teaching programmes at Curtin are under review, with staff urged to take the new RAIA education policy "seriously"
Ross Coulter, founding director of Jones Coulter Young, died in December last year.
Related topics