International
John Wardle Architects with CCM has been awarded the commission to design the new New Zealand School of Music in Wellington, NZ // EDAW has launched an international student competition, Urban SOS: Distressed Cities, Creative Responses. Finalists will travel to the World Architecture Festival in Barcelona to compete for a $US20,000 prize. See www.edaw.com/urbanSOS // HBO+EMTB has appointed Marc Colbach as design director of its Beijing studio // HOK Sport Venue Event has been renamed Populous // Noel Robinson Architects has been appointed to design the new $A120M Sohar University campus in the Sultanate of Oman // Dr David O'Brien and Dr Iftekhar Ahmed, University of Melbourne, have received a research grant from New York firm Rafael Viñoly Architects to study the success of large-scale post-tsunami construction in Aceh // Richard Smith of Peter Stutchbury Architects, winner of Living Steel's third International Architecture Competition for Sustainable Housing, is travelling to Cherepovets, Russia, to implement the winning design // Brendan J Meney Architects has won a World Architecture Community Award for the Centre for Remote Health, Alice Springs Stage 1 (2000).
National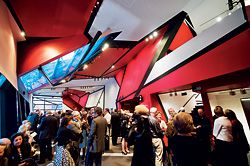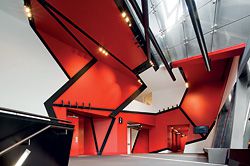 Winners of the 2009 Dulux Colour Awards have been announced. Ashton Raggatt McDougall won the Grand Prix for Melbourne Theatre Company, which also won the Commercial Interior category. Other winners were: Commercial Exterior: Bates Smart for Grand Plimmer, NZ; Residential Interior: Emma Mitchell Architects for Beach House, Anglesea; Residential Exterior: Adrian Fitzgerald of Denton Corker Marshall for Tube House; Sustainable Interior: Williams Boag Architects for TAC; and Student: Lorenzo Kuo Kuang JU for Hepburn Bath House // Ross Clark has a new role as the Institute's Chief Operating Officer. Carmel McCormack is now National Manager Knowledge and Practice and Shahana McKenzie is National Manager Stakeholder Relationships // Small to medium sized architectural practices are eligible for support from the new Creative Industries Innovation Centre. Hosted by UTS, the centre will offer practical assistance to firms by focusing on innovation, creativity and excellence. Services include business reviews, recommendations and international benchmarking, at no financial cost to the practice. Practices can then apply for matched funding of up to $20,000 to engage service providers to implement the recommendations of the business review. The UTS leader is Professor Sue Rowley, Deputy Vice-Chancellor (Research), with key academics Professor Kees Dorst of the Faculty of Design, Architecture and Building and Associate Professor Martin Kornberger of the Faculties of Business and Design, Architecture and Building.
Victoria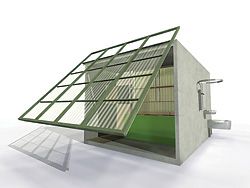 1:1 Architects has designed a "regrowth pod", a prefabricated concrete module, as a cost-effective housing unit for those affected by February's Victorian bushfires. The practice is also running an international competition to design a new house starting with the pod // The Victorian Chapter and the Office of the Victorian Government Architect have organized for architects to provide pro bono help to those who lost their homes in the February bushfires. The online Bushfire Homes Service will offer a range of well-designed, peer-reviewed house plans for families to select from. Families will then consult with the architect who designed the plan, to discuss the location of the house on the site and modifications that may be required. Designs will be capable of complying with the new Australian Standard for residential buildings in bushfire-prone areas and have a focus on sustainability. The Service is supported by the Victorian Bushfire Reconstruction and Recovery Authority (VBRRA) and the Building Commission and will be accessible through the one-stop-shop VBRRA www.wewillrebuild.vic.gov.au // Professor Hisham Elkadi is the new head of architecture at Deakin University // Gray Puksand has appointed Mark Freeman and Heidi Stowers as associates in its Melbourne office // Tony Battersby, Paul Coffey, Callum Fraser, Graeme Gunn and Delia Teschendorff have been elected to the Victorian Chapter Council // UMelbourne's Faculty of Architecture, Building and Planning is running a competition for a new $90M building. EOIs have been called for. A shortlist of up to six will then participate in an invited competition. The jury is Carme Pinós, Peter Elliott, Professor Tom Kvan and Glyn Davis, Vice Chancellor, UMelbourne. Professor Geoffrey London is the competition advisor // SJB Architects has donated resources to help renovate the Brotherhood of St Laurence Resource Centre, which supports migrant and refugee families // Umow Lai has been awarded a six-star Green Star office interiors V1.1 rating by the GBCA for their tenancy at 10 Yarra Street // The Committee for Melbourne's Future Focus Group has launched Growing Up, a competition to green roof Melbourne. This pairs the winning projects by landscape architects, architects or students with property owners prepared to improve their property's environmental, economical and amenity characteristics // The Victorian Chapter's Graduate Program Winners for 2008 are Fiona Lew, Bates Smart/UMelbourne; Sam Perversi-Brooks, Bligh Voller Nield/RMIT; and Peter McIntyre, McGlashan Everist/Deakin // Tim Shannon is leaving Hassell after 32 years, including fifteen as managing director. Tim is not retiring, and will pursue architecture in new ways.
Tasmania
The Institute hosted Shared Space Hobart, an exhibition of work by RMIT students exploring the potential of Sullivan's Cove // The new Tasmanian Chapter President is Richard Crawford FRAIA, of Crawford Padas Shurman architectsdesignhaus.
NEW SOUTH WALES
Graphite Architects has won a Landcom/Cambelltown City Council design competition for a new community centre in Minto // Sarah Kay has returned to Woods Bagot's Sydney office to lead the interior design team // Geyer has appointed Julian Brady as regional leader in its Sydney studio // Recent speakers at USydney's Thursday Night Lectures included Hans Eek, Sweden; Brian McGrath, New York; Adrian Carter, Denmark; Gevork Hartoonian; Michael Tawa, UK; and Caroline Pidcock. Upcoming speakers include Greg Castillo, Rowena Braddock, Paul Pholeros and David Leifer // Ken Maher has been appointed as a Professor at UNSW // The City of Sydney is considering an affordable housing levy on all new development // Esteban Insausti, Abbie Galvin, David Springett and Agi Sterling have been elected to the Institute's NSW Chapter Council // The Cox Richardson Architecture Internship Award has been established at UNSW // The shortlist for the open UTS Broadway Design Competition is Bates Smart, BVN, Cox Richardson, Denton Corker Marshall, FJMT, Lacoste Stephenson + Daryl Jackson Robin Dyke.
AUSTRALIAN CAPITAL TERRITORY
Colin Stewart Architects has appointed Kirsty Westaway as senior associate and Jessica de Rome, Mark Craswell and Sean Hogan as associates.
WESTERN australia
The WA Government has earmarked $1M for Situate, an international sculpture competition for Forrest Place, Perth // The City of Fremantle and Town of East Fremantle Heritage Awards are part of the Fremantle Heritage Festival, 29 May – 5 June // Fred Chaney and Brad Cook have been elected to the Institute's WA Chapter Council // Shane Winter, of Curtin, has won the Hassell Graduation Prize in architecture // Cygne at Crawley Edge, by McDonald Jones Architects and SC Land Developments, won the WA Property Project Marketing Award for High Density Residential Developments // Durack 2, a new commercial building in Perth's CBD by Woodhead, has been awarded WA's first six-star Green Star office design v2 rating // Melinda Payne has returned to the Office of the Government Architect as Principal Policy Officer (Architecture) after extended leave.
south australia
Sir Peter Hall, Professor of Planning and Regeneration at the Bartlett School of Architecture and Planning, University College, London, gave a lecture in March to celebrate sixty years of planning education in Australia // Professor Laura Lee, Carnegie Mellon University, has been appointed as Adelaide's new thinker-in-residence // Work has begun on the Adelaide Oval redevelopment by Hassell and Cox.
NORTHERN TERRITORY
The Planning Institute of Australia held its Congress, Northern Exposure: Exploring New Horizons, in Darwin in late March // David Bridgman, Robyn Shaw, Edward Farinha, Brendan Meney and Andrew Schulze have been elected to the NT Institute Chapter Council // The $672M Strategic Indigenous Housing and Infrastructure Program, a joint initiative of the NT and Australian Governments, aims to deliver new and upgraded housing and infrastructure in 73 communities over five years.
Queensland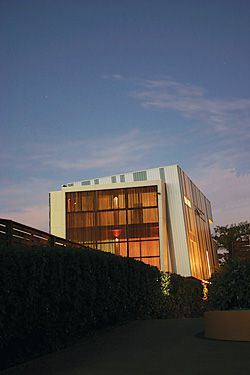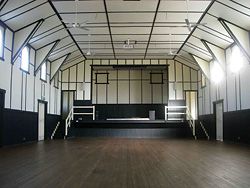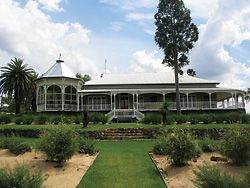 The historic Wesley House site in Brisbane's CBD has been redeveloped by Fulton Trotter Architects and Architectus Sydney // The Institute's Queensland Regional Awards are underway, with Justin O'Neill as 2009 Awards Jury Chair. In the Darling Downs the William Hodgen Building of the Year is Warroo Shire Hall, Surat, by Riddel Architecture. Regional commendations went to the Automotive Building at Southern Queensland Institute of TAFE by Project Services; Springfield Tower by Haysom Architects; Len Patti Mitsubishi Showroom by ELI Architecture; and Amberley Stage 2 Redevelopment, 9th Force Support Battalion (9FSB) by BVN Architecture. In Central Queensland the J. W. Wilson Building of the Year is Busby Residence, Yeppoon, by Brian Hooper Architect. Regional commendations went to the Sunrise @ 1770 House, Agnes Waters, by Middap Ditchfield Architects; Searene Apartments, Airlie Beach, by BVN Architecture; Seaforth Beach House by Phorm Architecture and Design; The Seaspray Lifestyle Centre, Emu Park, by Malcolm Middleton Architects with DES Design; Learning Centre for the Rockhampton Grammar School by Thomson Adsett; and Woodgate Beach Amenities and Picnic Shelters by Fulton Trotter Architects. On the Sunshine Coast, the Gabriel Poole Building of the Year is Barambah Station by Riddel Architecture and the Sunshine Coast House of the Year is Peregian Beach House by Middap Ditchfield Architects. Regional commendations went to DPI Regional Office, Nambour, by Project Services; Buderim House by AB+M Architects; Cash House, Eumundi, by Aspect Architecture; Hastings Street Streetscape by Architectus; and Hervey Bay Farmhouse by Owen and Vokes.