International
Mcgregor and Partners has won the 2009 Topos International Landscape Award // The fifth Global Studio is in Johannesburg 27 June – 18 July // Lava has won a competition for a carbon-neutral hotel and conference centre at Masdar, Abu Dhabi's new planned eco-city // Nettletontribe is designing and developing the new Kompiam District Hospital in Papua New Guinea in a pro bono association with Architects Without Frontiers // Woods Bagot was named International Practice of the Year at the Architects Journal Annual Awards.
National
The Institute's National Awards jury is: Howard Tanner, Tanner Architects; Peter Mallatt, Six Degrees; Rachel Hurst, UniSA; James Grose, BVN Architecture; and Richard Harris, Jasmax // Keynote speakers at Survival: Implementing Tomorrow's City, the 2nd International Urban Design conference to be held on the Gold Coast in September include: Rob Adams, City of Melbourne; Romilly Madew, Green Building Council of Australia; Major Jeremy Harris (retired), Sustainable Cities Institute, USA; Professor Bob Frame, Landcare Research, NZ; Dorte Ekelund, Major Cities Unit Office of Infrastructure; Hugh Mackay, author and social researcher; and Peter Bishop, London Development Agency // The winner of the 2009 Fly Forbo Award is Leffler Simes Architects for the Insight Clinic, Albury, NSW. High commendations went to Lyons for Lilydale Superclinic, Vic, and HBO+EMTB for Accenture, Pyrmont, NSW. A special International Forbo commendation went to John Wardle Architects for the Jane Foss Russell Building, USydney // The Australian Architectural Index is now online // Andrew Waugh of Waugh Thistleton Architects is the main speaker at the Australian Timber Design Awards in all states in October // Look Green Home Design Awards, a new program by James Hardie, recognizes those dedicated to building innovative green homes. The jury is: Robert Caulfield, Archicentre; Sue Harris, Architecture Media; Noel Dyett, Real Estate Institute of Australia; Stephen Berry, Residential Building Sustainability, Department of the Environment, Water, Heritage and the Arts; and Stefan Bader, James Hardie. Entries close 24 July // Edition 1 winners of the Corian Design Awards are: Ferrier Baudet Architects for commercial and Mal Corboy Design for residential // Marissa Looby and Daniel Kumnick have won the 2009 Marten Bequest Travelling Scholarships for architecture // Daniel Grollo is the chair of a new Green Building Council of Australia committee to create stronger links with the Asia-Pacific // The winner of the 2009 Unlandscaped Prize is Mark Lindsay Tyrrell for Diepsloot Environmental Masterplan. High commendations went to Robyn Butcher of City Service for Public Station and R. Weller, D. Broun and K. McKernan for Footprint // Shane Lucas, Paul Berkemeier and Tom Kovac are on the jury for the HP Cityscape City Life Design Competition 2020 // Architecture Australia has achieved an "A" ranking in the Australian Research Council's ERA ranking of journals.
South Australia
The 2009 UAdelaide Speaker Series includes Michael Wright, Rachel Neeson and Nicholas Murcutt; Peter Corrigan and Dimitty Andersen // Woodhead has promoted Ben Mountford, Vicki Jacobs and Wayne Schiller to associate.
Victoria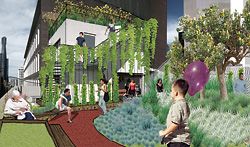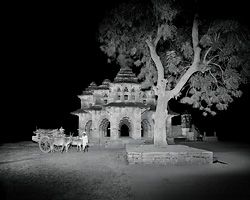 The shortlist for the new Faculty of Architecture building at UMelb is Denton Corker Marshall, Diller Scofidio + Renfro, John Wardle Architects and Office dA, McBride Charles Ryan, Koning Eizenberg with William J. Mitchell and Gehry Technologies, and Sauerbruch Hutton with NH Architecture // Vincent Chrisp Architects has appointed David Jones and Graeme Hill as principals; James Seymour as associate principal and regional manager; Paul Hayes as associate principal; and Christina Kotsiris, Kate Balloch, Chris Sourlos and Bernie Raso as associates // John Gollings' exhibition Ancient Hampi: The Hindu Kingdom Brought to Life shows at the Immigration Museum in Melbourne until 26 January 2010 // House: Poetics in the Ordinary, an exhibition of the houses of Kazunari Sakamoto, presented by RMIT, showed at ACMI in April // Winners of the Architectural and Design Excellence in the South East Awards are: McBride Charles Ryan for Klein Bottle House, SJB for The Esplanade, Noxon Giffen for Main Ridge Dairy, Williams Boag for St Kilda Town Hall, Robert Simeoni Architects for Seaford Life Saving Club, FMSA for Moorabbin Justice Centre and Thomson Perrett for The Cups Drive. Commendations went to Lovell Chen for the Medical Superintendent's House, Former Quarantine Station, Point Nepean; and Phooey Architects for Children's Activity Centre // Ruth Fincher, Paolo Tombesi and Paul Carter presented the UMelb report "Transnational and Temporary: students, community and place-making in central Melbourne" at the City of Melbourne's Conversations series in May // Lyons is designing the proposed RMIT Swanston Academic Building // V Arc Architects is refurbishing the old Country Court // Geoffrey London, Fiona Winzar and Shane Murray are the jury for the inaugural Hume Design Awards // The Growing Up Green Roof competition was won by Bent Architecture's Head for the Hill project for 131 Queen Street.
Western Australia
Steve Woodland has been appointed as the new WA Government Architect // Landcorp and Stockland won an Urban Development Institute of Australia Award for Excellence for South Beach Estate // John-Paul Davies has been promoted to Regional Principal of Woodhead's Perth office.
Queensland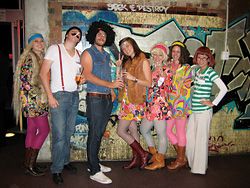 More Queensland Regional Awards have been announced. In Brisbane, the John Dalton Award for Building of the Year went to Youngcare by Cox Rayner Architects and the House of the Year is Fig Tree Pocket River House by Bligh Graham Architects. Regional commendations were awarded in the following categories: Public: Berrinba Wetlands Parkland by AR:2 architecture; General Purpose North 4 by Richard Kirk Architect and ML Design (Architects in Association); Holy Spirit Seminary by Conrad Gargett Architecture; Mater Mother's Redevelopment Project by BVN Architecture; Brisbane Water Scientific Analytical Services Laboratory by Hassell; and the International Terminal Brisbane Expansion by BVN Architecture. Commercial: Hassell Warry Street Studio by Hassell; Abigroup House Stanley Street Plaza by Cox Rayner Architects in association with John Mainwaring; The Chambers by Donovan Hill and Riddel Architecture; Old Albion Post Office Redevelopment by Colin Trapp and Associates; Badge – Brisbane Office by Fairweather Proberts Architects; and Urban by Richard Kirk Architecture. Residential – Multiple Housing: Bowen Stage 3 Studio Units by Gall and Medek; Youngcare by Cox Rayner; Key Street Townhouses by Gall and Medek; and Norman Reach by Cox Rayner. Residential – Houses: Cremorne Extension by Donovan Hill, Fig Tree Pocket River House by Bligh Graham Architects; and Grandstand House by Push. Interior Architecture: Iceworks Bar and Restaurant by Base Architecture; Brisbane North Eye Centre by m3architecture; Wickam Street Apartment by Base Architecture; UQ Centre for Clinical Research by Jackson/S2F Architectural Joint Venture; Hassell Warry Street Studio by Hassell; O'Neill Building Nudgee College by Fairweather Proberts; University of Queensland, Science Learning Centre by m3architecture; and Abigroup House Stanley Street Plaza by Cox Rayner in association with John Mainwaring. Small Project: Brookes Street Office North by James Russell Architect; Green House by Aardvarc Architects; and Tonic Studio by Tonic Architecture + Design. Sustainable: Green Square Office Precinct by Cox Rayner; and Queensland State Archives Expansion Project by Project Services. Heritage: All Saints Church by Riddel Architecture. Art and Architecture: International Terminal Brisbane Expansion by BVN Architecture; and Mater Mother's Redevelopment Project by BVN Architecture. Urban Design: Inner Northern Busway by INB Hub Alliance/BVN Architecture; and The Subtropical Row House by the Centre for Subtropical Design, QUT. On the Gold Coast, the Karl Langer Building of the Year is Skilled Park by Populous and the House of the Year is Albatross by BGD Architects. Regional commendations went to Bond University Mirvac School of Sustainable Development by Mirvac Design; Longhut by Push; Nourish Organic by Fairweather Proberts; Main Beach House by BDA Architecture; Elder Entrance by Pearce Architecture; Jade by Ellivo Architects; Varsity Station Village Master Plan by Deicke Richards; Balnaves Foundation Multimedia Learning Centre, Bond University by Wilson Architects; Elysee Residences by AG Architects; and Ocean Pacific by BDA Architecture. The North Queensland Walter and Oliver Tunbridge Building of the Year is James Cook University School of Creative Arts by BVN Architecture. Regional commendations went to Oliver's Cloister by Stephen de Jersey Architect; Consortium Townsville by Brand + Slater Architects; and Southpark Terrace by Architects North // Group GSA has appointed Lisa King as a principal of design // Komodo Form 2007, an exhibition by Christina Waterson, was held at the Noosa Regional Gallery.
Australian Capital Territory
The new Gallery of Australian Design has officially opened in Canberra. It will be managed by a partnership of the AILA, UCanberra, the National Museum of Australia and the Australian Institute of Architects.
Northern Territory
The 2009 National Trust Northern Territory Heritage festival, Ten Days at the Top, was held in May // The Australian Housing and Urban Research Institute, with the support of Territory Housing, held a research seminar in June. Speakers included Dr Esther Charlesworth, Professor Paul Memmott and Dr Paul Flatau.
Tasmania
Peter Poulet has been appointed as the Tasmanian Government Architect // Paul Johnston has won the A.V. Jennings Churchill Fellowship to study contemporary design developments in social housing // Spatial Origami, a collaborative project by Lava and the UTas School of Architecture, which resulted in a large chandelier installation of 210 individual thylacines, was part of 10 Days on the Island // Design Island in May included the exhibitions Un_Packing Architecture and God is in the Details; The Castle, a micro-dwelling designed to assist youth at risk of homelessness; and MOD V.02, a prototype for affordable housing // A six-week public exhibition displayed the shortlisted conceptual site designs for Parliament Square and formed the focus of community consultation for the project // Richard Crawford is the new Tasmanian chapter president.
New South Wales
The film Women in Architecture and Construction, produced by Naomi Stead, was launched in July at UTS // The shortlist for the Energy Technologies Building, UNSW, is Kerry Hill Architects in association with Scientific Interiors, FJMT in association with Jacobs Consultancy, BVN Architecture, JPW in association with Zektin Architecture and Hassell // The Laneways By George! Hidden Networks temporary public art program aims to enliven laneways and forgotten spaces. Selected works will be launched at the Art & About Festival, 8 October 2009 // The exhibition of Glenn Murcutt's work, Architecture for Place, based on Thinking Drawing/Working Drawing from Gallery Ma, Tokyo, shows at the Museum of Sydney until October // Flourmill Studios by Allen Jack + Cottier has won the Marrickville Medal from Council // Remarch: UTS showed the competition entries for the UTS Broadway Building // Michael Nash has been appointed as a director of HBO+EMTB // EnergyAustralia National Trust Heritage Award winners include: Suters Architects for Fort Scratchley conservation and interpretation and Admissions Building adaptive reuse, Clive Lucas Stapleton and Partners for USydney Great Hall Equitable Access, Paragrid Architecture for Highroyd conservation, Tanner Architects for Artisan's Gallery adaptive reuse and Luigi Rosselli for the adaptive reuse of 4 Wiston Gardens. The Institute's NSW Chapter shared the EnergyAustralia award for energy management with the Heritage Council of NSW for New Uses for Heritage Places // Lumeoncity, by Sean Bryen, Sascha Crocker and Andrew Daly, won the People's Choice Award at the inaugural Smart Light Sydney Light Walk // Adrian McGregor, Dan Hill, Eoghan Lewis and Simeon King, Marcus Trimble and Rod Simpson are among the 100 "Creative Catalysts" being celebrated by Creative Sydney for their contribution to the city's culture.