INTERNATIONAL
William J. Mitchell, Professor of Architecture and Media Arts and Sciences at MIT and alumnus of UMelb, died in June after a battle with cancer. We will publish an obituary in the next issue // Troppo Architects is among the winners of this year's Global Award for Sustainable Architecture // Woods Bagot was named Design Practice of the Year at the Mix Interiors Awards in London.
NATIONAL
The winners of the Australian Award for Urban Design are: Geelong City Council, The City of Greater Geelong for the Geelong Youth Activity Precinct; BVN Architecture and Queensland Department of Transport for the Inner Northern Busway; and RTA Urban Design Section for Beyond the Pavement: RTA urban design policy, procedures and design principles. The jury was Catherine Townsend, Max Bomben, Bill Chandler, Andrew Hammond and Medy Hassan // Karl Fender is the Australian Institute of Architects' 71st National President // The Australian Building Codes Board has announced a performance standard for private bushfire shelters // Angelo Candalepas, Andrew Scott and David Neustein of Candalepas Associates are the Creative Directors for the Institute's 2011 National Architecture Conference with the theme "natural artifice" // The Green Building Council of Australia has released the Green Star Industrial v1 tool for new and refurbished industrial buildings // Peter Fajak is now leading the design team at HBO+EMTB // Bill Chandler of the Urban Design Forum has established the CABE DownUnder initiative, an attempt to form an Australian equivalent of the UK's Commission for Architecture and the Built Environment. The Working Group is David Rayson, Geoffrey London, Jill Garner, Jenny Rayment, Laura-Jo Mellan, Emma Appleton, Justin Kelly, Gerry McLoughlin, Bruce Echberg, Leon Yates, Rod Duncan and Bill Chandler // Melinda Dodson, Institute Immediate Past President has won the Design award at Instyle magazine's Women of Style awards // Speakers at Built Environment Meets Parliament included Rob Adams, City of Melbourne; Dr Edward J. Blakely, USydney; Chris Bosse, LAVA; Tony Chan, Arup; Michael Deegan, Infrastructure Australia; Brian Howe, UMelbourne; Ken Maher, Hassell; Monica Richter, Australian Conservation Foundation; Graeme Sawyer, Lord Mayor of Darwin; Jim Soorley, Unity Water; Emma Synnott, Arup; Matthew Trigg, Australian Conservation Foundation; Lucy Turnbull, Turnbull & Partners; and Jennifer Westacott, KPMG // Queens Birthday  Honours saw Thomas Fussell receive a Public Service Medal "For outstanding public service in Queensland through the promotion of architecture and building design", while Warren Rowe received a Public Service Medal "For outstanding public service through leadership in creative town planning and urban design solutions, particularly in the Gold Coast region."
NEW SOUTH WALES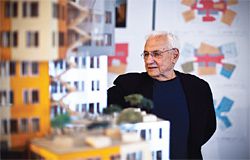 UTS Council has accepted Gehry Partners' concept plan for its new Faculty of Business building // USydney has awarded Ken Woolley an honorary doctorate // Choi Ropiha, DRAW, Silvester Fuller, Tribe Studio and Liquid Architecture all spoke at the UTS event Positioning Practice on the role of small practice // Winners of the 2010 EnergyAustralia National Trust Heritage Awards include: ANZAC Memorial Hyde Park by Trustees of the ANZAC Memorial and NSW Government Architect's Office; Christ Church Bong Bong's conservation of interiors, Quirindi Royal Theatre by Liverpool Plains Shire Council; the Built for the Bush: Green Architecture of Rural Australia travelling exhibition by the Historic Houses Trust; and Anne Higham, who received the Cathy Donnelly Memorial Award // Hassell has appointed Angus Bruce as a principal (landscape architecture) // Stephen Donaghey has been promoted to  associate at Suters // DRAW has won the competition for the UTS Great Hall Refurbishment Competition. Others shortlisted were Lacoste+Stevenson, Hassell and Architectural Projects.
WESTERN AUSTRALIA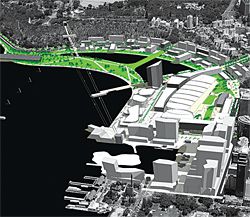 Hassell has appointed Hina Lad as a senior associate // The City of Perth's "What if" project commissioned ten practices to consider the city's future, via the examination of particular sites. Paid participants were Hassell, Donaldson + Warn, Cox Howlett Bailey Woodland, Iredale Pedersen Hook, Woods Bagot, Jones Coulter Young, Roberts Day Group, Urbis, Taylor Burrell Barnett and Aecom. Pro bono contributions were made by Woodhead, Santelli Architects, Sasha Ivanovich and students of the Urban Design Centre // Submissions for the 2010 DIA (WA) Awards will be accepted 12–16 July // Woodhead was the Overall Winner at the Property Council of Australia's WA Innovation and Excellence Award with 2 Victoria Ave, Perth's first 6-Star office building // Jon Pidgeon FRAIA passed away in June // Geoffrey London, Richard Hassell of WOHA, Sean Godsell, Abbie Galvin of BVN Architecture and Peter Corrigan are on the jury for UWA's Pavilion Project, a competition to design emergency shelter for the Indian Ocean Rim. The winning design will be built at UWA during the Perth International Arts Festival in February.
QUEENSLAND
Bark Design Architects has appointed Anthony Mitchell as an associate // Hassell has appointed Stephen Cameron as a senior associate // Jim Gall has joined Architectus's Brisbane office as senior associate // Kelly Martin and Julie Lawrence have joined Base Architecture // Codd Stenders and Mode Design have merged to form Mode Codd Stenders // Five years after founding and joint directing at Base Architecture, Tim Stewart has opened Tim Stewart Architects // More outcome from the Queensland Regional Awards. Brisbane's John Dalton Award for Building of the Year went to Old Government House Conservation and Adaptation by Conrad Gargett Architects. Brisbane House of the Year Award is Stonehawk by Base Architecture. Brisbane commendations went to Northern Busway – Public Artwork by Hassell; 400 George Street by Cox Rayner; Santos Place by Donovan Hill; Patrick Berth 10, AutoStrad Terminal by Fiala Ooi Architects; North Lakes Health Precinct by Daryl Jackson; Former West's Furniture Showroom by Riddel Architecture; Urbane by Arkhefield; Santos Place by Donovan Hill; The Lilley Centre by Wilson Architects; Social and Behavioural Sciences Student Learning Centre by Design Nest; Mulwith – Loreto College by Fairweather Proberts; Pharmacy Australia Centre of Excellence by Woodhead; Enoggera State School Resource Centre by The Buchan Group; Holland Park Police Station by Riddel Architecture in association with Project Services; Steendyk home+studio by Steendyk; Point Lookout Retreats by Paul Butterworth Architect; Bulimba Boathouse by Owen and Vokes; Arbour House by Richard Kirk Architect; Boolarong & Kinkabool and BVN Architecture; Z House by Donovan Hill; Aquila Apartments by Plazibat & Jemmott Architects; Jasper Lane by BVN Architecture; Eden – SW1 by JMA Architects; Yeronga Village by Arkhefield; The Ivy by BVN Architecture; Garage Cafe by Arkhefield; Balmoral Residence by Kieron Gait Architects; Kauri by Base Architecture; Willawong Bus Depot by City Design; Bowen Hills Master Plan by Deicke Richards; Smart Communities Guide, Qld, by Hassell; Southbank Institute of Technology by Cox Rayner; Caxton Roma Pedestrian Link by Aecom; Kurilpa Bridge by Cox Rayner with Arup. Central Queensland J. W. Wilson Award for Building of the Year is Barcaldine Tree of Knowledge Memorial by Brian Hooper Architect and m3architecture, architects in association. Central Queensland commendations went to: Lady Elliot Island Eco Resort – Hybrid Solar Power Station by Peddle Thorp; China Beach House by Bark Design Architects; Birdsville Visitor Centre by Gall & Medek Architects; Seaspray Resort and Spa by Donovan Hill. Sunshine Coast Building of the Year is Peregian Beach Community House by Sparks Architects. Sunshine Coast House of the Year is Point Perry Beach House by Owen and Vokes. Commendations went to Sunshine Beach Residence by Sparks Architects; Trackstar Alliance by Hassell; Noosa Visitor Centre by Bark Design Architects; Back House by Blackburne Jackson Design; Marcus Beach House by Bark Design Architects; Maleny Residence by Sparks Architects; Seaside Museum Bribie Island by PDT Architects. Far North Queensland Building of the Year is Marina Point by Cox Rayner with CA Architects. Far North Queensland commendations went to St Stephens Catholic College at Mareeba by mmp Architects; Marina Point + Esplanade by Cox Rayner with CA Architects + Tract Consultants; Conics Building by CA Architects; and Mount Sheridan Medical Practice by Fisher Buttrose Architects. Gold Coast Building of the Year is Varsity Lakes Station by Hassell. Gold Coast House of the Year is Tuckeroo Residence by Paul Uhlmann Architects. Gold Coast commendations went to Gold Coast Health and Knowledge Precinct Plan by Hassell; CSV House by Shane Denman Designs; Broadwater Parklands by White Architecture and Aecom Design and Planning; Allisee Recreation Pavilion by Cox Rayner; Blue Care Labrador Gardens Aged Care Facility by Smith and Tracey Architects; and Robina CPAC – Community Performing Arts Centre by Lightwave Architects.
VICTORIA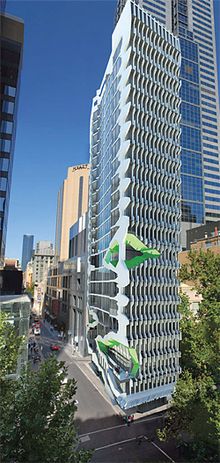 Planning approval has been granted for the redevelopment of the Institute's premises at 41 Exhibition Street, by Lyons. It is described as the first commercial office building in Melbourne to target carbon neutrality as its core principle from design through construction and occupancy // The finalists in the Premier's Design Awards include Eastlink by Wood Marsh and John Holland, Fitzroy High School by McBride Charles Ryan, The Bendigo Centre by Gray Puksand and BVN Architecture, Lyon Housemuseum by Lyons and Melbourne Recital Centre and the MTC Theatre by ARM // Hassell has appointed Shaun Schroter as a principal // Diego Bekinschtein and Andy Wong are now senior associates at John Wardle Architects, while Ben Beaumont, Barry Hayes, Paul Holden, Amanda Moore and Kirrilly Wilson are now associates // Glenn Murcutt: Architecture for Place shows at Melbourne Museum from 15 July 2010 // Dandenong High School campus by Hayball has won the Council of Educational Facilities Planners International (CEFPI) Award for Best New Facility in the Australasia region. The project will represent Australia at the International CEFPI Awards in the US later this year // Sam Chine and Heather McQueen have been promoted to associate at Suters // The Alfred Deakin Lecture Series  (The Deakins) at the Wheeler Centre for Books, Writing and Ideas included the session Innovating the Cities: Design, Planning and Architectural Solutions in the Urban Environment, with Rob Adams, City of Melbourne; Sue Holliday, Strategies for Change; Melinda Dodson, GHD and Institute Immediate Past President; David Owen, The New Yorker and Bruce Taper, Kinesis.
SOUTH AUSTRALIA
Professor Laura Lee is South Australia's first ever Commissioner for Integrated Design // Rob Adams, Laura Lee, Kerry Barwise and Ken Maher spoke at the Creative Futures Forum, "Planning for Sustainable City Growth", hosted by Hassell at UniSA // The design contract for a new bridge over the Patawalonga at Glenelg has been won by GHD // Steffen Lehmann is now Professor of Sustainable Design at UniSA // Innova 21, UAdelaide's new $100 million building for the Faculty of Engineering, Computer & Mathematical Science, by DesignInc, has achieved a 6-Star Green Star Education (V1) rating from the Green Building Council // peckvonhartel is designing the new fitout for the Australian Taxation Office in the Adelaide CBD, which will be delivered in partnership with Hardy Milazzo // peckvonhartel is also designing the interiors for Adelaide Customs House.
AUSTRALIAN CAPITAL TERRITORY
Georgina Greenland is the new ACT chapter manager // The original clients of the Cater House, 1960s, by Russell Jack of Allen Jack + Cottier, will sell the house in September. They hope to find a buyer who will appreciate and care for the architecture.
TASMANIA
Leela Walford is the Tasmanian Chapter's new finance and administration officer // John Wardle Architects, in conjunction with Terroir Architects, has been appointed as architect for the Institute for Marine & Antarctic Studies on Princes Wharf, Salamanca Place, Hobart, for UTasmania.