INTERNATIONAL
Troppo Architects is one of five recipients of the Global Award for Sustainable Architecture // The ANZ Centre by Hassell and Lend Lease Design won the Emirates Glass LEAF Award for the Commercial Building of the Year at the Leading European Architects Forum Awards // Spowers is designing the luxury Al Baleed Resort in Oman // Cox has won the competition for the Marina Bay North Pedestrian Bridge in Singapore // Cox is also design architect for the turnkey team that won the bid to deliver the Kaohsiung Exhibition and Convention Centre in Taiwan // Charles Rice, currently associate professor at UTS, has been appointed Professor of Architectural History and Theory, and Head of the School of Art and Design History at Kingston University, London // Lis Utzon, wife of Jørn Utzon, passed away in August at her home in Denmark // Denton Corker Marshall is designing the Zhongkun Beijing Luoying Vineyard, an exclusive resort development in China.
NATIONAL
Populous senior principal Paul Henry has received the Australian Export Heroes Award from the Australian Institute of Export // James Jones has rejoined Architectus as design principal working with the Melbourne and Sydney offices // Woods Bagot has appointed Natalie Slessor, a specialist in the psychology of design and planning, and Tracy Lord, a healthcare expert // Bates Smart has made the following Melbourne and Sydney appointments: Brenton Smith, Julian Anderson, Eugene Cheah, Marko Damic, Kathryn Lombard and Kellie Payne as associate directors; and Matthew Allen, Aaron Coats, Edwina McDermott, Martin Schmidt and Bobby Wei as associates // Winners of the Intergrain Timber Vision Awards are: Elenberg Fraser, Commercial Exterior Award for Quay West Resort and Spa, Falls Creek; Facet Studio, Commercial Interior Award for Water Moon Japanese restaurant; Riddel Architects, Residential Interior Award for Hill End Ecohouse; Grove Architects, Residential Exterior Award for Woollahra House 11 // Finalists in the Bombay Sapphire Design Discovery Awards include Toby Horrocks for Flatform Shelf and Ben Edwards for Offcut Stool // Winners in the Australian Institute of Landscape Architects National Awards have been announced. The Australian Medal for Landscape Architecture went to James Mather Delaney Design in partnership with Tonkin Zulaikha Greer and City of Sydney for Paddington Reservoir Gardens; the National Landscape Architecture Design Award of Excellence went to Taylor Cullity Lethlean for Darlington Public Domain Stage Two, USydney. National Landscape Architecture Awards in design went to AECOM for Southport Broadwater Parklands, Gold Coast; Convic Design for Geelong Youth Activities Area; Gamble McKinnon Green for  Pioneer Park, Townsville Riverway; McGregor Coxall for Ballast Point Park, Sydney; Taylor Cullity Lethlean for Lartelare, Ethelton, Adelaide.
VICTORIA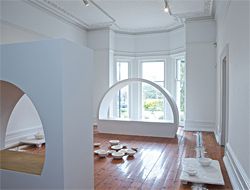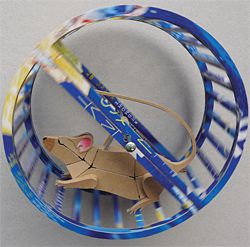 At the Victorian School Design Awards, Best School Project – Below $850,000 went to Clarke Hopkins Clarke Architects for Collingwood English Language School; Best School Project – Below $3.5 M went to Kneeler Design for Broadmeadows Preschool; Best School Project Above $3.5 M went to William Boag Architects for the new Altona P–9 College; Best Primary School went to James Deans & Associates for Bacchus Marsh Primary School; Best Secondary School went to Hayball and Gray Puksand Architects in Association for Alkira Secondary College; The Ministerial Excellence Award went to Suters Architects for School of Sporting Excellence, Maribryrnong College // The Eco-Cubby at UMelbourne's Early Learning Centre has opened. Students worked with Mat Foley of Content Studio to realize the cubby made from mud bricks and recycled timber // Cat and Mouse, an exhibition by Kirsty Fletcher of Rexroth Mannasmann Collective, showed at Red Gallery // Greg Burgess collaborated with sculptor Elizabeth Presa on the installation Interior Castle at Linden – Centre for Contemporary Arts // The state government has announced a working group of representatives  from local government, development industry and peak planning bodies to finalize reforms to the Planning and Environment Act 1987 // HBO+EMTB has appointed landscape architect Mark Stolz as associate director // Mark Allan has joined Billard Leece Partnership as an associate director and manager sustainability and urban design // Construction will begin in February on the Institute's redevelopment of 41 Exhibition St by Lyons // Geyer has appointed Tanya Hillman, Amanda Wright and HR Leader Belinda Sankey as associates.
AUSTRALIAN CAPITAL TERRITORY
The Gallery of Australian Design hosted Two German Architectures 1949–1989 // Michael Manfredi of Weiss/Manfredi gave the Inaugural Romaldo Giurgola Lecture, presented by the National Capital Authority and Department of Parliamentary Services // Pamille Berg, Richard Weller and Christopher Vernon all spoke at the Shaping Canberra Forum.
WESTERN AUSTRALIA
Perry Lakes, the site of the 1962 Commonwealth Games, is being redeveloped, with design guidelines by Coda // Samson House (1889), by Joseph John Talbot Hobbs, has been added to the State Heritage Register // Geyer has appointed Stirling Fletcher and Evan Reeve as associates.
SOUTH AUSTRALIA
Ben Hewett is the new SA Government Architect and will manage a multi-disciplinary design commission of around eight staff, located in the Department of Premier and Cabinet // Eight architect-led registrations of interest were received for the proposed expansion of the Adelaide Convention Centre. The procurement process has been described as "questionable", but the call for a design-led response is seen as a significant change in SA government process // UniSA has appointed Steffen Lehmann to the new Zero Waste SA Research Centre // The state government has revoked the provisional listing of UAdelaide's Union Hall on the State Heritage Register // UniSA has appointed multi-disciplinary teams to develop masterplans for its City West and City East campuses. Hassell is architect for both teams // Future city form, sustainability and heritage have been recurring themes among candidates in the local government elections, which will see a new Lord Mayor for Adelaide City Council in November.
NEW SOUTH WALES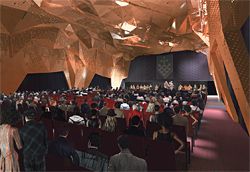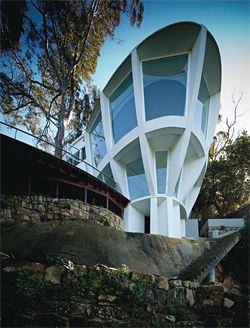 UNSW's City Futures Research Centre has released a report, Living Well in Greater Density, for non-profit housing advocacy group Shelter NSW // Cox Richardson won the competition for UWollongong's Retrofitting for Resilient and Sustainable Buildings Core Research Facility // Allen Jack + Cottier has promoted Daniel Staebe to director; Pip Bowling and Michael Rogers to senior associate; Brian Mariotti and Paul Huxtable to associate; and Chris Taylor to senior consultant // DRAW has won the competition for UTS's Great Hall and will deliver the project in association with Kann Finch // USydney's Tin Sheds Gallery and Architectural Theory Review are inviting submissions for The Right to The City, an exhibition and publishing project curated by Lee Stickells exploring connections between architecture, art, philosophy and action // Durbach Block is now Durbach Block Jaggers, reflecting David Jaggers' role as a director // John Ward, associate at Fulton Trotter, has relocated to the Sydney office // From Form To Formless: Exploring non linear spaces over five decades, curated by Patrick Keane, showed at Customs House and included work by Hugh Buhrich, Durbach Block Jaggers Architects in association with Peter Colquhoun, Enter Architecture, LAVA, Markham and Steudle tUG Workshop, Harry Seidler and Associates and Stan Symonds // Peter St Clair has joined PTW // BVN Architecture has appointed Phillip Rossington as a principal // Tony Quinn has joined Woodhead as principal // Tony Costantino, chief executive officer of Bovis Lend Lease, and Marianne Foley, Sydney office leader and principal of Arup, are joint winners of the Crystal Vision Award at the National Association of Women in Construction (NAWIC) NSW Chapter Awards. Mia Feasey of Siren Design Group won the Business Woman of the Year Award; Bovis Lend Lease won the Award for Innovation – Team; Melissa Chandler of Bovis Lend Lease won the Award for Contribution to a Project's Development; AliciaMaynard of St Hilliers won the Award for Contribution to Sustainability; Kathleen Crone of Broadcast Builder won the Scholarship for Future Leaders; Sophie Poole of Baulderstone won the Award for Achievement in Construction, Refurbishment and Fitout; Kathy Franklin won the Award for Innovation in Design; Monica Senff won the Tradesperson Scholarship; Elizabeth Fensom of USydney won the NAWIC University Scholarship // Charles Rice and Alina McConnochie's exhibition Interior Urbanism Portman Space showed at UTS's DAB Lab Gallery // Selected entries to Advertisements for Architecture were exhibited at Surry Hills Library and Community Centre during the Sydney Architecture Festival // NBRS+Partners has been appointed by the Anglican Diocese of Sydney to design a church for the new suburb of Oran Park // Andrew Isaacson has returned to Geyer as a client relationship manager and project leader.
QUEENSLAND
Bureau Proberts is the new identity for the practice of Liam Proberts and fellow directors Chris Chetham, Jason Hedges and Terry McQuillan // Dr Stephen Long has been promoted to associate at Architectus // The State Library of Queensland has opened the Asia Pacific Design Library // Jessica McConochie, associate at BVN Architecture, has received the Laing O'Rourke Award for Achievement in Design from the Queensland Chapter of the NAWIC // The next Out of the Port 2010 Lunchtime Talk Series  presented by Robert Riddel focuses on Boggo Road Gaol and the potential of the site and its landmark buildings // Fulton Trotter has appointed Katerina Dracopoulos as associate // Naomi Stead chaired the panel of Critical Alternatives: The counterculture of publishing in design and architecture at the State Library of Queensland as part of Unlimited: Designing for the Asia Pacific // HBO+EMTB has appointed Helena Piha as associate director.
TASMANIA
Morris-Nunn + Associates has begun a new life as Circa Architecture, with principal directors Robert Morris-Nunn, Peter Walker and Ganche Chua // Process – Launceston Architecture Week ran 14–16 September, with presentations from speakers including Drew Heath, Peter Poulet, Phil Digmemanse, Peter Walker, Lisa Mcalinder, Ronan Park and Mel Dodd.
FIXES
In the Export Project Locations survey map (Architecture Australia, Aug/Sept 2010, vol 99 no 5), Norman Day + Associates' project in Ho Chi Minh City should have been titled RMIT Vietnam.
In the Export Diaspora survey map (Architecture Australia, Aug/Sept 2010, vol 99 no 5), the quote from Charles Curry-Hyde was edited in a way that inadvertently changed its meaning. Charles's agreement with the UK Architects Registration Board allows him to use the form "Charles Curry-Hyde, Architect registered in Australia".
Related topics