INTERNATIONAL
Monaco House by McBride Charles Ryan and Paddington Reservoir Gardens by Tonkin Zulaikha Greer have been recognized at the Chicago Athenaeum's 2010 International Architecture Awards // Woods Bagot has appointed Hong Kong-based Ross Donaldson and Dubai-based Richard Marshall as joint group managing directors // Newton Suites by WOHA and Rouse Hill Town Centre, masterplanned by Civitas Urban Design and Planning with NSW Department of Planning and Landcom, and delivered by Allen Jack + Cottier, Group GSA and Rice Daubney, both won awards in the Urban Land Institute's Awards for Excellence: Asia Pacific program // Hassell Bangkok has celebrated its fifteenth anniversary, and was recognized in the BCI Asia Top 10 Awards // David Tsui, principal of Hassell Hong Kong, won the Spatial Design category in the BCI Asia Top 10 Outstanding Designers Award at the Hong Kong Art & Design Festival // The shortlist for the World Architecture Festival Awards includes: Lyon Housemuseum by Lyons; Surry Hills Library and Community Centre, and Faculty of Law, Library and Teaching Complex, USydney, both by FJMT; Churchill Community Hub by Suters; Ipswich Justice Precinct, and Marina Point Yacht Club, both by Cox Rayner; Adelaide Zoo Entrance Precinct, Epping to Chatswood Rail Link, and ANZ Centre, all by Hassell; Pitched Roof House by Chenchow Little; Letterbox House and Fitzroy High School, both by McBride Charles Ryan; 401 St Kilda Road by Elenberg Fraser; One Shelley Street by Clive Wilkinson Architects/Woods Bagot; Hilton South Wharf by Woods Bagot UK; Goods Shed North, The Academy Boolarong and Kinkabool, The Ivy, and the Brain and Mind Research Institute – Youth Mental Health Building, all by BVN Architecture; Big Rockjetty by Edward Szewczyk and Associates Architects; All Saints Primary School by Candalepas Associates; Canberra Glassworks by Tanner Architects; Paddington Reservoir Gardens by Tonkin Zulaikha Greer; City North Substation by Architects Johannsen + Associates // LAVA has been nominated for the Iakov Chernikhov International Prize, which encourages architecture that aims to solve social and cultural problems.
NATIONAL
 The Australian Architecture Association has re-elected president Angelo Candalepas, secretary David McCrae, treasurer Vincent Lam and committee members Annette Dearing and Liane Rossler. Kate St James is the new vice president and Robert Morley joins the committee //  David Goss of Wood Marsh won the professional prize in this year's Reece Bathroom Innovation Award for Shelf Life, while Alex Lee from Lidcombe College won the student prize // The Green Building Council of Australia has certified its 250th building, Grocon's Pixel Building in Melbourne // Giant Design Consultants has won the 2010 Fly Forbo Prize for Le Fringe hair salon // The Department of Families, Housing, Community Services and Indigenous Affairs has introduced voluntary Livable Housing Design guidelines, to encourage disability-friendly house design. The guidelines nominate standards for silver, gold and platinum compliance.
WESTERN AUSTRALIA
Inaugural city planner and City of Perth councillor Paul Ritter has died, aged 85 // The Western Australian Department of Housing has named Moull Murray Architects with Probuild Construction as preferred proponents for a $40 million group of apartment buildings at the new Cockburn Town Centre after a competitive design and construct EOI // Hassell is undertaking urban design studies for the Perth Parliamentary precinct, and an impact study for the new Perth Museum // Hodge + Collard Architects has rebranded as Hodge Collard Preston Architects.
NEW SOUTH WALES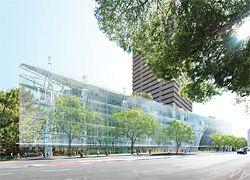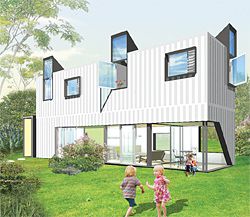 Lacoste + Stevenson in association with Daryl Jackson Robin Dyke and Six Degrees have won the UTS competition for the extension of the tower podium on Broadway // Moull Murray Architects has appointed Craig Webster as associate // Hassell has appointed Glenn Scott as a principal (architecture) and has promoted Laura Cockburn to senior associate (architecture); Julia Borghesi to senior associate (interior design); John Morris to associate (architecture). Matthew Pullinger and Luke Johnson now share leadership responsibilities for architecture // Darling Island Wharf received an Australian Business Award in the Environmental Sustainability category // George Freedman has joined PTW's interiors team // Durbach Block has worked with Happy Haus to design Sky Haus, the first of three double-storey prefab homes // Architect Prineas, Mac-Interactive, Scale, Super Colossal, Tribe Studio and Workshop 1 spoke at Bright Young Things, a new talk series aimed at improving the architectural conversation among decision-makers // Alex Popov Architects has rebranded as Popov Bass Architects, with Brian Bass as co-director // Peter Stutchbury Architecture has appointed Richard Smith as senior associate and Matt Markham-Lee as associate.
QUEENSLAND
Cox Rayner has designed a $33 million teaching and research building at UGriffith's Nathan campus. Designed as Australia's first zero-emission and self-powering building, it will be driven by solar-powered hydrogen energy // Hassell has promoted Megan Reading Bailey to senior associate (architecture) and Mac Young, Chris Jacobson and David Lennox to associate (architecture) // Reddog Architects was the creative director for this year's Brisbane Regional Architecture Awards which began in a nomadic tent on the lawn at the Brisbane Powerhouse, before moving into the theatre // The inaugural Brisbane Open House, to be held on Saturday 2 October will see a range of buildings and spaces open to the public // Populous has appointed Richard Breslin as senior principal // Bickerton Masters Architecture has appointed Peter Boyce as principal and Martina Hale, Lois Smith and Kevin Gerrard as associates // Tamara Reilly of Mode Design has designed a display home in Bellflower for Women into Building, which runs, builds, designs and constructs projects by women-only teams. Lauren Evans of Terrain Consultants was the landscape architect // The Sustainable Built Environment National Research Centre at QUT has been established as an industry-led successor to the CRC for Construction Innovation.
VICTORIA
Mark Loughnan has been appointed studio leader (architecture) at Hassell // The State Government has appointed the City of Melbourne as the responsible authority for developed areas of the Docklands. VicUrban continues to be the authority for the remaining undeveloped areas and further strategic development // James Jones has been appointed design principal at Architectus in Melbourne and Sydney // UMelbourne has sponsored the Green Star Communities project, to support the development of a new rating tool for sustainable communities // Gray Puksand has appointed Lui Martino, Wayne Hay and Ian Hayes as associates // Grimshaw has appointed Matthew Halloway as associate director, and Adrian Curtis and Cameron Ritter as associates // The City of Melbourne's Future Melbourne Committee is seeking heritage protection for the "Little Lon" precinct, at 116–132 Little Lonsdale Street, a cluster of historic buildings infamous in Melbourne history for crime and prostitution.
NORTHERN TERRITORY
Hames Sharley has opened an office in Darwin, with Keith Savage as director // The inaugural Urban Development Institute of Australia annual dinner was held at Fannie Bay Gaol in August.
SOUTH AUSTRALIA
David Holland, a director of Dash Architects, is the new Institute SA president. Outgoing state president Timothy Horton is the new SA Commissioner for Integrated Design, following Laura Lee's withdrawal. The government is now advertising for a state architect // Hassell has promoted Christie Bailey to senior associate (architecture) and Birgit Stroeher to associate (architecture) // Peter Mould, NSW Government Architect; David Waldren of Grocon; and Tiffany Sweitzer of Hoyt Properties, Portland, Oregon, USA; all spoke at a forum on design in high-density development hosted by Hassell's David Homburg.
AUSTRALIAN CAPITAL TERRITORY
Professor Alastair Swayn of Daryl Jackson Alastair Swayn is the first ACT Government Architect. The position includes a teaching role at UCanberra // The UCanberra Campus Design Ideas Competition explored a new competition structure, with work being submitted for a range of modules. The mandatory module, for The Concourse, and the Siting of Key Buildings module, was won by MORQ – Emiliano Roia, Andrea Quagliola and Matteo Monteduro in collaboration with Luke Ravi, Anthony Plumb, Tor Dahl and  Marco Tripoli. The Landscape Character Plan and University Green modules were won by Mark Tyrrell and Sharon Wright. Supplementary prizes were awarded to Colin Stewart Architects; the team of Philip Ayling, Stuart Drury and Stuart Mason; and the team of Charles Dewanto, C. J. Foo, Lorenzo Ju, Yenny Kusuma, Louis Wong, Maggie Chu and Tze Ek Ng.
FIXES