Human need, human condition: 2018 Health Care / Health Design conference
At the 2018 Health Care / Health Design conference, Casey Bryant found opportunities and challenges emerging as the home and the hospital become increasingly intertwined.
In the future, health care will be defined by people, not places. Environments will focus on human wellness and connection to nature. Staff will be valued above the spaces they work in. Architects, researchers, physicians and users will be intertwined in development and operation of these spaces; and all might meet-up in virtual reality.
If we observe these key learnings of the 2018 Health Care / Health Design conference, the future looks good. Socially progressive and informed design bolstered by rapidly advancing technology will take care of us. Looking more closely at the bold futures proposed by the highly talented speakers, however, several interesting binaries emerged that implied both opportunities and challenges.
According to economist Luke Baxby (Deloitte), the quality of the population's health is 80 percent determined by our life at home. Healthy lifestyles relieve pressure on hospitals and other parts of the health care system, and health at home is the focus of many looking to relieve the burden of an ageing population. Projects presented by Ann-Marie Ruffles (Thomson Adsett) facilitate a longer retired life out of nursing by enhancing houses with nursing standards and creating new typologies for elderly co-living.
Paired with this ambition for healthy homes, health facilities for older people are becoming "homely," with domestic spaces and the familiar qualities of porches and gardens becoming the norm for seniors living. Lara Calder (Calder Flower) discussed how home-like spaces that are familiar for residents will support memory and deter depression.
So, homes are becoming more like hospitals, and hospitals more like homes. Might we see a future where the two are inseparable? This was hinted by Robbie Robertson (Deloitte), who posited the very real possibility of a doctor monitoring a patient at home through sensor technology. Such a scenario might allow diagnosis responsive to evolving symptoms or real-time suggestions of exercise to deter sedentary health risks.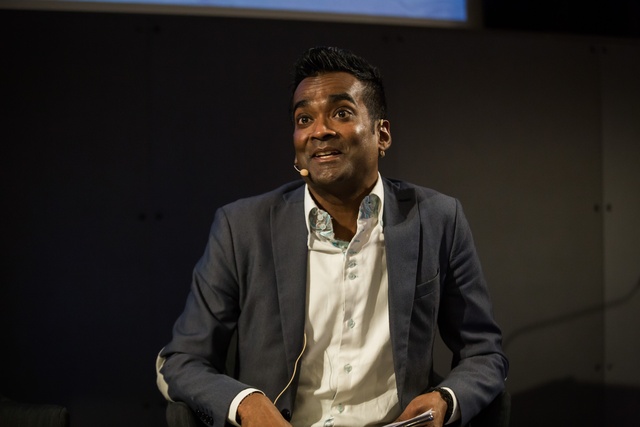 Virtual reality or artificial intelligence health practices became a subtle undertone of the conference. Futuristic health tools were shown in recently finished and speculative works. Rama Gheerawo (Helen Hamlyn Centre for Design, Royal College of Art) shared projects that use AI to benefit health – ranging from a supportive chatbot to encourage healthier workplaces, to an inspirational proposal to equip a city with AI to combat suicide. One idea involves small public kiosks that provide affordable facilities for start-up businesses on the condition that they undertake mental health training. The kiosks are fitted with AI interfaces that might direct a tourist or dictate local facts but will also recognise a lone passer-by and ask, "are you okay?"
However, a strong juxtaposition occurred abruptly when, after hearing several speakers commend the benefits of connecting patients to natural environments, an audience member questioned the inherent clash between one health care future filled with nature and another filled with virtual reality. This is a tension that must be resolved. While there may be great benefits in futuristic solutions based on virtual realities and artificial intelligence, there are as many benefits in projects connected to nature.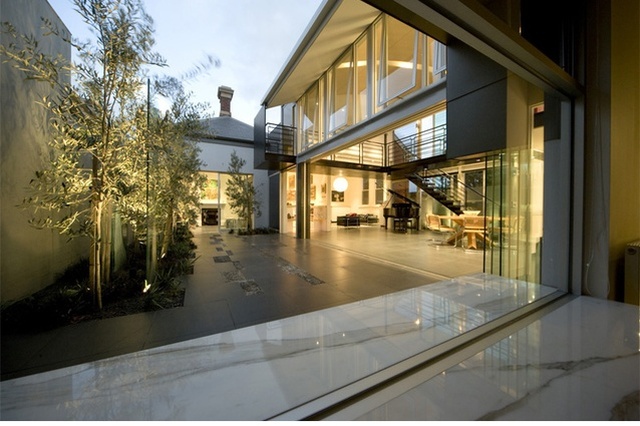 Architect Dylan Brady (Decibel Architecture) shared a mega hospital in Singapore where the simple aim for "every bed to have a window" prioritized natural light and ventilation over technology. Architect Tom Trenolone (HDR Architecture) shared a project where linear parklands orient patients and humanize an 800-bed hospital. Clearly natural environments are creating better hospitals, but can nature and technology – in both passive and active care – be harnessed together?
This binary struck me with a burst of optimism because it implies that designers are learning from their clients. Transitional medicine co-locates patients, doctors and researchers to enhance collaboration and innovation. "Transitional design" invites this mix of innovators into the design process from day one. The Shirley Ryan Ability Lab in Chicago by HDR is a transitional medicine facility designed this way – where collaboration, patient wellness and innovation have driven both the diagram and the detail of this building. A cheerful ambulance garage recognizes the emotional significance of a patient's arrival; open spaces and passive observation encourage interaction and communal accomplishment and bright ceilings embrace the reality of the long periods patients spend in bed. These design elements came from insights from the building's users.
The process of designing health care facilities is evolving to mimic that of the facilities themselves. Comparing the making of buildings with how they are operated may seem like an obvious pairing, but in an industry defined by regulation and codified space this isn't always the case.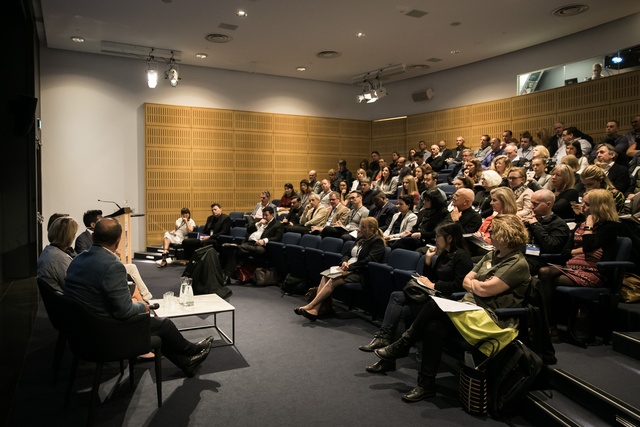 Healthy homes vs. homely facilities; nature vs. technology; and transitional medicine vs. transitional design are binaries that point to a collective prioritization of wellness as a design aspiration. Gheerawo asked, "Do we see health as ergonomics, economics, politics; or do we see it is a human need, a human condition?" Architects, designers and even operators are understanding the benefits of designing for wellness. Holistically "well" patients are less reliant on costly infrastructure, staff in a good mood will take better care of their charges, and social interactions will improve mental health. Perhaps the future of health care can be found in Rama Gheerawo's prediction that: "wellness, prevention, lifestyle, and living are where the biggest efforts and gains will be made."
Health Care/Health Design, presented by Architecture Media, is part of Design Speaks, a series of talks, seminars, forums and conferences on and about architecture and design, for design professionals and their clients and interested members of the wider community. 
Health Care/Health Design is supported by principal partner Caroma, major partner PGH Bricks and Pavers and supporting partners Allegion and Stormtech, and Design Speaks symposia 2018 presenting partner Taubmans.