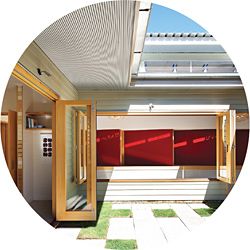 We all remember the Super Dutch moment.
Throughout the late 1990s a cluster of institutions, spearheaded by the Netherlands Architecture Institute and generously funded by the federal government, promoted Dutch architecture to the world through an energetic publishing program. In constructing "Dutch architecture" as a brand – framed as a distinct mode of practice, growing out of a specific location but with lessons for the world – they succeeded in packaging it as both a hot export commodity and the coolest thing in architecture. Many of us watched in amazement, that a government could be so affirming of the cultural and economic value of architecture; many wished for the same level of advocacy here. And now it's happening, albeit on a much smaller scale, in Queensland – through the HEAT programme in the Creative Industries Unit of the Queensland Government.
Much of the credit for the initiative can be attributed to Lindy Johnson, director of the Creative Industries Unit which implements HEAT, who is a human tornado of enthusiasm and energy, all of it directed to one end. "My passion is for creatives," she says. "I want them to be economically successful so they can keep creating." Johnson has a background in public art policy and arts management, and for her "HEAT was always going to work" since the strategy was simple: to "authentically and respectfully" communicate existing local architectural talent to the world, using world-class marketing collateral and photography, and sticking to the "key message" that Queensland architects are "environmentally responsive and responsible".
HEAT was launched in August 2008, concurrently with the staging of Place Makers: Contemporary Queensland Architects, at Brisbane's Gallery of Modern Art, purportedly Australia's largest ever architecture exhibition in a state gallery. Financially supported by the Department of Tourism, Regional Development and Industry, the exhibition provided an ideal showcase, with its glossy catalogue publication and sheen of high art. The roadshow then travelled to Venice, where HEAT had its global launch at the 2008 Architecture Biennale, and the momentum continued with the engagement of London-based architectural media consultancy ING Media. Leanne Tritton, managing director at ING, describes a strategy of targeting "key opinion-formers" in architectural publishing, bringing them to Queensland on "familiarization tours" to see buildings and meet architects, then sending them back to London or New York to spread the good word. This canny attempt to "influence the influencers" was accompanied by a broader media push, feeding story ideas and images of Queensland architecture to the world's press at large. In three years this has led to a truly impressive list of feature publications – in the New York Times, the Guardian, The Architectural Review, Domus, Metropolis, Monocle, Wallpaper, the list goes on. In PR there are formulas for calculating the value of such media attention (which is also, somewhat paradoxically, described as the kind of coverage money can't buy) and Johnson puts this at $6 million and counting. For a scheme running on a shoestring budget, with a staff of four covering both architecture and the new HEAT fashion program, this is quite a feat.
But of course, the big question is whether all this publicity will translate into work for Queensland architects – whether the export commodity here is images and text, or actual buildings. This largely remains to be seen. But everyone agrees that the benefits of HEAT are various – apart from the usefulness of profile in attracting the best talent, the real effect of being on the cover of an obscure Norwegian magazine may not be new clients in Norway, but a potential new Australian client Googling you, and being encouraged by your international reputation. Liam Proberts, director at Fairweather Proberts Architects, says that the impact of HEAT on his own practice has been as a catalyst, motivating action on things they had already been considering. In asking architects for a self-description ("you need to tell us the story you want us to tell", as Proberts paraphrases it), HEAT has encouraged an industry-wide engagement in strategic analysis and planning – reflection on what kind of work architects want to do and where.
HEAT's second phase, begun this year, moves beyond publicity into active business matching, setting up direct connections between local architects and potential international collaborators and clients. The latest "mission" was to the Shanghai World Expo, where seventeen offices took part in an exhibition curated by Shane Thompson of BVN, along with meetings, press conferences, receptions and media interviews. This also marked a shift in HEAT's geographic focus – from Europe and the US to China, the Middle East and South America.
HEAT does not have long-term funding, being rolled over one year at a time. As an unusually entrepreneurial program within a state government structure, it is both nimble and precarious – having survived on its successes so far, everyone knows it won't last forever. In any case, the longer such a program continues, the more risks arise: that it might suck its subject dry, draining the pool of good local architects and projects; that it might lead to a backlash against perceived over-hyping or boosterism; that it might focus on external opinions to the exclusion of developing the depth, criticality and self-knowledge of local practice. But still, Queensland architecture really is good, and really does deserve to be internationally recognized. This is not to say it's better than that of architects in other states, and it's surely only a matter of time before the rumoured copycat programs begin down South. But for the moment, HEAT remains a unique initiative in Australian architecture, a remarkable source of practical and symbolic support to the profession, and a credit to its originators and staff.
Naomi Stead is a postdoctoral research fellow at the University of Queensland.